Posted Mar 13, 2012 by
Mickael Bazhutin
The new f-Commerce.Go service replaces old FacebookTab module. More features, new philosophy.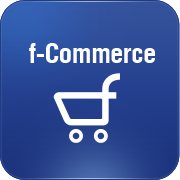 We are glad to announce final release of our new "fCommerce Go" module that lets you add X-Cart shopping cart to your business or community Facebook page and use it as a sales channel for your main store.
Some time ago we discontinued FacebookTab module that did the same trick using "FBML technology". Reason: Facebook quit supporting "FBML technology" since January 01st 2012 and is going to remove it completely in June 2012 (see https://developers.facebook.com/roadmap/).
That's why we invested in development of "fCommerce Go" module. The new module inherits all the features of the discontinued "FacebookTab" module, adds new ones and uses completely different technology to integrate with Facebook.
fCommerce Go is a subscription service unlike FacebookTab. There are two "fCommerce-Go" plans:
Basic plan: it is free and allows to show featured products from the root category on your Facebook fan-page.
Silver plan: costs a fee and has many nice features, like "Full store stock", "Categories browsing and products listing in categories", "Products search feature", and much more.
We have to charge subscription fee for fCommerce Go due to the following reasons:
Facebook changes its API regularly and we have to correct our integration module every time in order to keep Facebook integration working as advertised.
With new updates of Facebook API new bugs are "released" as well (Facebook beta-tests updates on real users) and we have to deal with them as well.
Those who purchased a FacebookTab module license before Jan 1st 2012 will get one-time 50% discount for the "Sliver" plan. FacebookTab licenses purchased after the January 01 2012 will be exchanged to 6 month free "Silver" fCommerce Go subscription.
Best wishes,
X-Cart team