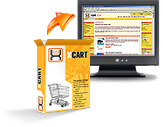 If you already have hosting space for your e-commerce website and want to get X-Cart shopping cart software installed there quickly by experienced professionals our installation service can be the solution for you. Proven to be a convenient mean of launching an e-commerce website, our installation service covers the following:
Testing of your server environment for compatibility with the software
New database setup
X-Cart software installation
Linking X-Cart software to Facebook business-page via f-Commerce Go (if built-in to software). Optional, if requested before installation is started
Linking X-Cart software to the instant search feature via Cloud search (if built-in to software). Optional, if requested before installation is started
Linking X-Cart software to the payment gateway accout configured by a customer. Optional, if requested before installation is started
Linking X-Cart with any RTM shipping calculation server, supported by the software. Optional, if requested before installation is started
If you have a private SSL cert installed or you hosting provider supports a shared one, we can setup X-Cart to use the HTTPS protocol. Optional, if requested before installation is started
Email functionality testing
To proceed with the installation we need:
FTP (or SSH) access to your server (including your host or IP address, the username and the password);
Access to your server control panel or database manager to setup a MySQL database.
We are able to perform this work in the fastest and most effective manner. Usually it takes up to one business day to fulfill the service if no difficulties occur. Being performed by the experienced engineers, the service guarantees that you will avoid technical problems at the very start.
Note: If your server doesn't meet
X-Cart system requirements
extra charges may be applied (
see below
).
How it works
The installation service consists of just a few steps:
After an order is placed our HelpDesk system posts a prompt message with some questions. By answering those questions you provide us with access information for your server and specify desired scope of service to fulfill.
Then our installation officer starts installation procedures. During installation you are reported about progress moving and milestones passed.
Once the service is complete you will be sent a special message with full access details to your newly installed X-Cart.
How to order it
The service can be ordered along with a new X-Cart license right off this web-site
It can be purchased separately either on this page or via your personal HelpDesk
X-Cart software installation is covered by any technical support subscription (Support subscription)
Advanced services
The following tasks are not included into the regular Installation Service price and may require extra charges
Issue category
PHP, MySQL installation
Apache web server installation/configuration
High Perfomance NginX web server installation/configuration
Transfer of an existing X-Cart store to a new host
Moving data from an existing site to your new e-shop
Installation of 3rd party web software on your server, e.g. forums, content management systems, photo galleries, etc
Secure email communication setup (if you are going to accept credit cards and process them manually)
Security setup: HTTP authorization, security of administrator email notifications, store administration zone access limitation, etc.
PHP/MySQL/Apache upgrade/optimization, X-Cart optimization
SSL certificate installation
Any changes in the server configuration and installation of new applications (PHP, MySQL, etc.) require root access level, therefore are applicable to dedicated servers only. If you host on a shared server, you should ask the hosting administrators to install the necessary programs for you.