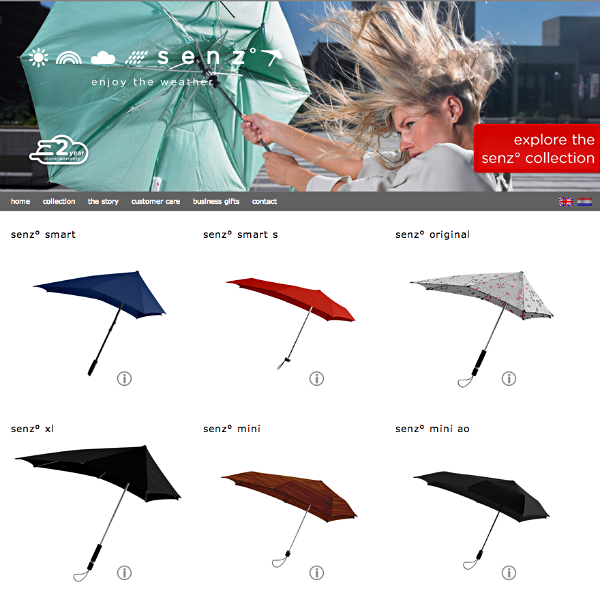 Marinka Eekman, Commercial Projects Leader and Online Marketeer at senz°:

Fall of 2004: a young and naive Industrial Design Engineering student, Gerwin Hoogendoorn, experienced one week in which three of his umbrellas got torn apart by the wind. Being sick and tired of the massive amount of crappy umbrellas, he decided to devote his graduation project to designing the ultimate umbrella.
The senz° original storm umbrella was born: its asymmetric shape, patented construction and double shaft made it as good as unbreakable and ensured it never turns inside out, the specially designed eyesavers prevented that eyes got poked out.
Now the senz° storm umbrellas, resisting winds of up to 100 km/h, are being sold internationally. Being introduced to the market in 2006, senz° landed in the middle of the developments in online marketing. As an innovative company we of course made sure to be part of this and we found our e-commerce partner in X-Cart.
X-Cart provides a user friendly environment with data that are complete and up-to-date at any time, thus being a valuable asset for our customer care and supply chain teams but also providing the marketing department with useful information. On top of that, X-Cart makes it easy to showcase our products beautifully in our webshop.
X-Cart has been our e-commerce partner for years: we really love how we cooperate!