X-Cart Affiliate Program to offer lifetime commissions

Hi X-Carters,
Andrey Zhavoronkov, X-Cart Partner Manager has brought good news we're happy to announce: X-Cart Affiliate Program terms* have been revised, in your favour again:
from now on we offer lifetime commissions for the subscription-based services

you're also getting the commissions for all the orders placed during the first year by the customer you referred
Say, you recommend our beloved X-Cart, and the person buys X-Cart Business Edition. Sure,you get your commission for it. But if he registers a FREE license…does it mean you don't earn anything? It does NOT, as the very first commercial module he purchases within the first year automatically converts into a commission to you. Another module or skin? Sure, it means another transaction to your account. And if he subscribes, say, for Cloud Search or X-Payments Hosted, X-Monitoring Service or X-Cart Hosting, eBay integration or f-Commerce Go, as long as this customer is with us, your pocket is not empty too.
In the other words, the affiliate program today is more attractive than ever before, and by simple placing an affilite link or a banner to some website, forum discussion or private conversation with a friend, you can increase your today earnings.
How to join the partner program? You are an affiliate already!
All you need is a live account at X-Cart HelpDesk, i.e. https://secure.x-cart.com.
Your Affiliate ID is already there, just check Affiliate menu for Affiliate ID. If you have ever purchased anything with us, you do have such an account. Absolutely each X-Cart license owner has a unique affiliate id already.
No account yet? Register, it's free! No credit card required, no deposit, no nothing!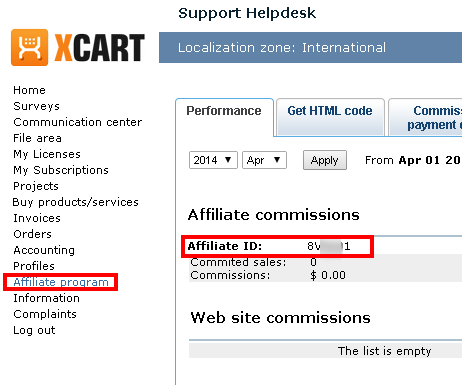 Okay, I got my Affiliate ID, what is next?
The rest is easy as ABC:
Spread the word about X-Cart: place ads or beautiful banners ( we provide a number of ready-made ones, of different sizes and proportions) on your web site and share your affiliate link in discussions, blogs, tweets – anywhere.

Earn commission with every customer you refer to us. Remember that even the one who registers a free license is to bring you commission potentially!

Get paid once your commissions reach $600 or more
For big players: a reminder about a reseller program
If you want more, we can offer more. The reseller program, for example, may bring you up to 50% of the license cost. We're also interested in regional resellers and happy to discuss any other form of partnership you offer.
May I talk to somebody?
*View details on the Affiliate Program page. Contact us for full terms and conditions.
Subscribe to Our Weekly Newsletter to Get
Expert-Backed

Tips Straight Into Your Inbox

One email a week, we promise.

Awesome! You won't be disappointed 😉

Ksenia Emelyanova
Marketing manager at X-Cart
X-Cart copywriter, PR and Marketing Manager, I came to eCommerce company in 2009 as a customer support assistant, went on to work as a Project manager in the Custom Development team to discover the needs of e-merchants and deliver the projects that meet their needs. This experience gave me a deep understanding of how things work from both a developer's side and a user's point of view, and it really helps in creating articles with love and care. Apart from eCommerce, I am a loving wife and mother, yogi and aerial hoop performer.