Winter Holidays is such a wonderful time – mixture of most positive emotions and pleasant cares, soothing flaky snow and fascinating decorations. You may as well bring this atmosphere to your online store. All the more so because on this occasion our developers have created a Holiday Decoration module which will add a festive note to your store.
Meet Holiday Decoration module by Qualiteam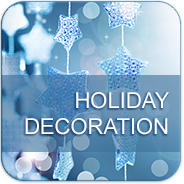 The module adds holiday decoration into the site header on all pages in your store, snowflakes ornament to the background and animated snowfall. It is easy to install and use.
License price: $39.00
Check the
module page
for more details.
Easy installation

The whole setup process won't take much time. Decorations are added/removed in one click on the module settings page. You don't need to do any modifications to X-Cart templates, just configure the module and enjoy the result.

Compatibility with X-Cart 5 templates

It's compatible with all four built-in X-Cart 5 themes (Standard, Noblesse, Digital and Fashion) and can be customized to work with other templates.

Flexible settings

You can change snowflakes' color, size and max quantity, as well as disable them at all.
P.S. If you are using X-Cart 4 Classic, there is an
XMas Decoration set
module for this platform, which will add pretty decorations to the header of your site.