Congrats to "Everything Princesses" who were featured at Stamps.com! Michael Wasserman, the Facilities and Shipping Manager at Everything Princesses, shares the success story and adds, that his "time spent processing customer orders has been cut in half". Read more about the challenge and results here.
About "Everything Princesses"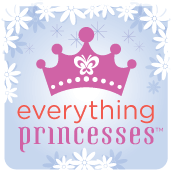 If you or someone you love adores all things pink and frilly, you might want to skip reading this paragraph right now. Stop! Don't let yourself be tempted into visiting this tantalizing online princess boutique if you have a daughter (or any female friend or relative, as a matter of fact) no matter how old! You will inevitably find yourself captured like Rapunzel in her tower by this website's villainously beautiful couture-quality dress up gowns and charmingly sweet princess story books, journals and stationery. You may even find yourself disarmingly lured by princess cookware, home decor and party supplies! Every regal possession a lovely lady could dream of has been curated in this magical website. So you have been amply warned! Enter at your own risk.
About Stamps.com

Stamps.com (Nasdaq: STMP) is a leading provider of Internet–based postage services with over 450,000 customers. A strategic USPS partner since 1999, Stamps.com enables businesses of all sizes, from SMB to Enterprises, to print U.S. Postal Service–approved postage with just a PC, printer and Internet connection, right from their home or office. The Company currently has PC Postage partnerships with Avery Dennison, Microsoft, HP, Office Depot, the U.S. Postal Service and others.
About your personal benefit
Whether you go to the Post Office or use a Postage meter, Stamps.com will save you money. The question is, how much. You have at least 2 ways to check it out:
The easiest way is to watch the webinar, recorded on April, 29th. Eric Nash, Director of Online Marketing at Stamps.com was the main presenter there. As a bonus to presentation, he shared several wonderful tips on how you can save on shipping.
Download and install the module from marketplace. In addition to no-risk 4 week trial, there's a special offer for X-Cart merchants: Receive a $100 Offer that includes up to $45 in free postage, a free digital scale (valued at $50, only pay S & H), and a $5 supplies kit.