Not very long ago Max Vydrin, Alex Mulin and Mike White exhibited at IRCE. And while they were networking with our partners, developers and merchants, or just wandering around Chicago, an alike event was going to take place on the other side of the globe: "Online Retailer" expo in Sydney. Natalie and Emma from 'Just X-Cart', official X-Cart partner in Australia, were eager to exhibit there.
To say they were busy is to say nothing. Days and nights of preparations. Leaflets, booth decoration, dozens of calls and hundreds of emails -such a marathon is never easy, but Nat and Em, our heroines, were not going to give up. And I'm so very happy to say that their efforts were crowned with success.

Nat was posting her impressions and updates and thanks into FB and Twitter, and these posts were full of positive mood and interesting observations. I decided to publish it in our blog and I asked Natalie to describe the trip. Her story is below.
"…Just over a week ago (how the time flies), on 20th-21st August, 2013 Just X-Cart Australia attended the Online Retailer expo in Sydney, Australia. The expo brought together in excess of 140 providers from around Australia, and some from overseas, to showcase their products and services.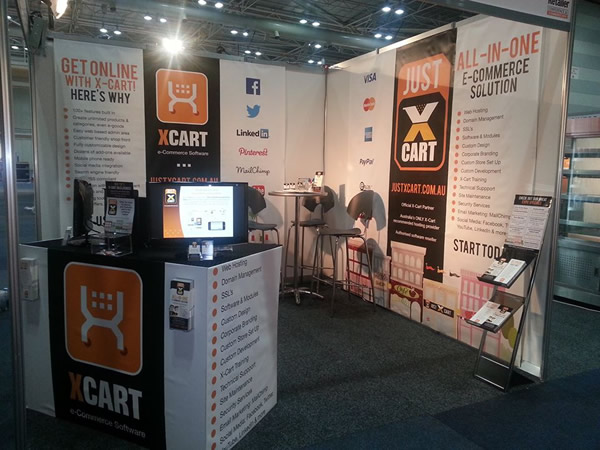 Naturally eCommerce platforms were one of the largest provider groups, as was Mobile Commerce. Fortunately Just X-Cart Australia had both of these areas, and so much more, covered!
Having made the trek from Brisbane to Sydney by car the day before, including doing the stand setup same day, we were very eager for the expo to get underway – and we weren't disappointed!
DAY ONE
Day 1 was off to a great start from the moment the expo doors were opened.
Prospective clients were impressed by the software features, especially X-Cart Gold Plus. Having the option of full mobile commerce integration was a huge hit and of course the automatic connectivity between X-Cart and Facebook made visitors realise how easily social media could be apart of their online solution.
We quickly found a great demonstration format. On the laptop we had our site at www.justxcart.com.au open to show the desktop version of the software running. We had an iPhone with our website open to show how it looked utilising the X-Cart mobile app, and in addition to this a Samsung smartphone showing the Just X-Cart Facebook app happily working away. The combination of these 3 devices, in conjunction with asking each visitor questions about their business, so as to explain features and benefits relevant to them, was very well received and made it much easier for them to see how X-Cart could work for their business.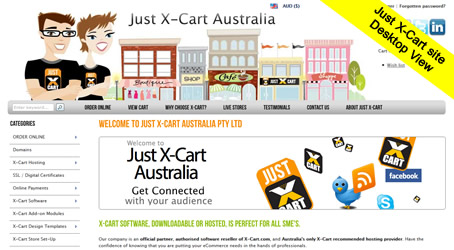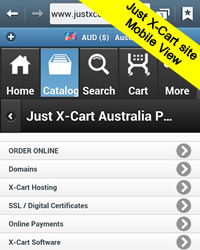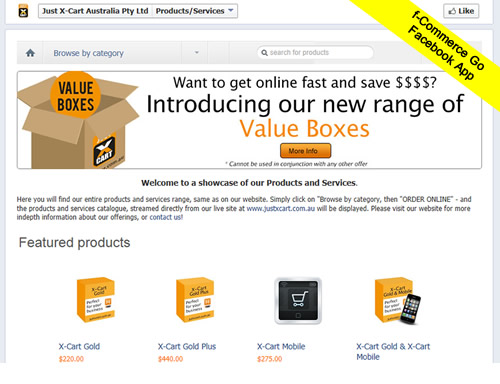 We also utilised our demo store as needed to demonstrate how numerous features worked including product options, upselling, featured products, wholesale pricing, the streamlined checkout process, etc and showed examples of our custom designed templates at our "X-Cart Shops" Portfolio site.
Just X-Cart truly provide a one-stop-shop approach including domains, hosting, design, software and modules, setup, training, and ongoing support and assistance. Our business model provided reassurance to people that we had their online business needs catered for, and that we certainly aren't about simply selling a piece of software. Instead they could look forward to a long-term business relationship, with an Australian-based company dedicated exclusively to X-Cart and genuinely interested in their success.
In between talking to expo visitors about X-Cart software and our services, we managed to get a few posts up to Facebook thanking our existing clients for dropping by!
DAY TWO
By day 2 we started to notice a trend – visitors commented that by the time they reached our stand, they were totally confused and still didn't really understand what they needed or how it all worked when it came to getting online.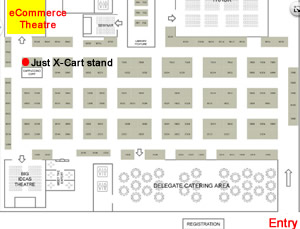 Now given we were in the far corner of the exhibition (outside the eCommerce theatre which was ideal, but certainly not near the entrance to the expo) this was quite a surprise.
In us taking time to explain how everything connected together (domains, hosting, software etc), and showing a real interest in each visitors business eg their specific products/services, and then explaining how X-Cart would work for "their" business, as opposed to a generic example, people who felt lost in eCommerce confusion, suddenly could see how it would really work for them.
That was the most rewarding part of the expo – truly assisting visitors to understand the power of eCommerce, and how they can have that power in their hands, for their business, with us by their side as much or as little as they needed.
So as the second and final day drew to a close, though slightly exhausted, Just X-Cart had achieved what it came to do – to introduce the world of X-Cart to dozens if not hundreds of visitors who attended the expo!
We undertook the pull down of our stand and despite weariness, could still manage to make a positive from any negative.
Evidence of this as follows…
We had used a table as part of the setup – now the challenge was getting it to fold down!! Nope, it just wouldn't budge! Instead, we turned it into a cube, cable-tied it together and it made for a great transportation aid down to the carpark for many of our stand components! lol. Then a bit more, errr, passion and persuasion was applied to the table and finally it folded down fully, which is great because there was no other way to fit it in the car!
That night we posted an overview of day 2 to our facebook page and reflected on what a success the expo had been.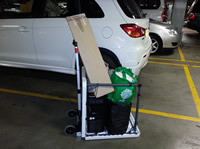 Online Retailer 2013 was a fantastic 2-day event for Just X-Cart Australia and confirmed what we had known all along – that there is certainly a demand for a cost-effective, feature-packed, supported eCommerce application like X-Cart . And we are proud to deliver that to eCommerce clients across Australia and the globe!…"