X-Cart lists developers on the website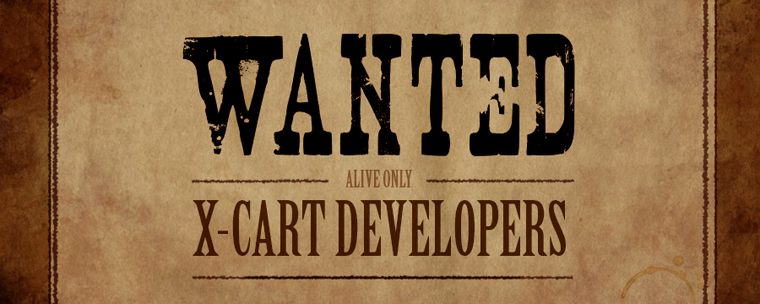 Hi, X-Cart professionals, programmers and developers!
Develop X-Cart projects? Interested in more clients? Where is the highest concentration of your potential customers? Of course here – on our website. That's why the savvy entrepreneurs should seize this chance and got listed right away!
What's the catch?
There's no catch. We are publishing the list of web agencies & studios that develop X-Cart based sites for merchants, which is a win-win-win.
Our merchants can find a web-agency close to their location. Many a time were we asked if we can recommend a local developer. Now we can.
Our partners will get more clients.
And we will be in the 7th heaven seeing both clients and partners happy, meeting each other.
The more agencies are listed, the more merchants will come to this page looking for a local developer, the higher is the chance to find each other – for both. Important is to expand the list, that's why we're encouraging you, developers, web-agencies and programmers, to join this program!
What are the terms and conditions?
The terms are extremely attractive, the conditions are more than acceptable. Just take a look:
We offer you to
To be listed you should

List your web-agency free of charge for the first 6 months.
Enjoy growing sales
Get a good backlink for SEO

Have a portfolio of at least 3 X-Cart based sites
Have an X-Cart-only landing page where we will drive leads to
How we will drive your clients
First of all, we've added a link to 'partners' section of the top menu:

This link points to X-Cart Marketplace site where several companies are listed already.
The web-agencies can be filtered by county and even state, which is very convenient for your potential customers. By the way the clients can write reviews on marketplace and rate products/services. Positive feedback from existing clients will also convert your prospects into customers.
I'm interested, how to proceed?
Get the Best
Expert-Backed

Tips on Selling Online Straight into Your Inbox

Only one email a week, we promise

Awesome! You won't be disappointed 😉

Ksenia Emelyanova
Marketing manager at X-Cart
X-Cart copywriter, PR and Marketing Manager, I came to eCommerce company in 2009 as a customer support assistant, went on to work as a Project manager in the Custom Development team to discover the needs of e-merchants and deliver the projects that meet their needs. This experience gave me a deep understanding of how things work from both a developer's side and a user's point of view, and it really helps in creating articles with love and care. Apart from eCommerce, I am a loving wife and mother, yogi and aerial hoop performer.