Certified integration of Google Checkout with X-Cart

Qualiteam Software becomes a Google Checkout E-Commerce partner
8 Dec 2006, – Qualiteam Software has completed a certified integration of Google Checkout with X-Cart shopping cart. "It took three months to get X-Cart shopping cart certified and now it completely meets the requirements set by Google Inc for its E-Commerce partners. We are pleased to be the first international Google Checkout E-Commerce partner and believe in further mutually beneficial cooperation", said Alex Mulin, Qualiteam Software CR Director.
Google Checkout™ is a checkout process that you provide on your website to enable your customers to buy from you quickly and securely, using a single username and password. Once customers make a purchase, you can use Google Checkout to charge their credit cards, process their orders, and receive payment in your bank account.
Attract more leads. Buyers that use Google Checkout actively look to buy from merchants that offer it on their websites. If you use Google search advertising, you can help these potential buyers find you by displaying the Google Checkout badge on your search advertisements
Convert more leads into sales. A fast, secure checkout process helps persuade shoppers to buy on your site and buy more often.
Protect yourself from fraud. Google Checkout's fraud prevention tools stop invalid orders from reaching you. And Checkout's Payment Guarantee policy helps protect you from chargebacks.
Lower sales processing costs. For every $1 you spend on Google search advertising, you can process $10 in sales for free. If you don't use Google search advertising or you use up your free transaction processing, you can process additional sales at a low 2% and $0.20 per transaction.
Special offer. From now through February 1, 2008, Google will process all Checkout transactions for free, even if you aren't an AdWords advertiser. If you're already an AdWords advertiser, Google will process your Checkout transactions for free regardless of what you spend on AdWords.
$50 AdWords Coupon. For a limited time, when you sign up for Google Checkout through the below link, you will receive a $50 AdWords coupon.
Notice: This special offer is valid only for new Google Checkout merchants with a self-managed AdWords account. Merchants must (i) be properly referred by Qualiteam Software, (ii) use an approved implementation of Google Checkout, and (iii) successfully process at least three (3) valid payment transactions and at least $500 of valid payments as a merchant through Google Checkout. The promotional credit will be distributed directly to the merchant within 30 days after the end of the month in which the merchant satisfies the criteria outlined in (i) and (ii). Merchants will be charged for advertising that exceeds the promotional credit. Merchants will need to suspend their ads if they do not wish to receive additional charges beyond the free credit amount. Subject to ad approval, valid registration and acceptance of the Google AdWords Program standard terms and conditions. The promotional credit is non-transferable and may not be sold or bartered. Offer may be revoked at any time for any reason by Google Inc. One promotional credit per merchant. For new AdWords Program registrants, an activation fee of $5 will be applied and deducted from the promotion credit. Offer valid only for merchants in the United States signing up for Google Checkout through the referral link provided. The promotional credit will expire approximately 90 days from the date the credit is issued.
Apply now in 3 simple steps!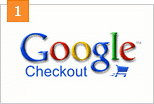 Sign up for a seller account
About Qualiteam Software
Established in 1998, Qualiteam Software is now one of the worlds leading providers of e-Commerce software solutions. Software created by Qualiteam powers tens of thousands of online stores and e-Commerce websites in 111 countries all over the world. Qualiteam is focused on delivering products that create a solid infrastructure for e-business and have both B2C and B2B value. Ongoing support, integration services and consultations are provided to make sure customers derive maximum benefit when using Qualiteam products. Qualiteam Software is headquartered in Limassol, Cyprus, with partner company offices in Ulyanovsk, Russia. For more information, visit QTWebSite
Subscribe to Our Weekly Newsletter to Get
Expert-Backed

Tips Straight Into Your Inbox

One email a week, we promise.

Awesome! You won't be disappointed 😉