Shipping tips: 4 Ways to Rule the Holiday Season

Physical Space
Your shipping space is about to get busy. Clean, organize, and orient it for efficient shipping.
Maximize Space: Keep your top selling items close by or pre-packaged, ready to either ship out or add to as needed.
Ease of Access: Frequently purchased products should be in easy-to-reach spots. If items are often bought together, keep them on the same shelf to speed up picking.
Clear Storage Labels: Have a non-employee try and locate a product and bring it back quickly. If they take too long, see where they were slowed down.
Organization: Are your tools — tape, scissors, printer paper, boxes, labels, etc. — in bins ready for use? Are your boxes pre-built? If you have to backtrack during shipping, find a better way.
Location Matters: Take a look at where your shipping station is in relation to your storage space. Is the transition from picking to packing steady and simple? Reorganize as needed to optimize your process.
Free Shipping
Shipping cost is the second most important issue in online purchasing after product price. Here are a few ways you can introduce free shipping to your business:
Meet a Threshold: Spend $X and get free shipping. Don't set the threshold too high, though — 10% – 15% higher than your average order will encourage customers to spend more than usual (and help cover your shipping costs).
Holiday Promotion: For example, anything bought on Black Friday or Cyber Monday gets free shipping. This is a great way to test the waters pre-December to see if free shipping will work.
Free for All: If your products are smaller and lighter, absorb the cost of shipping in your product price and offer free shipping for everything.
Know Your Products: Bulky, heavy products won't translate well to free shipping.
If you offer free shipping, make sure your customers know it. Promote on social media and across your site.
Use Packages to Build Your Brand
Since your customers aren't entering a physical store, talking to an employee in-person and purchasing at a register, how you handle your packages — and what's inside them — is the next best thing to crafting an in-store experience.
Packing Slips, Thank You Notes, & Care Guides: Dress up your packing slip with a coupon in the footer — preferably for post-holiday to boost sales. A pre-written or handwritten Thank You note will endear you to the customer and you can even ask them to share their experience or follow you on social media. If your products need care — even if it's as simple as how to wash a shirt — include that care guide so it's immediately handy.
Brand Your Box: Companies like Packlane and Salazar Packaging give you affordable options to make your packages unique to your brand — and will impress your customers. It can tell your story, influence customer moods, and help you stand out.
Returns
Last year, returns were at their highest on Dec. 26th and 27th. That means customers will be contacting you immediately after you wrap-up Christmas dinner. Here's how to make returns easy:
Free Returns: There's that word again — free. Customers that have to pay for their own returns decrease spending at that retailer by 75% – 100% over 2 years. In contrast, when you offer free returns, the customer will increase spending 158% – 457% above pre-return spending over 2 years. Big difference in business lost VS business gained.
Accessibility: Make sure your customers can find your return policy and that it's easy-to-understand. Clearly layout what is returnable and what the timeframe is. For the holidays, extend the timeframe by twice as much or more.
Include a Return Label: While this means paying for the label, it also means your customer has the tools needed to return the product, especially if you include the return policy, too.
Customer Support: Make sure your employees know the policy and are prepared for the rush. Knowledgeable support goes a long way towards making a stressful process easier.
Shipping Deadlines
If you can get those 4 in hand, all you'll need is our Holiday Shipping Guide below. It has the important dates you'll need to know to make sure your orders get where they're going before Christmas day. In addition, we also have Holiday Closures and dates for additionally modified services. Take it all in and make this holiday your best yet and as always, get ship done.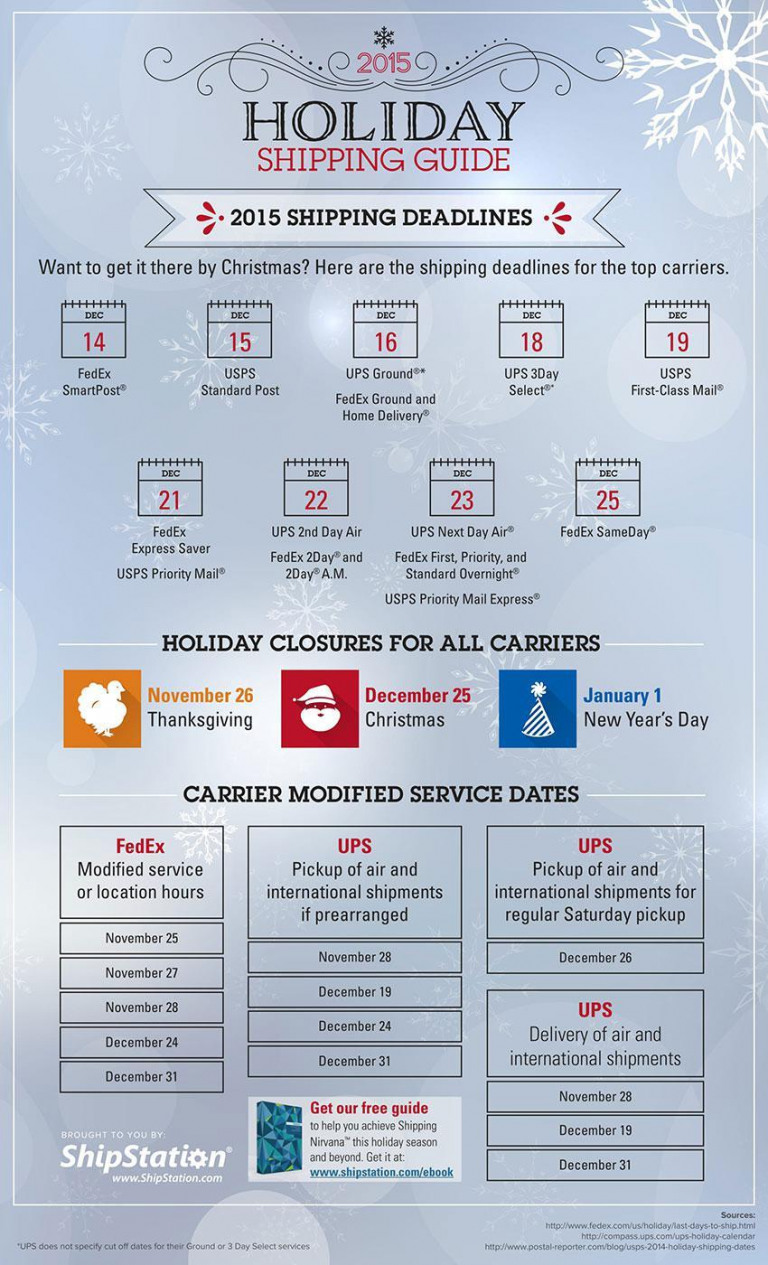 Subscribe to Our Weekly Newsletter to Get
Expert-Backed

Tips Straight Into Your Inbox

One email a week, we promise.

Awesome! You won't be disappointed 😉

Joey Blanco
Content & Social Media Coordinator in ShipStation
ShipStation is the leading web-based shipping software, intended to automate and simplify order management and shipping processes for you. It's integrated both with X-Cart 4 and X-Cart 5. If you are interested in their services check the following modules: ShipStation for X-Cart 5 and ShipStation for X-Cart 4