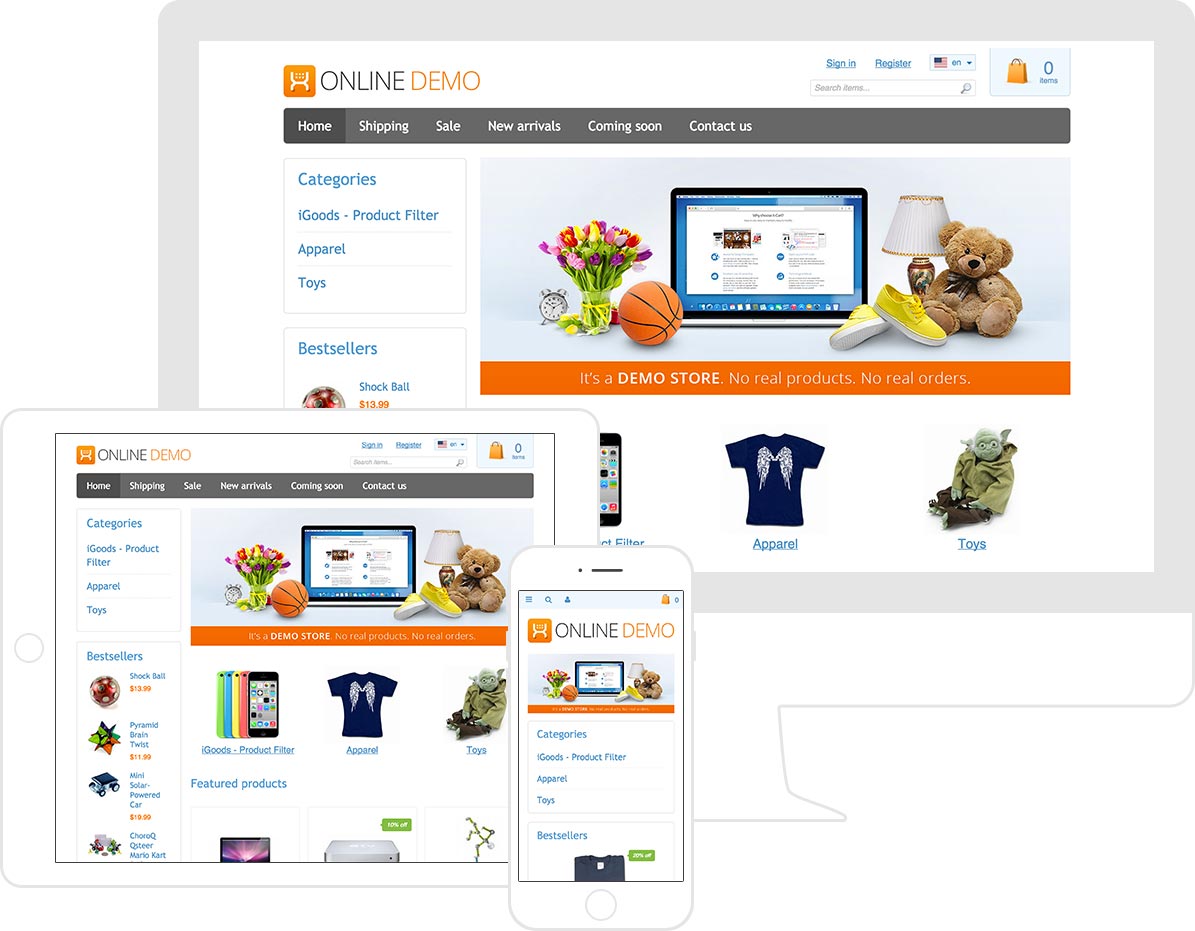 Get all essential features you need to start your online store – today!
Lifetime license
Lifetime free access to upgrades
One-click upgrade of license to a premium one, whenever you need it!
Responsive Design
Bootstrap-based responsive design for optimal performance on all types of devices, from cell and tablet to widescreen desktop out of the box
Product Options and Combinations
Product options are supported: price modifier and a custom text field. Add any custom text or selectable fields for your products
Cloud Search
Lightning-fast search by products, categories and static pages with suggestions and autocorrect. Free plan for up to 100 products is available
Featured Products and Bestsellers
Draw customers' attention to particular products: feature the goods you select, or show the products, most popular among the other visitors
SEO-Friendly Catalog
Various SEO features (meta tags, clean URLs, XMLand HTML sitemaps, etc) will help your prospective customers to find you on the web
Social Sharing
Facebook, Twitter, Pin it!, Google+ buttons will help you to interact with the visitors and reach their friends via the content they share
International and Multilingual
English, German, Russian and Dutch transtlations are available for free, 25 more language packs by our partners – for as low as $55!
REST API
With your store's database via REST API and with no direct access to your server's environment. Handy for integration with various web-services
Webmaster mode
Modify any template by clicking on the element while browsing the store in Webmaster mode. Apply your changes and see the results instantly
Newsletters
MailChimp Integration with the support of eCommerce 360 feature will help you to become a guru of email marketing and boost sales
75+ Payment gateways
PayPal, Authorize.Net, 2Checkout and dozens of other integrations are available as separate modules and within a PA DSS certified application X-Payments
Theme Tweaker with Color Schemes
Four beautiful colour schemes and flexible layout settings (1,2 or 3-columns) will help you to create a good-looking store without extra expenses
Questions and Answers
Do you charge any transaction fees?
No. We do not have any transaction fees.
What about lifetime license and upgrades?
Commercial Editions (Business, Multivendor, Ultimate): The price includes a lifetime license and one year of free access to new versions. After the first year, if you want to keep receiving the upgrades, you will need to pay the annual subscription fee. A special lower rate is available within one month after expiration of your access to upgrades, after that a regular rate applies. If you don't subscribe to the upgrades, you may still use your lifetime license as long as you need, however the store will be «frozen» in its current state.
Free Edition: You're getting a lifetime license and free core upgrades within this package.
X-Cart Edition
License Price
Access to upgrades:

Special Low Price

Access to upgrades:

Regular Price

FREE Edition
Free
Free
Free
Business
$495.00
$99.00
$247.50
Multivendor
$1,495.00
$299.95
$747.50
Ultimate
$3,995.00
$1,495.00
$2,579.75
Can I purchase other services AFTER ordering X-Cart?
You bet! If you originally purchased X-Cart without ordering additional services, you can always add on services later.
If I only purchase one X-Cart license, am I able to use it for more than one website?
Sorry, but no. You will need to buy shopping cart license for each site you build with X-Cart. View our licensing agreement here for more information.
If I purchase an X-Cart product, can I upgrade to a different edition in the future?
Absolutely! If you exchange your license, we will deduct the price of your original product from the cost of the new edition. Just, contact us
I have several different domain names pointing to the same site. Do I need to purchase multiple licenses?
No. You can have several different domain names pointing to the same site with the same content under one license. Read an explanation of the ONE-LICENSE-ONE-STORE RULE at Appendix B
I want to upgrade my X-Cart 4 to the latest X-Cart 5 version. What do I do?
You have a couple of choices to buy shopping cart updates. Please, refer to upgrade path for available options. Find the answers to other common questions about X-Cart
Not sure which X‑Cart edition is right for you?
Need Even More X‑Cart Power?
Our Enterprise package offers a fully customized eCommerce solution for your large business.