Create online store with X-Cart
Mobile ready. Open PHP e-commerce platform. Seamless upgrades.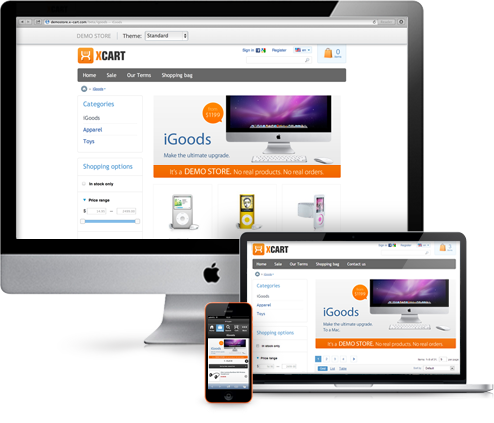 Find the X-Cart edition that's right for your business
Promotion tools: Featured Products, Bestsellers, Add to Cart Popup
Bootstrap-based responsive design
Lightening-fast cloud-based search by products, categories and static pages with suggestions and spelling autocorrect. Free plan (up to 100 products) available.
Price Modifiers and Product Variants; Product Attributes
Custom Website Pages, Contact Us Page
Search Engine Friendly URLs, XML Sitemap, Custom Meta Tags
Theme Tweaker with Color Schemes
Real-Time Shipping Rate Calculation: USPS, FedEx, UPS, Australia Post, Canada Post
Website Statistics and Analytics
International Languages: English, French, German and Russian
MailChimp Integration with eCommerce 360 support
75 payment gateways. Available as separate module and via PA-DSS certified payment application "X-Payments"
Access Levels and Memberships
Two Factor Authentication via Authy. For the store adminstrator and optionally – for Customers too.
Advanced promotion tools: On Sale, New Arrivals, Coming soon, Upselling and Cross-selling, "Customer who bought…". Product ratings and Reviews
Support for digitally distributed products
Layered Navigation on the storefront
Environment and included services
X-Cart Installation and Store Setup Assistance
SSL Installation and Configuration
Choose a suitable X-Cart plan for your business. View Prices
X-cited to Start?
Easy to use, easy to maintain, easy to modify