X-Cart Payments (aka X-Payments)
If you can answer "yes" to any of the following, X-Cart Payments just may be the solution you've been searching for!
Do you:
Need to accept credit cards on your website and still be PCI compliant?
Sell services where the final price is defined after the service has been rendered?
Receive phone calls from returning customers who want to place a new order and charge a credit card on file?
Want to make repeat orders easy for your numerous returning customers?
Sell subscriptions for products or services you deliver to customers periodically?
The X Factor: What Makes this Module Great
Give your customers – and yourself – peace of mind with this payment processing module that guarantees compliance with PCI security mandates, significantly reduces the risk of data breaches and ensures you won't be hit with a fine of up to $500,000 for non-compliance. Safely and conveniently store customers' credit card information to use for new orders, reorders or recurring payments.
Key Features
Fully Compliant.


In 2012, global security mandates went into effect that require software for payment forms hosted on your site to meet the Payment Card Industry Payment Application Standard (PA-DSS). X-Cart Payments is a PA-DSS certified application for PCI compliant credit card processing for online merchants.

Makes Reorders Fast and Easy


Your customers can safely save credit card information, making repeat orders quick and convenient. See how it works.

Great for Phone Orders Too!


Customers calling in an order by phone can easily charge their saved credit cards. See how in X-Cart admin back-end and inside X-Payments back-end.

Perfect for Subscriptions


Recurring charges are a snap with X-Cart Payments. See more here.

Eliminates Redirects that Can Result in Lost Orders.


Retain total control over the checkout process and avoid risky redirects by incorporating an iFrame credit card form in your checkout window. Customers never leave your website when placing orders, and research shows fewer checkout steps improves conversion.

Works with Mobile Devices


X-Cart Payments works seamlessly on any mobile device as well as traditional devices.

Shopping Cart Integration


Integrates with all X-Cart editions as well as other shopping cart services.

Payment Gateway Compatibility


X-Cart Payments supports virtually all major payment gateways (see complete list).

Multi-Store Support


X-Cart Payments can process payments for up to 10 stores. (Have more than 10 stores? No problem - contact us)

Easy to Customize


A customizable payment form page, configurable permissions for staff users and full transaction control (Auth/Capture/Sale/Void/Refund/Info) allow you to tailor X-Cart Payments to meet your specific needs.

Fight on-line fraud with Kount


Screen all your transactions with Kount to catch online payment fraud

3D-Secure Support


Add even more protection by supporting 3D Secure technology via Cardinal Commerce.
Ready to Get Started?
Choose from a hosted plan that combines X-Cart Payments PA-DSS certified software with PCI DSS compliant hosting in one package for maximum security and compliance or take a downloadable license with full source code and host X-Cart Payments yourself.
How X-Cart Payments Works
While processing credit card payments, X-Payments works as an intermediary between a shopping cart software on one side and payment gateways and 3D-Secure systems on the other side.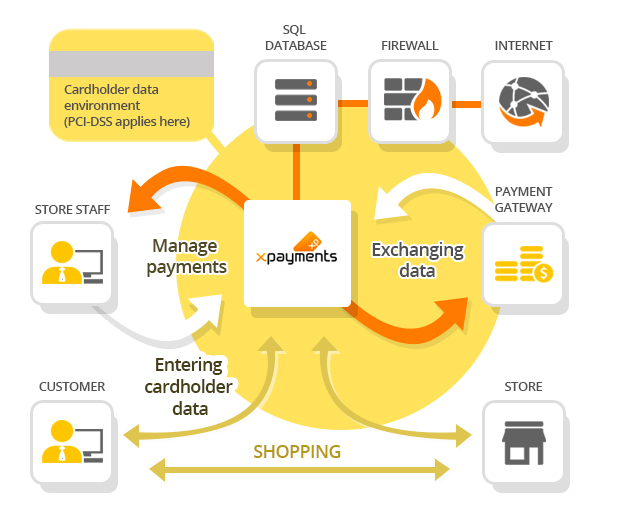 See detailed X-Payments flow diagram.