CloudSearch – Robust eCommerce Search & Filtering Engine for Your Online Store
All X-Cart 5 editions include a free

30-day

trial of
CloudSearch Retailer plan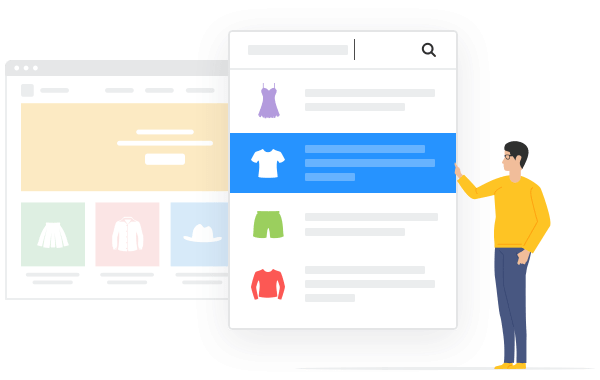 I want a
predictive
search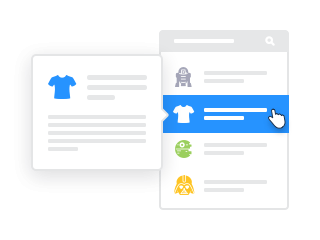 Smart &
Lightning-Fast


Search

Your customers will be thrilled with blazingly fast and extremely relevant search results and suggestions.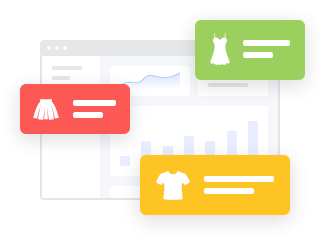 Powerful
Navigation & Filters
CloudSearch goes beyond simple search, delivering seamless filtering experience. It effectively redefines the meaning of powerful navigation in your store.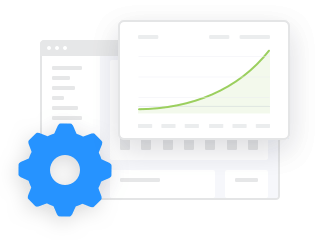 Analytics,
Customization & Promotion
Analyze what your customers are searching for, what they find and what they don't. Use this knowledge to improve your offering with the help of our search tuning & merchandising tools.
Pays for itself with added revenues
CloudSearch costs less than sales lost due to inept product search
Instant search for products, categories & pages
Filters for faceted navigation on product search, categories and other product list pages
Smart filter selection for product search
500
products
5 000
products
50 000
products
Unlimited
searches
Unlimited
searches
Unlimited
searches
7 days
analytics report
30 days
analytics report
90 days
analytics report
10
promotions
30
promotions
100
promotions
10
synonyms
30
synonyms
100
synonyms
3x daily &

on-demand
catalog sync
3x daily &

on-demand
catalog sync
Real-time
catalog sync
1
language
1
language
3
languages
Get extra revenue with CloudSearch
Your annual
revenue
$500 000
Percentage of shoppers using
your internal site search
40%
+ $45 000
/ year
CloudSearch drives more revenue by increasing conversions among shoppers using your site search
43% of eCommerce visitors go immediately to the search box, and searchers are 2-3x more likely to convert
Features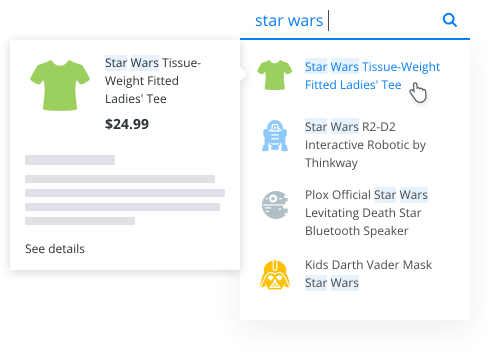 Autocomplete and
real-time

suggestions

Your customers will find the products they need just having started typing the name in the search box. eCommerce site search with autocomplete and adaptive product suggestions will help to discover alternatives to what they need and additional items they even haven't considered yet. Product names in the list show up together with product thumbnails for easier perception.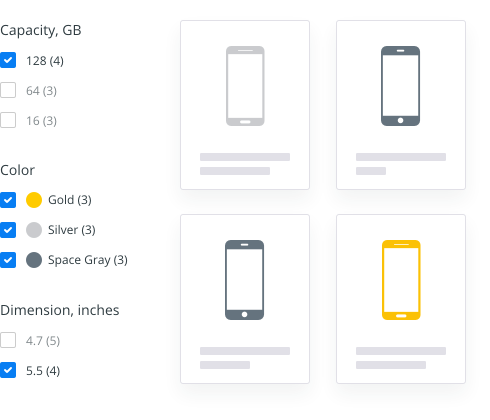 Instant and smooth search with only relevant results
Modern consumers don't like to wait and much less see unnecessary stuff in the search results. High speed and relevance of search results ensure that a customer doesn't quit his path to the purchase. Modifying the filter conditions returns search results right away without refreshing the whole page.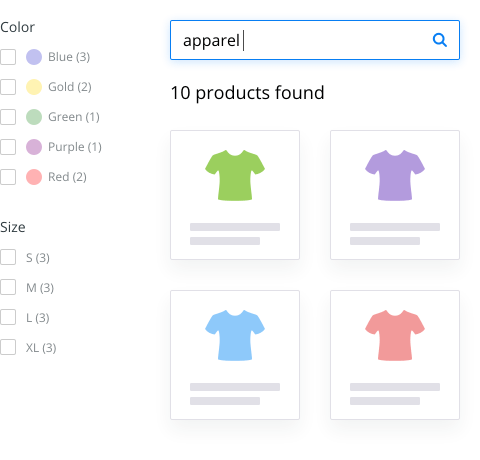 Variant-specific dynamic filtering for best search experience
The CloudFilters extends your search with advanced filtering for variant-specific search. Buyers see only the filters related to the category of a product they're looking for. The list of available filters changes on the fly, depending on already selected filters. Filtering by variants is also on hand. Products with unavailable options won't even show up in the results.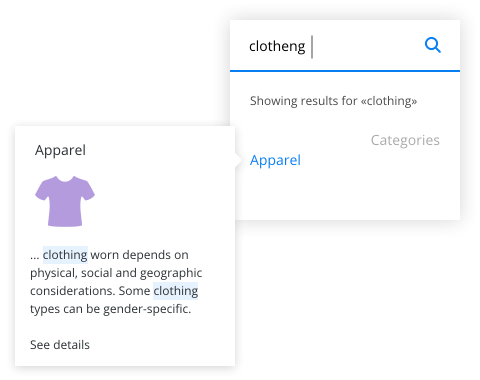 Spelling corrections, synonyms, related terms & languages
Automatic spelling corrections, synonyms (aka phrase substitutions) and support for many languages are available in the CloudSearch & CloudFilters eCommerce search engine out of the box. They ensure that a product gets found if it is in your store.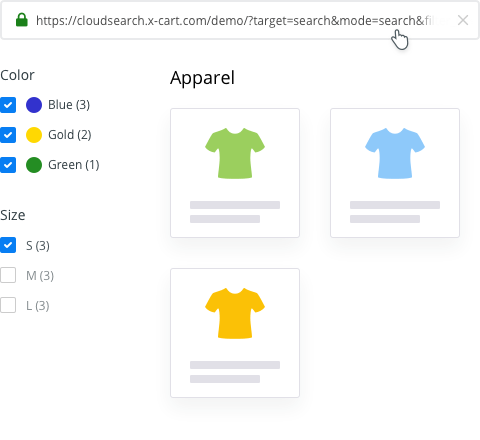 Sharing filtering results
Each filter and sorting change in the faceted search tool are automatically added to the URL. It means you can refer your customer not to a single product but to a range of products that meet their needs. Oh, and your customers can share the filtered data with their friends, too.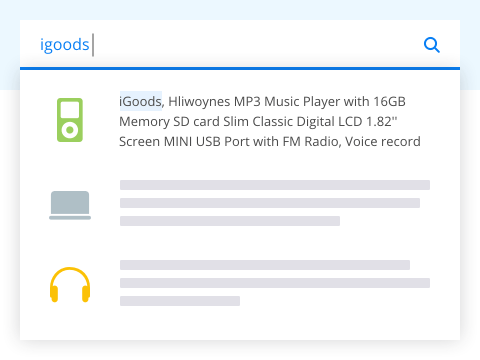 Merchandising in the right place and time
A nice bonus of our eCommerce search solution is keyword-triggered promotions. It's the ability to promote your products right in the search result dropdown depending on the search queries that your customer type. Such products will show up on the very first position in the suggestions list.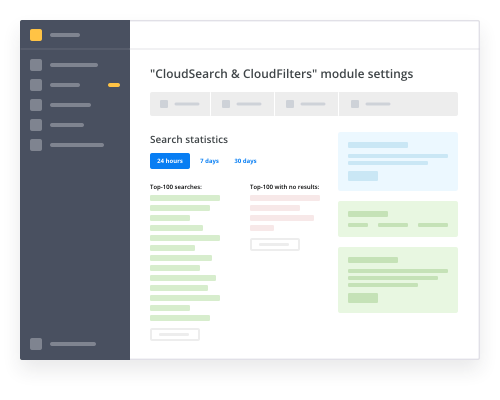 Search statistics and analytics
The built-in reporting functionality will provide insights on the products your store visitors were looking for. You'll always get a list of the most popular search queries which returned no results. All this is a good ground when you decide to update the range of products you sell. It also uncovers keywords to improve SEO and update product names to boost sales.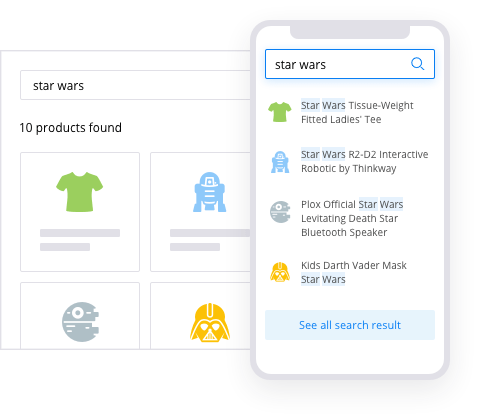 Mobile-friendly responsive design
The number of mobile searches exceeds those on desktop. So, the CloudSearch and CloudFilters eCommerce search solution is optimized for all screen sizes.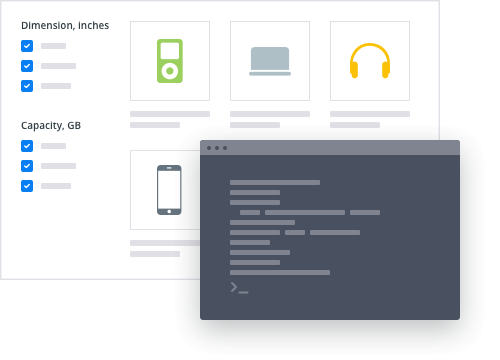 Limitless extensibility – ability to add custom filters
The CloudSearch & CloudFilters eCommerce search engine is fully customizable. With basic programming skills, it's easy to change this eCommerce search software and add more facet values according to your business requirements.
Customer reviews

HelpMedicalSupplies
This app is amazing! The results look great, plus the data we get about popular searches and unmatched searches have helped us understand what customers are looking for! This app is driving amazing results! 5 Stars!!!

Todd Messineo
This is one of the best X-Cart add-ons we have ever purchased. Our conversions are up 9.02% over last years a same month.

Brandon Russ
This is one of our favorite modules. It works well. The way that our business is structured, our admins tend to use this module often to locate exact SKU's and products.
Your Powerful Onsite Search and Filtering Tool For




CloudSearch & CloudFilters eCommerce site search solution for X-Cart, Ecwid, and Prestashop is a surefire way to reduce cart abandonment and boost your store's conversion rates. Due to the best eCommerce practices, this tool creates a well-honed search & navigation experience no other app can offer.
Talk to an expert