Looking For a Faster and More Scalable WooCommerce Alternative?
Your quest is over! X-Cart is a powerful eCommerce platform designed to support your growing businesses with expanding needs.
Move your store to X-Cart and future-proof your eСommerce.
What data we migrate:
Products
Product categories
Coupons
Manufacturers
Customers
Orders
Taxes
Reviews
Multistore
Multiple Languages
Why Choose X-Cart over WooCommerce?
X-Cart vs. WooCommerce
X-Cart

WooCommerce
Open-Source eCommerce Platform
API Access
Hosting
Fraud Detection and Prevention
Search & Product Filters
Cloud Search & Filtering are prebuilt in all X-Cart software editions
Catalog Size
Unlimited SKUs without affecting site speed
Adding more SKUs lowers site speed
Coupons and Discounts
Built-in
Paid plugin
Real-Time Shipping Calculation
Built-in
Paid plugin
One-Page Checkout
Built-in
Paid plugin
Payment Methods

No-code integrations with 120+ payment gateways, including PayPal, Stripe, Authorise.net, Affirm, Apple Pay, and Google Pay to name a few.

X-Cart offers a prebuilt X-Payments Cloud connector – PA DSS certified software that complies with PCI standards.

Two payment integrations out-of-the-box: PayPal and Stripe.
Transaction Fees
Charges on all transaction made through PayPal
Marketplace Solution
Unlimited
Native eCommerce Solution for Automotive Businesses

Year/Make/Model/Engine filtering

Garage feature for shoppers to save and reuse search filters

Responsive Automotive themes
5 Things X-Cart Offers That WooCommerce Doesn't
Scalable and Reliable System
Your X-Cart store scales properly. Whether you are planning to expand your catalog or expecting an increase in traffic, we got you covered. Don't worry about hitting your limits or potential downtime! With X-Cart, you get a stable yet configurable online shop bundled with a team of hosting experts monitoring your server daily and guaranteed 99,99% uptime.
WooCommerce
WooCommerce-based stores do not scale well to changing business demands. That causes their owners to experience risky outcomes. For example, updating your catalog or sudden boost in traffic can quickly exhaust your storage space and slow page-load speed, which may lead to crashes and lost sales.
Ease of Customization and Upgrades
With X-Cart, you don't need any coding skills. X-Cart provides custom development services in-house, which means you get professional assistance from the original platform developers. Easy and smooth upgrades require just one click, no matter how custom your website is.
WooCommerce
While WooCommerce allows for extensive customization, you need either advanced coding skills or to hire third-party freelancers to make modifications to your core. In addition, extension upgrades cause incompatibility failures due to the difference in expertise level of those who developed them.
Simple Navigation
You can easily access X-Cart customer support via 24/7 phone, chat, ticket system, and email. Our in-house customer success team and support engineers work round the clock to ensure you get help whenever you need it.
WooCommerce
Fixing issues on WooCommerce requires relentless googling and browsing of help forums. The support is available mainly through the ticket system and response times are long, so many of the issues have to be self-solved.
Affordable Maintenance
X-Cart comes with rich core functionality and fully compatible plugins. Our clients report they save up to 50% of their eCommerce budget when setting up and maintaining their stores on X-Cart. Stop spending money on costly fixes. Invest into growth instead!
WooCommerce
WooCommerce core is free, but the build is very basic. Any essential feature you want to add is a paid plugin, which leads to a high setup cost. As you grow, hiring developers for customization projects and fixing constant plugin incompatibilities add to that cost. Solving security issues caused by third-party code and upgrading hosting plans every time you hit the storage limit adds more.
Hassle-Free Replatforming
Automated shopping cart migration

The easy-to-use X-Cart migration add-ons establish a reliable and secure connection between your current online store and X-Cart to transfer the intended data entities smoothly. No coding required.

Fast and secure 2-step migration

X-Cart offers a two-step migration process to ensure the accuracy of migrated data. First, we transfer a test copy and provide a private test URL for you to review the result. Then, after your approval, we schedule a convenient date to perform the final migration.

SEO audit of your eCommerce website

After migration, our SEO experts do a complete SEO audit of your site to protect you from a drop in search engine rankings. They map existing store URLs page to page and work out the visibility using high-end migration tools. None of your previous marketing efforts will go to waste.

Customized approach based on your website's needs

We will develop an individual approach tailored to cover your unique requirements.

Minimized downtime

The highly-skilled X-Cart team ensures a precisely coordinated and mindfully supervised data migration with no risk to your online presence.
Replatform and SCALE Easily with X-Cart
WooCommerce may seem like a go-to option for a start. But do you have a plan for the future? As your business expands, so does your need for the scalability of your eCommerce solution. X-Cart is a reliable platform built on a solid foundation and supports you as you grow and scale.
Security
We take site security and data protection seriously. Rest assured that your X-Cart site is safe and complies with all the world's latest security regulations.
Cost Effectiveness
The advantageous combination of cost, quality, and sustainability of X-Cart reduces the total cost of ownership and maximizes your return on investment.
Accessible Support Team
Regardless of what eCommerce challenges you are facing, you can always rely on our support. By phone, email, or online chat, our in-house team of experts are happy to help and advise you anytime.
Limitless Flexibility
X-Cart works as a well-coordinated mechanism that keeps all parts in sync. It accommodates any level of customization and working with other tools. Expand and scale your site without compromising its performance!
Ease of Use
The intuitive, code-free user experience frees you up from distractions on technical issues and concerns. Save time and effort on running your store and stay focused on your business growth.
FAQs
Which is better for eCommerce: X-Cart or WooCommerce?
X-Cart specializes in eCommerce and is built with business entrepreneurs in mind. WooCommerce, on the contrary, was built as an eCommerce element to be later integrated into the WordPress blogging platform. Merchants choose X-Cart for its flexibility, scalability, compatible plugins, and 24/7 live customer support.
Is X-Cart a free shopping cart?
X-Cart is a paid service yet cost-effective. While WooCommerce allows you to get started for free, it often lacks features that are essential for an online store. Extending its basic functionality is quite costly. X-Cart, on the other hand, comes with extensive default functionality and allows you to keep the cost of ownership down.
Can I migrate from WooCommerce to X-Cart without putting my business on hold?
Absolutely! Our engineers have developed a secure 2-step replatforming process. The initial step is performed on our testing servers, so your store stays up and running throughout the entire process and keeps getting orders. After your review and confirmation, we move the store copy to our live server and perform the final data synchronization. Your store will be closed only for the period of updating DNS records, which usually takes a few hours. But this is necessary and inevitable regardless of the platform you are migrating to.
We have a detailed guide on replatforming that explains the entire migration process in simple terms. If you have questions, feel free to contact our team.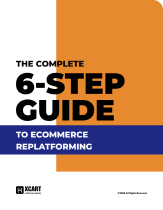 Everything You Need to Know About Switching Ecommerce Platforms
We have put together the Complete 6-Step Guide to Ecommerce Replatforming to help you decide if you need to move away from your current platform and what the process of migration involves. Dive in for best practices and top tips backed with real-life customer experiences.
Can I perform the migration myself using an automated WooCommerce to X-Cart migration tool?
Yes. You can perform the WooCommerce data transfer with a store migration app by Cart2Cart or LitExtension.
However, using our replatforming service can give you an extra advantage. We have an established workflow for migration projects that allows us to perform migrations at a lower price than you would pay for an automated shopping cart migration service. Additionally, our replatforming experts can also migrate your custom-developed design and features along with the basic data. Post-launch testing and professional support included.
Feedback from X-Cart Partners
"I have been very happy with X-Cart. It is a huge improvement over my previous cart, and it is much more modern and secure. It has been a great experience working with your team to get things migrated and working. Everyone has been very responsive and helpful.

So far, the best thing has been all the different features/options. There are so many new things I can do.

Thanks!"
"Before moving to X-Cart 5, we investigated a few other options with other companies. However, we found that X-Cart was the most flexible and customizable shopping cart compared to the others."
"X-Cart is an all-in-one solution. The same guys who develop the software also do your custom development. I think that's the best way to go so you don't have people coding on top of other people's code. Honestly, I don't see us functioning outside of X-Cart."
"X-Cart ended up having everything we needed. It was easy to find my way around without needing a lot of help, without needing prompting — it felt intuitive. As someone who doesn't write code, I was able to customize the things that we needed and 'build the plane while we're flying,' so to speak."
"Working with X-Cart for years and I haven't regretted it once. I can write a long review about what, why, and how but in two words: excellent choice! You get professional support without any fuss."
"As I anticipated, it has everything we wanted and even more. As a result, we can focus and work on our content and provide our clients with a better shopping experience."
"X-Cart 5 is PCI-DSS compliant using Authorize.Net with the Accept.js module. The new version will save us money on credit card processing."
"We tested out several marketplace apps and found X-Cart, by far, the easiest way to migrate from a Woocommerce set up. The process was simple and the staff were extremely helpful. Not only that, once the migration was complete, we've found that X-Cart is also a joy to use."
Let us estimate your migration process for free!