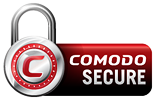 Comodo SSL certificates provide the strongest protection, greatest flexibility and can be issued to your website much faster using our 100% online ordering process.
Features
2048 bit signature / 256 bit encryption Industry Standard SSL Certificate
"No Hassle" SSL certificate issuance
Unlimited server licenses
Automated validation - no paperwork
Free Trustlogo - builds customer confidence and aids conversion
Free Upgrade to EV SSL for 1st year
Risk free 30 day money back guarantee
Unlimited Re-issuance Policy
Free Registration in IdAuthority
Trusted by all popular browsers with 99.9% Ubiquity
$ 250,000 Relying Party Warranty
Comodo SSL certificates are the quickest way for online businesses to protect customer transactions with SSL security. Featuring fast online issuance, the strongest possible levels of encryption, dedicated customer support and a huge $ 250,000 warranty, Comodo SSL lets you create a highly secure e-business environment much faster.
Comodo SSL Certificates Extended Features
Highest Levels of Security:
Comodo SSL certificates support 256 bit encryption levels and are signed with 2048 bit signatures - in compliance with US Government's National Institute for Standards and Technology's post recommendations for SSL root key strength.
Price:
Starting at only USD 61.80 per year, this is one the most cost effective SSL Certificates available today. These Certificates can be purchased for a term of up to 5 years.
Coverage:
Your browser compatibility is a key element when choosing an SSL provider. Comodo SSL is inherently trusted by 99.9% of the current Internet population.
Speed of Issuance & Validation Levels:
Comodo SSL certificates are issued much faster. Perfect for businesses on the move that need security without the usual waiting times.
Industry Leading Expert Support:
Comodo, the company behind every Certificate we sell, has a well earned reputation for industry leading customer care and technical support. As a valued customer, you can expect prompt support for any issues you may face or questions you may have during any stage of applying for, installing or using your SSL Certificate.
Build Customer Trust and Increase Website Sales

Building a sense of trust and security in the minds of your website visitors is key to converting them to customers. Comodo's high impact site seal does just that by instantly reassuring your visitors that your site is protected with SSL security from one of the most recognized brands in Internet security.
Why Comodo SSL?
Comodo SSL certificates are highly trusted ssl certificates providing the industry standard encryption at an entry-level cost. Our paperless validation system allows your certificate to be issued much faster while NIST recommended 2048 bit signatures and 256 bit encryption of customer data means there is no compromise in security.
Featuring a $ 250,000 rely party warranty, Comodo SSL certificates provide the security and reassurance your customers expect. You also receive dedicated technical support, unlimited server licenses, 30 day money back guarantee and a free upgrade to an extended validation certificate for the first year of your certificate.