Another huge holiday shopping season is right around the corner! So now is the time to setup the critical offers that help your sales skyrocket. One of the most attractive offers that consumers look for is financing. Everyone loves to buy now and pay later.
Big box stores and mega online retailers have always used customer financing to attract sales. But it's always been difficult for everyone else to offer similar financing terms… until now.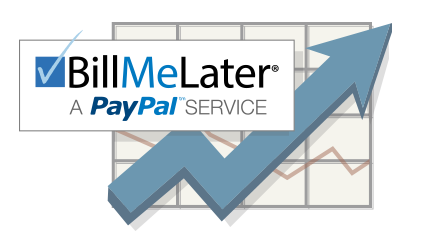 PayPal is rolling out new financing tools that can help you boost sales and increase average order sizes. Now you can offer customers financing with Bill Me Later®, if you're using one of PayPal's checkout products to accept payments online.
Better yet, there are several important, but often overlooked elements to offering financing that you can take advantage of to help you and your customers during the busy shopping seasons.
5 Little-Known Factors About Customer Financing [Infographic]

Turn Browsers into Buyers: What's in it for your customers? Your customers will love that they have more time to pay. Who doesn't?! When your customers check out with PayPal and use Bill Me Later, they can get no payments, no interest for 6 months on purchases over $99*. That is an incredibly powerful way to get shoppers click your "Buy" button now, instead of surfing around.
You Get Paid Up Front: Your customers get more time to pay, but your payments appear in your PayPal account within minutes, just like your other PayPal transactions. Plus, there's no additional cost to you. You only pay your normal PayPal transaction fee.
No Credit Risk to You: You also don't assume any credit risk. That means if a customer doesn't pay their bill, you still get paid up front. PayPal won't deduct the amount from your account to cover the loss. You also don't have to worry about billing customers and collecting their payments. That's all taken care of by PayPal, so you can stay focused on your business.
Average Order Sizes Increase: Forrester did research last year that showed customer financing helps increase average order size by up to 75%**.That makes sense. Customers are more likely to add to their order quantity or buy other items if it allows them to take advantage of financing.
Don't Wait Until Checkout: Shoppers like to see that they can get financing while they are deciding to buy. That's when they are on your home page or a landing page for your product. Don't just show them the offer when they are already in the cart or at the payment step. PayPal saw that sites promoting financing to customers boosted online sales by up to 20% this past holiday shopping season.***
Best locations for your banners

How does it work?
PayPal makes it easy for you promote this financing offer on your website. With X-Cart 4.6.1 it's even easier!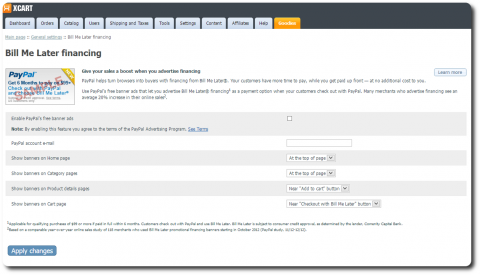 Enable any PayPal's payment method on payment configuration page.
Enable built-in module 'Bill Me Later financing' (Admin area, Settings -> Modules).
Go to module configuration page to enable Paypal's banner ads, as well as select on what pages and where exactly you want the promo banners to be displayed.
New payment method 'Bill Me Later, a PayPal Service' will appear on payment configuration page. It will active as long as main PayPal's payment method is on.
That's it. Enjoy the growing sales!
Additional Information
For more details about Paypal's Bill Me Later service visit the PayPal Financing Portal.
Should you have questions about this feature in X-Cart, please do not hesitate to contact us by email sales@x-cart.com.
*Applicable for qualifying purchases of $99 or more if paid in full within 6 months. Customers check out with PayPal and use Bill Me Later. Bill Me Later is a line of credit provided by Comenity Capital Bank.
** Forrester Research, Total Economic Impact (TEI) study of PayPal Express Checkout for Web and Mobile, 2012.
*** Based on a PayPal internal study, November-December 2012, of comparable year-over-year online sales of 118 small and mid-size businesses who placed Bill Me Later promotional financing banners on their site, starting October 2012.