←
Back to Blog
Augmented Reality in Retail [101 Guide For Beginners]
This blog post was originally contributed by Morgan Drake, a Client Success Manager at Crisp.
Did you know 63% of retail brands plan to use augmented reality (AR) in the next two years? AR retail experiences allow customers to engage with merchant products. The more customers interact with products, the better merchants can personalize the customer's experience and make better suggestions for increased conversions.
Did you know that 52% of retail executives do not feel prepared to support more advanced technologies like augmented and virtual reality? The better question is do you?
Not to worry, X-Cart is helping merchants to make more advanced technologies like augmented reality simple and easier than ever. To learn more about AR for retail, connect with X-Cart and AR experts here.
I. What Is Augmented Reality?
Immersive technologies like augmented and virtual reality make e-commerce engaging and fun. First, what is augmented, and how is it used for e-commerce?
Augmented reality uses the world around the customer. They can place products in their home or even on their bodies. AR technology allows users to play with merchants' products and see how they would look and fit in a room or on themselves.
By 2020 there should be 1 billion augmented reality users. (TechJury)
By 2022 there should be 3.5 billion augmented reality users. (CitrusBits)
100 Million users will shop with AR in-store and online by 2020. (Gartner)
Customers can capture and share content with virtual products. The user-generated content spreads brand awareness and starts conversations about their new purchases before the items arrive. Even if the customer doesn't make a purchase, they can still help provide free advertising by sharing personalized UGC photos and videos with a merchants brand.
Merchants can measure which products customers are engaging with the most to adjust their online shopping experience. Merchants can better personalize to each customer. Making improved suggestions makes a better shopping experience for the customer and increases conversions for the merchant.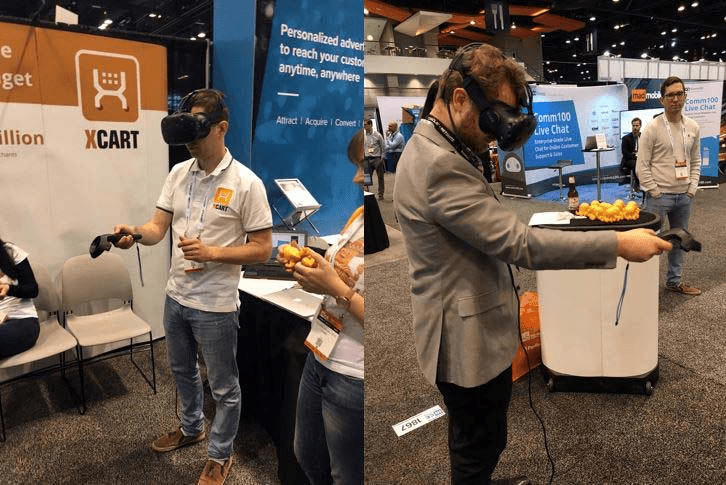 X-Cart is already working with companies like CGTrader, whose design team creates 3D models out of physical products so they can be applied to AR & VR experiences.
Coming soon, Fanboard, who has traditionally made AR & VR fan engagements for professional sports teams is now making AR-enabled retail experiences after success with AR for sports merchandise.
II. What Customers Expect from AR in Retail?
Customers want engagement, and they want you to know who they are.
According to SaleForce research, 75% of customers expect new technologies for better experiences.
That very research states that 84% of customers believe the experience is just as important as the product itself.
So what experiences are consumers looking for? According to the USA AR Retail survey:
72% of customers purchased items they didn't plan to buy because of augmented reality.
71% of customers shopped more when they used AR.
61% preferred stores with AR experiences.
55% say AR makes shopping more fun!
40% are ready to pay more if they test products with AR.
III. AR Shopping Examples You Can Follow
Check out the examples below to see how fast, easy and fun it is to play with retail products with augmented reality.
Wannaby's Wannakicks AR Mobile App for Footwear
As seen in the demo video, a customer can try on ten pairs of shoes in 10 seconds.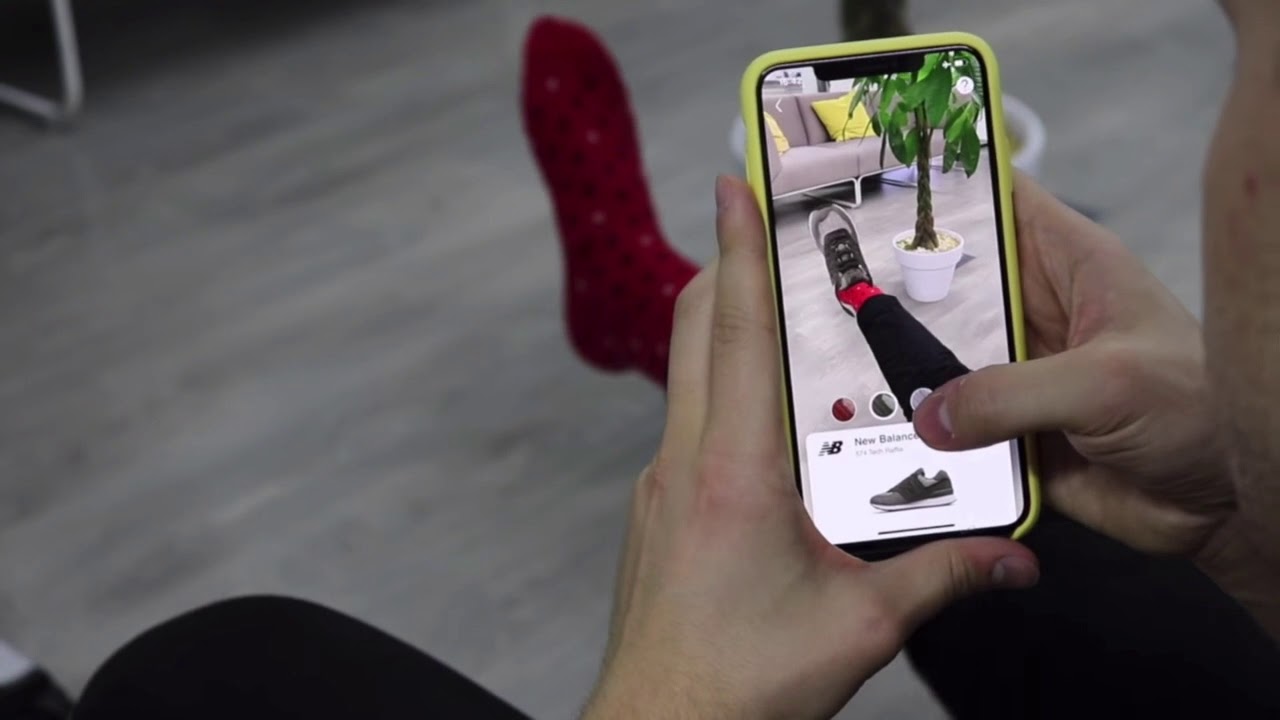 Source: WannaKicks App
Customers can now engage with more products from afar on their mobile devices. Merchants can offer an infinite amount of virtual products inside their physical store without having to have any inventory on hand.
Customers Can Pitch Any Tent They like Inside Mountain Equipment Co-Op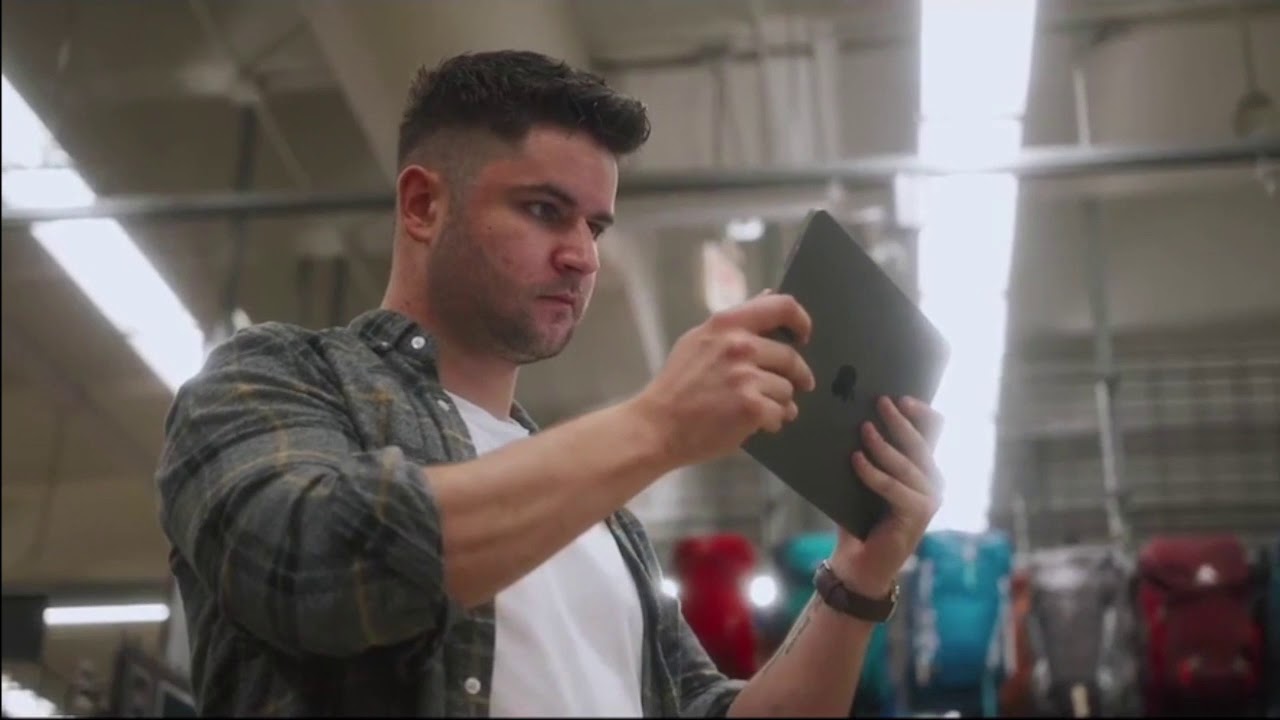 Source: Mountain Equipment Co-op (MEC)
Using a retailer's mobile app while in stores is a common practice. According to YES Marketing study, 57% of consumers said they were using smartphones and mobile devices to enhance their in-store shopping experience.
Mix and Match Any Outfit with the Magic Mirror
Another great example of an in-store augmented reality experience is a "Magic Mirror".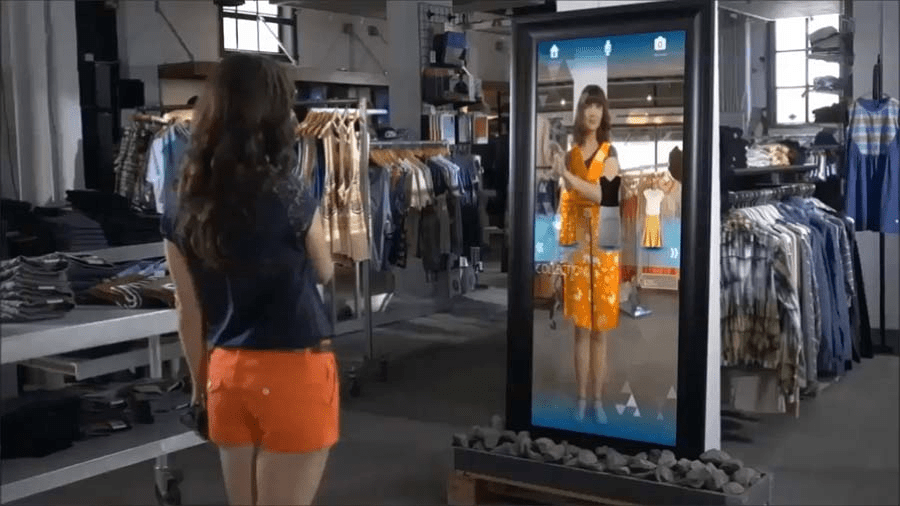 A Magic Mirror is a reflective TV screen linked to a camera and controlled by augmented reality software to create a virtual fitting room.
The TV screen can behave like a regular mirror, but it can also enhance the reflection by showing video feeds from different angles, adding accessories like earrings purses or hats, applying makeup or changing the color of the outfits.
Key objectives a retailer might address inside the store with augmented reality include:
Raise awareness of the retailer's mobile app (Awareness)
Opt-in to the retailer's email or newsletter (Awareness)
Explore a new product or product line in the retailer's stores (Explore)
Buy add-on products to a heavily purchased item (Select)
Learn how to use a product at home (Service)
Share an in-store experience on social media (Advocate)
IV. How to Personalize E-Commerce with Augmented Reality
Analytics tells merchants what products and product variations customers prefer. By measuring the time spent with each virtual product, actions taken like sharing content and measuring patterns of similar products customers engage with the most, merchants can adapt their product offering specific to each customer.
Key objectives a retailer might address inside the store with augmented reality include:
According to SaleForce research, 73% of customers expect companies to understand their needs.
63% now expect companies to adapt based on their actions and behaviors.
1. Discover What Your Customers Like with Augmented Reality
Merchants can use the AR experience to learn more about their customers. They can ask for a consumer's size before trying on a dress or blouse. Merchants can save consumers' preferences and adapt marketing campaigns and product suggestions accordingly.
2. Provide a Higher Level of Service with Augmented Reality
Viewing live customers with the AR experience in real-time allows merchants to provide a concierge level of service.
When a customer is actively engaged with a virtual fitting room merchants chime in with a messenger bot, text message, email or tweet: "That looks great on you! Did you know that particular designer has a new line that I think you will love."
3. Customize the Shopping Experience to Customers' Engagement with AR
Merchants can adapt their marketing campaigns to each user.
For example, merchants can create special discounts targeted on social when they see a customer has spent an exceptionally long amount of time with a particular product in the merchant's mobile AR app.
Or merchants can customize an email campaign to a group of users that shared an AR experience with a certain product.
V. Sharing Augmented Reality Content
Prior to or following purchasing products customers can share selfies on social media showcasing their AR clothing.
This user-generated content spreads brand awareness.
Who doesn't love free advertising!?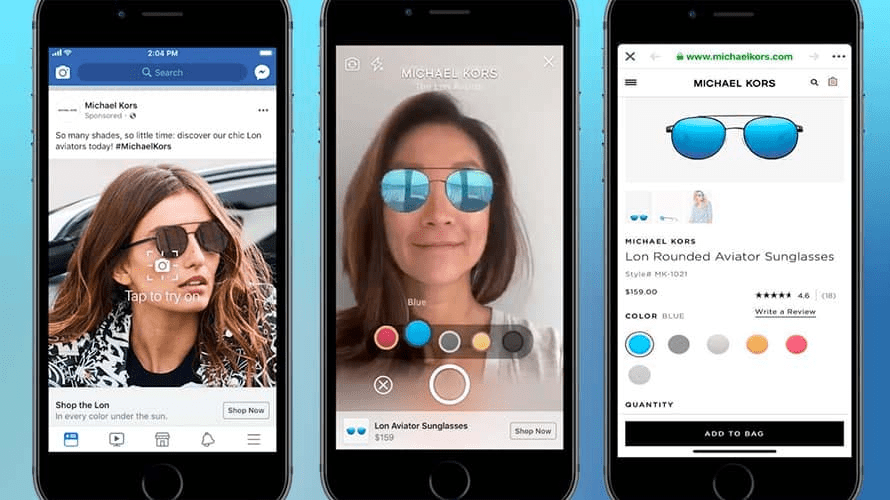 Sharing the AR experience can be branded with a unique template or filter. The sharing can be used to generate conversation about merchants' products.
For example, a customer can take a side-by-side selfie with two different product variations and caption, "Which one should I get?" Requesting feedback from friends and family generates conversation and brand awareness around the products. Additionally, links can take new users to the online store.
Facebook, Snapchat and Instagram are all exploring AR ads. Merchants can now incorporate AR into their social marketing strategies.
VI. How You Can Reduce Costs with Augmented Reality
The cost of returns alone can kill a retail business, but unfortunately, it is the expectations of online shoppers.
1. Defeat the 'Fitting Roomer' Once and for All
Some of the worst customers with the most notorious return habits have coined names in the retail industry.
One of which has been deemed the 'Fitting Roomer.' This shopper is the one who uses the weak return policies to their advantage by recreating the experience of a brick and mortar dressing room.
They try on all the clothes they have ordered to stage a private fashion show in the privacy of their home. There is, of course, no intention to buy.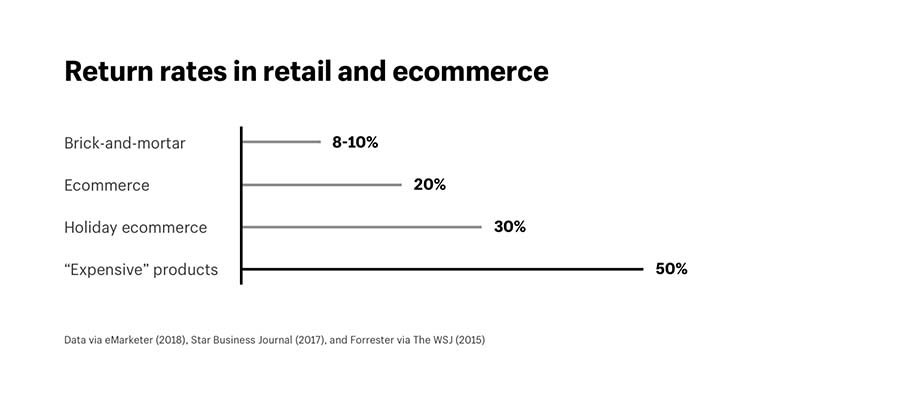 A great way to remedy the abuse of the 'Fitting Roomer' is providing the fitting room experience without having to go through the process of transactions and shipping.
The virtual try-on experience isn't just easier for the merchant who has to ship and balance accounting for the back and forth exchanges, but it's easier for the customer.
They could have an endless amount of products to try on, they do not have to wait for their items to arrive, package them and ship them back, and they do not have to temporarily load up their credit card taking away from their spending power.
2. Reduce Overhead & Shipping Costs with Augmented Reality
It's expensive to make and ship clothing and other physical goods. By polling customers and watching behaviors using augmented reality, merchants can make and ship items they know will be successful.
It's also expensive to ship and hold excess inventory. Using augmented reality, merchants can allow users to engage with an infinite amount of digital products and product variations without having to have any physical products on hand. Thus, reducing the cost of large retail or storage space and limiting the time of organizing a crowded warehouse.
VII. Make Augmented Reality a Part of Your Multi-Vendor Solution
With X-Cart partners augmented reality can easily be a new addition to your multi-vendor collection. Simply send product photos where vendors will offer 3D design services or use AI technologies to transform your products into AR ready digital copies.
X-Cart vendors can then help you apply your products to your mobile commerce store. Products like furniture can be placed in the customers' home and apparel products can be placed on the customer using facial and body recognition.
If that sounds complicated, don't you worry. This is all provided by X-Cart vendors. Merchants simply apply to their mobile app or online store.
Once the AR experiences are implemented, follow the analytics and use additional AI vendors to help customize the experience for each customer. Show them the products they want to see. Follow and join the conversations as customers are sharing their AR clothing experiences with friends and family.
VIII. Challenges in Augmented Reality Ecommerce
Although X-Cart is making it easy for merchants to implement AR into their marketplace, there are some challenges every merchant should be aware of.
1. Choosing Developers: In-House vs Third-Party
The first challenge that needs to be addressed is who will build and manage your mobile experience?
Both in-house and third party come with pros and cons.
In-house can be cheaper if the merchant has the staff with the required skill sets. While a third party can be faster and easier, which allows the merchant to manage their business.
2. Creating a Realistic Experience
Regardless of who is building the AR experience, the two key elements that are crucial to a great customer experience is realistic and easy to use.
There must be a talented 3D design team to make the products to appear as close to the actual product as possible. Easy to use comes with a master of User Interface and User Experience.
3. Easy to Use Interface
The mobile AR app should guide first-time users, have minimal clicks and actions, and should be intuitive to use for any customer.
4. Activation & Discoverability
Lastly, users need to know the AR experience are available and they need to know how to access the AR interactions. For active mobile users this can be achieved through push notifications, alerts, texts, email and social posts.
To activate new users in-store promotions, video and print displays can all be great methods for making the customer aware of benefits to engaging with the augmented reality.
Merchants need to remember to use social sharing to gain the benefits of user-generated content to spread awareness of their products and their AR capabilities.
Additional Resources:
XIX. How to Get Started With AR
The retail market is already adopting augmented reality, and customers expect retailers to provide augmented reality into their shopping experience.
Companies like IKEA and Warby Parker are already seeing huge success with augmented reality and so can you.
AR is only going to grow from here as new technologies like 5G connectivity are made accessible. The best thing any merchant can do is continue learning about AR retail experiences and begin applying them to their marketplace.
To get started, fill out this quick 30-second survey and an AR expert will provide additional information and will happily discuss implementation strategy for your AR store experience.
You can always reach out to the X-Cart support team who is eager to answer any questions regarding AR for retail or any other questions you may have to move your business forward.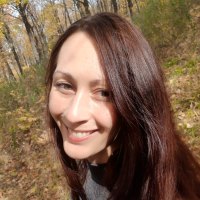 Maria Navolykina
SEO Content Specialist
Maria is an SEO Content Specialist at X-Cart. Once captured by digital and content marketing in her student days, she keeps living and breathing it ever since.
Subscribe to Our Weekly Newsletter to Get
Expert-Backed

Tips Straight Into Your Inbox

Awesome! You won't be disappointed 😉