X-Cart 5.1.10: Login with PayPal, Universal Analytics, Customer Files Uploads & Product Attachments, Sales Tax improvements

Greetings to the X-Cart Community! We've got a new version of X-Cart 5 ready. It contains a large number of minor improvements (see entire changelog) and a couple of noteworthy changes you will like – take a look.
Login with PayPal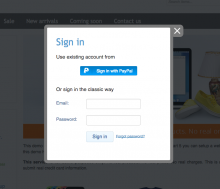 Log In with PayPal enhances the user experience for your customers: only one user id to remember to log in, fewer address & bank account forms to fill in, peace of mind as PayPal secures customer information.
The feature in question expands the existing "PayPal" module, available in all X-Cart editions, so you don't need to install it as a separate extension. However you still need to take an extra step and create a PayPal application for your website. For detailed instructions please refer to PayPal documentation here.
Sales Tax Management: selectable Tax Base
The Sale Tax section has been revised – per your requests we added a new setting affecting the Tax Base, it can take one of the following self-explanatory values:
Subtotal + Shipping
Discounted Subtotal + Shipping
Subtotal
Discounted Subtotal
Personal Setting for every rate
and in case the latter is selected, every rate gets the same "Tax Base" selector with 4 possible options. Additionally, there's a separate section to manage the tax rates applied only to shipping costs.
Universal Analytics: update of the Google Analytics Module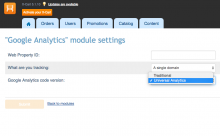 Back in October 2012, Google announced Universal Analytics as the next version of Google Analytics. With Universal Analytics, you can use all of the standard Google Analytics reports and tools, but you also get access to new features. Check the offical overview by Google Team to find out, what are these benefits.
Those who have already set up Google Analytics in their X-Cart store and are happy with the current integration, may rest assured: the upgrade of the store will NOT break it – you may keep using the current settings without any need to reconfigure the module.
ACTION REQUIRED: steps for those who want to switch to Universal Analytics
Before selecting the "Universal Analytics" option of the Google Analytics code version setting on the configuration page of module "Google Analytics" please ensure that your account property is using Universal Analytics. More info is available in the article See if you use Universal Analytics.
your account property is using Classic Google Analytics , be sure to upgrade it to Universal Analytics before you switch to "Universal Analytics" in your store's settings. To upgrade, complete Step 1: Transfer a Property to Universal Analytics". Step 2 of this instruction (integration code update) is already done by X-Cart engineers.
Files Uploads & Product Attachments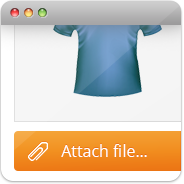 The commercial packages of X-Cart ( Business, Multi-vendor and Ultimate) get the extension which enables the uploading of files by the customer. This module is handy for entrepreneurs, offering customised goods like prints on mugs and T-Shirts, puzzles with photos, branded giveaways. Any file extensions, configurable file size and number of files per product, optional/mandatory files uploading – this makes the module very flexible.
Let's try it?
Did you notice a new opportunity to get acquainted with any Edition of X-Cart? You can request a personal online demo absolutely for free without providing any credit card info – all we need to know is the email address for the store admin and the name of the package you want to try – Free or Ultimate, Business of Multi-Vendor!
PS: We would love to hear your feedback – literally! Let's meet face to face at X-Cart Meetup in London!
Subscribe to Our Weekly Newsletter to Get
Expert-Backed

Tips Straight Into Your Inbox

One email a week, we promise.

Awesome! You won't be disappointed 😉

Ksenia Emelyanova
Marketing manager at X-Cart
X-Cart copywriter, PR and Marketing Manager, I came to eCommerce company in 2009 as a customer support assistant, went on to work as a Project manager in the Custom Development team to discover the needs of e-merchants and deliver the projects that meet their needs. This experience gave me a deep understanding of how things work from both a developer's side and a user's point of view, and it really helps in creating articles with love and care. Apart from eCommerce, I am a loving wife and mother, yogi and aerial hoop performer.