←
Back to Blog
Step-by-Step Guide to Understanding the eCommerce Market in China
This blog post was originally contributed by Jang Liang, the Director of BillriantPay.
"Hai-tao" is a Chinese word for Chinese market online consumers buying imported products: either directly from an independent eCommerce site outside of China, or from a China eCommerce online store.
The number of Hai-tao population has reached 65 Million in 2017, according to the China research agency – iiMedia Research. The year to year growth rate of online cross border transaction is 25% for the past 5 years, with transaction volume reach 7.5 Trillion Yuan. These are big numbers so let us see how to sell goods to China.
Why You Should Be In China eCommerce Market
The Hai-tao sub-market has grown extremely fast in the China eCommerce world. Big domestic players of the China eCommerce market have invested significantly in it, including Alibaba, JD.com, Netease, Amazon.cn.
With the popularity of online shopping and the fast-growing consumer demand, the options are increasingly diversified and differentiated.
51% of Hai-tao consumer shop directly on overseas eCommerce websites. They shop an average of 6 times per year with average spending of 1197 Yuan per time, compared to 694 Yuan spent on a China eCommerce store, according to the survey conducted by Paypal China & Dataway.
According to the PayPal report, the consumers initially choose to make direct purchases from overseas eCommerce websites because they get information from the following channels, mainly.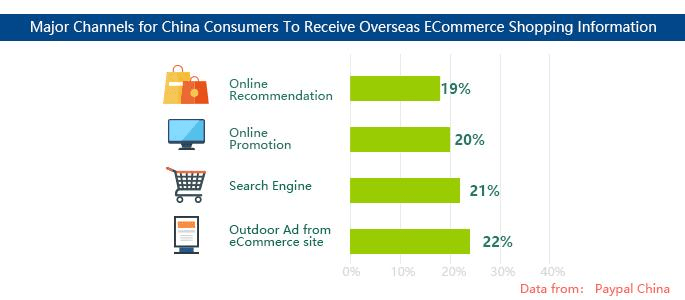 Why Do Chinese Consumers Prefer Cross Border Shopping?
Although Chinese consumers will be attracted by outdoor advertising, promotional information and other content, 86% of them said they generally do overseas online shopping according to their own demands. For example, married women tend to order abroad during pregnancy or for childcare products.
Driven by consumer demand, primary cause of direct overseas purchase is the quality assurance of products "made in foreign countries". Up to 66% and 65% of respondents said the main reason for choosing online shopping on foreign websites was the "better quality" of products and the "guarantee of authentic products".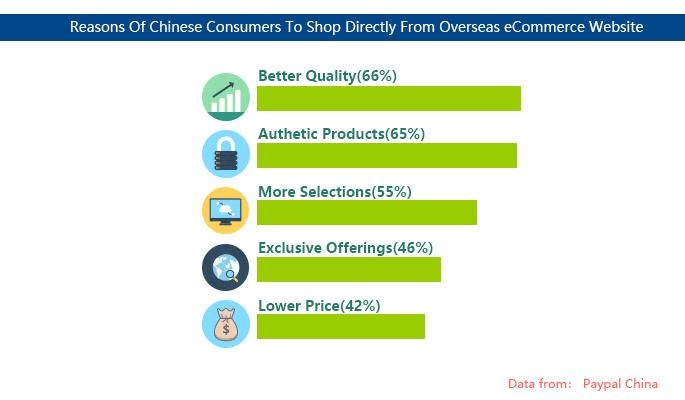 What to Sell to China
According to the same PayPal report, accessories and clothing are "among the top choices" on people's shopping lists, 79% and 75% accordingly say they bought them directly through overseas websites in the past year.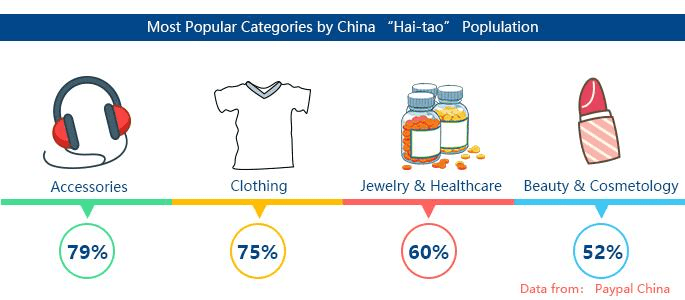 In addition, the research also found out that Hai-tao consumers choose different websites for different needs. For example, they choose Japanese and Korean eCommerce websites to buy skin care and cosmetics products, while for maternal and child products they choose Australia.
The United States topped overseas online shopping destination, followed by Britain and Japan.
Although the eCommerce websites of various countries are specialized in a specific category, the following countries are the popular manufacturers among consumers in China eCommerce market.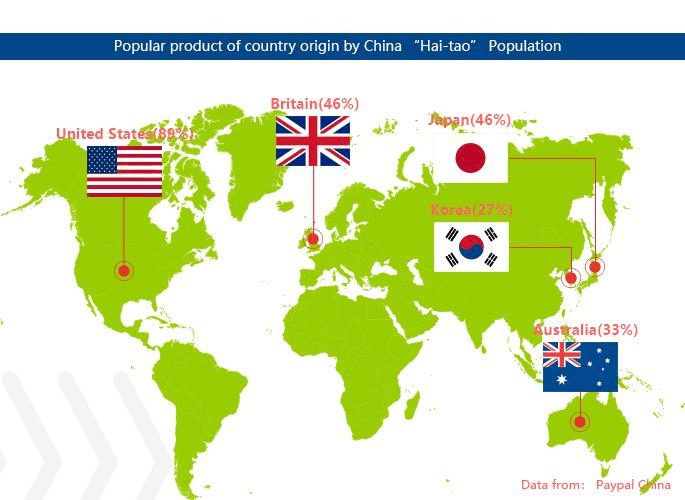 The survey also found out that a Hai-tao consumer is a very rational shopper, everybody would mostly shop for what they need. And some of them love to shop during a sale period, such as seasonal discounts, Valentine's day, Thanksgiving, Christmas. They call it "spending money on a knife's edge!", which means to shop wisely and efficiently.
So, let us move on to actually selling to Chinese people, their preferences, their worries, their demands.
How to Sell to China Online
According to the study, Hai-tao consumers also said that before making a purchase, they would usually do a bit of research. They go through the online store or an online shopping channel such as BBS or social media accounts, gather information regarding the eCommerce platform/website to understand the logistics and customs policy, find product reviews and feedbacks for them to make a final purchase decision.
China Customers' Big Concerns
According to the research, transportation, logistics, and payment are still the major concerns for Hai-tao consumers.
In terms of logistics and transportation, here is what consumers are most worried about:
long time of delivery;
high delivery cost;
inconvenient delivery arrangement;
unfriendly order tracking system;
unexpected trouble during delivery;
inconvenience in returning goods, etc.
In regards of payments, Chinese market consumers expressed concerns about:
low payment processing speed,
the probability of failed payment,
the popularity of payment options offered by the eCommerce website when choosing overseas online shopping payment method.
Preferences in Payment Options
Even though the China economy has been growing for the past 30 years, consumer economics is just starting to take off.
According to China Bank Industry Association, in 2017, the number of credit cards issued to Chinese consumer has gone up 26% and reached 588 million.
In 2013, the credit card transaction in China is 13 Trillion Yuan. In 2017, the number has gone up to 25 Trillion Yuan, almost double in 4 years.
This provides a strong foundation for Chinese consumers shopping on overseas eCommerce websites.
Hai-tao consumers used PayPal/Visa/Master/UnionPay as the payment method for most of their overseas online shopping in the past year.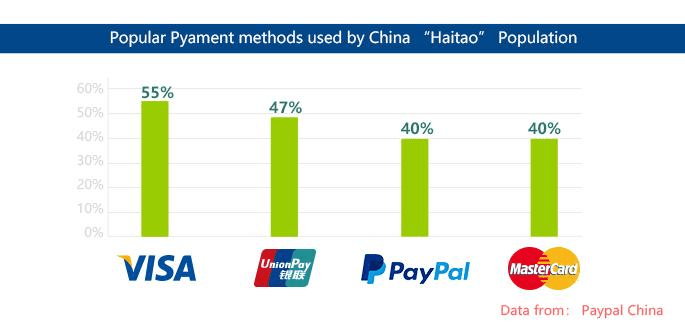 To capture Hai-tao consumers, a smooth online shopping experience will make a big difference.
Chinese consumers don't have a credit card culture compared to the U.S. or Europe. Whereas for a European buyer paying by credit card is natural, for Chinese clients is like a totally new skill that they need to learn to be able to shop on a foreign website.
So, your first option would be to adopt a payment method that is common in China, e.g. Pilibaba Checkout. Otherwise, please make sure the checkout process in your store is as transparent and smooth as possible.
Accepting Payments from Chinese Customers
Chinese consumers, especially first-time overseas shoppers, will appreciate if they are informed with the necessary credit card tips in the first place.
Emphasize payment security on your website, loud and clear. For 39% of China consumers who never tried to shop directly from overseas eCommerce site, payment security is their No.1 concern. Establish trust between you and your Chinese consumer at first sight, make sure they know at once that you have their back in terms of payment security.
Remind Hai-tao consumer that their credit card should have Visa, Master and/or American Express logo, and support double or multiple currencies (which are stated on their cards), so called International Credit Card in China.
Remind your customers that their credit card needs to support cross-border payment and they have enough credit left for payment. Not enough credit is one of the major reasons for a failed credit card transaction.
People may often forget how much credit they have left in their credit card and the first reaction for a failed credit card transaction is to blame the website. With an advance reminder, you can reduce customer dissatisfaction.
Remind your clients to fill in all the necessary information they left at the bank for validation such as phone number, address, and email. Explain what is CVC/CVV/CVN/CID and where to find it on the card. Credit card payment practice is not considered common for most of China consumers. A step by step guidance would be very helpful for a smooth transaction.
Make sure your checkout & payment processing pages are fast enough. If you expect a webpage delay on the payment processing page, a gentle reminder would be much appreciated.
In case of payment failure, provide a gentle reminder that they should try another credit card or contact their credit card issuer, not just return an error page. And also suggest that they should consider using a credit card issued by a major Chinese Banks, such as Bank of China, China Merchant Bank or Bank of Communications.
Hai-tao consumers would go through tons of information to find out how to increase their credit card success rate if they are determined to buy the product they really want.
It would be great if you add Chinese language to your shopping website. Adding Chinese at least to your check out process and having all the tips in Chinese would make a big difference. Chinese customers are very fond of websites that offer Chinese language shopping experiences even if do they understand other languages.
Return, Refund and Chargebacks Handling
A high success rate of business must have a low return, refund, and chargeback rate. 31% of Chinese consumers consider the inconvenience of return and refund during overseas online shopping one of their major concerns.
Here are some situations in which Hai-tao customers would expect return or refund, in other words, the below situations should be avoided to reduce the rates and ultimately increase your revenue.
Return:
Product quality and/or description do not match, e.g. the color of shoes or clothes does not match website description.
Wrong order is delivered, e.g. the size of shoes doesn't match the one ordered by the customer.
Damaged goods while storage or delivery, e.g. colors of cloth fade due to storage.
Refund:
Shipment may not arrive within the timeframes stated on your website. When setting your delivery time, please consider international shipment time, custom clearance time and local delivery time, as well as seasonal obstacles such as Typhoon season, China Public Holidays that can delay people from receiving the products.
Damaged goods.
Goods don't match their description on the website.
Duplicate payment or wrong order placed.
All in all, the best return/refund policy is making sure there is no return and refunds. Otherwise, make sure the process as smooth as possible. Customer impression and word of mouth advertising are very important for China eCommerce consumers.
Chargebacks:
Shipment of order or refund was not arranged as per customer request.
Refund is not granted due to product quality or goods damaged before arrival.
Refund is not granted due to duplicate payment.
Whichever payment gateway you are using, chargeback rate should be your No.1 priority. Not only can a low chargeback increase customer satisfaction, but you might also be able to get a better rate with your payment gateway provider. It can also save you money and time.
The China eCommerce market is growing fast and the more you learn about and try to understand it, the quicker you can capture it.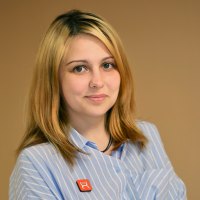 Anastasia Zhavoronkova
Lead Marketing Coordinator at Seller Labs and X-Cart
Anastasia has over 8 years of experience in the eCommerce industry. Having been a Customer Care agent in the past, she knows exactly what eCommerce merchants' needs are, and uses her knowledge in Marketing to bring value to the community by sharing her thoughts on relevant topics.
Subscribe to Our Weekly Newsletter to Get
Expert-Backed

Tips Straight Into Your Inbox

Awesome! You won't be disappointed 😉