The Step-By-Step Guide to Creating Buyer Personas for Your Online Store

It's a well-known fact that everyone is NOT your target customer.
So, please, don't rush to spend thousands of dollars on your eCommerce marketing campaigns until you are absolutely sure what your buyer persona is.
Understanding your customers, their needs and motivation to purchase your products or services is extremely essential. This knowledge can help you target your company's content marketing and social media campaigns more efficiently.
What Is Your Buyer Persona?
It has become a regular practice for most companies to create buyer or customer personas in order to get to know your customers from A to Z. Buyer personas are fictional characters who present typical features of your core customer groups. They are not your ideal customers, but a mixture of all your shoppers.
Among buyer persona examples are people you'd like to be followed by on Twitter, Instagram, and be friends with on Facebook. They know your eCommerce business or are about to get acquainted with it. And you know them, their needs and interests, which allows you to create more customer-oriented content and marketing messages for your audience. As a result, you get a more positive feedback to your emails and other eCommerce marketing actions.
How Many Buyer Personas Do I Need?
Of course, it's impossible to minimize all of your over 1 000 clients to 1 typical representative of your customers. Consequently, there should be about 3-5 buyer personas for each business.
This number is big enough to take into consideration all the variety of your audience and small enough to make a unique description of each category of your personas.
Keep it in mind that there may be multiple buyer personas, as they will be changing along with the growth and modernization of your store. So, it'll be useful to reconsider them from time to time.
Where Will I Find Data To Create My Buyer Personas?
Building buyer personas is a piece of cake if you know the right strategies. Here is a step-by-step guide that should help you collect all the necessary info about your existing customers.
The first and the easiest way to collect some basic information about your customers is to use various statistical tools, like Google Analytics or Mailchimp. X-Cart is happy to offer both integrations for your store. Find Google Analytics Module and Mailchimp Integration in our marketplace. They will provide you with the necessary demographics and interest data about your clients.
The second powerful source is social media. A careful study of your customers' social network pages will give you a broader idea of their psychographics, e.g. education level, career, and hobbies.
That kind of information might seem not very essential, but it IS. In the world of 24/7 online reality, the fastest way to reach your existing customers and prospective clients is definitely through the Internet.
That's why you should have a clear vision of your marketing personas' online activities:
Which websites do they visit?
Are they just browsers or active posters?
Are they digital natives or just amateurs?
You will benefit 100% having that piece of information in your pocket. Moreover, it will allow you to create buyer persona marketing campaigns, based on your shoppers' location and content activities.
The third and the most trustworthy way of getting to know your customers is asking them personally about their interests. You don't have to set off on around the world journey for that. (It might be a great adventure, though!) Nowadays there are lots of online methods available. You can create an image of your customer personas through different polls, interviews and interest quizzes.
For instance, here at X-Cart we use SurveyMonkey, but there are many other options that can help you detect your buyer persona, e.g. SurveyGizmo, SurveyPlanet.
What Kind of Information Will I Get in the End?
After the research of your customers have been finished, you are likely to get a top-to-bottom picture of your buyer persona. Here's a buyer persona template: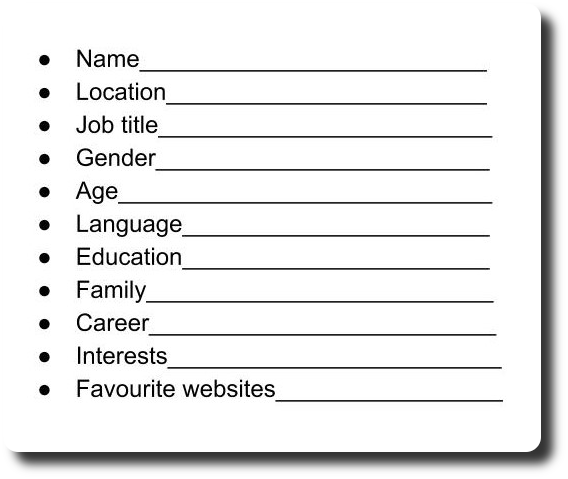 Don't forget to personalize them and give names.
Now let's imagine you have an online store of exquisite handmade jewelry "Chic Bling". You need to break your target audience into 2 main categories:
1) End Customers – people buying for themselves or their friends and family;
2) Wholesale Merchants – people buying from other businesses in order to sell in their own stores.
Going into further details about your potential clients we can divide the first category according to its gender and purpose of buying: women, who are shopping for themselves, and men, purchasing for their women. Finally, meet Paulina and Steve, Chic Bling's buyer personas:


Knowing at least this kind of information will help you make your marketing campaigns more "alive". Now every time before you decide to create content for your eCommerce site, ask yourself: "Will Steve and Paulina be interested in this piece of news?"; "Will they subscribe to get a 10% discount or not?"; "Will they like this blog post?"
Spending some time and efforts studying your buyer personas will help you have increased interest to your online store and its social pages. When you get to know your audience like your best friends and start making customer-based decisions, your marketing campaigns' results will pleasantly surprise you.
Subscribe to Our Weekly Newsletter to Get
Expert-Backed

Tips Straight Into Your Inbox

One email a week, we promise.

Awesome! You won't be disappointed 😉