←
Back to Blog
Using Buyer Personas for Targeted Selling Tactics
Let's start with a question: When you first conceptualized your business, brand, and product line, did you start by identifying what you wanted to do or the audience you wanted to reach? Don't worry, there's no wrong answer!
Some entrepreneurs want to reach a certain demographic so they focus their talents on doing just that. Others are passionate about a particular product or type of product. Every origin story is different, which is part of what makes them such compelling pieces of the brand puzzle.
Regardless of how your business came to be, all businesses (should) have one thing in common: a clear understanding of the target buyer persona(s).
Why? It's a well-known fact that everyone is NOT your target customer.
So, please, don't rush to spend thousands of dollars on your eCommerce marketing campaigns until you are absolutely sure what your buyer persona is.
Pro Tip:
Understanding your customers, their needs, and their motivation to purchase your products is extremely essential. This knowledge can help you target your company's content marketing and social media campaigns more efficiently.
I. What Is a Buyer Persona?
Most companies create buyer or customer personas in order to get to know their customers from A to Z. Buyer personas are fictional characters who present typical features of your core customer groups. They are not your ideal customers, but a mixture of all your shoppers.
Think about the personalities of the people you'd like to be followed by on Twitter, Instagram. Think about the people who comment on your Facebook posts. If you can see these customers as people with personalities, you know them.
When you understand their needs and interests, it allows you to create more customer-oriented content and marketing messages for your audience.
Buyer Persona:
Your target market distilled into a representative model (or multiple models) depending on your brand or product line. You may also hear it referred to as a "customer persona" or "target buyer."
Once identified, a buyer persona will direct many of your business decisions. The knowledge will guide you and help you answer important questions such as, "What are my persona's problems?" "Is what I am making useful in solving those?" "Does my product align with my buyer persona?"
II. Why Do I Need a Buyer Persona?
You may have the greatest product in the world. In fact, you may make the tastiest dog bones on the planet and you may sell them at an attractive price point. But none of that matters if you're speaking to cat people or people who don't have pets.
Identifying a buyer persona allows you to be focused in your endeavors, to find the types of people most likely to buy bones for their dogs, and to create a composite of those people's characteristics.
Buyer Personas Allow You To: 
Market your product in a way that speaks to your customer;
Learn more about what other products they might like so you can develop those;
Save money by not advertising to the non-relevant sectors.
In eCommerce, having a buyer persona is extremely important. The type of buyer you're targeting shops and searches in different ways. Depending on your goal market, you may tailor your advertising campaigns in different ways. You can use a tool like Ignite to create different ad groups based on your buyer personas. Remember that a value prop for a single product may vary between personas.
III. How Many Buyer Personas Do I Need?
Of course, it's impossible to minimize your clients to a single picture that's representative of all your customers. Aim for about 3-5 buyer personas for each brand.
3-5 s big enough to consider the variety of your audience and small enough to make a unique description of each category of your personas.
Keep it in mind that there may be multiple buyer personas, as they will be changing along with the growth and modernization of your store. So, it'll be useful to reconsider them from time to time.
IV. How Do I Define My Buyer Persona?
There is no detail too small. List everything that you can think of when you think of your ideal buyer. Does she go to Target every weekend for her grocery shopping instead of somewhere like Walmart? Does he prefer premade liquid protein shakes to those that are powdered and require mixing? When it comes to coffee shops, do they go to a big chain like Starbucks or prefer something a little more indie?
Grab a group of people from your company. Make sure they're from various departments and that they represent an array of demographics. Start with three voices, but don't have any more than five. Give everyone a sheet of paper and a five-minute time limit. Everyone should write down everything they can think of when it comes to the ideal customer. Once those five minutes are up, start putting things up on a whiteboard. If people have something similar on their sheets, take note of that. Once you've landed on your persona(s), share them with the company. Every employee should know the target buyer you are trying to serve through your efforts.
However, buyer personas can't be determined by thoughts and feelings and personal experiences alone. You need data. If you're just getting started, you can do some general research. Tap into the information you have in your account, whether it's on Amazon or through your own website. Can you see geographic patterns or concentrations in rural or urban areas? Are you able to discern age ranges or income levels? If you're doing general research, you can look at competitive brands and how they're positioning things. Are they targeting millennials or Gen-Xers or both?
V. Where Will I Find Data To Create My Buyer Personas?
Building buyer personas is a piece of cake with the right strategies. Here is a step-by-step guide that should help you collect all the necessary info about your existing customers.
1. Collect some basic demographic information about your customers
You can use various statistical tools, like Google Analytics or Mailchimp. X-Cart is happy to offer both integrations for your store. Find Google Analytics add-on and Mailchimp Integration in our marketplace. They will provide you with the necessary demographics and interest data about your clients.
2. Use social media
A careful study of your customers' social network pages will give you a broader idea of their psychographics, e.g. education level, career, and hobbies.
That kind of information might seem not very essential, but it IS. In the world of 24/7 online reality, the fastest way to reach your existing customers and prospective clients is definitely through the social media
That's why you should have a clear vision of your marketing personas' online activities:
Which websites do they visit?
Are they just browsers or active posters?
Are they digital natives or just amateurs?
You will benefit 100% from having this information in your back pocket. Moreover, it will allow you to create remarketing campaigns based on your shoppers' location and content activities.
3. Ask your customers directly about their interests
The most trustworthy way of getting to know your customers is by asking them personally! You don't have to set off on a world journey, though it might be fun.
Nowadays there are lots of online methods of building relationships. You can create an image of your customer personas with polls, interviews, and interest quizzes.
For instance, here at X-Cart, we use SurveyMonkey, but there are many other options that can help you collect information for buyer persona, e.g. SurveyGizmo, SurveyPlanet.
VI. Examples of Buyer Personas
Please note that no real companies or personas were utilized (or harmed) in the creation of the following. This is a fictional company with fake personas, but it should make sense.
The Company: BUILT STRONG
BUILT STRONG is a fitness lifestyle brand offering a wide variety of products for those looking to live a healthy life. Everything from protein shake shakers to resistance bands to vegan meal kits. There are three different product lines within BUILT STRONG:
BUILT STRONG for Her
BUILT STRONG for Him
BUILT STRONG
1. BUILT STRONG
This is the core gender-neutral line of products. The goal of the BUILT STRONG product line is to help make healthy living accessible to all.
Persona 1: Strong Sarah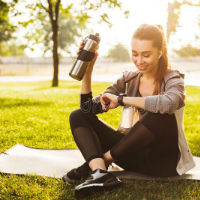 Strong Sarah is trying to build her best life. She knows that life is about balance, so it's hot yoga and wine with the girls and that occasional decadent dessert splurge when she's had a kick-ass week at work and at the gym.
She's diligent about cooking healthy, satisfying meals and always making enough to have leftovers to bring to work.
Fitness means a variety of things to Strong Sarah. She loves taking classes to be around people, but does her more serious, toning workouts on her own.
Goals:
Finally buy ClassPass
Meet new friends for her next 5K
Pain Points:
Knowing where she needs to improve for a healthier lifestyle.
Balancing taste with health.
Persona 2: Strong Samuel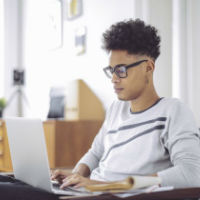 Strong Samuel is a lot like Strong Sarah. He got started early with living a healthier life and he wants to continue it into adulthood. He works hard at the office and tries to put just as much effort into maintaining a healthy lifestyle.
Strong Samuel seeks balance by knocking back a few beers while watching the game, knowing he'll have to do a few more crunches at the gym the next day.
Fitness means feeling good for Strong Samuel. He prefers dedicated workouts at a gym, but he never turns down a pick-up game at the park or a challenging hike.
Goals:
Don't lose sight of toes.
Get washboard abs in time for beach season.
Pain Points:
Eating tasty food that is also healthy.
Skipping that next beer with his bros.
2. BUILT STRONG for Her
Women tend to have different needs and desires when it comes to leading a healthier lifestyle. The goal with this line is to make it attractive and accessible for women of all ages to be healthy.
Persona 3: Millennial Melinda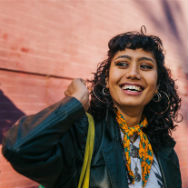 Millennial Melinda is trying to stay fit in a world dominated by Beachbody, Kayla Itsines, and Les Mills. Fitness is available all over the internet and attention to health is somewhat expected of Melinda as a lifestyle value.
Millennial Melinda spends most of the day away from home. Between work, happy hours, training her new puppy, refinishing a cool piece of vintage furniture, and time at the gym, Melinda is busy.
Millennial Melinda is somewhere between the ages of 24 and 38. She's beginning to understand what it means to be an adult, navigating her career and potentially thinking of starting a family of her own. Millennial Melinda's Instagram is full of gym selfies and brunch platters. She's all about trying to find and live her best life.
Goals:
Cut down on single use plastics.
Cook more meatless meals.
Impress everyone at her high school reunion.
Pain Points:
Eating healthy being away from home so much.
Opts for snacks more than meals.
Hates burpees, loves dark chocolate.
3. BUILT STRONG for Him
Like the ladies, gentlemen have different concerns when it comes to their healthy lifestyle. The focus here is to equip our market with everything they need.
Persona 4: Fit Frank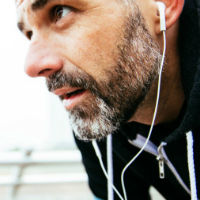 Fit Frank played sports in high school. Older now, he enjoys reliving his glory days and watching as many sports on TV as possible. Fit Frank is somewhere between 40 and 65.
He wants to be strong for a long time so he can participate in sports with his future grandkids. He's worked his way up the corporate ladder and is ready for the same kind of fulfillment in his life at home.
Fit Frank is more likely to "take a break" and walk down the block for lunch, which isn't always his healthiest option. Cardio is a deterrent for him (boring) and he prefers to build muscle if he's going to invest time at the gym. Outdoor activities like hiking, skiing, and his over-40 baseball league are better workouts.
Goals:
Avoid dad bod at all costs.
Run a mile without stopping
Pain Points:
A bum knee from an old injury.
Insecurity around the younger guys at the gym.
See? No detail is too small. This is just a starting point of who BUILT STRONG believes they're serving. Diving into more data will help evolve these personas as well. You may determine that your Millennial Melinda is actually a stay-at-home mom or maybe Fit Frank is more likely to own his own business and work from home. Regardless, the more you know, the more you can find YOUR buyers and meet their needs.
Now, It's Your Turn
After the research of your customers has been finished, you are likely to drown in information overload. Keep the research simple with our buyer persona template: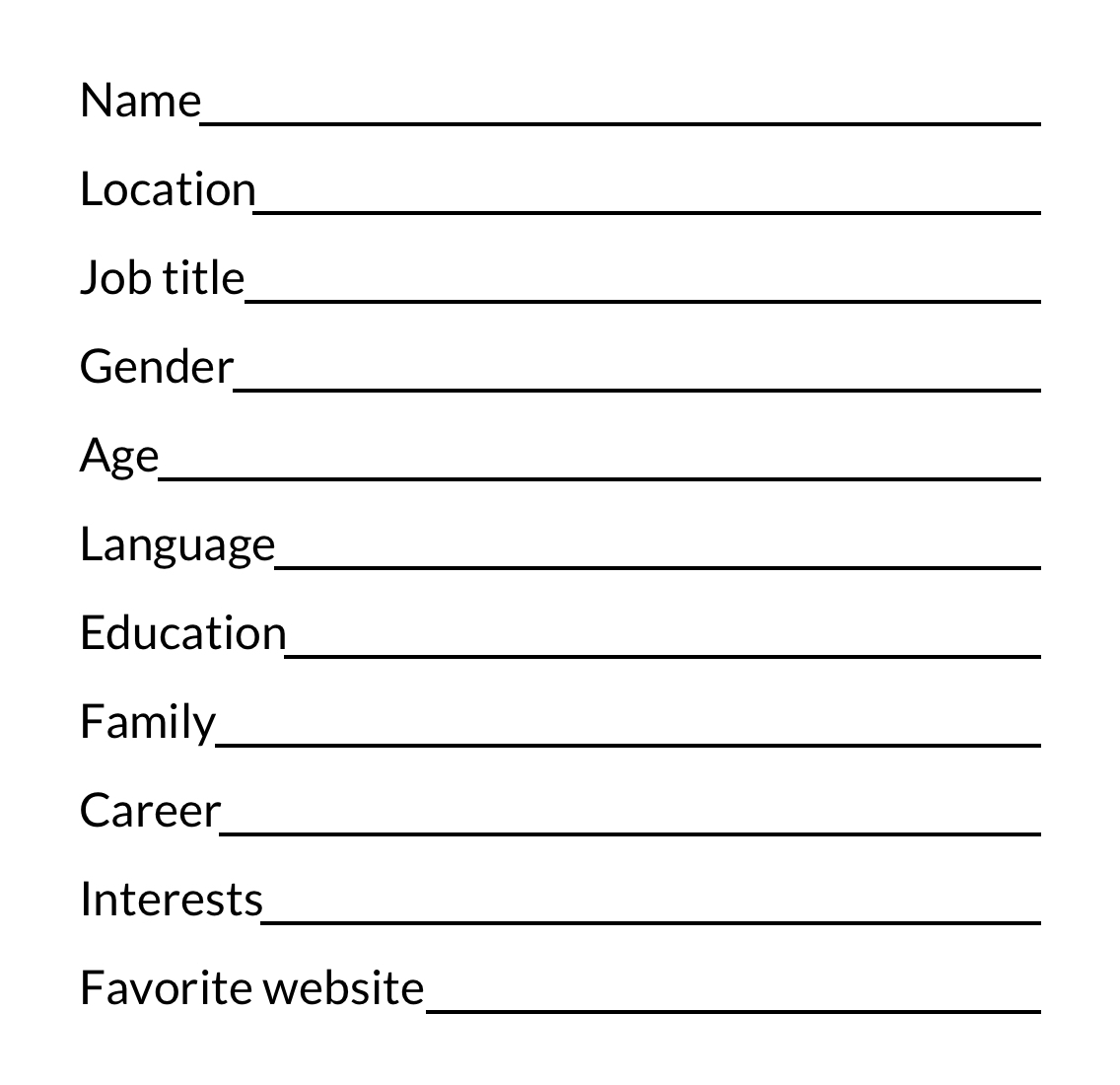 Hopefully, this helps get you started! Knowing at least this basic information will liven up your marketing campaigns. Now every time you write a new piece for your eCommerce site, ask yourself:
"Would Fit Frank care about this update?"
"Will Millennial Melinda subscribe to get a 10% discount?"
"Will Strong Sarah like this blog post?"
When you get to know your audience like your best friends and start making customer-based decisions, your marketing campaigns' results will pleasantly surprise you.
Truly dialing in your buyer personas can make all the difference in your business. You may find that your assumptions were off base and now that you've identified your true personas, you can market hard to them.
You might also find that your assumptions were pretty right on. In that case, you've validated the assumption and can amplify your efforts or try to branch out into other audiences.
Want to build a strong brand with all the tools you need, right at your fingertips? Set up a call with our expert to find out how X-Cart can help you launch and grow a profitable business.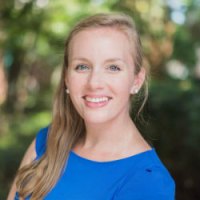 Caroline Powell
Event Manager, Partner Specialist, and Marketing Expert at DISQO
Caroline Powell is an Event Manager, Partner Specialist, and Marketing Expert at DISQO. Managing events from creation to completion, she has experience in marketing campaigns, advertising, blog writing, directing a team, and ensuring the events' success through nurture endeavors.
Subscribe to Our Weekly Newsletter to Get
Expert-Backed

Tips Straight Into Your Inbox

Awesome! You won't be disappointed 😉