←
Back to Blog
Pre-Orders: Is It a Viable Way To Generate Buzz For Your Next Product Launch?
Whether you are preparing for the launch of your new business or looking to introduce a new flagship product to the market, using pre-orders could be a great option. As a consequence, it will drive up initial sales and keep your prospects engaged, even before they are ready to purchase.
Why do pre-orders have such a profound effect on customer response?
Because it just feels exciting, especially if a product is a high-demand exclusive item. For example, Tesla's Cybertruck, a 'Blade Runner'-inspired electric pickup, has already received 250K pre-orders, according to Elon Musk.
1. What kinds of brands prefer adopting a pre-order model?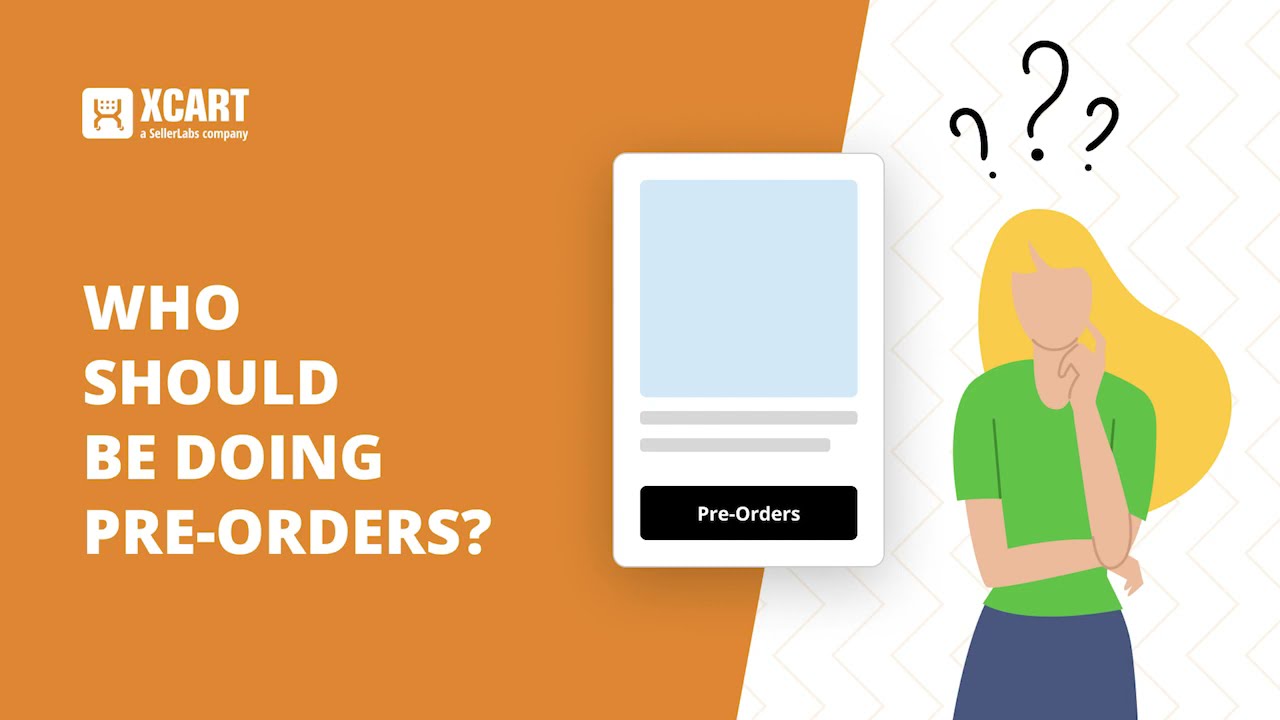 High-ticket brands: 
They prefer using this model whenever possible. Gary Bigeni fashion designer, Holy Ryan jewellery maker, and even Reebok are among those brands offering their collection on a pre-order basis.
They understand that people are not going to love everything they produce, so to eliminate overproduction, they put a heavy emphasis on pre-orders. This is especially the case today. After the Coronavirus pandemic resulted in less shopping, merchants were left with piles of extra stock.
Gaming Industry: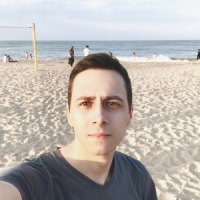 Pre-orders make a lot of sense in the gaming world as well. I decided to take it a step further and fact-check the idea with one of our video game fans, Arsen, and, yeah, gaming companies often use this trick to create hype around their new 'works of art.'
FAR CRY 6
S.T.A.L.K.E.R. 2 (release date: 2021)
HORIZON FORBIDDEN WEST – PlayStation Exclusive
DIABLO 4
GOD OF WAR: RAGNAROK – PlayStation Exclusive
VAMPIRE: THE MASQUERADE BLOODLINES 2 (the release is rescheduled to 2022)
ELDEN RING
HOGWARTS LEGACY (the release is planned in 2022)
GOTHAM KNIGHTS
CALL OF DUTY WWII: VANGUARD (an extremely popular online video game in the US!) BATTLEFIELD 6
Savvy authors (or booksellers in general):
Always have a pre-sale period for their books to increase the chances to become best-sellers. Here's a good example written by Steven Spatz on Medium about the opportunities you can capture pre-selling your books.
Crowdfunding:
These sites, such as Kickstarter/Indiegogo, love this feature as well. The money collected well ahead helps bring creative projects to life.
For example, HUDWAY Drive, a portable head-up display for any car, has already raised $181,968 which exceeded the goal by 126%.
Another funny invention (a trendy one!) is a CarMaskKeeper allowing you to store your face masks in a hygienic, fast and secure way. They've already collected $5,900, more to come.
2. Is the pre-order sales strategy effective?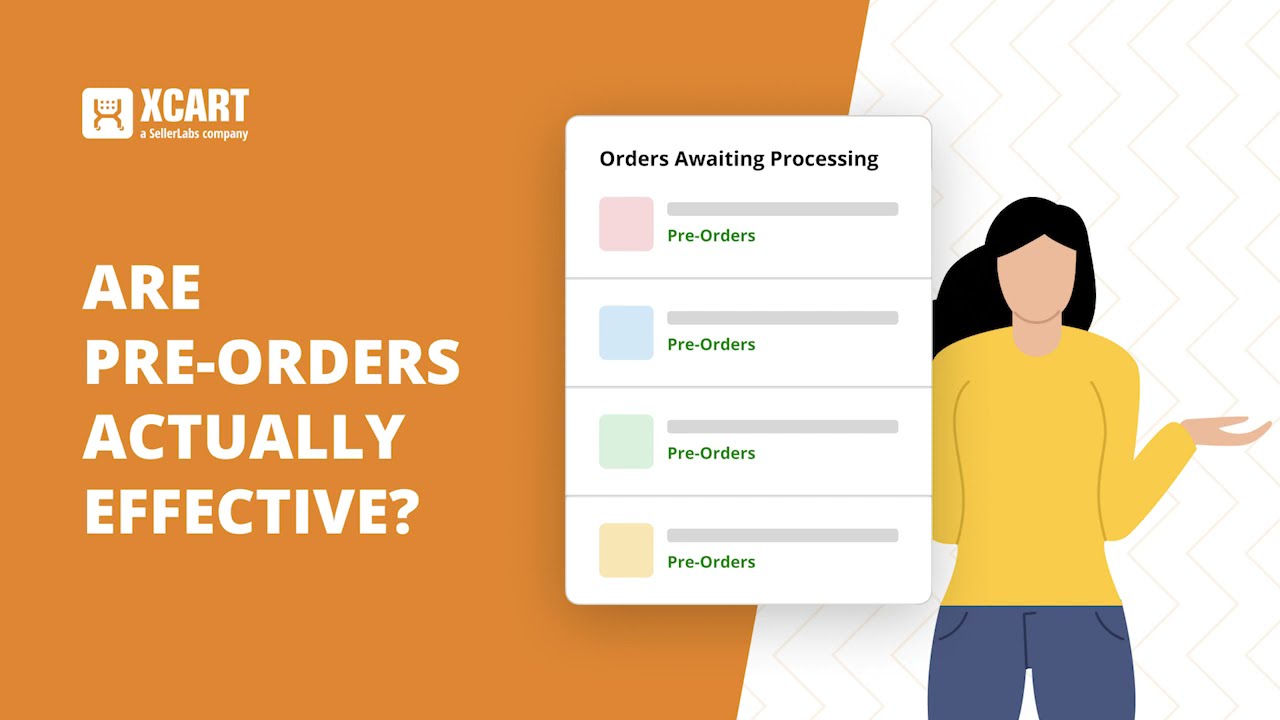 Brace yourself, we have a bunch of statistics and numbers coming your way:
According to Scalefast, 28% of sales of the entire pre-order campaign happen on the very first available day for these pre-orders. But the number may vary based on the industry you are in.
For less popular niches and products, the percentage is a bit lower — somewhere around 15-18%.
The same research shows that over 50% of pre-order visitors are new visitors to the website, which could be a perfect opportunity to capture emails — you'll be able to follow-up with your potential customers even if they don't convert right off the bat.
Here's a great example from Task Pigeon (a task management tool). They ran an experiment to see if they could get people to pay for their product before they even started to build it.
TL;DR:
Task Pigeon did an email outreach with a discount offer trying to convince users to try their tool and pay in advance. The experiment was a success — the next day Paul Towers, the founder, woke up to find an order for 8 licenses (Wohoo!). Although this didn't translate into sales, they received an invaluable experience running a pre-order campaign with no money down and proved the fact the strategy does work.
3. Should I go ahead & try this strategy for my business? What are the benefits?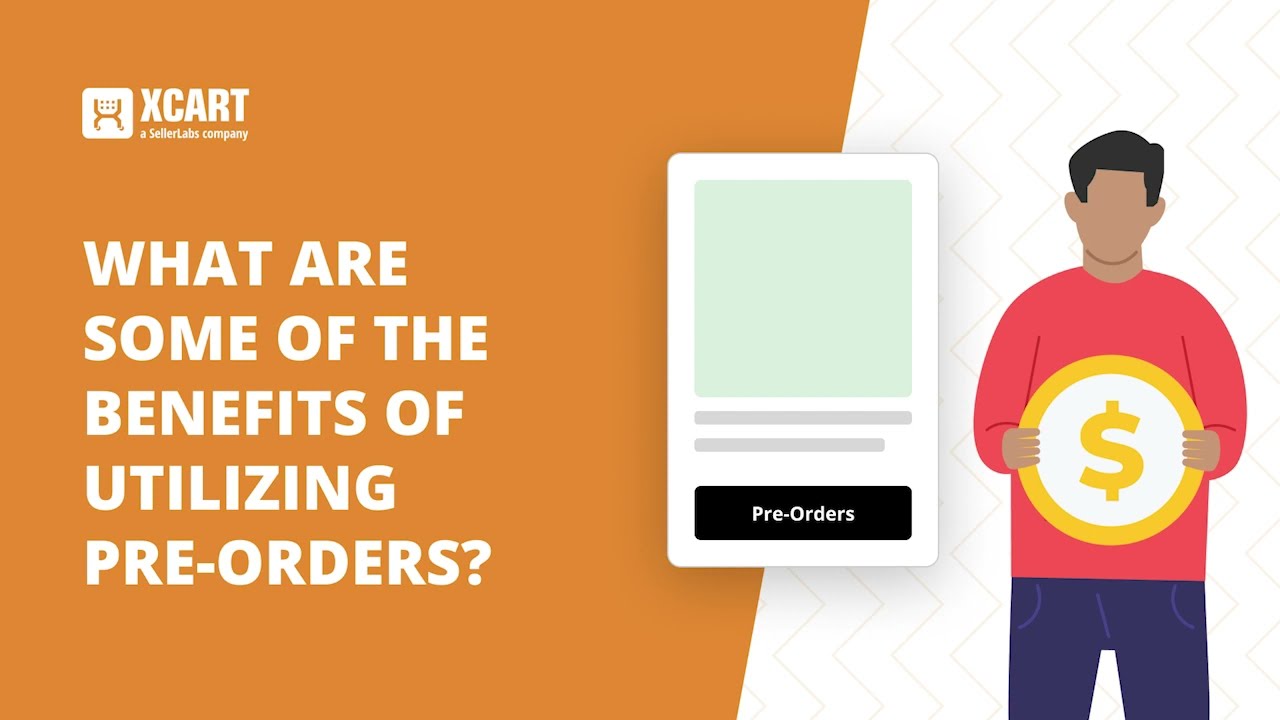 You definitely should. Retailers who do not use a pre-order sales strategy often miss out on a number of benefits such as additional revenue and new leads. Below are a couple of things for you to understand:
Using pre-order strategy is a great way to secure sales before the product even hits the shelves.
Manufacturing products is expensive and rather time-consuming. Pre-orders will give better insights of the demand for a given product and help eliminate overproduction.
Pre-ordering is just a nice marketing tactic that helps your brand get closer to your customers. They have to wait for the release date which makes shopping more enticing.
If you think that launching an online business is risky, scary, unreliable, or carries no guarantee of success; think again. There is at least one strategy that guarantees a certain amount of sales, even if you make up your mind to sell on Amazon, Walmart, or eBay. And though the pre-order policies are different for each marketplace, you can still jump on the opportunity.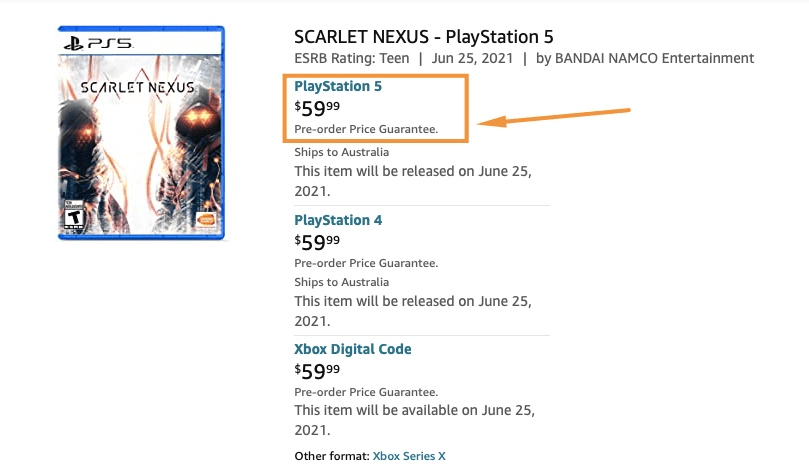 The screenshot above shows an Amazon listing for a SCARLET NEXUS video game for PS 5.
Looking to join the club of Amazon sellers or explore any other marketplace? Just get back to our customer success team for help.
4. How do you launch a successful Pre-Order campaign?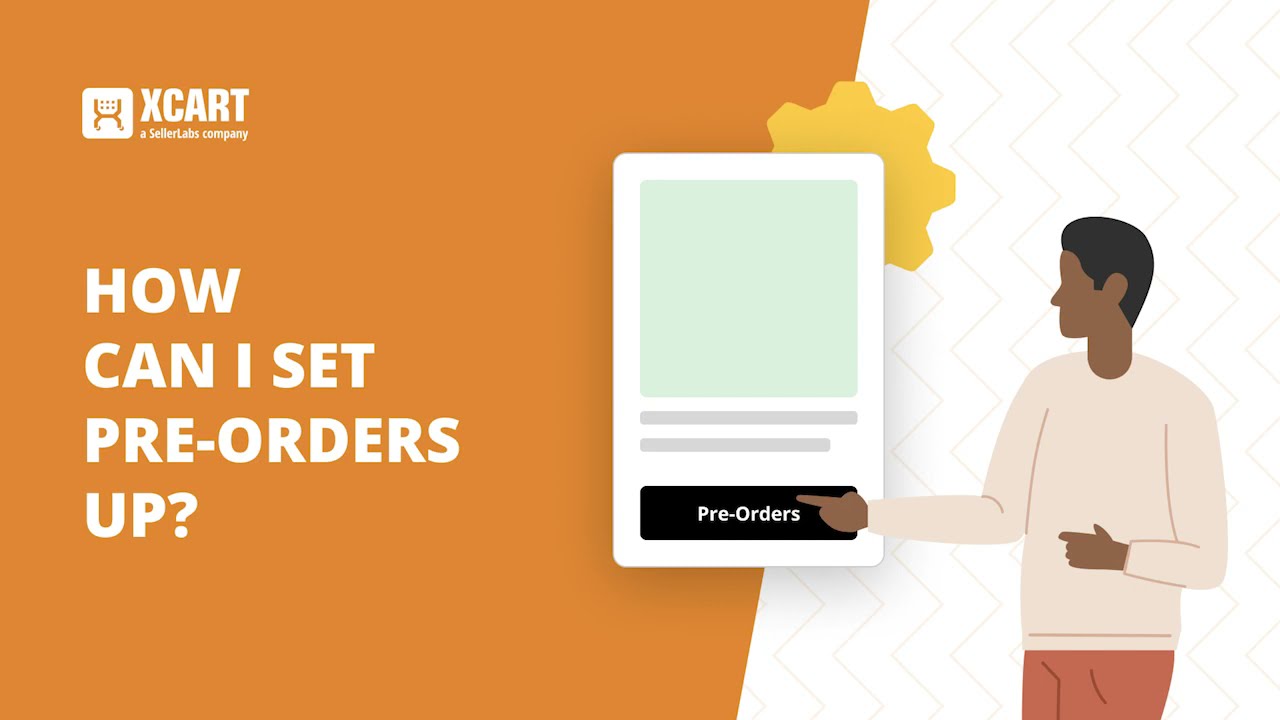 Launching a pre-order campaign is not rocket science, but it will definitely require a fair chunk of your time as you have to prepare for the launch well in advance.
Below are the things you should keep in mind while offering pre-orders on your eCommerce site:
Your online store should be able to handle the traffic surge.
Communicate your plans internally and make sure every team, including sales, marketing, IT, and customer success are ready.
Make sure you have enough inventory on hand. If you fail to manufacture the promised products on time, you risk losing your reputation.
Have you heard about the way a pre-order event turned into a complete disaster for Sony's PlayStation 5?

Those early birds who had signed up for an official pre-order email alert were disappointed to discover that all the products were sold out before they managed to buy them. All in all, this pre-order campaign resulted in cancelled orders, crashed websites, and empty shopping carts.
Announce your pre-order campaign 4-6 months before your product is released… and deliver on your promises.
Market your campaign using email marketing, social media ads, PPC, and other ways of promotion.
5. How do Pre-Orders work with X-Cart?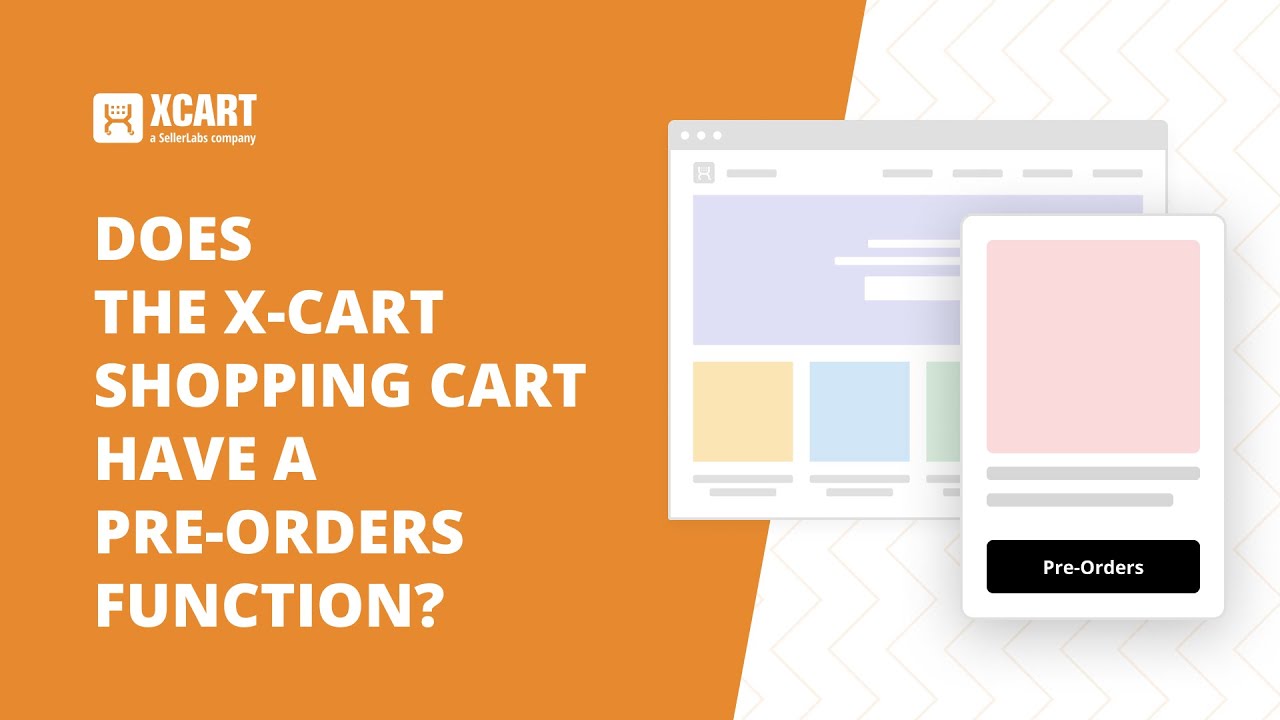 In X-Cart, there are at least a couple of ways to enable this feature.
The first option is enabling pre-orders through an add-on developed by our team.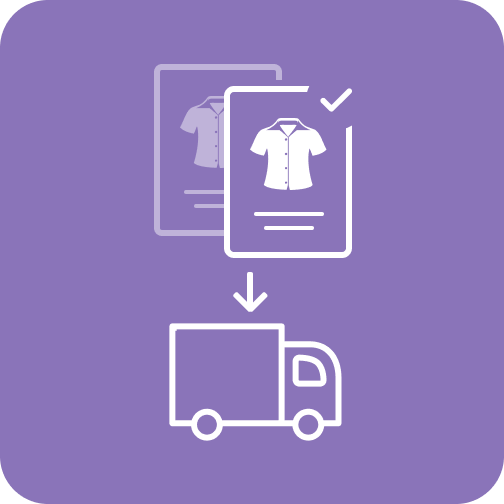 Backorder / Preorder add-on will allow your customers to order products that are out of stock at the moment.
Price: $99
Many X-Cart merchants implement similar payment processes using Quickbooks and Xero integrations.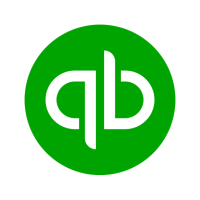 QuickBooks Sync add-on will simplify your accounting process down to a few clicks.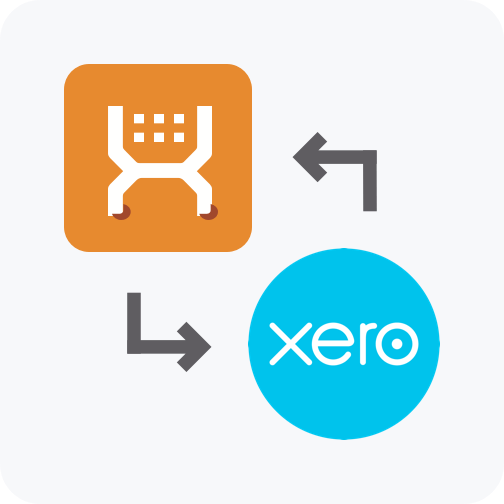 Another way to do it is through X-Payments Cloud 4.5.0.
This newly-baked feature, also called Delayed Payments, has been much anticipated and developed using customer input to solve everyday needs.
Below are some of the use cases in which this option may come in handy:
Product price can be defined only after the purchase (e.g. quoted services).
You would like an opportunity to replace certain products (e.g. swap an out-of-stock product with the one that is in stock).
You have to calculate the shipping cost for each product individually (e.g. it may happen when your shipping rate is based on weight, order totals, or item count).
You've mapped out a pre-order marketing campaign for your new product or service (e.g. a new book for sale).
Check out the super-detailed instruction (with screenshots!) on how the feature works in X-Cart here >>
Would you like to learn more about how X-Cart can support you with your pre-orders?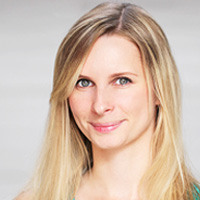 Helen Golubeva
Freelance SEO and Content Marketing Specialist
Helen is an SEO and Content Marketing Specialist. She has been creating and planning content for over 10 years, with 5+ years specializing in eCommerce.
Subscribe to Our Weekly Newsletter to Get
Expert-Backed

Tips Straight Into Your Inbox

Awesome! You won't be disappointed 😉