←
Back to Blog
Introducing SEMA Data Integration: Millions of Auto Parts and Accessories, Quick Data Sync, Accurate Fitments
We're proud to announce our new partnership with SEMA and the seamless integration with SEMA Data, the largest aftermarket product data resource. SEMA DATA integration is available in X-Cart to help provide millions of products and precise vehicle fitment for your customers.
Why Merchants Choose SEMA Data
Accurate Fitment
In the automotive aftermarket industry, it is of utmost importance to not only provide the customers with a wide range of auto parts that fit their vehicles, but also to have the reliable data to back up the onsite search and filters. Product catalogs serve as the solid foundation for Year/Make/Model filters, search by VIN, and fitment validation check.
Understanding the modern customer's demand to find the items they shop for quickly and easily, we have developed integrations with product data catalog suppliers, one of which is SEMA Data. Initially created by SEMA as a "data central" for the automotive industry that contains millions of products and fitments from hundreds of brands in the niche, it is now the world's leading definitive industry data warehouse, with online resources and training courses to help deliver the best shopping experience.
Smooth Navigation
Through improved website navigation with the Year/Make/Model filters, VIN lookup, and fitment validation check, you get to avoid errors, lower the risk of refunds and, at the same time, increase customer satisfaction and sales.
Time-Saving Automation
One of the most critical challenges in automotive eCommerce is keeping the various aspects of the product catalog updated. With new vehicles appearing on the market and prices changing daily, digging for the updates and entering them in your database manually would be a tedious and, frankly, unnecessary job. With the product catalog API integrations, namely SEMA Data, this routine shrinks to just a couple of clicks.
As a byproduct of automating this process, you get to eliminate the human errors which are otherwise inevitable.
Product Data Validation
Another important thing to know about SEMA Data is that it was built to be maintained under the tightest security standards where the product data is only available for approved SEMA Members, which eliminates the risk of data breaches and ensures the highest possible quality of data.
Additionally, SEMA Members get various perks: business tools, special prices, access to the network of key businesses and industry leaders, and more.
How It Works
The integration is based on API and plugs right into your X-Cart backend with a click of a button. The setup is pretty straightforward:You just connect your store with SEMA Data once and get the catalogs uploaded in bulk.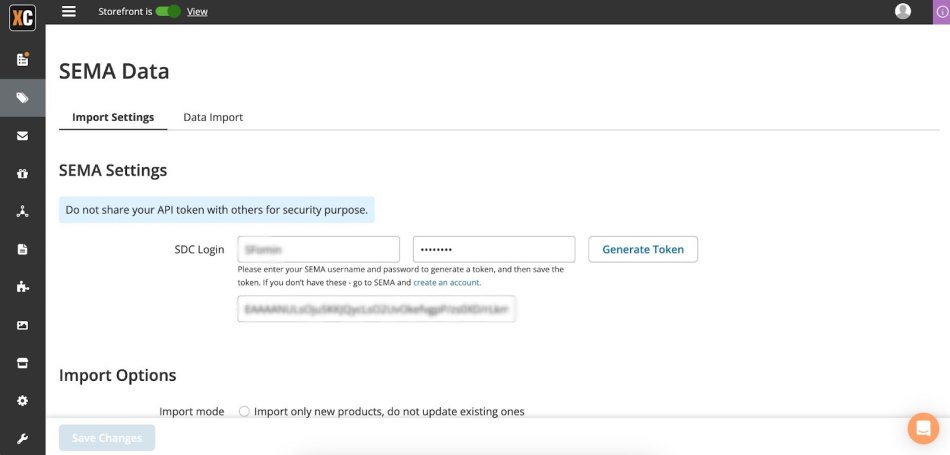 Note: Please make sure you sign up to SEMA Data first. Access to all the catalogs is free for all SEMA Members.
Keeping the data regularly updated is essential, because there are so many moving parts in the automotive industry (pun intended!). With new models coming out on a monthly basis, you want to have your catalogs updated regularly, to ensure your customers get exactly what they are looking for. With X-Cart SEMA Data integration, updating the catalogs is as easy as clicking a button.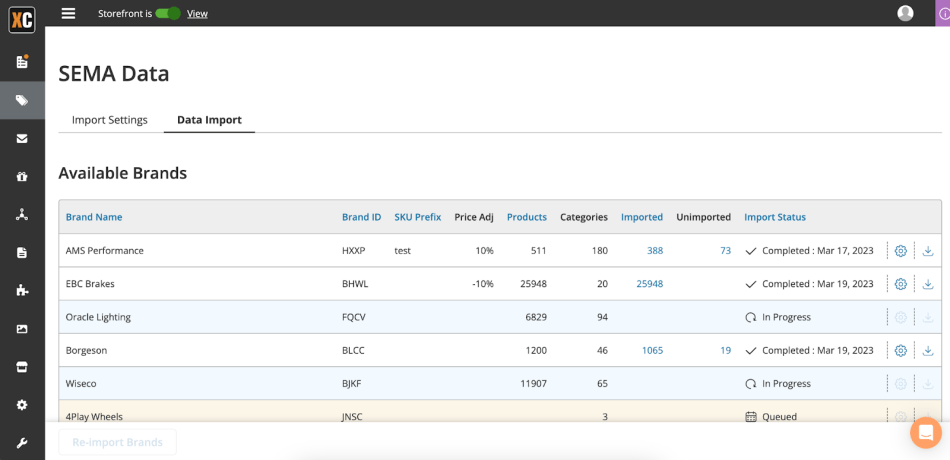 Who Benefits from Using SEMA Data
This integration solves the main challenge of automotive aftermarket merchants: having essential fitment data to back up their complex catalogs. The data needs to be (and is) of the highest quality: full, accurate, categorized, and compliant with the industry ACA (Auto Care Association) standards to be ready for upload to your main sales channels, wherever you decide to sell.
On the other hand, your customers get to enjoy a better shopping experience.
Your customers will get:
Better website experience with YMM filters and VIN lookup
A wider selection of auto parts and accessories
Accuracy of fitment
Lower risk of ordering a wrong item
The ability to shop by brand
The fitment validation check on every product page
The Garage feature where they can save their vehicle for next-time purchases
Benefits for sellers include:
Easy installation and onboarding
Hassle-free data synchronization
Accurate and standardized product data
Larger catalogs with millions of items
Higher sales volumes
Lower risk of refunds resulted from inaccurate orders
Free access to regularly updated catalogs
Higher website speed and performance due to smart data organization
Significantly more time to focus on business instead of manually updating catalogs
To Sum Up
Auto parts databases help online merchants navigate and manage large volumes of product data efficiently, allowing them to save time and effort through automated synchronization and granular catalog organization. Customers benefit from a high-quality fitment data cross-check which makes the shopping process easier and at the same time eliminates the risk of mistake.
Here at X-Cart, we believe that anything that can be automated, should be automated, which is why we are partnering with SEMA to deliver one of the world's largest auto parts data warehouses.
Ready to Streamline Your Auto Parts Feed?
Get in touch with our Solution Advisors to have SEMA Data available in your X-Cart store and discuss other ways we could serve your business.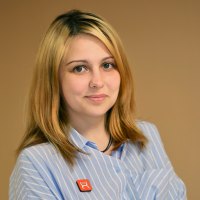 Anastasia Zhavoronkova
Lead Marketing Coordinator at Seller Labs and X-Cart
Anastasia has over 8 years of experience in the eCommerce industry. Having been a Customer Care agent in the past, she knows exactly what eCommerce merchants' needs are, and uses her knowledge in Marketing to bring value to the community by sharing her thoughts on relevant topics.
Subscribe to Our Weekly Newsletter to Get
Expert-Backed

Tips Straight Into Your Inbox

Awesome! You won't be disappointed 😉