←
Back to Blog
Updating eCommerce Technology: Why It Is Vital for Your Online Store [+ X-Cart New Release]
In this article, we'll share the news of our latest release, but more importantly, we'll discuss what can make online retailers avoid commerce technology upgrades and discuss why it's essential to keep your online business on the latest software version.
First things first, we'll open with good news.
We just released the newest X-Cart 5.5 STABLE to help you take your store to the next level. Enhance your experience by upgrading today. It comes with an updated API, a full architecture rebuild, improved admin and storefront UX/UI, and more.
What's New in X-Cart 5.5?
In this release, we concentrated heavily on technology and UX/UI improvements to ensure higher customizability and greater extensibility in the next major release. Stay tuned for the upcoming big changes in X-Cart.
Technology
X-Cart 5.5 is now a Symfony application. For those unfamiliar with the technology, it's a highly versatile framework that is popular with the developer community and allows for extensive customizability and high compatibility with third-party systems and tools.
Another major benefit is the new API Platform with generated documentation and an inbuilt system tool for developers. 
PHP 8 support allows for compatibility with any modern server environment, improving your store's performance and speed and ensuring stronger website security.
The support for the newer technology benefits both developers and online merchants:
| | |
| --- | --- |
| X-Cart 5.5 for Commerce Businesses | X-Cart 5.5 for Developers |
| A varied developer community makes it easier to find an agency to handle the tech side of your business. | Universal development environment equipped with the convenient inbuilt service tool and a new developers portal. |
| Virtually unlimited compatibility with third-party systems that you use in your daily business management. | More opportunities for integrations with third-party systems and tools (payment providers, credit card processors, accounting systems, customer service helpdesks, mobile apps, etc.). |
UX/UI Improvements
This X-Cart release brings a new admin structure and improved storefront to the already powerful ecommerce platform.
We've revamped the administration area for more intuitive navigation based on our customers' and partners' feedback.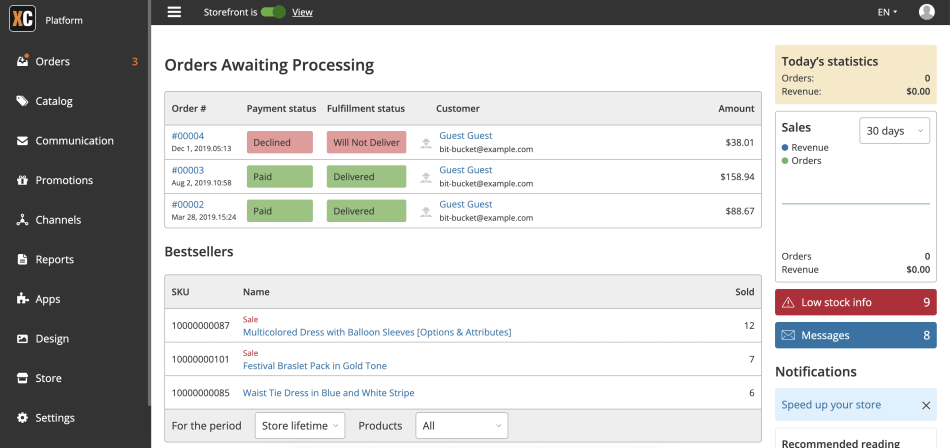 Connecting new add-ons and tools through our App Store has also been rethought and is now both user-friendly and fast.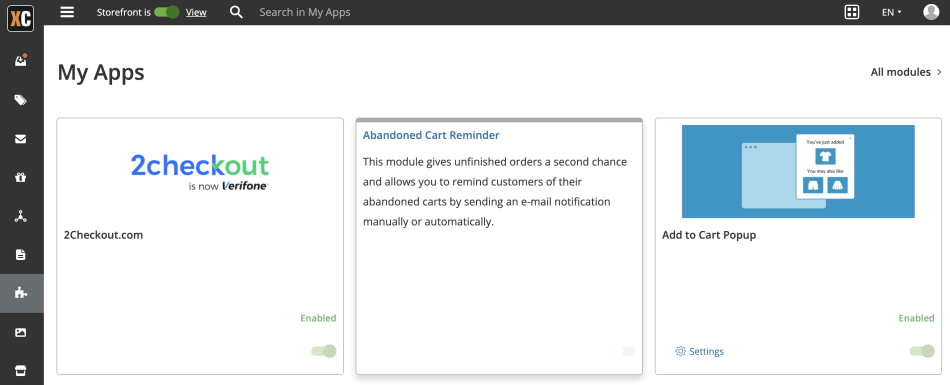 The new Storefront builder allows for easier storefront customization without writing a single line of code.
Our refreshed Crisp White and Auto default themes will help you deliver a more intuitive user experience. To top it off, a wide range of custom themes available for free allows for representing your business in line with your branding colors (Dark Sparkle, Space Violet, Dewy Green, Forest Green, Soft Blue, Delicate Pink, and Marble Grey).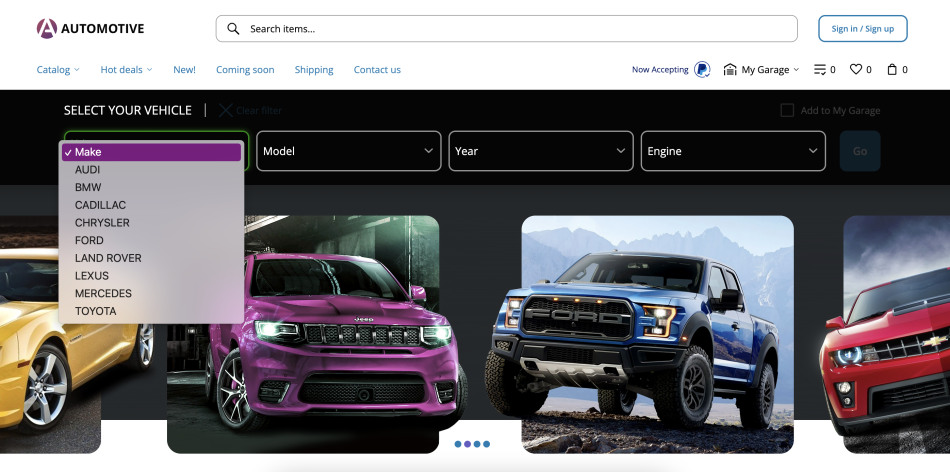 Other Improvements
Among other changes in X-Cart 5.5 are the improvements in orders and catalog management, more efficient background jobs (image resizing, automated emails, Mailchimp events), built-in Banner System, additional add-ons available as part of the package, and several minor bug fixes.
For more details on the new release, take a look at the changelog.
To try out the fresh X-Cart 5.5, get in touch with our representatives.
Stay tuned for more features and updates in the next versions coming soon!
Regular Technology Updates and Why Everyone Should Do Them
Now, let's move on to why you should regularly upgrade your software. But before that, let's figure out what may keep you from choosing to upgrade.
In our experience, new software versions, especially with as complex software as X-Cart, bring about the same question: Why should I upgrade my online store?
The question is absolutely fair, and the reasons behind it are rather diverse.
Everything works fine as is.
The upgrade might cost extra, especially if your store is customized.
The new version might not be as stable as the old one. There might be new bugs that come with the upgrade.
The store is heavily customized, and you don't want to break anything in the process.
While each of your concerns is valid, the counter-arguments in favor of an upgrade outweigh the risks. Let's take a look at the most critical ones.
Security Enhancement
Regardless of the malicious attack type, cybercriminals have developed a proficiency in finding new ways to phish for sensitive information, break in and destroy databases, and cause data loss, identity theft, and service disruption, bringing about huge costs and effort to recover.
To be one (or better yet, many!) step ahead of cyber attackers, each software upgrade contains security improvements that include fixes, adding new ways of authentication and data storage, compliance with the latest security standards, rules, regulations, etc.
Learn More About Website Security and How X-Cart is Equipped
Agility
It is admittedly far more efficient if your business processes are seamless and automated wherever possible and together form a holistic system. While an appealing blog, personalized contact forms, marketing and sales channels, social media presence, online chats and/or support forms ensure a seamless customer experience, you streamline your business management with CRM, accounting, tracking and analytics, fulfillment, supply chain management systems, and billing integrations.
Such a holistic approach allows you to eradicate human error, avoid managing multiple systems manually, and save money in the long run. To achieve that sort of fluency, you need your systems and integrations to be inter– and cross-compatible, which is far easier to achieve with updated software.
New Functionality
To be ahead of your competitors, you should constantly keep up with the latest industry trends and regularly adopt new commerce website functionality, be it real-time search, voice assistants, augmented reality, enhanced product pages, Apple Pay support or even support of systems using artificial intelligence.
It doesn't necessarily mean buying new add-ons or paying for customization – many essential and popular features are frequently available as part of an eCommerce technology upgrade. Even if you have all the functionality you need right now, it doesn't hurt to think about what you might need in the future.
In case you have some functions custom-built, check if the same functionality can be achieved with new built-in features – they would be cheaper to own and easier to maintain. All in all, the new available features and the opportunities for cross-system agility can lower the total cost of software ownership if done correctly.
Speed and Performance
It's obvious that older software versions can only support the technology and tools that were available when it was first released. In itself, it doesn't affect your store's well-being (unless the version is too outdated – then there might be compatibility issues). Things just stay as they are. However, 'stability' isn't always a good thing, and the changes can be drastic when you move to an updated environment.
Both your website speed and performance rely heavily on the server environment and your software's compatibility with the system requirements. This is why keeping your eCommerce platform up to date with the latest technologies is essential.
Design and UX/UI
It's also important to provide a smooth and holistic online shopping experience on your website, which can become trickier and trickier as time goes by – with outdated technology. Website design is a big part of keeping up with your customers' preferences, but more importantly, so is UX/UI. Your storefront should appeal to your audience and nudge them towards buying from you, eliminating friction in the process. Needless to say, your website should support various screen resolutions and mobile devices by default – to make sure you don't lose a dime to a poor mobile shopping experience.
Major software releases normally come with improved themes, navigation patterns, and user flows – and so does X-Cart 5.5. Check out the demo for X-Cart Auto.
SEO
Your eCommerce website SEO doesn't depend as heavily on your software version as on your site's health, mobile readiness, a strong SEO and marketing strategies, or keyword-rich product descriptions.
However, a newer eCommerce software version allows you to secure a nice spot in Google search results for your products and services to be found easily. It comes with improved page load times, an easy-crawlable site structure, increased safety, mobile optimization, and even the mere fact that the store was recently updated!
To Sum Up
Whether to order an eCommerce technology upgrade or keep your current version is a decision that needs to be diligently researched and well thought-through. Our advice is to at least keep track of new releases and discuss the pros and cons of performing an update with your project manager, for there is no universal solution.
However, there are a few universal indicators that you might need an upgrade:
Outdated design
Limited website functionality
Too complex website structure
Limited extension capabilities
Poor SEO performance
Lack of available marketing capabilities, additional sales channels, automated workflows, etc.
If your online business checks two or more of these boxes, consider contacting your project manager and discussing the possibility of updating your website.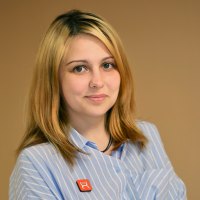 Anastasia Zhavoronkova
Lead Marketing Coordinator at Seller Labs and X-Cart
Anastasia has over 8 years of experience in the eCommerce industry. Having been a Customer Care agent in the past, she knows exactly what eCommerce merchants' needs are, and uses her knowledge in Marketing to bring value to the community by sharing her thoughts on relevant topics.
Subscribe to Our Weekly Newsletter to Get
Expert-Backed

Tips Straight Into Your Inbox

Awesome! You won't be disappointed 😉