←
Back to Blog
X-Cart Classic: several new modules released, even more coming
New Modules
While the maintenance team focuses on a new release of the 4.x branch, we do not forget about enriching the X-Cart Сlassic (downloadable) with new convenient and handy tools, with the ideas being drawn out of in-demand modifications and 'ideas' base – which makes us believe that they will be popular among our customers.
Testimonials
The first newcomer is the Testimonials module.
I bet you need it! You work day and night on attracting the visitors, and when they finally came, you simply can not afford losing the hesitating shoppers, it's a no-holds-barred fight for customers loyalty. And when your guest doubts whether to finalize the purchase or not (accounts for about 42% of shoppers who abandon the cart , see the results of research in one of previous publications , 'Testimonials' module is a useful tool which can help you to tip the balance in favour of your store. As soon as the head-scratcher acquaints himself with the positive experience of the other shoppers, reads about superior customer care and verify you're a reliable merchant he will of course finish the order. Moreover, you will give him a tool to share his delight after this purchase, which can't but contribute into overall image of your store, generating the growing sales.
Flexible module settings, easy moderation and management, notifications to both merchant and customer, separate 'all testimonials' page as well as side-section with random testimonials: seeing is believing, try and enjoy the product of X-Cart team!
Pop-up Anywhere
Thanks to Karina, the author of the 'Advanced Customer Reviews' module which has already become very popular, another product has come out, 'Pop-up Anywhere'
Configure how often, on what pages, for which type of customers pop-ups will be shown. The module comes with 4 pre-designed pop-up types:
Sign up to newsletter
Facebook Like
bottom sticky bar with cart total and checkout button
top sticky notification bar with custom message
Yet you can create the unlimited number of your own pop-ups with different content!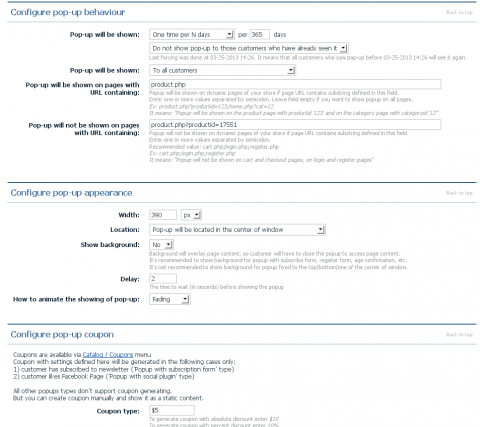 Unless you pitch it strong and annoy the customers, it may be a good means of attracting their attention to the most important messages. The known fact is that the customers will subscribe to newsletters and 'like' your pages more actively if you offer some goodie in exchange for this simple action. For generous (or far-seeing?) merchants we included a nice feature: the module can offer discount or free shipping, of course limited in time – so that to motivate the ones who doubt.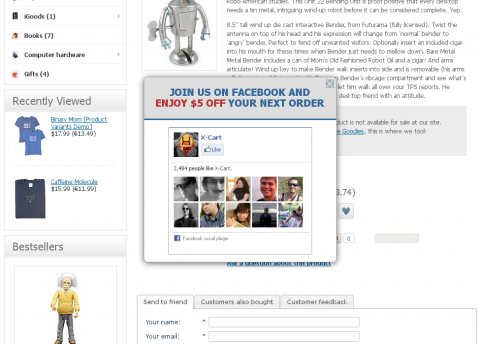 Hurry up to grab your module, or, if you have any questions, please do not hesitate to get in touch and ask.
eBay Integration
Here we come to the 3rd new module, eBay integration, it's for those steel-hearted and inspired merchants, who feel it's high time they made a claim about themselves on Ebay.
With this module you can easily build eBay products and further update the eBay product descriptions, prices, inventory levels right from X-Cart database automatically. Unlike to other akin modules in the market, it's not simply a one-side products export, the great feature is that the eBay orders are downloaded to X-Cart, automatically again ( with the customers' accounts being created based on Ebay customer info)! You can manage sales in X-Cart admin area and upload order information, shipping and tracking details to eBay in real-time.
It's a highly anticipated module, and to make it available for as many merchants as possible, it's compatibility was expanded: not only for latest version, but also from 4.3.x and higher. There are 3 subscription plans, starting from only $19.95/month.
Still doubt? Come on and try!
Future Plans
Now it's time to shed some light on the nearest plans. I've got it out from a very trusted source =). Two more modules, X-ShowRoom and Amazon S3 Integration will be released shortly.
Amazon S3 Integration
Amazon S3 Integration gives you access to the highly scalable, secure and fast Cloud data storage infrastructure of Amazon. You may upload the static content (images, JS, CSS) as well as files from E-Goods module, which gives you a chance to kill two birds with one stone:
decrease the load on your production server – it will no longer spend its resources on statics, thus you speed it up
make the site even faster by utilizing Cloudflare, CDN by Amazon. CDN is a known means of distributing the content to end users with high data transfer speed. How it works? Requests for your content are automatically routed to the nearest server, and the closer this server to end user is, the better is the performance.
X-ShowRoom
X-ShowRoom module will be especially interesting for Interior design studios and merchants who offer separate items which can be combined into harmonious ensembles. Due to this promotional tool your store will really stand out against the others!
Now you will be able to demonstrate the mutual combinability of your goods and still clearly show that each item should be purchased separately:
add a group photo of your products and tag the products on it.
decide what's the best page to show this photo ( home page, or categories with products tagged, or some other categories you select) and publish.
When the store visitor hovers his mouse over some product on this photo, the other area is greyed out, and he can clearly see the title and cost of the product in question. Upon mouse click he will be redirected to the product details page so that to make a new purchase – and isn't it what we're after?
I can not give out more details so far, so let's wish the guys good luck, and we will look forward to new releases.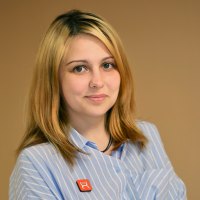 Anastasia Zhavoronkova
Lead Marketing Coordinator at Seller Labs and X-Cart
Anastasia has over 8 years of experience in the eCommerce industry. Having been a Customer Care agent in the past, she knows exactly what eCommerce merchants' needs are, and uses her knowledge in Marketing to bring value to the community by sharing her thoughts on relevant topics.
Subscribe to Our Weekly Newsletter to Get
Expert-Backed

Tips Straight Into Your Inbox

Awesome! You won't be disappointed 😉