←
Back to Blog
X-Cart 5.4.1 Released: New Sales Opportunities & Improved Design
Everyone could use a bit of a celebration right about now, so let's welcome the newest version of X-Cart!
New Sales Opportunities
Due to COVID-19, even the most established bricks and mortar retailers have been forced into eCommerce. This skyrocketing interest in online selling has dramatically increased competition in many eCommerce industries.
As an X-Cart customer, you've always had an edge over your competitors, but today we're taking this a step further. We've made changes to help you create and promote special offers to help boost your sales and keep your customers happy.
Create a sale!
With our latest update, the Sale add-on comes pre-installed in every X-Cart 5 edition. Now, you can add an eye-catching "Sale" flag to your store's homepage and category pages to quickly highlight discounted items.
You can even give a discount for one or two product variants – easily!
This add-on is completely customizable for an infinite number of combinations. What if you want to run the ultimate sale and offer special discounts for all your products? Or offer different discounts for different product categories? Or even a discount for a random product group? You can do it all.
For the products that fall under more than one category you will be able to configure the desirable behavior. Would you like the discounts to combine? To apply the maximum discount? The minimum? Just choose.
This behaviour will be applied globally, meaning that this rule will be universal for all the products on sale.
Spoil your customers, they will love it!
You may want to ask if the sale functionality works as well in an X-Cart based marketplace. I will have to say yes, it's that advanced. Let's see just how.
Sale + Marketplace
All the features described above work with the marketplace functionality as well.
The store administrator controls the overall process and settings, but vendors can be allowed to set up their own special offers. It goes without saying that they can only offer discounts for their own groups of products.
The store administrator can also create group discounts on behalf of the vendors if necessary (e.g. They want to control which products and when to offer the sale). They can also set up a sale to offer discounts for products regardless of the vendor they belong to. This might be helpful when you run a storewide sale, for example.
That's the overview of how the sale features work with the multi-vendor functionality.
Sale + Wholesale
What about wholesale prices? Can you offer discounts to your wholesale customers? You bet!
If your sale discounts are set by a percentage, you can include wholesale prices in your offer. That said, you may choose to set up an individual discount for a certain product or include a product in a sale group.
Renewed Coupons
We have improved and expanded the coupon functionality as well.
You may now create a coupon that will work for a particular product, a defined group of products, or an entire category.
You can define which products the coupon works with by editing the coupon or by editing the product. The best way to assign a coupon to a group of products is by bulk editing.
Another new feature for the coupons is that you can now limit their usage by an address zone. E.g. You can create a coupon that will only work in the U.S. or even for local shipments.
Volume Discounts
You can now offer volume discounts! It's a common tactic to offer a certain percentage off of an order totaling a certain dollar amount (or more).
This kind of discount does not require any special action from your customer. It applies automatically at checkout.
X-Cart gives you the ability to create such discounts, define the minimal subtotal for the discount to apply, and/or assign the discount to a special membership level. You can now limit the discount by shipment zones and define the offer expiration date so the offer stops applying automatically.
More Design Improvements
You might remember that X-Cart 5.4.0.x came out with a brand new look in the admin dashboard and a style guide for developers to keep the single style.
This time, we worked on keeping it clean and improving the looks of the storefront.
For example, we improved the layout of the product details pages, namely the way the product options look. There are now two variants of displaying them: the usual "select box" option and a new "blocks" option. You may choose either when setting up product options. Here's how a product page looks if the blocks layout is selected:
Summing It All Up
For the more technical details and entirety of our latest update, be sure to check out the changelogs:
All in all, the changelog includes 52 improvements and 212 bug fixes. Excellent job, X-Cart!
Get started with these newest updates and start implementing them in your store!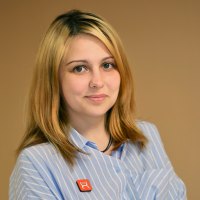 Anastasia Zhavoronkova
Lead Marketing Coordinator at Seller Labs and X-Cart
Anastasia has over 8 years of experience in the eCommerce industry. Having been a Customer Care agent in the past, she knows exactly what eCommerce merchants' needs are, and uses her knowledge in Marketing to bring value to the community by sharing her thoughts on relevant topics.
Subscribe to Our Weekly Newsletter to Get
Expert-Backed

Tips Straight Into Your Inbox

Awesome! You won't be disappointed 😉