←
Back to Blog
X-Cart Team Back in Chicago June 25-28
Hi fellow X-Carters and anyone related to eCommerce!
Last year Chicago met us nice and warm and we can't resist coming back this year, too. We'll meet you guys at the revamped Internet Retailer Conference and Exhibition 2019. As always, we're exhibiting – why break a wonderful tradition? We'll be thrilled to see you there at Booth #810.
Why Attend?
Held annually, IRCE is one of the most important events in the eCommerce world, at least for those in the US. It attracts all kinds of specialists in the field of online sales, advertising, and marketing for a reason. Several reasons, to be completely honest. Here they are:
1. Everything your eCommerce business might need – in one place
It's especially true this year because IRCE co-locates with two other industry events under new RetailX concept.
RetailX is the only industry event that combines the best of e-commerce trends and tactics, store design, and new technologies.
That seems like quite a sensible decision as eCommerce is not about just selling online anymore. If you want your business to grow (and something makes me believe that you do!) it's time you thought of going beyond selling your goods online and maybe opened a physical store abroad. Or started a virtual reality one. It really only depends on your ambitions and imagination.
2. Be Part of the Community
Networking should always be on your mind as it always brings new ideas and often new opportunities. Sometimes even unexpected ones. At an event as huge as IRCE, just imagine whom you could meet and what experience you could get.
It's great for sharing experience, networking, connecting with your clients, after all.
IRCE Connect
This is a matchmaking and networking tool designed especially for IRCE exhibitors and attendees to make appointments beforehand, reach out to potential partners, find information on an exhibitor, and much more.
3. Stay Ahead in eCommerce
The three events co-located in one place together cover all aspects of retail, IRCE including but not limited to innovative solutions for online sales, marketing, and sales advertising. You'll also get to see best in the field software solutions, services, payment systems, email marketing and shipping companies, etc.
The other reason why you should visit IRCE is speaking sessions and workshops. Getting new information never did any harm, especially in such ever-changing and evolving AND competitive area as digital commerce. You don't adopt a new technique or react to the most recent changes at once – you are out of the game. And it will be hard to get back in. This is why it's crucial that you keep track of everything that's going on in the Internet world.
4. Get Professional Advice Right Here Right Now
You will have a chance to discuss your projects with our professional team.
Even if you don't have a project per se yet, drop by to say 'Hello!' and tell us a bit about your business. Business use-cases and the insights you share will help us make our product better for your particular business and for thousands of other merchants using X-Cart.
The Place
We'll be trembling with excitement at Booth #810 anticipating your visit on June, 25-28.
The grand event takes place just where it always did, at McCormick Place South, Chicago, IL.
It's not too early to think about accommodation, either. As always, IRCE organizers have negotiated discounted pricing for the show visitors in a few nearby hotels, you may want to check them out in advance.
The X-Cart Team
Some of the team members you already know from previous years and some new people are coming, too! Here's the full crew, please meet:
Max Vydrin
CEO
X-Cart



Margo Makarova
Head of Sales
X-Cart

Alex Dyachkov
Head of Technical Support & Hosting Depts.
X-Cart

Alex Mulin
Senior BizDev and
Head of X-Payments
X-Cart

Anna Dyachkova
Project manager
X-Cart

Irina Sheyanova
Project manager
X-Cart
Still unsure if you want to come? We've got something else that might make this even more interesting.
Being an exhibitor and sponsor for IRCE 2019, we are eligible to give an extra discount to our clients and partners. To get extra $200 off the pass price, use this coupon code at checkout: EXIV817850.
Use this coupon as many times as you need as it is valid throughout the whole registration period.
Or just push the blue button below. In this case, the $200 discount will apply automatically. Save yourself a Disneyland ticket or two.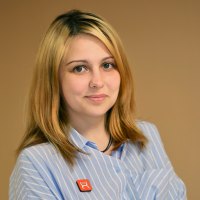 Anastasia Zhavoronkova
Lead Marketing Coordinator at Seller Labs and X-Cart
Anastasia has over 8 years of experience in the eCommerce industry. Having been a Customer Care agent in the past, she knows exactly what eCommerce merchants' needs are, and uses her knowledge in Marketing to bring value to the community by sharing her thoughts on relevant topics.
Subscribe to Our Weekly Newsletter to Get
Expert-Backed

Tips Straight Into Your Inbox

Awesome! You won't be disappointed 😉