French eCommerce industry is gathering momentum rapidly, with increasing numbers of women entrepreneurs looking to combine businesses with a labor of love.
Anne from Pitimana is no exception. For more than five years on end this young woman, a mother of a little girl and the twins, has been transforming her passion for handmade things into a successful handmade business.
She is totally sure that anyone can make money doing what he enjoys. And her personal experience can prove this theory.
I have always enjoyed creating some handmade staff. And in June 2013, we finally launched our Pitimana website to bring these products online.

Anne Catherine Scelles,
the ex-owner of Pitimana
Want to learn more about Anne's story?
We've tried to get to the bottom of her business strategy and find out the way she managed to turn her hobby into a money-making machine. Read on and get inspired!
How it all began
To tell you the secret, I've always been interested in all that girly DIY staff, like handmade braided rag rugs, patchwork, you name it. But I couldn't even imagine how many people are also surfing the net in a quest for this kind of things. So I made up my mind to check it out:

Wow. Have a look at the third position. More than 200K people are looking for handmade staff every month. That's a big deal and, as I can assume, it's a profitable niche, too.
Anne revealed this growing trend back in 2010 and started blogging about everything she found beautiful on the web — home decorations, women accessories, baby clothes and other pretty little things. And only three years later she saw the opportunity to monetize her blog with X-Cart shopping cart and turn it into #1 French online marketplace. She is still the only employee in Pitimana and has always been. And her genius project never stops growing. How did she do that? See below.
Helen: Whose idea was to start this eCommerce site?
Anne Catherine: The idea was mine. Pitimana was born of a big desire to launch an eCommerce marketplace and start selling online after the birth of my elder daughter. I had several ideas. But later it became quite evident that the handmade business is right what I was looking for.
Helen: Inspiration is what moves us forward. Where do you draw it?
Anne Catherine: I have always enjoyed creating some handmade staff. And in 2010, when DIY video tutorials and articles were becoming more and more popular on the web, I started blogging. I shared my creative ideas and different nice things I found on the web. Later on, I mentioned that there are plenty of talented designers, the unknown ones, feeling lost on the web. So I made up my mind to aggregate their products in a single online marketplace. My rule of thumb was to work only with those designers who offered high-quality and tasteful products. After the whole year of back-breaking work, in June 2013, we finally launched our Pitimana website thus bringing our products online. Thanks to our friendly community, where everyone is eager to discuss the plans and help each other, Pitimana never stops growing.
Helen: How many people were there in your team when you were just starting off?
Anne Catherine: There has always been only one person from the birth of Pitimana till now — it's me, Anne Catherine Scelles.
Helen: Where did you get your first product to sell online? What was that?
Anne Catherine: Pitimana aims to help designers connect with their customers. So since the day our eCommerce site was launched, several designers have registered. The very first products were wood creations, stationery, and childcare items.
Helen: Are there any unusual products in your stock?
Anne Catherine: There is no stock on Pitimana, but I am trying to find new products, the unique ones, that won't be offered anywhere else, but on Pitimana, in France. Some designers also offer exclusive items that can be found and bought only on our website. For example, there are beautiful dolls that, as far as I know, are not showcased on any other French website.
Helen: Why X-Cart? How did you find it?
Anne Catherine: The X-Cart solution was proposed to me by Ironshop, managed by Florian Guillaumot who helps me with the website development. I had interviewed several web development companies and Ironshop offered me exactly what I was looking for at that time!
Growing your fan base and boosting sales without a penny spent on paid ads
If you are a father or a mother of a little child, you should know, that it's not always easy to dive into work head over ears. But it's not about Anne. She manages to find some spare time every day for her favorite hobby when her three children go to school.
What is more exciting is that she never used paid advertising. How come? She gives weight to social media and email marketing and puts lots of effort into her cherished blog.
But what really improved Pitimana's positions in search engines is a link-building strategy. I have no idea why but lots of entrepreneurs turn their blind eye on SEO. But, as you see, it works.
Helen: I see you are active on social media. You've got more than 5K likes on Facebook, over 2K subscribers on Pinterest and so on. How much attention do you pay to social media? How much traffic do you get from this marketing channel?
Anne Catherine: Social networks play an important role in Pitimana's communication. They allow us to post Pitimana news, grow our fan base and find potential customers. Organic SEO is what works for us at the moment and I'm not going to jump into paid advertising. The social network that brings us the most traffic is unquestionably Pinterest!
Helen: Happy mum, one fille et des twins. That's what is written in your Instagram profile. Who is making posts there?
Anne Catherine: I take care of all the posts. When my children go to school, I have some time to take care of Pitimana!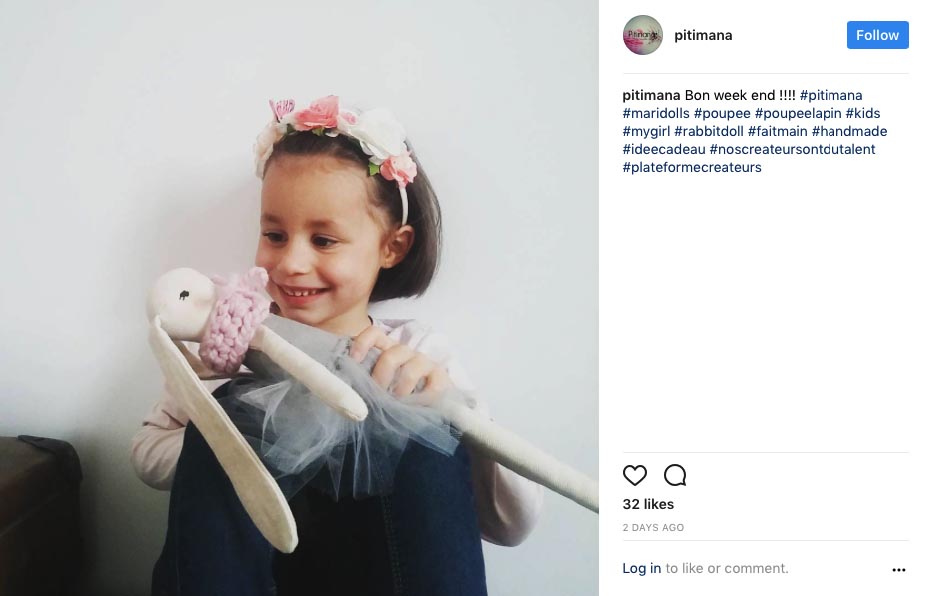 Helen: What about email marketing? Do you send emails to your customers?
Anne Catherine: Yes! I regularly send emails to my customers to let them know about new products or to tell them about a particular topic. This is something I'm planning to develop further in the future.
Helen: Everyone loves the deal. Do you offer it to your customers? Any hot summer or cold winter sales? Auctions? Discounts?
Anne Catherine: These are the suppliers who decide on the discounts they can offer. But I should admit that they offer discounts quite often. And that's in addition to traditional summer and winter sales!
Helen: I see you've got a blog with oh-so-beautiful pictures inside. And it looks like your subscribers love them, too. Who creates these posts and makes photos? Is your blog effective for marketing?
Anne Catherine: I also manage the blog and the writing. Sometimes I make the pictures (for the DIY items I create, for example), sometimes suppliers or some other people make them. The blog is an interesting communication tool if you publish there regularly — once or twice a week. I confess that I do not have enough time to invest.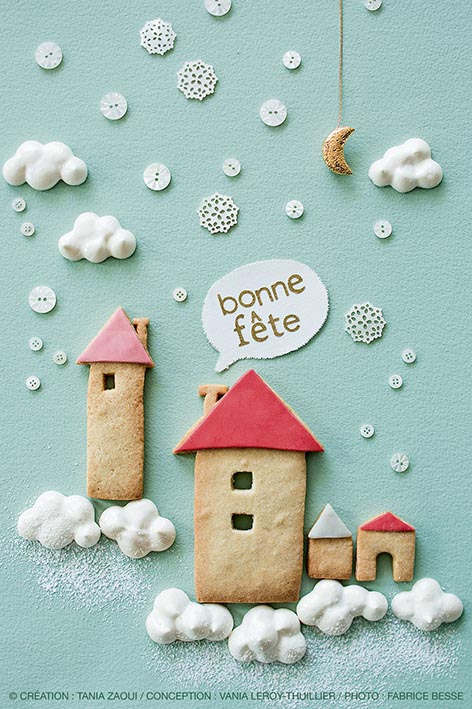 Helen: What X-Cart marketing tools do you use and how do they help you boost sales?
Anne Catherine: We use discount coupons.
Helen: Your store is now the 1st French handmade platform. Isn't that wonderful? How did you make it?
Anne Catherine: Pitimana exists since 2013. I used a link-building strategy to promote my eCommerce site. I had some SEO experience in my background, and I had Ironshop close at hand ready to counsel. I managed to set up partnerships with high-traffic websites, which improved Pitimana's placement on Google's search engine results. Moreover, our customers feel appreciated and personally connected with our brand. Designers love it, too. That's made our shopping cart that famous!
Plans for the future
Pitimana was launched only 5 years ago, but it is already the number one handmade platform in France. And the founder is very well satisfied with the result. She is not going to grow globally, at least in the nearest future. Opening a brick-and-mortar store is not planned, also. There is only a single global plan at the moment — to strengthen her positions there in France. Isn't it wise to focus on one thing at a time?
Helen: Are you planning to translate your eCommerce site into other languages to expand your reach globally? French is not for everyone. That's why 94% of your traffic comes from France.
Anne Catherine: This is not what I'm planning to do, at least in the immediate future. But it is to be considered!
Helen: Now that you are the top handmade platform in France, do you have any new world-spanning plans? What's next in your list?
Anne Catherine: There is a big American platform that has already conquered the international market. I prefer to strengthen my positions on the French eCommerce market at the moment.
Helen: Are you satisfied with what you have now?
Anne Catherine: I'm planning a further development of Pitimana — getting more items, partnering with new designers from France and from all over the world. Pitimana is a French marketplace but it also offers products from Belgium, United Kingdom, Poland and other countries…
Helen: Are you planning to open up a brick-and-mortar store? Or you've got one already..?
Anne Catherine: No, it's not planned. Pitimana has already taken part in a designer fair. And this is something that we are eager to try once again. Of course, if our suppliers don't mind.
Lessons learned along the way
Establishing an eCommerce business alone is in no way easy. You have to work hard and invest lots of energy in it. However, there's nothing unattainable if you are surrounded by people ready to support you at any time.
Here are are some of the most valuable nuggets of eCommerce wisdom that she learned along the way and that might inspire you, too, to finally launch your own start-up.
Helen: What lessons did you learn while running this business? How did they help you?
Anne Catherine: Staying humble and patient. Being very attentive to current events related to the activity that we manage. Listening to the world around me.
Helen: How to be inspired without copying someone's work?
Anne Catherine: Inspiration comes from everything we see, from what we hear, from our surroundings and, of course, from modern trends. I have already been confronted with people copying the concept of Pitimana and its content. But it is not by copying that we advance, it is by innovating and by finding new directions to success.
Helen: We'd be the happiest people if everything worked flawlessly all the time. Were there obstacles on your way to success? How did you manage to overcome them?
Anne Catherine: Every new partner goes through ups and downs. I have always wanted to go further with Pitimana and I'm thankful for the overwhelming support of my community. Media, suppliers, and customers have always supported my project, too. That gave me the strength to move on.
Final words
As you see, launching your eCommerce business, be it small like Pitimana, or a big one, like eBay, is possible.
The only three things you need are:
Your wild desire to follow the inspiration;

Your ability to listen to the world around you;

And a shopping cart. X-Cart, for instance.
That's pretty much everything you need to get going.