←
Back to Blog
X-Cart 4.6.1 released
Hi, folks!
It's time to introduce a new release of X-Cart, please meet version 4.6.1.
In the previous major release we optimized the speed, included a responsive template and added several integration modules, so this time we decided not to add new major features. Instead, we collected the feedback of our community and focused on it. That's why you will not find new integrations any major changes this time, only minor improvements – but lots of.
Bill me later
Paypal's Bill me later feature had already been implemented in a previous version, however the merchant needed to copy and paste these banners manually. Those struggles appear to be a thing of the past.
The banners are available out of the box, you only need to select on what pages (Home, Category page, Product details page, Cart page) and where exactly (At the top of the page, near 'Add to cart" or "Checkout with Bill Me Later" button,) to show them.
Paypal state, that "Businesses promoting financing on their websites and in customer emails are seeing an average 20% increase in their overall online sales".
Well, there's no harm in trying. You may easily enable 'Bill Me later' advertising now, and let your sales numbers grow!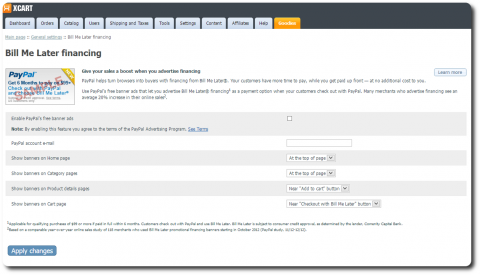 Add to Cart Popup
was revised. It used to show 'also bought' and 'random' products, but thanks to the advice of Jeremy Roberts (also known as carpeperdiem), Timothy Stein (aka timbrrr), David Coggan (tartaglia ) and other forum leaders, we have given this feature a second look. Now the 'add to cart' window can also recommend 'related' products.
To enable it, admin should select one of 3 settings ("Settings" tab ->"Modules" ->"Marketing" tab ->"Add To Cart Popup")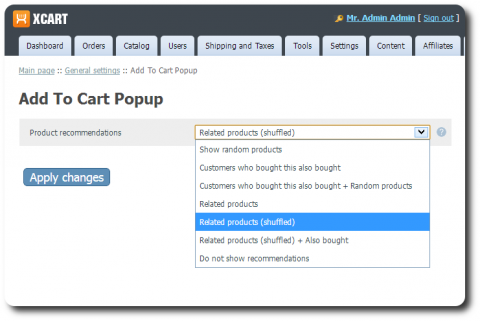 related products – it will always display first 3 products which are defined as 'related' for a given product.
related products(shuffled) – it will select 3 random products from the list of related, providing there are 3+ related products.
related products(shuffled)+also bought
The forum guys are 'to blame' for another change, too: if redirection from product list to product details page is globally enabled for products with options (the setting is called "Redirect a customer who clicks the "Buy Now" or "Add to wish list" buttons of a product with product options to product details page" and located on the "Product Options" module configuration page), this rule will be applied to Add to Cart popup as well, so the customer will be forced to select the appropriate size, color, etc.
USPS update, Page titles in Admin area and other changes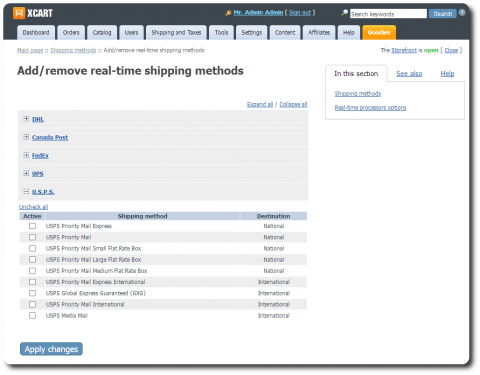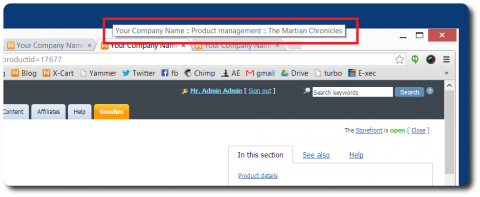 USPS released updates to the Web Tools APIs on 28 July 2013, so USPS integration in X-Cart 4.6.1 is updated too. The API version has not changed. What has changed is the list of supported shipping methods, it has grown significantly. As a result the look and feel of the page where admin manages the shipping methods was revised too, and we hope you will find it convenient.
Additionally, we added a page title to admin area pages. Thanks to this minor improvement, it will be easier to find the proper tab if several pages are opened simultaneously. Do you hate switching between tabs with the same name, looking for a correct page? This tweak will not affect your sales, but it will save your time and nerves.
We have also resolved lots of tickets related to AOM, Special offers (in particular, bonus products), Flyout Menus and Webmaster mode.
Modules and Upgrade packs for 4.6.1
Some of commercial add-ons for v.4.6.1 are not available yet, but it doesn't mean that the distributional packages of previous versions are 100% compatible. Most probably they are, but if you run a production store, we do not recommend experimenting. Please have patience, all our modules (such as "Refine Filters", "Infinite Scroll" or "Pop-up anywhere" and other) will be updated within a week or so.
The upgrade packs from version 4.6.0 to 4.6.1 are ready. As usually, you may generate them in 'My licenses' section of the HelpDesk. As for switching between branches, there will be no direct upgrade to this version. So first you should upgrade to version 4.6.0 , and then proceed with the in-branch upgrade.
Special pricing on License Exchange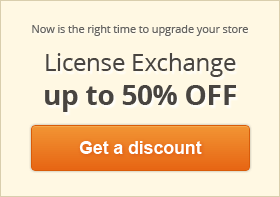 This release is a good reason why you should upgrade now. And together with the upgrade between versions our customers tend to exchange the licenses too – from Gold to GoldPlus, from GoldPlus to Platinum.
If you were considering such a switch, it's the right time. We're offering a special pricing. It's a limited time offer!
Demo and Free Download
You're very welcome to download and install a new version of X-Cart or at least to explore a Demo Installation.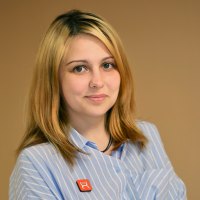 Anastasia Zhavoronkova
Lead Marketing Coordinator at Seller Labs and X-Cart
Anastasia has over 8 years of experience in the eCommerce industry. Having been a Customer Care agent in the past, she knows exactly what eCommerce merchants' needs are, and uses her knowledge in Marketing to bring value to the community by sharing her thoughts on relevant topics.
Subscribe to Our Weekly Newsletter to Get
Expert-Backed

Tips Straight Into Your Inbox

Awesome! You won't be disappointed 😉