Hi X-Carters! I love my job, as my job is to bring you good news 😉 Today we're announcing the partnership of X-Cart with Shippingeasy, a powerful
cloud-based solution for eCommerce shipping
– with a smiling "face".
ShippingEasy is…
With ShippingEasy, you can quickly setup and enable the shipping automation, but the simple interface conceals
powerful features
until you need them: rules, mapping, batch label printing, customizable email templates, automatic pasting back of order statuses and tracking numbers. Saving up to
46% off USPS rates
is another good reason to consider signing up for their services.
Shipping Easy: Details, Free trial, Pricing
ShippingEasy brings…

ShippingEasy CEO Katie May said, "We're excited about the partnership with X-Cart because it allows us to solve a key paint point for their large customer base at a price they can afford. We're confident their retailers will appreciate our easy to master software and the on-call customer service team charged with simplifying all things shipping, leaving them to focus on growing their business." It also doesn't hurt that ShippingEasy allows merchants of all sizes to enjoy USPS rates typically reserved for the largest retailers.

X-Cart CEO Max Vydrin adds, "When your business starts growing, your platform must adapt too. As online retailers begin to grow, they soon find that shipping without a solution is a nightmare. Fortunately, such a solution exists, and I hope that X-Cart partnership with ShippingEasy will significantly speed up and simply the scenarios of work with the orders for our merchants."
Special offer for X-Cart users: ShippingEasy Сompletely FREE until 2015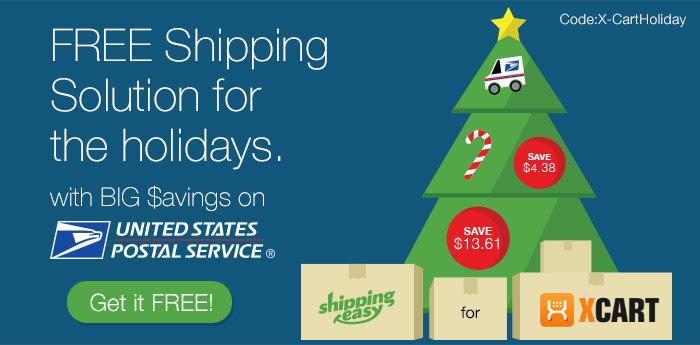 Free Integration modules here
The
users of X-Cart 5
enjoy instant module installation via built-in marketplace. Just find the module by title, initiate installation, rebuild cache ( oooh, we know you hate it, but in v.5.2 it will be improved), and you're all set with the installation.Those
who run X-Cart 4.4.0
and higher are to download the module from the
detailed module page
and install it manually – just like any other addon. You're also welcome to contact
X-Cart support
team if you need any help with this task.Regardless of the X-Cart version, once you install the module, please fill in the
API credentials
which are to be obtained
here
.