Partnership with ShippingEasy: Free Integration Modules for X-Cart 4 and X-Cart 5

Hi X-Carters! I love my job, as my job is to bring you good news 😉 Today we're announcing the partnership of X-Cart with Shippingeasy, a powerful cloud-based solution for eCommerce shipping – with a smiling "face".
ShippingEasy is…
With ShippingEasy, you can quickly setup and enable the shipping automation, but the simple interface conceals powerful features until you need them: rules, mapping, batch label printing, customizable email templates, automatic pasting back of order statuses and tracking numbers. Saving up to 46% off USPS rates is another good reason to consider signing up for their services.
For the most vulnerable e-retailers – the ones just starting out – there is a genuinely FREE plan covering up to 50 shipments per month. Once retailers enjoy growth beyond 50 shipments, they enjoy tier-based pricing that makes sense for growing businesses.
ShippingEasy brings…
Special offer for X-Cart users: ShippingEasy Сompletely FREE until 2015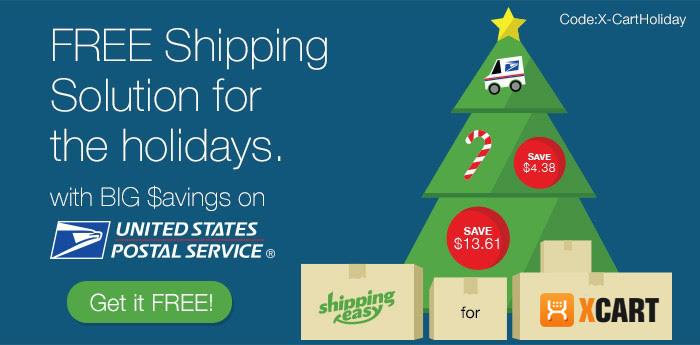 Free Integration modules here
The users of X-Cart 5 enjoy instant module installation via built-in marketplace. Just find the module by title, initiate installation, rebuild cache ( oooh, we know you hate it, but in v.5.2 it will be improved), and you're all set with the installation.
Those who run X-Cart 4.4.0 and higher are to download the module from the detailed module page and install it manually – just like any other addon. You're also welcome to contact X-Cart support team if you need any help with this task.
Regardless of the X-Cart version, once you install the module, please fill in the API credentials which are to be obtained here.
Subscribe to Our Weekly Newsletter to Get
Expert-Backed

Tips Straight Into Your Inbox

One email a week, we promise.

Awesome! You won't be disappointed 😉

Ksenia Emelyanova
Marketing manager at X-Cart
X-Cart copywriter, PR and Marketing Manager, I came to eCommerce company in 2009 as a customer support assistant, went on to work as a Project manager in the Custom Development team to discover the needs of e-merchants and deliver the projects that meet their needs. This experience gave me a deep understanding of how things work from both a developer's side and a user's point of view, and it really helps in creating articles with love and care. Apart from eCommerce, I am a loving wife and mother, yogi and aerial hoop performer.