←
Back to Blog
Introducing AutoSync: The Visual Vehicle Studio for Your Automotive Store
We are beyond excited to announce our most recent partnership with AutoSync, the technology solutions that help deliver the interactive shopping experiences in your automotive online store!
Let's see what the AutoSync integration brings to the table.
The Visual Shopping
The most delicious part in this new integration is AutoSync's visualizer for automotive online stores selling wheels, tires, suspension, window film, and accessories that allows your website visitors to see how the new items would look from different angles.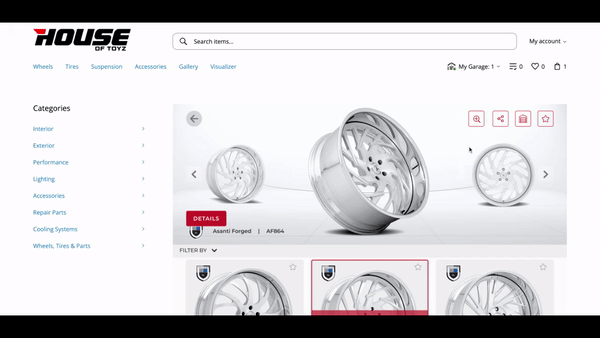 When you provide multiple options for your customers to choose from, it becomes important to let them view the front, side, and rear to ensure they are making the right choice when it comes to upgrading their vehicle.
AutoSync integrates seamlessly with the X-Cart storefront to ensure a smooth and visually pleasant shopping experience on all devices, thanks to the mobile-first development approach.
Higher Conversion Rates, Lower Investments
The 'View on vehicle' tool makes choosing tires, wheels, and accessories a pleasurable experience where shoppers love to spend time, doubling the average time on page, which would have a positive effect on your SEO rankings.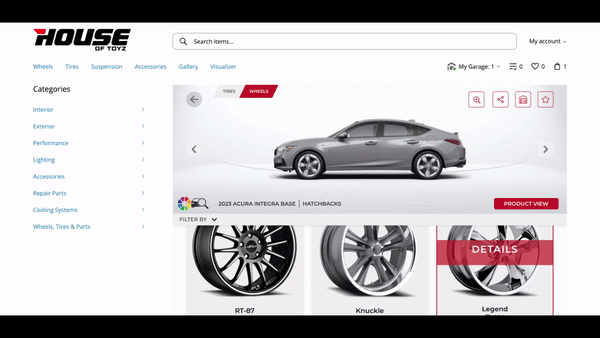 The accurate factory colors and built-in fitment validation reduce the risk of returns and increase customer satisfaction. Plus, you can save up to 50% of what you would otherwise spend on product photography.
Wheels and Tires Product Data Import and Sync
AutoSync provides catalogs with hundreds of brands and accurate product data for import and timely sync. The product categories include wheels and tires with multiple factory color options, finishes, and size variations available for accurate fitment.
Vehicles + Wheels and Tires Fitment
AutoSync databases give you all the data to match your customers vehicles with suitable wheels and tires while providing real-time accurate fitment validation and powering the Year/Make/Model filtering functionality. Plus, you get an additional 'Select your OE fitment' filter for choosing suitable wheels and tires.
How It Works
AutoSync integrates seamlessly with your X-Cart automotive store complementing the Year/Make/Model filtering and My Garage function with the Visualizer tab where your buyers can try the items they shop for on their car.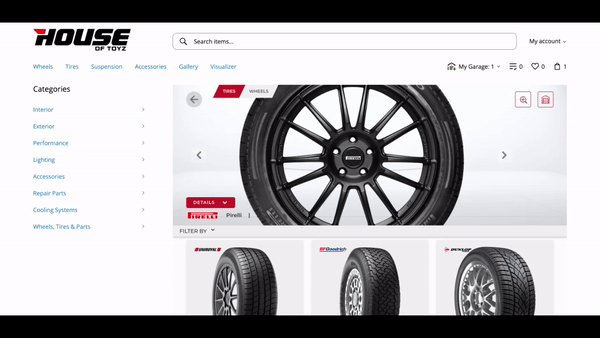 After the initial setup that requires your API key, you can upload and sync the catalogs with a click of a button (the import might take some time though, depending on the size of the catalog you're uploading). X-Cart fetches the product images, options, and other data from the catalogs to use in the visualizer and the real-time fitment validation.
Over to You
Just like the previously announced integrations with ASAP Network and SEMA Data, AutoSync is now available for all X-Cart Automotive packages. Together, they provide the catalogs and accurate and full product data to power your online store. Now, with the AutoSync visualization studio, you can provide your customers not only with a variety of products, but also with a pleasurable shopping experience.
Want a similar experience in your automotive store? Book a personal demo today!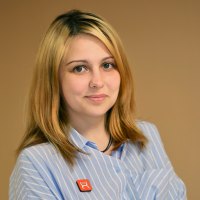 Anastasia Zhavoronkova
Lead Marketing Coordinator at Seller Labs and X-Cart
Anastasia has over 8 years of experience in the eCommerce industry. Having been a Customer Care agent in the past, she knows exactly what eCommerce merchants' needs are, and uses her knowledge in Marketing to bring value to the community by sharing her thoughts on relevant topics.
Subscribe to Our Weekly Newsletter to Get
Expert-Backed

Tips Straight Into Your Inbox

Awesome! You won't be disappointed 😉