←
Back to Blog
Marketing Funnel [All in One Guide For Beginners + Examples]
You came up with the perfect idea for your eCommerce business. You created an online store, started a marketing campaign but… People are burning with desire to buy your product or service right away, huh?
Don't worry, you're in the right place. What you need is an effective marketing funnel that will drive traffic in the right direction.
And this is what I'm here for – to help you understand what a marketing funnel is, how it works, what stages it has and how a website funnel should look like.
Let's get it started!
What is Marketing Funnel?
Let's start from the funnel definition. A marketing funnel is a set of stages that every customer comes through before converting into your customer and advocate.
There are several marketing funnel models. They can be totally different, and what seems right for one business can prove ineffective for another.
Some people claim there's no universal marketing funnel at all. And every business should create their own business funnel according to their niche, situation, etc. That's why so many non-fiction books were written on this topic.
Let's not speculate and take a look at several marketing funnel models. You will decide for yourself which marketing funnel model seems correct for your own business.
AIDA
This model was invented more than 100 years ago. It seems logical but it doesn't completely fit our time.
The good old marketing funnel "AIDA" has 4 stages:
A – Awareness – attract your target audience, give them information about your business.
I – Interest – show your target audience that not only do you exist but can also offer them something that will solve their problem.
D – Desire – make your target audience adore what you sell.
A – Action – customers interact with you somehow.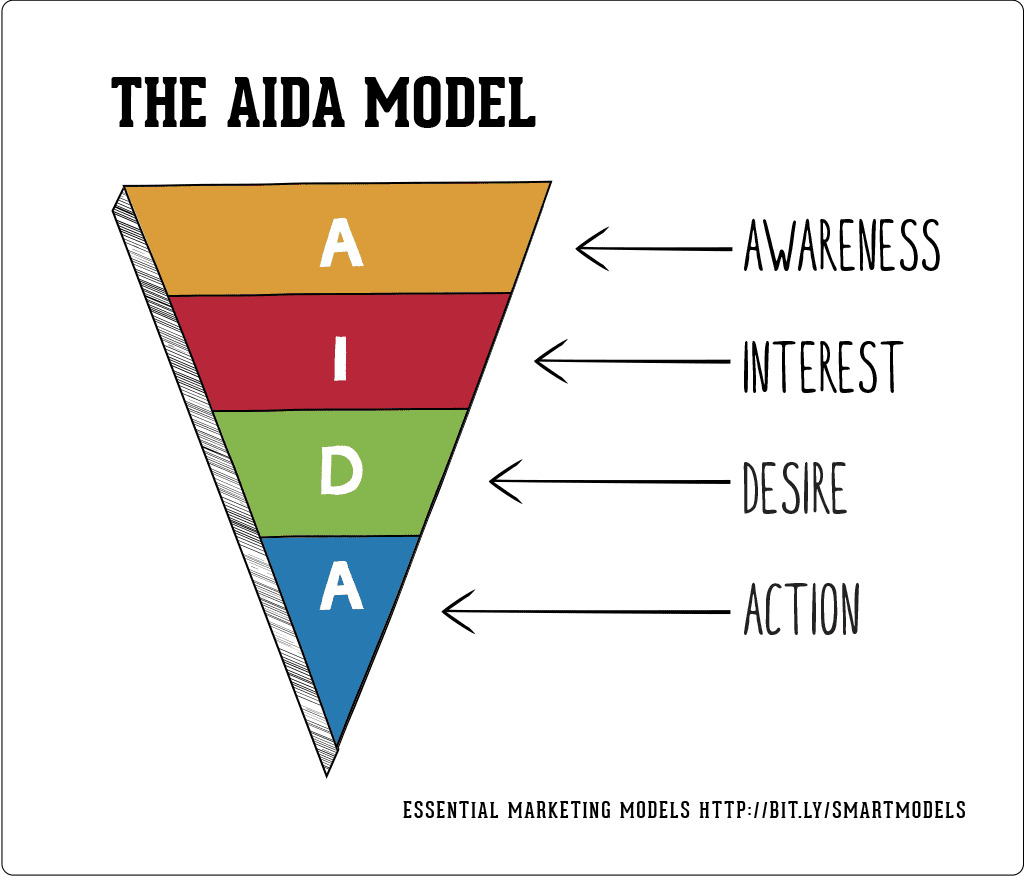 Philip Kotler's marketing funnel definition
Philip Kotler improved AIDA funnel, so let's take a look at his version. It's called 5A:
A – Awareness – attract your target audience, give them information about your business.
A – Appeal – at this stage, the potential customers move from the stage of being aware of the product to the stage of wanting to know more about the product.
A – Ask – consumers research brands they short listed by collecting more information from media, friends, family, and other brands.
A – Act – customers finally buy from you.
A – Advocate – loyalty, retention, repurchase and advocacy to others.
The marketing funnel we think is true for the 2019
And one more funnel that people think is the right one. I think so, too.
Awareness – attract your target audience, give them information about your business.
Consideration – customers look for the necessary information about you to make the buying decision.
Conversion – the buying decision is made, and the customer purchases from you.
Loyalty – the customer is satisfied with what s/he bought, s/he becomes a repeated customer.
Advocacy – the customer adores everything or almost everything about you and s/he can't wait to recommend you to the family, friends, colleagues; the customer leaves positive reviews.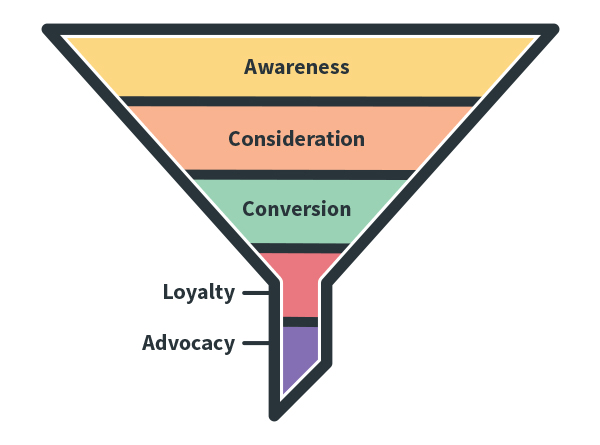 You've probably seen other funnels that I didn't mention or you even use one of them. I didn't aim at gathering all of the existing types here.
What I wanted to show you is the funnel that proved effective for many people. It guides a client all the way to the purchase and doesn't stop the moment a client converts.
So I'll just stick to it and give you a better definition, its variations depending on your business model, and practical advice on how to adopt it for your own business.
What is a digital marketing funnel?
A modern digital marketing funnel includes much more details and stages than AIDA does. It's a complex set of actions every customer takes. And businesses that want to go online or already have online stores need digital marketing funnels, too.
They include your landing page, advertisements, email newsletters, a free demo, guides and posts on social media. Every place is a way to convert your potential customers into paying ones.
I think this is a decent digital marketing funnel template, and it explains how it all works in our digital era.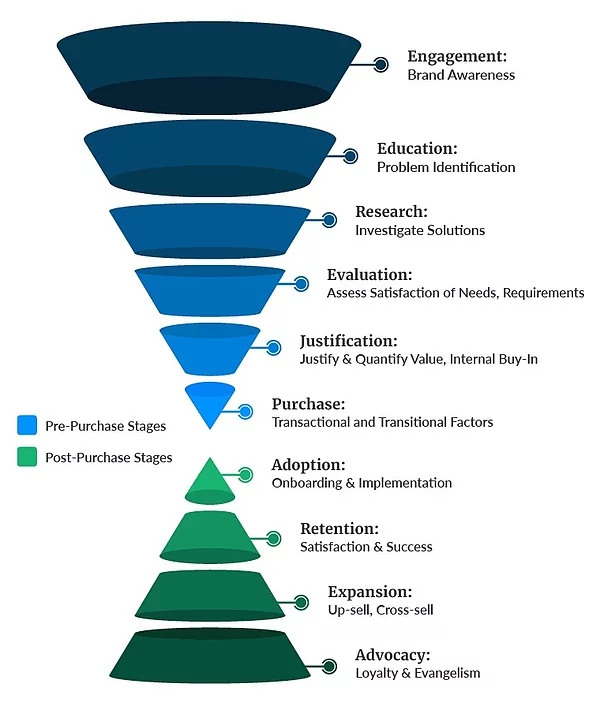 Engagement. When you're starting an online store you should think about the way your potential customers can find out about you. And if we're talking about digital marketing funnel, the way you inform people about your brand is through social media, ads, emails, and reviews.
Education. Here you find out consumers' problems and help them figure out ways to solve them.
Research. Now your potential customers know about you and they want to learn more and see if they are ready to buy from you. Think of your marketing message and please, please, please don't create thousands of posts or send a million emails.
Evaluation. Now you should explain what your unique selling proposition is. In other words, why your eCommerce website is the best way to solve their problem. It's a good idea to explain the difference between you and your competitors.
Justification. Here you work with objections and prove why your business is the best solution.
Purchase. Hooray! Be ready to answer any question in any place you're asked as soon as possible. It's vital.
Adoption. It's one of the most important stages of the marketing funnel as here you show your attitude to those who have already bought from you. Everything matters: how support and customer service work, how you deal with requests, how you communicate (don't forget to give helpful information and send new offers via email).
Retention. Retain your satisfied customers and make them repeat customers. Prove that your business is the right choice every time.
Expansion. Send emails when you offer the products that the consumer might like. Give some information and tips about your product. Educate your customers. Offer a discount and congratulate on holidays.
Advocacy. When you're starting an eCommerce store you probably can't imagine that someone can become your brand advocate. But it's more than possible. Moreover, it's the best thing that can happen between you and your customers. People who like your products or services, who are satisfied with your website design and speed, with your support service and emails, tell everyone about you. It's like me and ASOS. One love.
I hope it was a decent digital marketing funnel explanation. When creating your digital marketing strategy, consider all the 10 stages. Following every step will bring you loyal audience and growing sales.
B2B vs B2C Use of the Marketing Funnel
There are basic differences between B2B and B2C marketing funnels that are true for all kinds of businesses.
On the Consideration stage of the funnel, B2C user is simply checking reviews, while B2B customer is sharing the information he discovered about your company with the other stakeholders.
When a B2C just ads a product to the cart, B2B buyer is looking forward to getting a contract proposal.
Usually B2C consumers come from the top of the funnel to its bottom alone or with advice from a friend or a family member while B2B buyers have a big group of decision-makers.
Most likely a B2C consumer will never contact the company representative while B2B consumers interact with the sales department.
B2B Marketing Funnel
First you're looking for tips on how to start an online store, then when you have your eCommerce site, it's time to think carefully about B2B sales funnel stages. You should try different variants, find out at what marketing funnel stages you're losing customers, then correct the funnel. Repeat this process over and over again until you get a perfect B2B digital marketing funnel.
As for the B2B content marketing funnel, the first thing you should remember is that sales don't happen the next moment you send an email or post something on your social media profile. Also, check out what content marketing funnel HubSpot offers.
Related content:
7 Best B2B Marketing Strategies That Drive Record Sales
B2B Marketing Funnel | HubSpot
Flywheel vs Funnel
The flywheel invented by James Watt is all about releasing energy. In marketing we can say the same thing. In a flywheel system, a customer doesn't leave you forever after purchase as the purchasing funnel shows us but he stays with you and buys from you again.
So, you keep "working" with your customer even after you've already got the money. Let's put it straight: money is not the only thing you can get from a customer. There are reviews, referrals and, well, repeat sales.
Here is the Hubspot flywheel and their inbound methodology.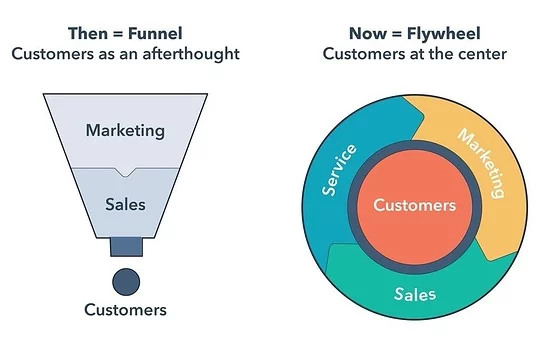 Notice the main difference: in the flywheel, your customer is right in the center. Every little step is made with keeping your customers in mind. You think about their needs. You listen to their feedback. You interact.
In the inbound methodology, you build a marketing flywheel that attracts, engages, and delights customers. You provide awesome customer experience throughout the whole customer journey.
In the funnel customers get to your marketing team, then sales, and finally to the customer service. With the flywheel, every team is ready to help at any moment, even if it's not "their turn". This way you provide a better experience and get more satisfied customers.
Reasons why you might want to consider this flywheel model:
Every team supports each other.You are working together, and the work of every team influences each other. Marketing is responsible for the time that potential customers will take to get to the sales team. The sales team is responsible for the way potential customers become the real ones. And the support and customer service teams' experience will show if customers would like to become your advocates, too.
You are not the only one who influences the buying decision.What's more, your business is not the most important source of information. Customers believe their family's and friends' recommendations, they search for third-party reviews sites and look for user-generated content related to your company. This is how most buyers make their decisions.
People communicate more – and you can't take part in their conversation.You can not control what people say about you. The funnel used to reflect the process of getting the information about the product, now it doesn't. And you have to deal with it. You don't have any choice, really.
The lesson is the faster you "spin" your flywheel, the faster you grow.
Omni-channel & Email marketing
Before I tell you how omni-channel approach and marketing funnel are connected let's first define what omni-channel marketing is and why everyone around is so crazy about it.
Omni-channel is all about seeing the things the exact way your customers see them. Every step your customers take you follow them, ready to help and to answer any questions. Omni-channel means there's integration between all the channels and departments and everyone is there for the customers.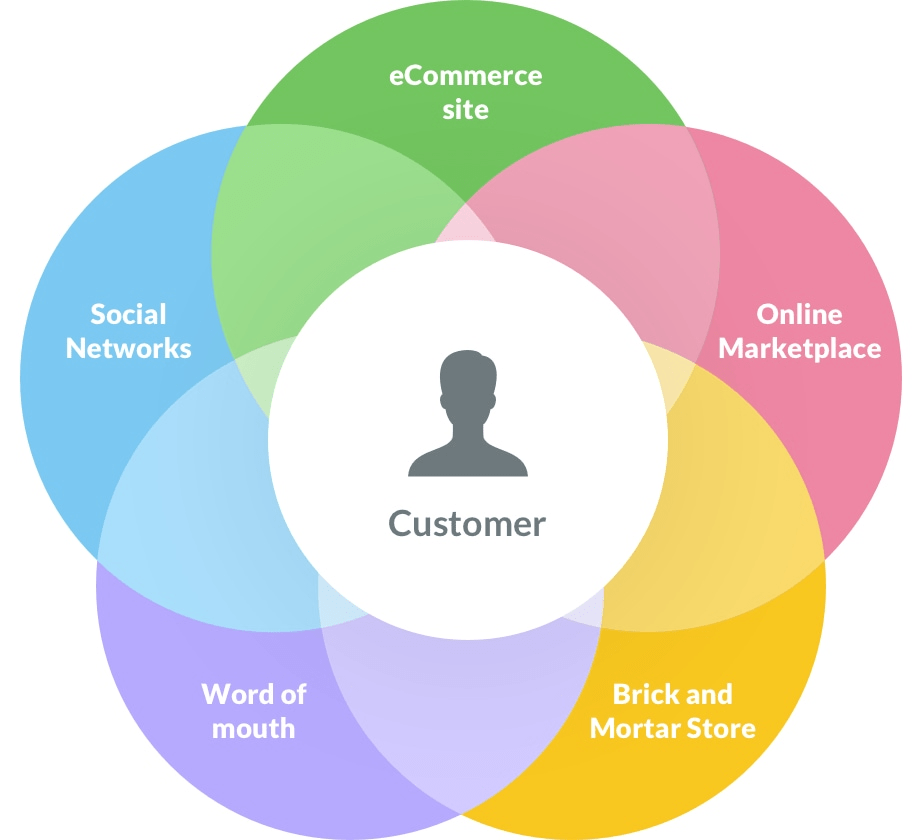 Related content:
Omni-Channel, Multi-Channel, Cross-Channel: How to Tell Them Apart?
I think it's fair to say that omni-channel approach was initially created to lead customers through the marketing funnel.
Remember about HubSpot Academy and what they are saying about inbound marketing – you attract potential customers, you engage with them, and you delight them individually.
The goal is to create the best customer experience possible. And being omni-channel means holding your customer's hand all the way, every stage.
One of the ways to be close to your customer and to show that you are right there and you do care is email marketing.
Lead your potential customers from Awareness to Advocacy using email marketing
While some people keep saying that email marketing is dead (let's be honest – they just don't know how to do it right) we'll use every opportunity it gives us.
Email marketing is one of the ways to lead your customers from Awareness to Advocacy. At every stage you're ready to help, you listen carefully and react instantly.
To make the whole process nice and smooth, you should automate it. Everything becomes easier with email marketing services. We do know that.
1. Awareness stage
On the Awareness stage your main goal is to explain the value of your product or service and provide educational content. You're always ready to help or answer the questions but you never impose.
Remember, this is your chance to build a good long-term relationship with a potential client. Give them some useful free content.
2. Consideration stage
This stage means getting to know more about your companу. Customers think of buying from you. Your subscribers want to know more about you, so give them this chance. Think of the so-called pain points and send related content. Show your potential customers that you know exactly how to solve their problems.
Send over case studies or educational webinars to inspire them.
3. Conversion
Here it is, the moment where your potential client decides if s/he wants to become your real customer right now. So, what you have to do is to explain your benefits (of course!), offer a coupon/discount/free shipping/whatever. Sell!
It's always a good idea to offer a free trial or a sample. Do what works for your business but remember that a customer should have a feeling that s/he is the only one who makes this decision.
4. Loyalty
Loyalty stage is the right time to show that you do remember about the customer and that you will not leave them right after they bring you the money.
Retain your customers: provide them with educational content, inform them about sales, congratulate on birthdays. Make them your repeat customers.
5. Advocacy
Drumroll, please. Advocacy stage! Now your customers are your fans, they recommend your brand to their families, friends or Instagram followers.
Don't forget about your loyal audience. Listen to their feedback. Keep sending useful content. Think of creating an affiliate or loyalty program.
A happy customer will buy from you over and over again skipping the Awareness and Consideration stages. Appreciate them and care about them not less then for your potential customers.
To sum up
I hope this article helped understand what a marketing funnel is and how it works. You know that there are various stages of a marketing funnel, and that every step should have its own marketing message.
Your marketing strategy directly influences the buying process so think twice before you make any serious decision or change. And if you do, control and compare the results. A working marketing and sales funnel is a tested and corrected funnel as experience shows us.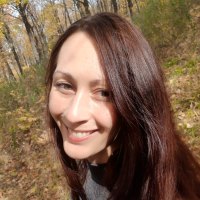 Maria Navolykina
SEO Content Specialist
Maria is an SEO Content Specialist at X-Cart. Once captured by digital and content marketing in her student days, she keeps living and breathing it ever since.
Subscribe to Our Weekly Newsletter to Get
Expert-Backed

Tips Straight Into Your Inbox

Awesome! You won't be disappointed 😉