←
Back to Blog
Selling on Walmart vs Amazon: How The Two eCommerce Behemoths Stack Up
All online marketplaces have advantages and disadvantages. That's why selling across multiple channels simultaneously, you have to understand your goal for selling on each platform.
Selling on Amazon may be something that you are already familiar with. But maybe it's time to start exploring the Walmart Marketplace? These two retail giants have to deal with a similar customer base and face the same challenges. However, each marketplace has its unique pros and cons.
In this post, you'll discover how Walmart and Amazon differ from each other and how you, as an online retailer, can benefit from selling on both.
I. How the Walmart Marketplace Differs from Amazon [Statistics]
We all know Amazon is the most visited shopping website in the US. But how many of us know that Walmart is ranked number two?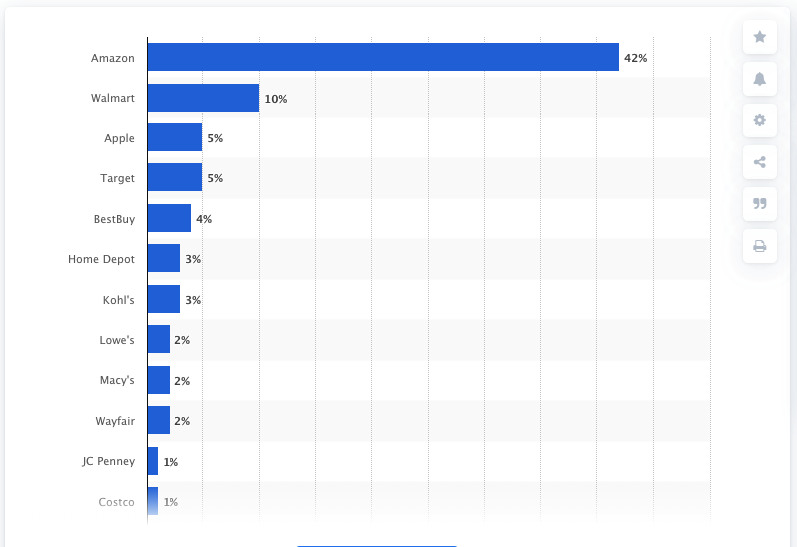 The Walmart Marketplace is still pretty new to eCommerce. Several years ago, it acquired an eCommerce start-up Jet.com for $3 billion in cash, as well as Shoes.com, Moosejaw.com, and a few other online retailers. And there remains much to be seen about what Walmart does with its eCommerce platforms moving forward.
Also, with more than 100 million unique visitors a month and 207% growth in its eCommerce customer base between 2017 and 2019, it's safe to say that selling on Walmart might be a good option for eCommerce sellers in 2021.
Even though Walmart can't yet beat Amazon in the size of its customer base, it already surpasses this behemoth marketplace in online grocery share.
II. Selling on Walmart vs. Amazon: Cons
Below you'll discover some of the disadvantages of selling on Walmart marketplace compared to Amazon, including the poor selection of resources for sellers and a steep barrier to entry. There are also a couple of Amazon cons.
Walmart Has a Steep Barrier to Entry
Walmart's barrier to entry is extremely high. This is the most obvious difference between the two platforms, and this is why launching a Walmart store may be a bit problematic for small sellers.
Walmart marketplace sellers should be a good fit for this platform, i.e., have an order defect rate below 2% and on-time shipment rate above 99%. They also have to provide correct tracking info for shipments at least 99% of the time. In other words, you should have impeccable seller feedback to start selling on Walmart.
Getting Your Products in Walmart Marketplace Is Troublesome
Having an immaculate seller profile is only part of the story. There's more to it than that.
Sellers have to be invited to sell on the Walmart Marketplace, which can take anywhere from two to four weeks. But once sellers have been approved, getting started is fairly easy.
This may be a complete letdown to many online retailers, but it's actually a good thing. Why? Because Walmart wants sellers who have an excellent reputation on Amazon and eBay.
If you're looking to take your brand and reputation on Amazon to the next level, then you need automated Buyer-Seller messaging. Save time, build your brand, and improve your reputation with Seller Labs PRO powered by Feedback Genius.
Amazon Still Has a Limited Reach at Brick-and-Mortar Locations
When it comes to offline retail, Walmart is a king.
Even though Amazon has a physical presence with its grocery stores in Chicago, New York, San Francisco, and many other locations across the US, it will continue to lag behind Walmart in the Brick-and-Mortar space.
With 11,500 retail stores in 26 countries all over the world, Walmart is currently the largest brick-and-mortar retailer in the world.
Less Seller-Friendly Strategy For Product Placement on Walmart
Being relatively new to eCommerce, Walmart lacks the expertise necessary to execute digital strategies. Amazon, in its turn, can deservedly be called a trendsetter.
For instance, the Walmart Buy Box is based on whoever is selling their product at the lowest price. Whereas Amazon's Buy Box takes into account a seller's performance, price, sales, fulfillment, order defect rate, and a whole slew of factors.
Will the Walmart Buy Box become more sophisticated, who knows? But Walmart wants shoppers to get the absolute lowest price anywhere.
Amazon Has Stiff Competition
Compared to Walmart with a few thousands of sellers, Amazon hosts as many as 2 million merchants from all over the globe, still reigning supreme in online shopping. Therefore, sellers have to be more creative to stand the competition on Amazon — either through building your reputation with messaging optimization or just by offering melt-your-face customer service.
If you need ANY assistance edging out your Amazon competitors the legit way, our solution advisors from Seller Labs are here to have your back. Fee free to schedule a 20-minute demo with them.
III. Selling on Walmart vs. Amazon: Pros
Both Walmart and Amazon seller marketplaces have a lot of room for improvement, but staying optimistic about the benefits of the platforms will help you sell on Amazon and Walmart more efficiently.
Less Competition for the Buy Box and Ad Placements on Walmart
As a result of the steep barrier to entry, there is less competition on the Walmart Marketplace, which means sellers who get in will have a great chance of standing out.
It's estimated that Walmart has approximately 50,000 third-party sellers — with hundreds of new sellers added monthly. This is a drop in the bucket compared to Amazon's 2.4 million third-party sellers. But fewer sellers means a greater chance at winning the Buy Box.
Becoming an Amazon Seller is Pretty Easy
In contrast to Walmart, Amazon's sign-up process is rather straightforward. Merchants can register as Individual Sellers and pay $0.99 per each unit sold plus a per-item referral fee. Or they can become Professional Sellers — in this case, you'll be charged a monthly fee of $39.99.
You don't have to be a super seller, and there's no need to undergo an approval process to start selling on Amazon.
If you need help discovering new product opportunities and maximizing your sales on Amazon, sign up for Seller Labs PRO.
Amazon Dominates in the Apparel Space
With Prime Wardrobe, Amazon shoppers can try before they buy eligible clothing, shoes, and accessory items from across different product categories. The best thing about it is that you have as many as 7 days to send back the items you don't want to keep.
Walmart Is Much Larger Than Amazon by Revenue
Walmart is the world's largest company, with total revenue of $524 billion in sales, as of 2020.
Amazon's total revenue for the twelve months ending September 30, 2020, amounted to $347 billion in total.
Walmart Has a Smaller Product Selection
Walmart currently offers 75 million SKUs available on its marketplace, but it's adding a million more each month. Compare that to Amazon's bulging 350 million SKUs, and it's not hard to see why Amazon is called "The Everything Store."
But sellers shouldn't write off Walmart because of its current product offering. Quite the opposite, this just means that you can be the first to jump on the train — without feeling the intense pressure of having competition breathing down your neck.
Walmart is already one of the most recognizable brands in the world and has ample space to grow. I think it's safe to assume there will be more than 100 million SKUs available soon.
Walmart Offers Versatile Fulfillment Services
Similar to Fulfillment by Amazon, Walmart is adopting a similar process to pick, pack, and ship products to customers. The main difference between FBA and FBW is Walmart has multiple ways to fulfill orders.
Walmart uses its fulfillment centers, store distribution centers, 4,500 stores, and the company's world-class transportation fleet to ship online orders. Whereas Amazon fulfills orders from its Fulfillment Centers, the Merchant Fulfillment Network (MFN), and Seller-Fulfilled Prime.
Walmart is using its diverse infrastructure to meet the demands of its shoppers. It may not be as optimized as Amazon's, but I wouldn't discredit Walmart's ability to delight customers.
IV. Selling on Walmart Marketplace vs. Amazon [FAQ]
How Many Amazon Sellers Are on Walmart?
According to Marketplace Pulse, Walmart surpassed 50,000 sellers last year. If we imagine that all Walmart sellers are also selling on Amazon (which is too good to be true!), it will bring us to the conclusion that only 2% of Amazon sellers are on Walmart.
Does Walmart Have Free Shipping?
After browsing around Walmart.com and looking at the shipping options, it's easy to see that it offers free two-day delivery without any membership fee. And if you think that two-day shipping may cost Walmart shoppers, think again. Compared to Amazon's free shipping, with delivery in 5-8 business days, selling products on Walmart should be a good idea.
Walmart also offers a free Store Pickup option, but it's currently not available to Marketplace sellers.
How Does Walmart's Paid Shipping Differ From the One Offered by Amazon?
If a shopper isn't happy with the free snail mail option, they have an option to subscribe to Walmart's paid shipping and delivery services.
Walmart's NextDay delivery option, which allows shoppers to receive their items the next day, costs $5.99 for a pack of Matcha green tea powder — that's almost half of what both Amazon Prime members and Walmart Plus subscribers would pay monthly. But if your order is over $35, shipping will be free!
Does Walmart Offer a Service Similar to Amazon Prime?
During the COVID-19 pandemic, Walmart tapped into the $900 billion US food market and launched a new same-day grocery delivery service, called Express Delivery, which delivered orders to customers' doors in a matter of a few hours or even faster.
To make their service even more eCommerce-oriented, Walmart introduced Walmart Plus — a new fast delivery subscription program for groceries and other products. It costs $98 a year, which, to the record, is $19 lower than Amazon Prime membership.
How Much Is Walmart's Seller Fee?
Both Amazon and Walmart take commissions on sales. Walmart charges a referral fee that ranges from 6% to 20% and is based on your selling price and product category. If you register as an Amazon individual seller, you'll pay $0.99 for each item sold, or $39.99 per month if you go for a Pro Seller Account. Plus, additional fees may apply.
How to Get Approved to Sell on Walmart?
Go to the official website of Walmart Marketplace.
Submit your application to sell. It shouldn't take more than 15 minutes to complete.
If you are approved, you'll receive an email with an invitation to create an account on Walmart's Seller Central.
Then, upload your products.
Is Selling on the Walmart Marketplace Worth Your Time?
Sure. Especially if you can prove you are an excellent seller.
Walmart has expressed its meticulous requirements for potential third-party sellers. The investment Walmart has made into its eCommerce platform should make sellers everywhere perk up and pay attention to this already-established retail behemoth. In the ever-changing landscape of eCommerce, sellers must diversify and adapt in order to succeed. And Walmart presents a golden opportunity for those who are qualified.
And if you are still on the fence deciding whether you should start selling on Walmart or on Amazon, sign up for both. A presence on both sites will give you higher chances of conversion and better win rates.
Amazon vs. Walmart: Which Marketplace Is Right For Your Business?
With Amazon being the most obvious place to begin or expand eCommerce operations, it would be too innocent of a new seller to expect low competition. You'll have to work hard implementing various sales strategies to stay ahead of other online retailers selling on Amazon.
On the other hand, Walmart expects its sellers to have an impeccable reputation, which is a steep barrier to overcome for small and medium businesses.
The bottom line?
You don't have to rotate between the two online marketplaces trying to discern their pros and cons of each. Both Walmart and Amazon are competing with one another to have you on the board. Give them both a chance. You'll have a clear understanding of which one is best for your business only when you start selling.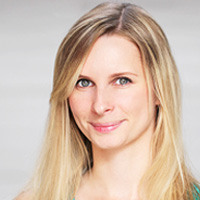 Helen Golubeva
Freelance SEO and Content Marketing Specialist
Helen is an SEO and Content Marketing Specialist. She has been creating and planning content for over 10 years, with 5+ years specializing in eCommerce.
Subscribe to Our Weekly Newsletter to Get
Expert-Backed

Tips Straight Into Your Inbox

Awesome! You won't be disappointed 😉