Cloud eCommerce:
X-Cart

Shopping Cart SaaS Platform

Quickly Launch and Grow a Profitable Ecommerce Business in Just a Couple of Clicks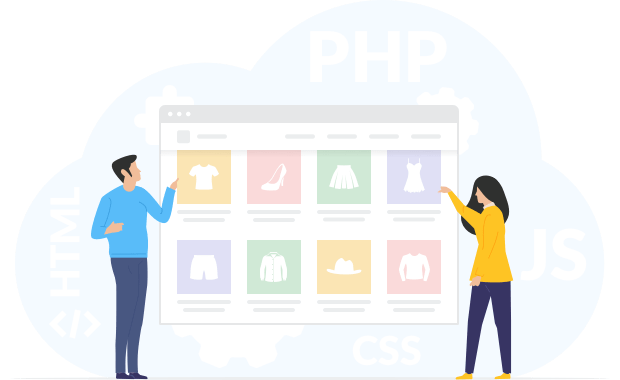 Over the past few years, eCommerce has changed the way products and services are sold online. These days, the success of your online store depends on your shopping cart platform. However, many companies are still torn among the variety of choices available.
If you're one of them, you're probably asking a lot of questions. Should I go for a Cloud Ecommerce SaaS platform? Or is there a better option? Before you select which platform is best for you, you need to understand the two main types of online shopping cart software.
SaaS eCommerce Platform Comparison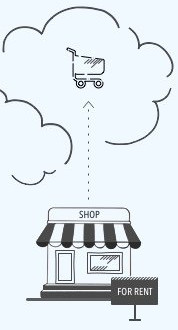 Have you seen eCommerce platforms that require web hosting to function? These are called self‑hosted platforms. They're actually very similar to making a WordPress site where you purchase a hosting package. However, instead of a blog, you're installing an eCommerce framework for your site.
Need an all‑in‑one ecommerce software solution so you can start selling online right away? An eCommerce SaaS (software as a service) platform is absolutely worth considering. Depending on the number of products you have in store, you need to pay a reasonable monthly fee to enjoy a code free ecommerce website.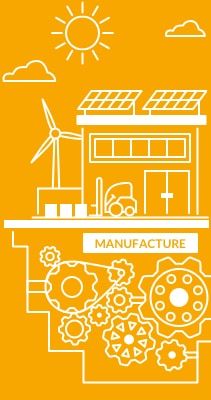 Top Ecommerce Platform Comparison Chart
Traditional SaaS
You can change the appearance but not the business logic
X‑Cart
Every element of your store can be customized as you need
With X‑Cart's advanced eCommerce shopping cart SaaS platform, everything you'll ever need to get an online store to a true enterprise level is all in one place and at the same time:
It is customisable like top open‑source self‑hosted platforms

It is pain‑free upgradable like SaaS

Like the best SaaS eCommerce software, it exempts you from server management duties
With X‑Cart 5 major software upgrades between branches are installed by 62% users. Minor upgrades within the branch aimed at getting the most recent bug-fixes and security updates – by 80% of all X‑Cart 5 based stores.
The great thing about self‑hosted eCommerce solutions is powerful customizability. Popular online store builders usually come with their own documentation, going into deep detail starting from installation up to modification. In other words, you'd have full control over your web store and power to add more eCommerce apps by adding extra features, installing plugins, integrating extensions, adding payment gateway options, and so much more at all times.
You can set up self‑hosted platforms virtually anywhere. Depending on your site's needs, you can choose a hosting plan until you find a better offer or feel the need for a bigger package.
Reasons NOT to Choose Self-Hosted Platforms
Firstly, setting up self‑hosted platforms is usually more challenging than hosted rivals. In most cases, you'd have to pick a hosting provider, select an online store builder to use, install, and set up everything until the website is fully functional.
With X‑Cart Cloud eCommerce you get a fully managed VPS hosting, a ready-made store and support to keep your store performing on all cylinders.
Another one of the strongest reasons NOT to use an self‑hosted eCommerce platform is that because of extensive customizations the store upgradability suffers. Say, only 4% of self‑hosted X-Cart 4 users upgrade their stores, and the figure is alike for Magento 1 or Opencart or Prestashop.
The SaaS platforms are different. NOT allowing deep modifications of the core, they remain pretty upgradable, so the users of SaaS do not even know what a headache it may be to upgrade since the service provider just presses several buttons and magic happens. So from this point of view, for end user SaaS may seem more attractive.
With X‑Cart Cloud you will enjoy a high degree of upgradability, even if your eCommerce website has been heavily modified.
Reasons to Choose A SaaS Platform
There are a plethora of reasons why SaaS is a great choice. Here are some:
Guaranteed Uptime and Security
Since SaaS is managed by skilled professionals, your online store will have maximum speed and uptime. Your provider's dedicated team of experts work hard to maintain consistency and quality so your customers will have a great shopping experience that will keep them coming back for more.
But don't get us wrong. No SaaS commerce platform is perfect and you may experience site hiccups now and again. The same is true with self-hosted platforms. Fortunately, SaaS providers such as X-Cart are geared with dedicated servers and best practices to make sure that your eCommerce site is up 99.99% of the time.
Site security is also kept to the maximum. To achieve this, your site has to undergo regular software patches and updates to keep threats at bay. SaaS makes sure to do these automatically, so you won't need to check for available updates every time. Now the only thing left to take care of is making sales as you start selling online!
Experienced and Knowledgeable Customer Support
You don't need to hire or train a team of IT or IS experts to keep your store in a perfect operating condition. SaaS providers utilize their own team of software experts so your website remains running and well‑maintained. These experts typically know the ins and outs of eCommerce (such as B2B and B2C eCommerce), and they can help you in case you need insight about improving your online business anytime.
Faster Setup
Unlike self‑hosted platforms, SaaS solutions take only a few weeks to set up and launch. For example, stores with hundreds of products can launch in as little as two months. Self‑hosted platforms, on the other hand, can take you up to 6 months. If you have a huge project that needs to be launched within a short timeframe, a SaaS solution will save you a massive amount of time and give you an edge over the competition.
Reasons NOT to Choose SaaS eCommerce Platforms
Like self‑hosted eCommerce hosted models are not perfect on their own.
Limited Control
Some hosted eCommerce solutions require you to transfer control to a third‑party provider. If you're not into letting someone else handle your critical business apps, this platform may not be for you.
Compliance Matters
Most countries have policies and regulations in terms of storing personal information such as credit card details. When a business fails to comply, these data are at risk. However, it can always be resolved by means of encryption or tokenization.
In X‑Cart Cloud, you experience none of the above problems. You have full control over the store and its code, with all possible access levels you need. And you can choose the optimal physical location of the data center from the list of 6 around the world.
Cloud‑Based eCommerce Platform Services
Looking for the
best ecommerce platform for small business? Or probably your business has grown and you're in the market for enterprise eCommerce platforms? 
X-Cart Cloud Shopping Cart offers an all‑in‑one software solution for both startups and large corporations. Some of the valuable services we offer include:
Depending on your website's demands, there is a single‑incident or support subscription plan that's right for you. Currently, X‑Cart provides expert support in the following areas:
Troubleshooting/store setup consultation and assistance

Diagnosis and resolution of PHP, MySQL, HTML, CSS errors

Minor adjustments

Patch application

X-Payments

Security patches

X-Cart installation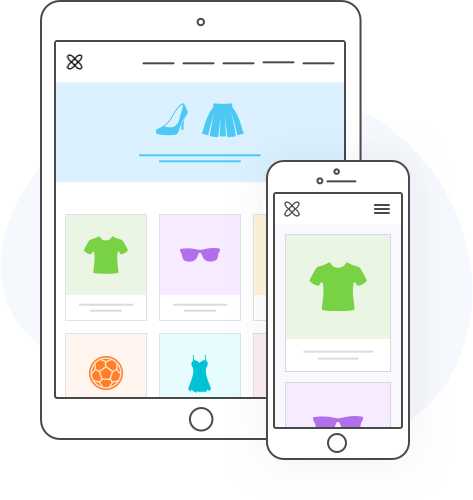 When starting to design a site, obviously you want the best shopping cart design. Whether you already have a domain or are starting a website from scratch, X‑Cart's team of professional developers will implement the design that's right for your niche and personal taste. Here, you have three options: a ready‑made X‑Cart template, a unique design for a blank domain, or your own customized design (if you already have a design of choice). Your choice of X‑Cart eCommerce developer can use your ready‑made website or our own website builder.
We also modify your online store to achieve the following:
Responsive design

Retina-ready website for Apple devices

HD graphics (menus, navigations, banners, brochures, etc.)

Holiday theme (with gift certificates and gift online shopping cart)

Branding (logo development and stationery creation)

W3C standards compliance
Want to see how an X-Cart powered ecommerce website looks like? Check out our store demo.
X-Cart developers are at your disposal for any type of customization projects.
native iOS/Android application development

integration of a custom payment gateway, shipping carrier, accounting software or other API‑based service

creating custom reports, configurators and other tools unique for your business needs

doing all sorts of development tasks from minor tweaks to huge projects measured in hundreds of hours
Before customizing, you will need to go through the following stages:
Project discussion and evaluation – A sales manager will discuss the littlest details that you want to see on your website.

Development & quality assurance – Engineers will work on the development, firstly through our test server to avoid disrupting the functionality of the website.

Installation – Once you approve, we will upload modifications onto your live store. Afterwards, we will notify you of the changes and perform edits if necessary.
The specification creation and project discussion is free, no matter how much time and effort it takes. And you get the service directly from the software vendor – at a competitive price! Aren't these strong reasons to consider hiring us?
Struggling on SEO? Want more site traffic? Wish to stay at Google's page one? We can help. To accomplish this, here's what we usually do.
Verify your web server setup, DNS, and other technical stuff

Check your content for any problems and inefficiencies

Review your website structure and recommend improvements

Analyze your audience behavior and your competition in the search

Design an SEO strategy to overcome your competition in search results

Suggest more cost‑effective ideas for your website
Note: If we failed to meet your expectations, you can get your money back – guaranteed!
We know for sure that you want a lightning‑fast and 100% secure online store. Geared with high performance, PCI Compliant controls, you'd be able to scale its growth by using X‑Cart's Secure VPS Hosting. X‑Cart eCommerce hosting is fully managed, with daily backups and an option to choose the optimal server location in several data centers. By paying a one‑time fee, you'll get yourself a licensed software that's to provide a great shopping experience to your valued customers!
Hosting plans are as follows:
Starter – $29.95/month
Basic – $49.95/month
Enhanced – $199.00/month
Enterprise – $399.00/month
You already have an online store but are not satisfied with your current shopping cart saas software? X‑Cart's experienced migration experts offer convenient migration service so you don't have to stress about the transition. Rest assured it'll be done in a jiffy.
Other eCommerce Services
X-Cart cares about your site's performance and security. We also understand you want to get things done with less cost at a fraction of the time. Taking this into account, we'll happily provide you the following:
Malware and hack repair services

Online fraud screening

SSL certificates installation

Upgrade service

Web-server administration services

Data entry & catalog management

Dedicated server administration
X-Cart is Now Trusted by
35,000

Online Stores

Loads of eCommerce shops and brands have emerged in the industry with the help of X‑Cart's Shopping Cart SaaS Platform. Here're some of them:
Pearls Only
CariD
Rotopax
Corvette Store
The Pajama Company
Bedstar
BFC Creations
LA MER Collections
Ann 'N' Eve
Larrimor's
Stur Drinks
Handicapped Pets
South Front Antiques
Cellular Abroad
O-cha.com
Shop Chimney
VSA Fitness
Orthotic Shop
Mix4max
Brighter Blooms Nursery
Common People Services, LLC
Nefsak
Carolyn Nussbaum Music
Wishawish
Rugs a Million
Trading Phrases
Everything Imagination
Fast Growing Trees
Top Secret Recipes
Stand-Out.net
Skin Actives
Samba Europe
Get to Know More About X‑Cart's eCommerce Services
Your online business is only one step away from success. X‑Cart's reliable Shopping Cart SaaS Platform can help you get there. We've got thrilling, cost‑effective offers whether you're making a fresh start, have an established online business and want to give it a boost, or consider B2B eCommerce as a new business strategy. Our platform is equipped with everything your site needs including web hosting, SEO consulting, setup and migration – only without the lock‑in (unlike other SaaS shopping carts).
Hate limits? We can create a customized hosting plan for you (and you won't find it in eCommerce SaaS companies). Talk to us about the services you need and what you want included in your online store. We can expand your hosted eCommerce space and functionality, as well as give your storefront a stunning makeover.
Create an awesome online store in a few seconds!