A Scalable Platform
for Building Marketplaces
Launch a multi-vendor marketplace and engage multiple sellers to offer their products or services through a single storefront.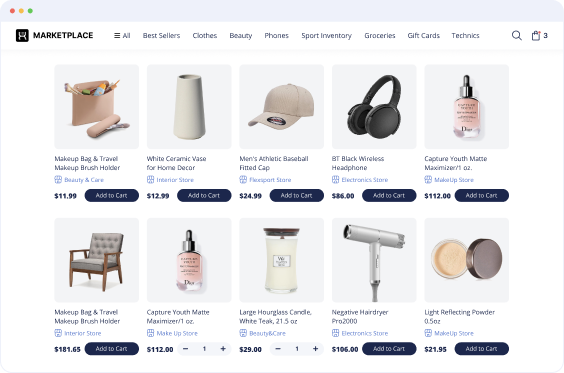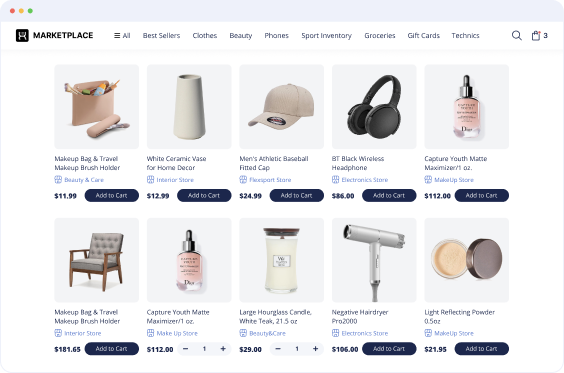 Beauty&Care (1)

Capture Youth Matte Maximizer/1 oz.
$112.00
Interior Store (1)

Large Hourglass Candle, White Teak, 21.5 oz
$29.00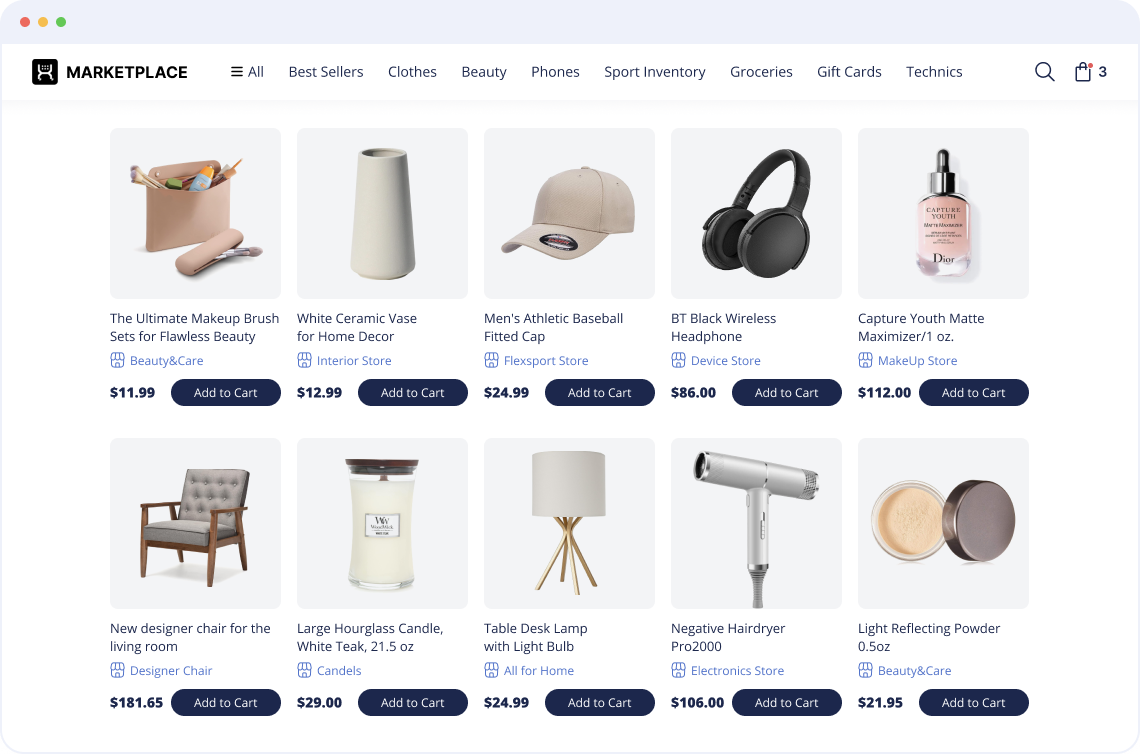 Beauty&Care (1)

Capture Youth Matte Maximizer/1 oz.
$112.00
Interior Store (1)

Large Hourglass Candle, White Teak, 21.5 oz
$29.00
20+ years

of building online stores

24/7 quality

customer support

API-driven

solutions

In-house

development team
Solution for any industry
and virtually any business model
X-Cart's unlimited flexibility allows you to fine-tune your multi-vendor marketplace to your exact needs, no matter the niche, number of vendors, product catalog, or traffic spikes.
Online shopping mall

Sell all sorts of physical goods online, be it a one-stop-shop for various types of products or a niche category.

Digital goods and downloads

Distribute photos, music, software, or tickets — anything streamable or downloadable.

Online and offline services

Sell online and offline services: from pet sitting and dog walking to virtual yoga training and zumba classes.

Rentals and booking system

Create an eCommerce website where customers can book a place to stay, rent equipment, or make a doctor's appointment.

B2B and wholesale

Start a wholesale distribution business seamlessly connecting your B2B customers with manufacturers or service providers.

C2C

Allow your customers to interact directly with each other and even make sales through a single multi-vendor platform.
Automate sales processes
Fast unlimited import
Import as many brands and sellers as you want – X-Cart can handle millions of SKUs without a hitch.
Data-driven business approach
Get valuable insights into how your business is doing, who your customers are, where they are coming from, and what they are buying using our tracking tools, like Google Analytics and Mixpanel.
Effective buyer-seller messaging
Let your buyers reach out to sellers and open disputes right on your product, vendor, or order details pages. Whenever there's an issue, you can jump into the conversation right away.
Secure checkout for local and international buyers
X-Cart offers 40+ payment options for parallel and multi-seller payments in a PCI-compliant way. International buyers will appreciate the decent localization.
Powerful marketing automation
Get access to a number of marketing features, sales channels, reporting and analytic tools to grow your multi-vendor business from day one. Take advantage of our automation tools to push your eCommerce processes to the next level.
Seamless UI & UX
X-Cart offers intuitive navigation, responsive layouts, and robust filtering on any device. Shoppers can easily search products by brand.
Don't take our word for it.
Our customers will say it better.
X-Cart shopping cart was recommended to me by an acquaintance who is another one of their customers. I gave them a crazy idea for an E-Goods store, and they helped me custom design a site using their snazzy X-Cart 5 Multi-Vendor system. I am clueless about coding and such, and they have been tremendous resources. They have patiently answered my questions, fixed what needs to be fixed, and have shown me how to use their feature-rich system so I can be more autonomous using their tools.
Give X-Cart a try and I am sure you will find that it is a full powered platform with a great community behind it. The openness of the product gives it unlimited power combined with the marketplace offerings.
Attract more vendors
Easy vendor signup

X-Cart allows you to choose whether to register vendors yourself or let them self-register. The welcome message on the dashboard will guide them through setup.

Unique vendor storefront

Vendors self-manage their inventory, adding products individually or in bulk, setting discounts, moderating ratings and reviews, and accessing local and global settings.

Ratings and reviews

Allow your customers to rate and review product quality, customer service, and even product descriptions. This will help buyers feel more confident shopping online and boost your store's conversion rates.

Automated payouts and payment split

X-Cart splits revenue between vendors and enables easy payouts based on the percent value you define for your share.

Separate vendor dashboard

X-Cart provides vendors with a user-friendly dashboard to manage product listings, profiles, shipping, chats, and reports.

Easy upgrades

Unlike some other marketplace solutions out there, X-Cart is easily upgradeable, and we release new versions regularly.
Get a free consultation on basic setup and vendor onboarding with an eCommerce expert.
Book a Demo
FAQ
Why choose X-Cart for your eCommerce website?

X-Cart is an open-source API-driven eCommerce solution built to fit the evolving needs of the eCommerce industry. Due to the highly adaptable architecture and powerful customization capabilities, you can painlessly adjust your online store to your business initiatives and turn a small business into a thriving multichannel retail company.

Does X-Cart charge monthly fees for transactions?

Absolutely not. X-Cart doesn't charge any hidden or per transaction fees.

How secure are X-Cart stores?

X-Cart doesn't store your customers' credit card details. Instead, it offers a bunch of PCI-compliant third-party payment gateways that can securely handle customer financial data on your behalf and ensure smooth and secure payment processing. Additionally, merchants can use our X-Payments solution, hosted on a reliable and PCI DSS-compliant web hosting that ensures customer finance data encryption through SSL certificates.

How can I promote my online store with X-Cart?

X-Cart offers various tools and features to grow brand awareness, strengthen online presence, and improve customer loyalty. We've covered you, from powerful SEO tools and email marketing to coupon giveaways and abandoned cart recovery (and many other

native marketing tools

!).

How much does X-Cart cost?

X-Cart offers different paid plans (aka packages) for its Platform, Marketplace, and Automotive business solutions. Pricing starts at $199 / month, $399 / month, and $499 / month accordingly. The project's final cost depends on your GMV and whether your project requires customization of the default functionality. If your GMV doesn't exceed XX per year and you don't need any custom features developed, you will only pay the above mentioned per-month amount.