Shopify Alternatives: 3 Better Website Builders For Businesses at Any Stage

What is Shopify?
Shopify is a website builder that allows entrepreneurs and business owners to build online stores. In the crowded world of eCommerce, Shopify is the most popular solution for online sellers, with 800,000 online stores and a total of $63 billion in sales.
Shopify: the Pros and Cons
Shopify may be the most popular eCommerce store builder, but that doesn't mean it's the best for your business' needs. When looking for an eCommerce solution, you should consider your unique needs for pricing, technical support, SEO, and other features.
Pricing
Although there is no free plan, Basic Shopify starts at $29 / month, which is fairly affordable. However, if you use an outside payment provider, you'll have
to pay a 2% transaction fee. Depending on your sales volume, it might be worth it to get a more premium subscription, at $79 / month. The higher monthly cost will bring your per transaction fee down to 1%.
For Advanced Shopify, the next pricing tier, you'll pay a whopping $299 / month, and that still comes with a per- transaction fee of 0.5%. Technically, you don't have to pay extra per transaction if you use Shopify Payments, but it's only available in the U.S.
Technical Support
Shopify is popular due to its ease of use. Domain name and web hosting is included in your eCommerce plan. The performance, speed, and template selection makes it so that most sellers can build a store without a developer. If you do run into technical difficulties, Shopify is a well-known platform, so there are lots of certified partners to help you.
However, a huge downside to Shopify is that their template markup language is Liquid, which most developers will not be familiar with. If you need to customize something on your site, you'll need to find a programmer that has already worked with Shopify. And, because customer support cannot solve detailed issues, if you run into technical problems with the platform, they can be impossible to solve.
Content & SEO
Shopify is, after all, an online cart for eCommerce businesses. The platform clearly prioritizes your storefront, but that's to the detriment of blog posts, landing pages, or other assets. Non-transactional pages can prove difficult to customize — even your check out page. In addition, Shopify uses a rigid URL structure, making it impossible to set up canonical URLs or edit your robot.txt file. These limitations can be frustrating for seasoned SEOs, but they can also severely hinder your ability to rank.
Apps & Features
A huge benefit for Shopify is the abundance of out-of-the-box features. However, most of the essentials, like real-time shipping rates and the ability to accept gift cards, are only available in the premium plan. The Shopify App store has plenty of free add-ons that offer solutions like live chat and other marketing features, but these apps are often built by 3rd parties. Third- party applications may lack the quality or customer support you need.
Shopify Alternatives
There are many reasons to love (and hate) Shopify. When choosing an eCommerce platform, there's a lot to consider. From payment gateways to product catalogues, your choice of online cart touches a lot of aspects in your business. Do the research into which platforms offer hosting, extensions, and support by vendors (which we've done for you in this an extensive analysis of the best eCommerce platforms.)
We recommend weighing the pros and cons carefully. To save you time, we created a graph of Shopify's main competitors and their features.
Pricing
Technical Support
SEO & Content
Apps & Features
Overall Rating
$12-40 per month
Unique to each project
Starts at $1.199 /mo but the prices may increase based on yearly revenue
Free
Free
Like many business decisions, there won't be a one-size-fits-all solution. The best website builder for you will be the one that best fits your needs, within your given resources. Consider your business plans both in the short-term and 5 years down the road.
If you're looking for a quick answer, here are our top favorites for small, medium, and large businesses.
I. Best Option for Small Business: Wix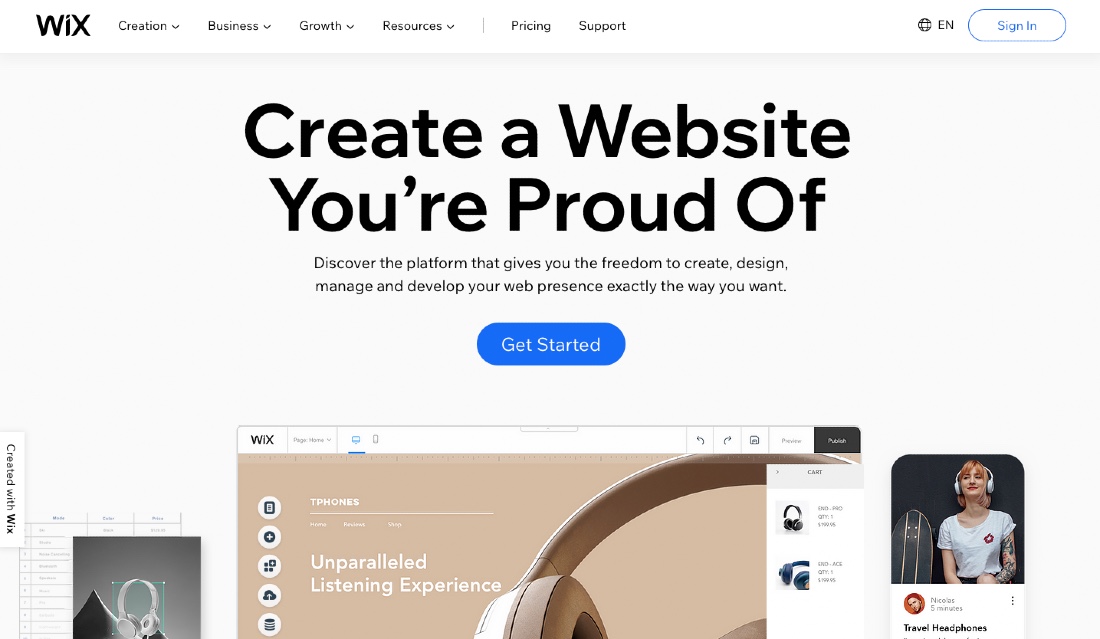 Wix is a good option for entrepreneurs that are just starting out. It's quick to learn and friendly on the wallet. However, with the lower price, you sacrifice the premium features and solutions that other online carts offer.
Wix's Pricing
Wix is the most affordable Shopify alternative. There are three plans; and the most basic one is $23. This plan comes with all the eCommerce features and a storage size of up to 20 GB, which is more than enough. The highest tier plan is the Business VIP. At $49, it has 50 GB storage and priority support. For more detailed information about Wix's pricing plans, check out a buyer's guide for Wix.
Wix's Technical Support
Wix is easy for non-techies to understand. A domain name and fast hosting comes with every subscription. The website builder is simple. It's mostly drag-and-drop, meaning that you can build your own website without help from a developer.
SEO & Content
Wix has a simple drag-and-drop editor, and tons of tutorials for people that are new to web development. There are 100+ templates to choose from, so you'll have an easy time creating any type of page you may need. Wix SEO isn't as customizable as it is for other website builders, but that makes it easy to learn.
Apps & Features
Wix, in general, has a lack of customization options. Their app market provides additional features, however many of the necessary tools for most businesses are US-only features. For example, the real-time shipping option isn't available anywhere else in the world.
Not happy with Wix? 
X-Cart offers assistance to move data from your current eCommerce software to one of your own. We help to move your store quickly with no headaches and downtime.
II. Best Option For Medium Business: BigCommerce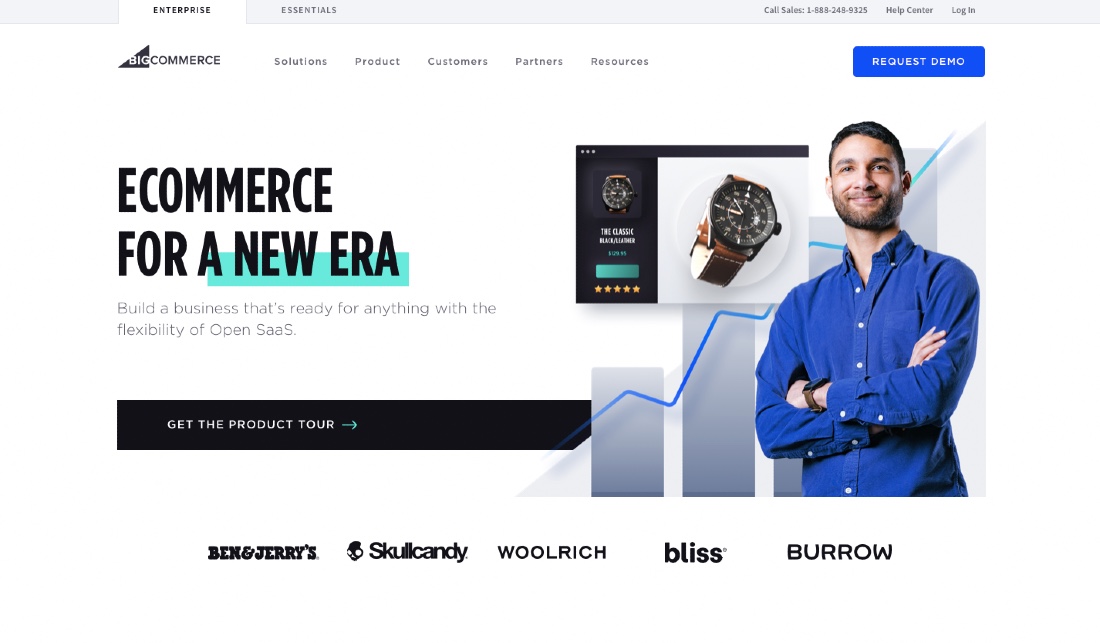 If you've outgrown the simplicity of Wix, but you don't have too large of a product catalog, then you should consider BigCommerce. BigCommerce is perfect for sites that want to capture a lot of traffic, but they don't have a huge variety in product offerings.
Pricing
Prices start at $29.95 per month and go up to more than $249.95 per month. In addition, there's an annual sales volume limitation in every plan. If you sell more than $50,000 a year, BigCommerce will automatically upgrade you to a higher-tier plan, doubling your monthly cost. However, there aren't any transaction fees, so prices are more transparent. This pricing scheme is perfect for well-established and consistent businesses who can reliably forecast their annual revenue.
Technical Support
BigCommerce supports multi-channel selling for all plans, and hosting comes included. You will need a domain name, but you can purchase one from the BigCommerce store. Out of the box, the store is decently fast, with a mobile responsive view. Another advantage to BigCommerce is that it uses PHP, which most web developers should be familiar with.
SEO & Content
BigCommerce allows for up to 600 product variants, which is way more than Shopify's 100. It can handle all these product listings without taking a hit to speed or performance. Overall, it's one of your best options for increasing the search engine ranking of your product listings, but it's not ideal for regular content. Creating pages like an About Us page or a simple blog post can be inconvenient.
Apps & Features
The biggest drawback for BigCommerce is that there isn't an option to create a multilingual store. However, some of the themes do allow for multiple currencies so that users can shop in their native currencies. There are a tremendous number of themes with a variety of features and layouts. However, few of them are free. On the flip side, the wide array of options available also makes it so that there is a steep learning curve for new users.
III. Best Option for Enterprise Business: X-Cart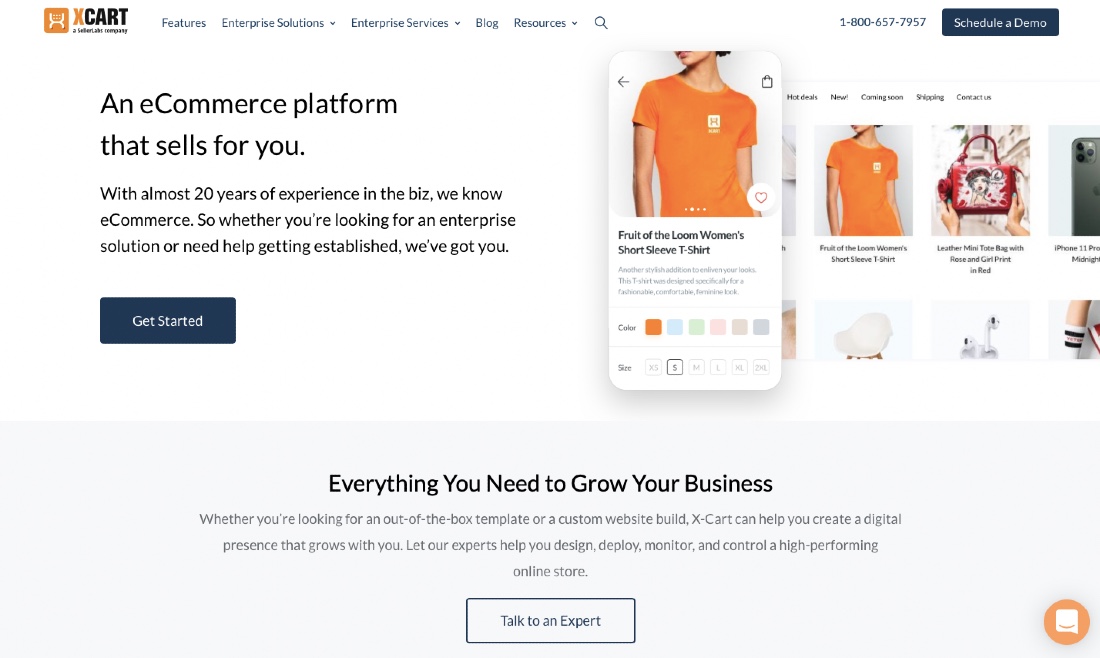 Wix is a great alternative to Shopify for those just starting out. However, if you have a large catalog of SKUs or complex content management needs, you might want to look elsewhere. Wix websites tend to run slowly, especially if they are complicated.
If you want to run a larger site, but you still want the ease and convenience of Wix, X-Cart is a viable option. Sellers with large inventories will have no problem uploading all their SKUs. The platform has a fixed rate for a website that can accommodate all your current traffic and more with a rapid-fast mobile performance.
Pricing
X-Cart pricing varies for each project, and the amount you pay is based on your business needs and preferences. If you want to see X-Cart in action before purchasing or get a price estimate, schedule a personal demo with one of their solution advisors.
Technical Support & Hosting
As far as technical support is concerned, X-Cart is the best in the business. If you host your store on one of our advanced hosting plans, the support is totally free of cost. Also, the 24/7 customer service team is always accessible via live chat, phone, or email. Unlike most platforms, X-Cart is there to help with everything from installation to GDPR Consultation.
Though the basic hosting plans are pretty limited, you can still enjoy 24/7 hosting support. Also, a free shared SSL certificate is included. Most other services charge extra for these necessary features.
SEO & Content
With X-Cart's website builder, customization is easy. You can list unlimited products in an open-source platform. The all-in-one software allows you to choose a ready-made template, make something from scratch, or import your own design. Because the store is so customizable, you might need to code if you try to do something really advanced.
Luckily, everything is built in PHP, so you'll have an easy time finding someone to help. Alternatively, our custom development team is ready to code it for you from the ground up. Just shoot them an email!
Apps & Features
Integrations for common applications such as Google Analytics, Mailchimp, and PayPal are all available for free. The app store offers a comprehensive amount of add-ons and features, some are free, but others are paid. There are plenty of SEO and marketing tools available to help boost business and sales.
If you're looking for an all-in-one cart builder that is SEO-friendly, mobile-optimized, and easy to use, then X-Cart is an excellent alternative to Shopify. There is also a team available to help you migrate your site from Shopify seamlessly to the new platform, with no downtime at all.
Conclusion
Remember, the choice of a web platform is a serious one because this decision will stay with you for at least 5 years. When you consider your options, try not to think about where you are now but where you are likely to grow.
Would you like to expand internationally? Then, rule out platforms that don't offer multilingual stores. Would you like to hire a full-time developer? Then you should probably stick with a platform that allows for coding customizations in a language that most programmers know. Look at the maximum allowed product variations! Even if you're nowhere near the limit, might it cause a problem in the long run?
You want to pick a platform that will grow with you, not hinder you. Consider wisely.
Subscribe to Our Weekly Newsletter to Get
Expert-Backed

Tips Straight Into Your Inbox

One email a week, we promise.

Awesome! You won't be disappointed 😉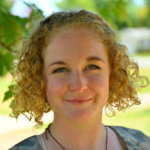 Ashley Kochans
Content Marketing Strategist
Ashley Kochans is an SEO and Content Marketing Strategist with over 3 years of experience in creating actionable content for Amazon merchants and eCommerce business owners.