←
Back to Blog
Top 7 Automotive Website Providers for Auto Parts eCommerce
Choosing an auto parts eCommerce platform is very much like buying a new car – you must look into what lies under the hood to ensure it handles all the features and provides the required functionality.
In addition to an eye-catching, intuitive website interface, secure payment processing, complex catalog management, and seamless order fulfillment, your eCommerce solution should be able to provide business growth opportunities without overspending on maintenance and upgrades.
In this article, we've compiled a rundown of the most popular automotive website providers, highlighting their benefits and spotting the weak points to aid you in your search for the best eCommerce platform for your auto parts web store.
What Defines an Ideal Website Builder for Automotive eCommerce
Finding an ideal website builder is easier said than done. The fact is that even a popular and powerful shopping cart solution may not be the right choice unless it considers the nuances of the automotive industry and can be tailored to the core specifics of a particular business.
The full list of must-have eCommerce features and tools includes:
powerful storefront tools (e.g. product visualization, intuitive search)
optimization for mobile experiences
limitless number of SKUs
the ability to edit products and update fitment data in bulk
streamlined fulfillment and order management from one platform
partnerships with automotive aftermarket industry players
integrations with trusted payment gateways and shipping services
affordable customizations
quality technical support
Among all types of eCommerce software, a versatile API-driven solution is the one that will be able to cover all these requirements long-term. Even though they may take a bit longer to get up and running compared to SaaS, headless platforms are more powerful, feature-rich, and cost-efficient in the long run.
Top 7 Automotive eCommerce Platforms
We've analyzed seven leading eCommerce platforms for building aftermarket online stores, including X-Cart, Shopify, and BigCommerce, focusing mainly on such factors as prebuilt automotive-specific features, affordable customizations and integration compatibility, technical support, and retailers' reviews.
You may perceive a hint of bias since you are reading this comparison on the X-Cart blog. We 100% love our solution and know firsthand from our clients that it has great capabilities. However, we want to ensure the utmost impartiality by thoroughly researching features, toolkits, case studies, and customer reviews on competitor platforms. In the end, the final decision lies in your hands.
A Quick Overview of the Main Features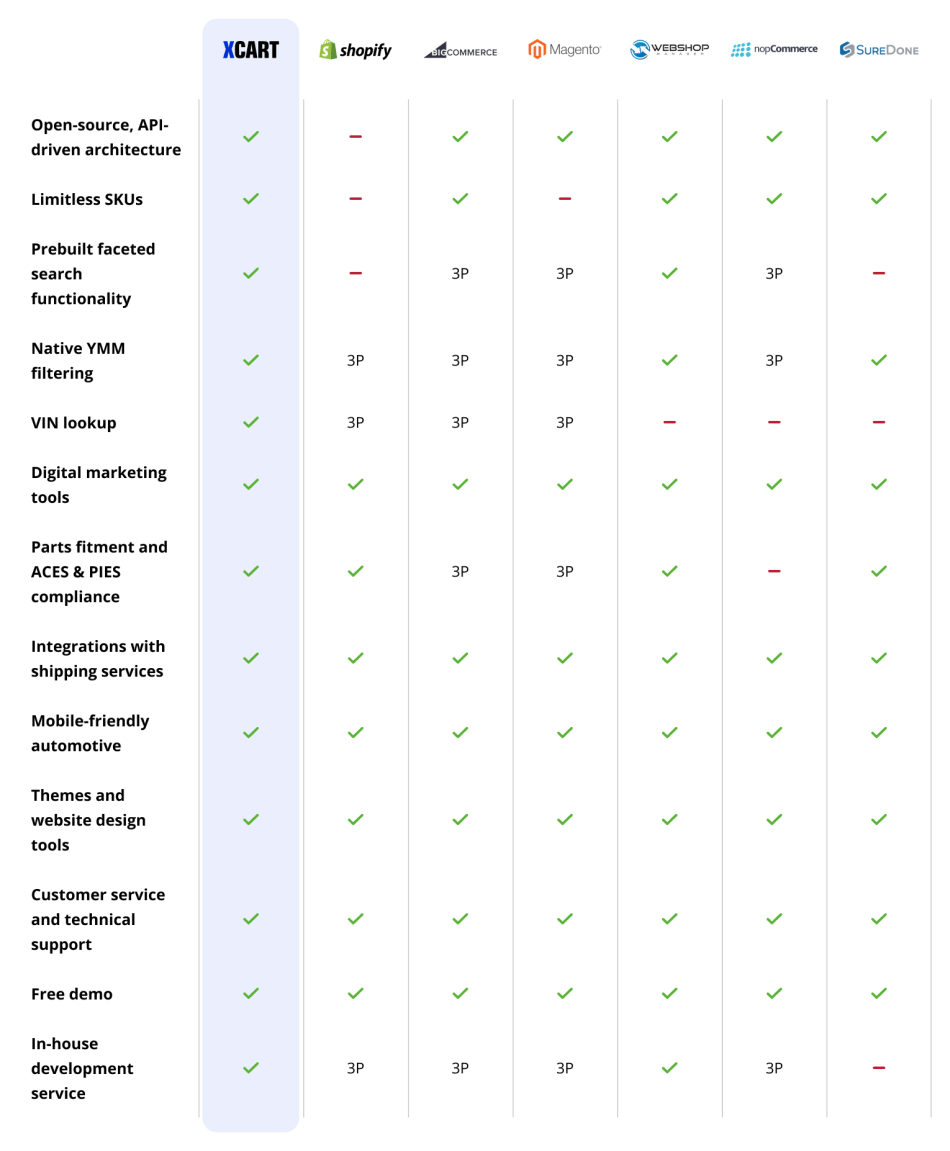 *3P – available via third-party
1. X-Cart
X-Cart Automotive is an open-source, API-driven eCommerce solution designed explicitly for building auto parts websites. While most platforms deliver automotive features via third-party plugins, X-Cart provides native complex search functionality and automotive filtering options, freeing you from functional limitations, constant updates, and costly maintenance.
X-Cart Storefront API allows you to build a custom website interface with the technology stack of your choice, giving you the flexibility to design a compelling storefront while reining in development costs. X-Cart also has in-house development and content design teams to assist you with tailored eCommerce solutions and brand visuals.
It should be noted, however, that complex all-inclusive solutions, such as X-Cart Automotive, may have a slower time-to-market compared to Shopify, which is nonetheless compensated by reduced time-to-value.
Customer service and technical support: X-Cart offers 24/7 customer support for all users, plus a dedicated project manager for authorized users.
2. Shopify Plus
Shopify Plus is a popular eCommerce solution that can also be utilized for establishing auto parts web stores. This platform offers integrations with shipping services, marketing and SEO tools, along with the ability to design mobile responsive websites.
Nevertheless, while Shopify Plus can be the smart choice for many businesses, it may not be the best option for automotive-centric retailers. The high costs associated with adding multiple custom features and costly add-ons specific to the auto parts eCommerce, don't make Shopify Plus a financially feasible solution in the long run.
Another factor to consider is payment processing fees for third-party payment providers. These fees start at 0.15% per transaction and vary depending on the country. Online sellers can avoid the fees by opting for Shopify Payments, but this will limit them to only one payment provider.
Customer service and technical support: Shopify Plus provides 24/7 customer assistance for authorized users.
3. BigCommerce
BigCommerce is a 'hosted' eCommerce platform that allows you to design a visually attractive and responsive online store, complete with features such as inventory management, custom pricing, and product filtering. The drag-and-drop page builder provides an effortless way to select content blocks, columns, and images and position them on your pages as you see fit. BigCommerce also integrates with popular marketing tools to help you promote your web store.
Like any eCommerce platform, BigCommerce has some nuances sellers need to consider. Some users have observed slow page loading times, resulting in lower rankings on Google and requiring constant and extensive optimization.
Customer service and technical support: BigCommerce customer care team is accessible 24/7 via live chat, phone, and email.
4. Adobe Commerce (ex. Magento)
Magento is a scalable eCommerce platform with multiple integrations, broad customization options, and feature-rich omnichannel functionality. For example, with the multi-store feature, merchants can connect warehouses and physical stores and manage inventories and warehouses regardless of customer location, sales channel, or product type.
It is also worth mentioning that Magento is a complex technical solution with a steep learning curve, which makes it challenging for non-tech-savvy users to maintain the platform.
Customer service and technical support: Magento does not offer support for its free edition. Moreover, given the multiple toolkits under the Adobe brand umbrella, users may feel confused about which team to contact when they need expert assistance.
5. Web Shop Manager
Web Shop Manager is a SaaS platform designed specifically for auto parts online businesses. Like X-Cart, it delivers native automotive functionality that goes hand in hand with multiple industry-specific plugins.
However, this SaaS solution has limited "D-I-Y" options as it does not provide access to the source code. Therefore, users are limited to "out-of-the-box" integrations, and any custom feature will require a significant investment.
Customer service and technical support: Web Shop Manager offers customer support via email within the following working hours: 7:30 am to 5:00 pm PT and support via phone for emergency cases.
6. NopCommerce
NopCommerce has all the features to be a trusted eCommerce platform: from integrations with payment and shipment services to warehouse management and marketing tools. It ensures smooth performance for small and mid-sized businesses. However, for larger companies with thousands or millions of customers and products, NopCommerce may not deliver optimal customer experience due to performance issues.
This shopping cart solution provides unlimited customization options. Still, please keep in mind that since NopCommerce is based on ASP.NET Core architecture, it can be challenging to customize the code for adding new features to the platform due to a steep learning curve for developers.
Customer service and technical support: NopCommerce provides technical assistance 24/5 for premium users via internal ticket system.
7. SureDone
At its core, SureDone is an eCommerce storefront that can be connected to such eCommerce platforms as eBay, Amazon, Walmart, BigCommerce, Shopify, Magento, and social media sales channels. It can be used as a multichannel connector that provides product management, listing, inventory sync, and automates order fulfillment. The software also has a solution for automotive businesses.
Customer service and technical support: The SureDone customer care team is accessible via live chat, phone, and email.
It's Up to You
Implementing the appropriate automotive eCommerce solution can significantly impact a retailer's online presence and sales growth. The benefits of utilizing a platform that meets your core business specifics range from expanding into new markets and optimizing order fulfillment to enhancing customer experience and improving scalability by integrating with additional business tools. The trickiest thing is to choose the one that suits your goals best.
Here is a quick recap of what it takes to sell auto parts online hassle-free:
scalable product catalog
native faceted search functionality and YMM filtering
VIN lookup with "My Garage" feature
ensured car parts compatibility and ACES & PIES compliance
integrations with SEMA, ASAP, and AutoSync auto parts catalog networks
bulk editing and import
mobile-friendly automotive themes
powerful website design tools (e.g. product visualization)
Storefront API for custom website interfaces
in-house content design team for tailored branding visuals
dedicated hosting
professional 24/7 customer support
in-house development team
free assisted personal demo
If you are still unsure what makes a perfect auto parts eCommerce solution, our blog post "How to Choose an Ideal Auto Parts eCommerce Platform" will help you find the answer and make a smart choice.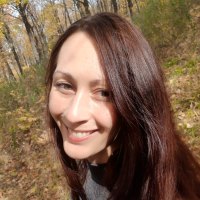 Maria Navolykina
SEO Content Specialist
Maria is an SEO Content Specialist at X-Cart. Once captured by digital and content marketing in her student days, she keeps living and breathing it ever since.
Subscribe to Our Weekly Newsletter to Get
Expert-Backed

Tips Straight Into Your Inbox

Awesome! You won't be disappointed 😉