←
Back to Blog
Choosing the Right Auto Parts eCommerce Solution for Your Automotive Online Store
If you are looking to delve into automotive eCommerce, you have two options at hand: start selling auto parts online as a third-party seller on a marketplace or build your own web store and promote it.
Although selling purely through eCommerce giants, such as eBay and Amazon saves you the costs of creating and maintaining your own eCommerce website, it gives you little freedom for personalizing customer experience, provides fewer brand-building opportunities, and reduces the chances to scale your business effectively.
This is where having a separate online store makes a big difference, giving you more room to design a compelling storefront, increase brand visibility, and build more trusted relationships with your auto parts buyers. The trickiest thing is to choose the right eCommerce platform that will power your automotive business and address your goals and objectives long-term.
This article will aid your research, prompting the essential things to consider while vetting the options and covering the key industry-specific functionality that automotive eCommerce software should provide.
What Makes the Best eCommerce Solution for Your Business?
An ideal eCommerce platform aligns with the core specifics of your business, offers quality technical support, allows for customizations without hurting your budget, ensures high website performance, offers secure integrations with multiple payment gateways, and ultimately – sells your products!
However, despite the wide range of eCommerce software providers, picking the right one is easier said than done. The wrong choice can turn into costly maintenance, functionality gaps, and insufficient profitability of your eCommerce website, which may finally urge you to think about changing your eCommerce platform.
Focusing on your long-term eCommerce goals and unique business specifics while looking for the proper software, can help you prevent costly mistakes and avoid undue hassle.
A few questions to consider before choosing an eCommerce platform for auto parts:
Does the software provide the automotive tools you'd like to use?
What level of customization do you require?
What kind of assistance does the software provider offer?
Can the platform handle increased traffic without affecting the website's performance?
Are there any built-in features to enhance your SEO?
Top 5 Criteria While Choosing the Software for Auto Parts eCommerce
1. Automotive-Specific Functionality
In addition to the essential eCommerce functionality, an automotive shopping cart solution should consider the nuances of selling car parts online and provide robust tools and capabilities for your auto parts eCommerce website to run smoothly.
Year Make Model (YMM) filter
The YMM search provides an easier way for customers to quickly and easily narrow down their choices and find the exact fit for the particular vehicle. Online sellers can also offer their customers a special feature, allowing shoppers to save their car information in their "Garage," create a personalized profile and easily find the car parts they need in the future.
VIN Lookup
VIN-based auto parts search allows customers to precisely determine the right parts for their car by using the vehicle identification number as the main search criterion.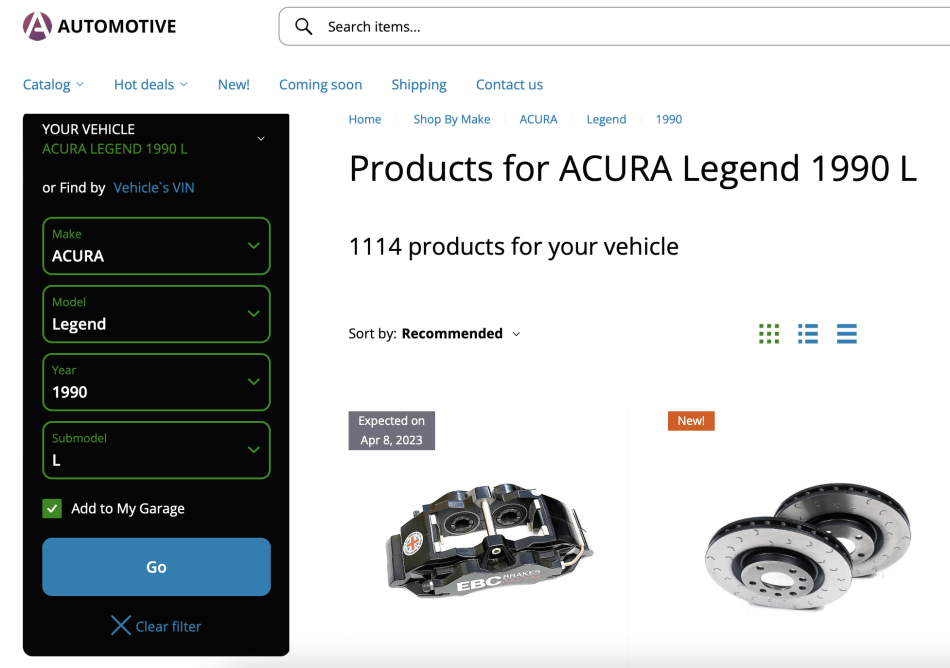 Unlimited catalog scalability
Given the complexity and quantity of auto parts data, your product catalog should allow for storing, analyzing, and presenting this sheer volume of information seamlessly and comprehensively. An eCommerce platform that fails to meet this demand and restricts the number of SKUs can severely limit your business growth.
Catalog data integrations
Integrations with automotive databases such as SEMA, ASAP, and AutoSync can help retailers avoid fitment issues and reduce the number of abandoned carts. Synchronizing your catalog data with auto parts data networks also helps maintain compliance with the ACES and PIES standards, ensuring the data is always up-to-date and making website navigation easier.
Product bundling
Selling pre-set auto parts kits and bundles helps automotive retailers make the most of a shopper's visit to their online stores. By bundling all the necessary parts for a specific project, you save your customers the time and effort of searching each piece individually. For example, Advance Auto Parts incentivizes their buyers to create their own oil bundle by choosing the right oil type and the proper oil filter and get both products at a discount.
Generally, sellers can implement product bundles with a proper add-on. However, please notice that the bundling feature offered by the Advanced Auto Parts store is highly likely a custom one.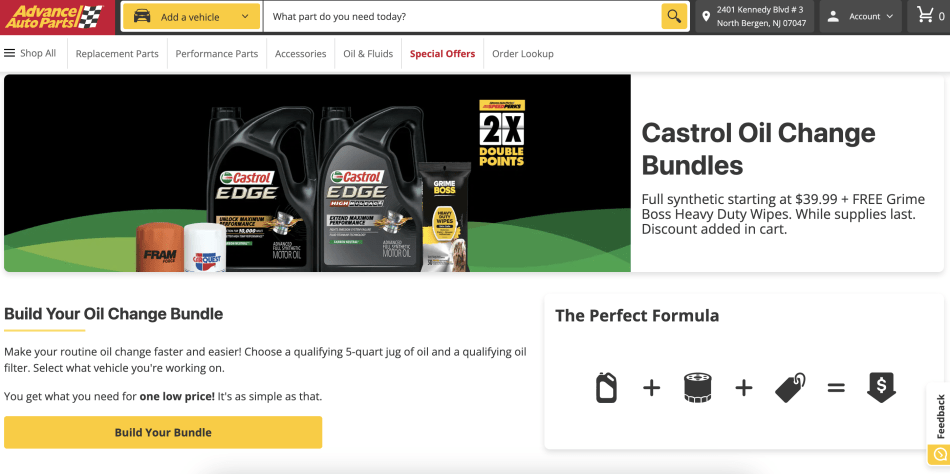 With a bundling tool, you'll be able to increase the average order value while also reducing the hassle of packaging and shipping small parts separately.
Dropship integrations
Connecting the software with the car parts suppliers simplifies order management for an online retailer by automatically transferring all order details directly to the manufacturer.
2. Growth-Oriented Technology
Behind any profitable online business stands the tech stack capable of covering the ever-evolving customers' needs. In a highly competitive automotive eCommerce space, a highly scalable, API-driven website builder can win you more traction, putting technology in the driver's seat.
This type of eCommerce software is designed to assist you in expanding your offerings and tapping into new customer pools while providing you with all the essential tools for managing your operations efficiently as your business grows and develops.
With the front-end and back-end separated, modifying one without impacting the other becomes a seamless process. This is why eCommerce solutions that implement headless API architecture can offer online sellers multiple advantages:
synced omnichannel selling
personalized user experience
3. High and Smooth Performance
It may come as no surprise that high-performance eCommerce websites tend to have higher conversion rates. According to the Hedges & Company research, website speed accounts for about 50% of the conversion rate for auto parts online stores.
Before launching your automotive eCommerce website, it's important to consider a few factors to ensure it will perform well.
Dedicated web server
Given the large amounts of data present in the high-SKU auto parts catalogs, your eCommerce site may experience performance issues. A powerful dedicated server can help address this problem decreasing page load time and ensuring smooth website performance during the traffic spikes.
Bulk updates and advanced import
Updating information for multiple products at once is incredibly helpful for managing inventory across different sales channels. With the ability to make bulk edits, eCommerce sellers can simultaneously launch and manage discount campaigns across multiple channels. This feature makes inventory management and sales promotion much more efficient and streamlined.
Like bulk editing, a powerful import feature saves sellers time and effort by minimizing the upload time while transferring your online store data. This is paramount given the number of SKUs each auto parts catalog generally contains.
4. Powerful Design Options
Auto parts consumers have high expectations regarding shopper experience, and it's easier than ever for them to choose a competitor if their expectations aren't met. A compelling automotive storefront and intuitive category navigation will help you win over prospective customers.
Mobile-first design
For an auto parts eCommerce website,, you'll need to present all the information about available parts or upcoming sales neatly and concisely. Given the comparatively small size of a mobile screen, this is a tricky balance to achieve. Optimizing your eCommerce website for mobile use is essential to provide your parts buyers with a smooth and clutter-free browsing experience.
Product visualizers
A product visualizer is an absolute must-have for an auto parts online seller looking for an efficient way to inform and captivate customers. It enables car parts buyers to get a comprehensive and interactive product experience, validating their choice and resulting in fewer returns and higher retention rates for the seller.
For example, the AutoSync visualizer tool provides factory-accurate colors and ensures that the tires, wheels, and accessories fit, reducing the risk of returns and making customers more satisfied. It also encourages customers to stay on your page for longer, which is beneficial for SEO.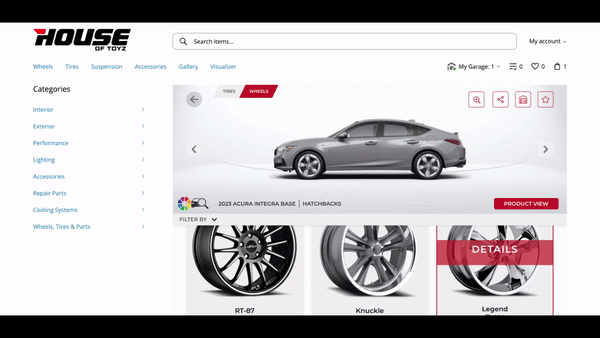 5. Professional Customer Service
Efficient technical support can help online sellers resolve and prevent issues with the software while setting up and running their online stores. Before choosing an eCommerce platform, ensure a professional customer care team is accessible 24/7 via email, instant message, chat systems, or phone. You can also look up the online sellers' reviews on such websites as G2 to ease your decision-making.
Why Choose X-Cart?
X-Cart Automotive is an open-source platform with scalable API-driven eCommerce architecture, which is designed explicitly for auto parts online businesses.
As avid enthusiasts of automotive eCommerce, we understand the headaches of catching up with the demands of a growing auto parts online business. This is why we keep enhancing our web store functionality covering the gamut of automotive-specific features:
faceted search and filtering options (including YMM and VIN lookup);
integrations with SEMA, ASAP, and AutoSync data networks;
mobile-friendly website design;
Storefront API for custom interfaces;
partnerships and integrations with key eCommerce players: PayPal, Stripe, Avalara, ShipStation, Mailchimp, and more
With all bells and whistles, you'll create an auto parts online store to scale and promote it without hassle. Meanwhile, we'll stay by you with the 24/7 heedful assistance to help you resolve any issue or answer any question that may arise.
Put eCommerce Growth in the Driver's Seat
Build and scale your online store through a long-lasting, reliable partnership with X-Cart.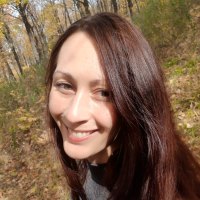 Maria Navolykina
SEO Content Specialist
Maria is an SEO Content Specialist at X-Cart. Once captured by digital and content marketing in her student days, she keeps living and breathing it ever since.
Subscribe to Our Weekly Newsletter to Get
Expert-Backed

Tips Straight Into Your Inbox

Awesome! You won't be disappointed 😉