8 Smart Pricing Tactics for eCommerce Retailers to Win Against Competition

As an e-commerce owner, you should be focusing on price optimization. Prices should never be set in stone, and should always be in a state of flux.
Not only because the market is constantly changing, but so are your competitors.
And if you want to stay ahead of your competitors you need to stay on top of everything they're doing. This includes marketing, product selection but most of all: pricing.
In this article, we're going to show you 8 smart eCommerce pricing strategies you can use to win against your competition and increase your overall profits.
Let's dive in.
1. Dynamic pricing
Dynamic pricing is a type of pricing strategy you can implement to your e-commerce store that looks to change the prices based on specific events. The strategy is rule-based and generally automated.
So when X event happens, the price increases by Y.
Dynamic pricing is a blanket pricing approach, meaning when the specific event occurs, the price increases the same amount for everyone. This is in comparison to price discrimination where the price may appear differently for different users.
The graph below visually illustrates the effects of using automated dynamic pricing in your store.

Source: Competitoor
When it comes to dynamic pricing think about omnichannel marketing and how you can use different channels to your advantage when setting your prices. You might decide that everyone who buys coming from a specific Facebook ad will see a different price than those who find your website organically.
2. Look out for price increase opportunities
You could add a function, like market price that helps you raise your sales and profits by showcasing the difference between the price you're selling your item at in your own store vs. the average price of the product in the market.
Meaning, if the average price is $90, and you currently sell your product at $75, you could increase it to $80, knowing you're still below the average price customers will expect, or are likely to see across various other vendors.
Looking for price increase opportunities, however, involves keeping a consistent eye on the current price of all your competitors. This might be easy if you have three products and two competitors. But it proves difficult when you have hundreds, if not thousands of products and multiple competitors.
It means you need to make use of a price tracking tool that can help you track and report on the current and past price and changes of your competitors.
3. Brand level pricing
Would you pay $999 for a notebook? Arguably, probably not. But would you pay $999 for a brand new Ferrari, probably yes.
This is largely down to price perception and brand level pricing. Many products, whether you like it or not have a brand level pricing, wherein there is an average rate retailers will charge for specific items.
When pricing your products, you should keep track of the market to ensure you're always within the brand level rate.
What if you're not within the brand level rate? If you're not within the brand level rate, it doesn't have to be an immediate problem.
First of all, you can keep your increased prices by positioning yourself as a luxury good.
You can buy this t-shirt for £4.69 from H&M.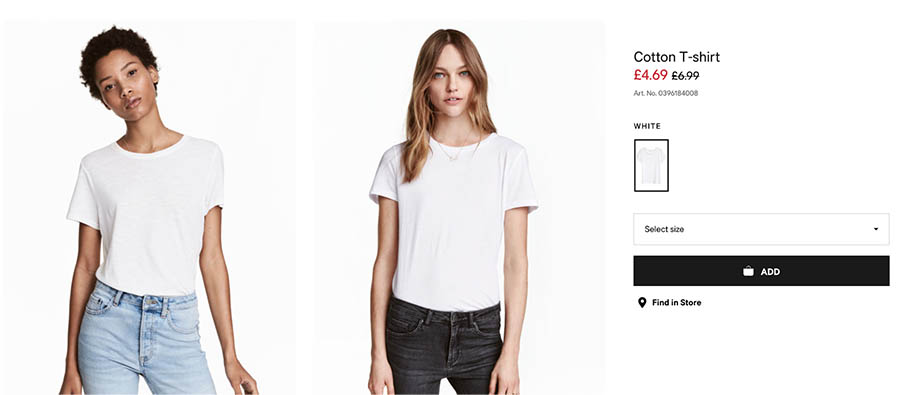 Or you can buy a very similar t-shirt for £360.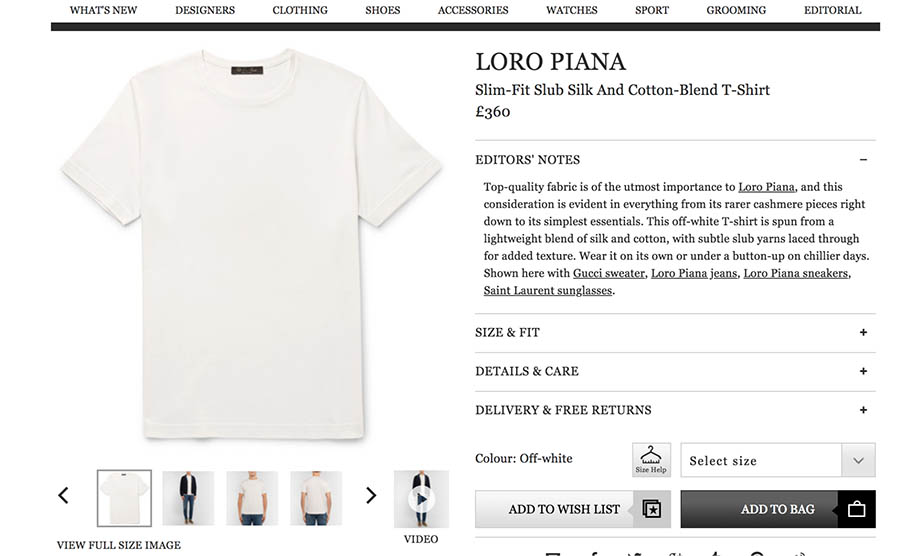 The reason why one is wildly more expensive than the other is that the first is from a store where customers are looking for value for money. The second is from a store where customers are looking for a specific brand, and also a sense of luxury.
Now if we compare the first t-shirt to another we see there are similar prices.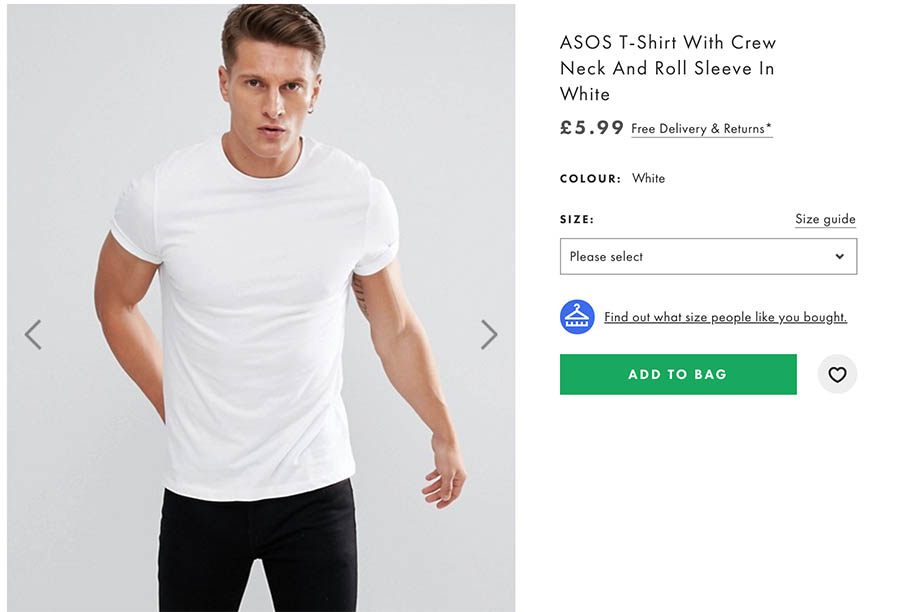 ASOS also sells their t-shirt around the same price as H&M and so we can see they have adhered to the brand level pricing and are charging around, or within what other people in the industry are charging.
4. Use history to predict the future
The old saying goes: history repeats itself. Largely in e-commerce this is true. Having a good understanding of what your competitors have charged for the same, or similar products in the past can give you a good indication of what you should charge and when.
This becomes even more prevalent when you're just starting out a new store, with no personal price history.
A good tip is to look at how much your competitors increase (or decrease) their prices around popular holiday periods like Christmas, Black Friday or Cyber Monday. These are largely when a majority of online retailers see an insane increase in profits because people are more willing to spend.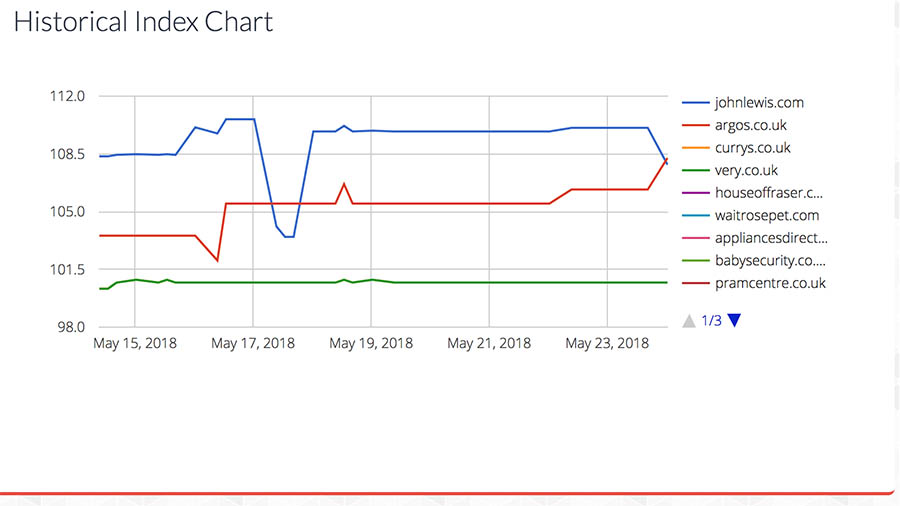 Therefore it's important you get your strategy around these key dates right.
5. Use your competitors out-of-stock to your advantage
How many times have you gone onto your favorite retailer to buy a product, only to find it's out of stock?
It's a problem many consumers have. But when they encounter this problem, what are they most likely to do?
They'll try another vendor.
This is an issue if the out-of-stock products come from your store, but what about if it's your competitors' products that are out of stock?
If we look at the example below and pretend we were after these jogging bottoms in a size "small", they're currently out of stock. Despite this, they would've cost £50.00.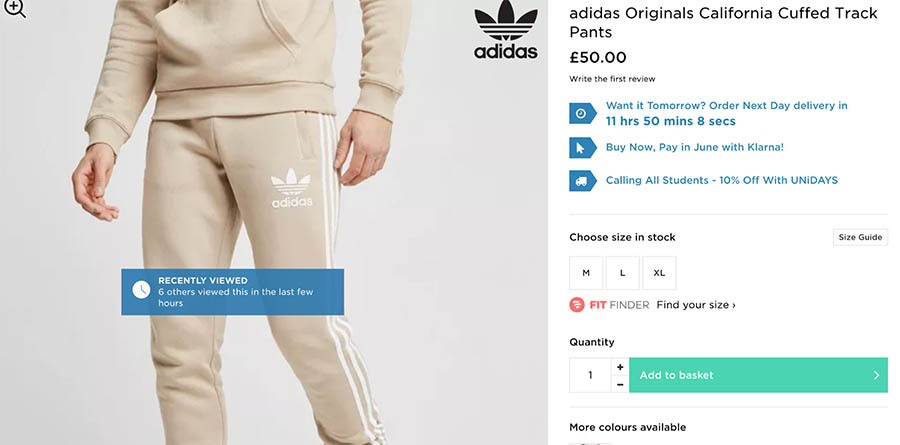 Now we're forced to go to a different retailer to find the same pair. We've located the joggers we want, in the size "small" we were after, however where this shop might have missed an opportunity is by keeping their prices the same.

The fact JD was out of stock in the specific size, the second retailer could and should have used this to their advantage by increasing their prices. See, when a customer is desperate to get an item, they won't mind paying a bit more, especially if it's out of stock elsewhere.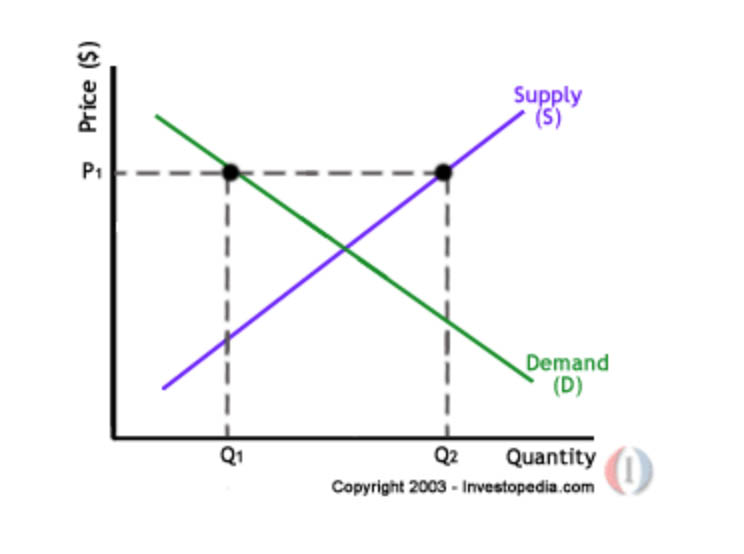 Source: Investopedia, LLC
It's all about supply and demand. The graph above illustrates this idea. Where demand (D) increases, so does the price (S) people are happy to pay.
More than that, when an item is out-of-stock for a number of vendors, it instills a sense of FOMO in the consumer. They start to believe that if they don't buy this product from where it's available, (at any price) they're unlikely to ever get one.
6. Can you benefit from better supplier deals?
Do you have a full, clear understanding of your business outgoings when it comes to stock, suppliers and shipping?
Not many people do. Worse than that, once a vendor finds a supplier they're happy with, they rarely look at whether they could decrease the price they pay for the goods.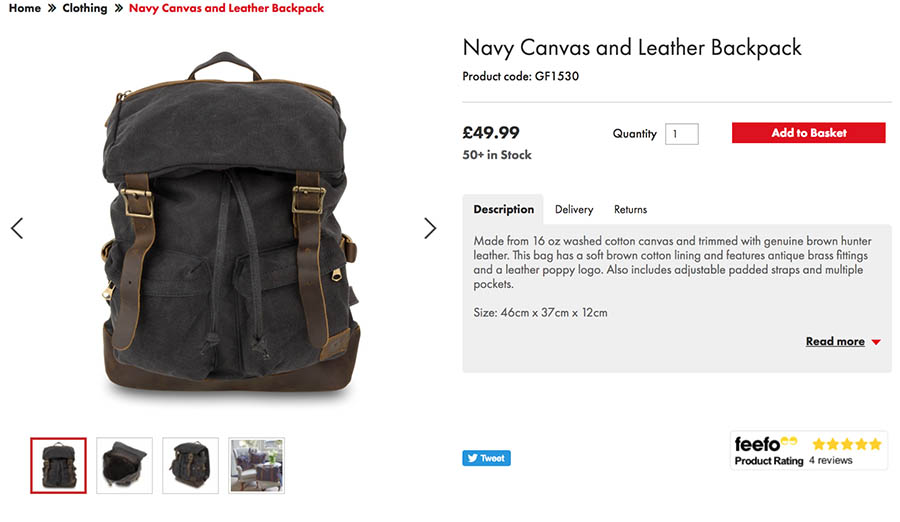 Source: The Poppy Shop
As we don't have the behind-the-scenes data for Poppy Shop, we don't know how much it costs them to buy this bag. What we do know, however, is that they're selling the product for £49.99 and if they were able to reduce the price they pay for it, they could keep their price the same, and still make profit.
Better yet, if they wanted to compete against their competitors, they could decrease the amount they spend with their suppliers and lower the price, keeping their margins the same, but making it difficult for their competitors to price match them.
Whether you're dropshipping or manufacturing your own products, you should be constantly seeking out ways to undercut the market (and your competitors) by decreasing the amount you spend on your products.
One way to do this would be to optimize your shipping strategy, where you might offer all your customers free shipping, but it doesn't hurt your bottom line because you've already recouped those costs by working with your suppliers to generate the best deal you can.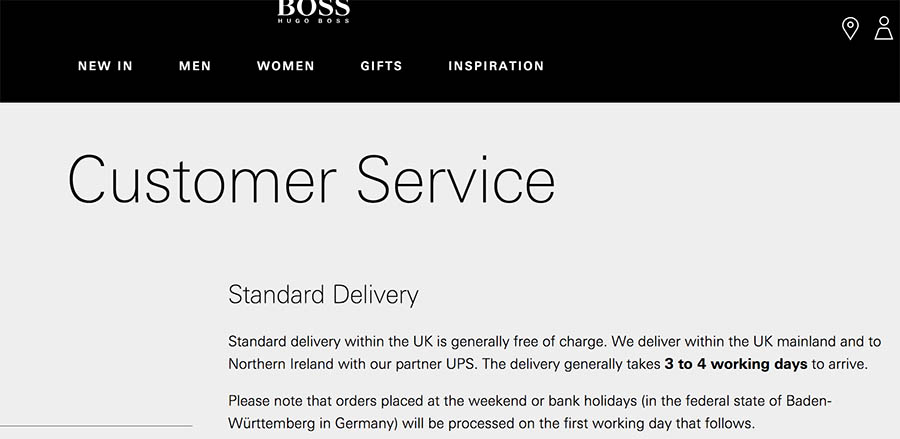 Source: HUGO BOSS
Hugo Boss, a clothing retailer is a great example of this. For any customers living in the UK, they offer blanket wide free shipping. They even claim their shipping arrives within 3-4 working days after placing the order.
If you can cut down your outgoing supplier costs, see if you can use the extra money generated to offer free shipping to entice potential customer to shop with you instead of your competitors.
7. Give your customers more choice
In general, consumers don't like to be restricted. Therefore, by offering all your customers more choice about what they buy, how they buy and when they buy, you're likely to beat your competition and increase your prices.
Think about your own e-commerce store. Do you offer your customers more ways to pay, including all credit cards and PayPal? Or do you limit the ways they can pay? Alongside that, do you allow multi-currency, where customers can pay for your goods in a currency of their choice?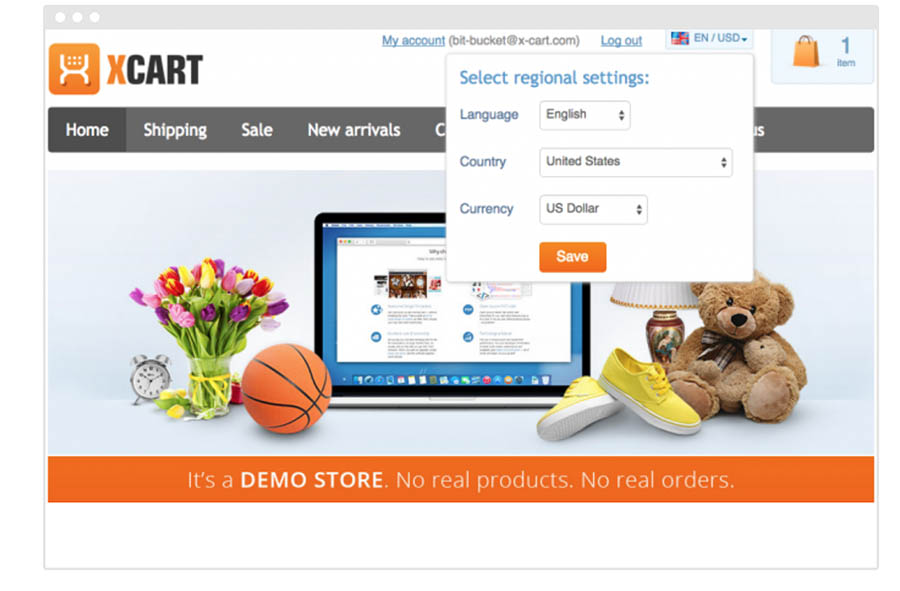 Giving your customers the opportunity to choose their regional settings allows you to have a larger pool of consumers to market to. Having a location-agnostic e-commerce store opens you up to a whole new audience and gives you opportunity to dominate the market and win against your competitors who perhaps don't ship to certain countries.
What's more, when you know competitors don't ship to certain cities, you can increase the price of those items, again supply and demand as shown in the graph earlier in the blog post.
But giving your customers more choice can often lead to decision paralysis, where because you're presented with so many options you actually end up choosing none.
Evidently, this is not what you want for your e-commerce store so the best way to stop that from happening is to add a sense of scarcity.
Scarcity is a great pricing tactic that doesn't actually involve raising or decreasing prices. It plays on the psychological effect of the customer where they think they need to have the item now.
You might have a note on a product page that says "Hurry, only 3 items left".
Or perhaps you have a small, non-obstructive popup that says "[Name] from [Location] just bought this item".

Source: Booking.com
This strategy works really well in conjunction with the raise the prices strategy.
8. Play to customer loyalty
Although not directly a pricing strategy, if you want to beat the competition and increase the number of consumers who consistently come to your store to buy their goods, you need to work on your customer loyalty.
For e-commerce stores, loyalty is everything. It costs more to get a new customer than it does to keep a current one.
If you haven't yet, you should think about creating a reward program to build customer loyalty. The best way to increase customer loyalty is to first begin using a customer loyalty program and second to advertise it and offer your customers great rewards that encourage them to shop with you again.
You don't just have to offer points though, with loyalty programs, you can get really creative with the types of rewards and benefits you offer your customers.
Online flower retailer, Bloom and Wild, don't have a specific loyalty program as such, but what they do offer is money off your next bouquet when you spend money with them.

In your order confirmation email, you also receive this too. Discounts and special offers are a great way to build loyalty. They also make use of the scarcity concept, by giving the recipient just 7 days to use their unique money off code.
Because you've received the code, it leads you to start thinking about whether there are other people you could buy a bouquet for, as you don't want your voucher code to go to waste.
Beauty retailer, Sephora, use a different technique and have a fully-fledged tiered loyalty program based on how much a customer spends per year in their store or online.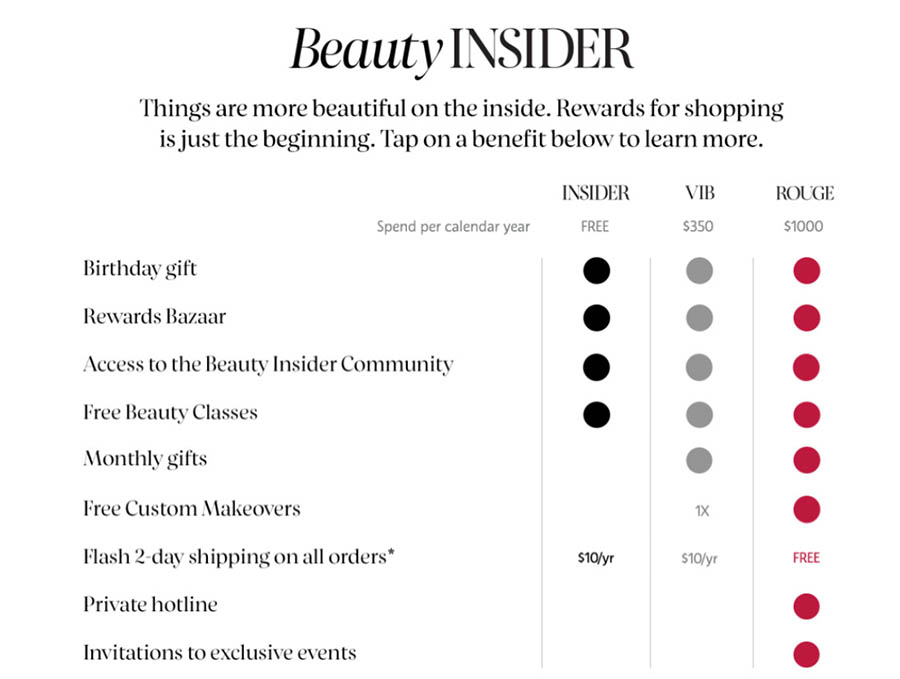 Source: SEPHORA
Even if you spend no money in Sephora, you can still join their beginners loyalty programme known as "Insider". You'll still get a birthday gift each year and access to a special beauty community, amongst other things.
This is a great pricing strategy because if you want to make use of the other perks from the higher tier, you need to spend more money.
Takeaways
In this blog post, we've looked at how you can use smart pricing strategies and tactics to your advantage to win against your competition.
Pricing should be an ongoing exercise that you stay on top of. Failing to do so will mean you give up a majority of your custom to your competitors.
And remember, when you begin implementing smart pricing strategies, you don't have to use just one at a time. Many of these strategies can be used in tandem with each other and in many cases, when used in conjunction with other strategies, puts you on a winning path.
What smart pricing strategies have you implemented? Leave a comment below.
Get the Best
Expert-Backed

Tips on Selling Online Straight into Your Inbox

Only one email a week, we promise

Awesome! You won't be disappointed 😉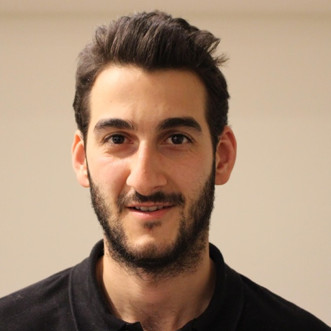 Burc Tanir
the Co-Founder and CEO of Prisync
Burc got his B.S. degree in Industrial Engineering from Bogazici University and is currently pursuing Masters in Industrial Design from Istanbul Technical University.

Burc is sourcing his business development skills to create a scalable and impactful business out of the sophisticated R&D process involved in Prisync through lean methodologies.