←
Back to Blog
11 Best SEO Tools to Instantly Improve Your Marketing in 2020 [+ How to Get Started]
This blog post was originally contributed by Hristina Nikolovska, an SEO Specialist and Manager of a Stellar Team of Experts at Eksipnova.
Did you know that Google makes over 500 algorithm changes a year? Consequently, keeping up with the latest search engine developments is the hardest part of running a website.
SEO is part of what makes successful eCommerce experiences work so well. If you don't maximize your SEO for eCommerce, people won't be able to find you. And research is helping customers and potential customers use their online shopping time better.
What does that eCommerce SEO experience look like and how can you make your site work better? This graphic below explains it.

Even knowing the basic SEO steps that help make your site visible to search engines, there'll still be many factors to compare, research, and plan in order to push your website to page one.
Although SEO consulting is the best way to go for an online business, there are some amazing SEO tools that surpass the basic SEO steps, helping improve your rankings on search engines.
Here, we'll walk through 10 tools to help kickstart your SEO efforts, especially if you plan to create an online store.
1. Google Search Console
If you want your website to get indexed and reach the highest possible ranking, you need to make sure there are no performance problems.
One of the best Google SEO tools, Google Search Console (formerly known as Google Webmaster Tools). It is a collection of resources that ensures the proper indexing of your site and provides you with a deeper understanding of the Google search fundamentals — including the external and internal links to your website, Google's crawl rate, the keywords used by visitors and their click-through-rate, the website's statistics, and much more.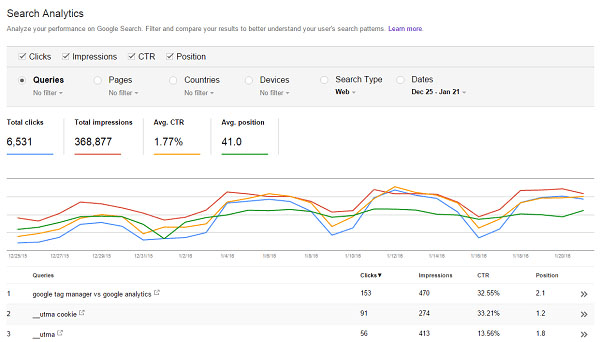 How to Get Started
In order to use this SEO testing tool, you need to add and verify your website. The verification process confirms you're a legit webmaster, and there are several ways to do that:
Uload the HTML file to the root directory of your website
Add an HTML tag into the head of your homepage
Use a domain name provider
Use Google Tag Manager
Once your status is verified, you can access a wealth of information, such as:
Understanding which keywords visitors use to reach you
Discovering sitemap, meta tag, and crawl errors
Updating robot.txt file
Site backlinks monitoring
Malware alerts
Monitoring how Google perceives your website
Pricing
Free
Additional Resources
How To Use Google Webmaster Tools
Google Search Console Help
How to Set Up and Use Google Search Console to Improve Your Website (Guide)
2. SEMRush
Two crucial aspects of your SEO effort are tracking your website's performance and getting a deeper understanding of your competitors. This requires thorough keyword research, which includes observing whether the keywords are generating more leads, evaluating your target audience, and getting a peek into competitors' strategies.
SEMrush provides competitive intelligence and covers all these areas, helping you make a more informed decision and boost the effectiveness of your techniques. It is way more sophisticated than Google Keyword Planner. And it transforms the way your website functions, which is why it's considered one of the best SEO tools.
How to Get Started
To start using SEMrush, you must first register with your business email. Then, you can get a seven-day trial period or subscribe to one of their monthly plans to get the following:
SEO reporting
Analysis of competitor websites
Comparison of date ranges
Real-time reports
New keyword opportunities
Pricing
Altough SEMRush is not a free SEO tool, you can sign up for a 14-day testing period with limited access. The free account allows making up to 10 requests per day. Your account can be upgraded to get 10,000 results per report and 3,000 reports per day. There are three types of monthly subscriptions — Pro, Guru, and Business, ranging from $99.95 to $399.95.
Additional Resources
3. Moz Pro
As we've already established, knowing how people are searching for your products or services can help you create high-quality blog posts.
Moz Pro is one of the best SEO tools online; it has an intuitive interface and provides a data-driven approach, enabling you to research keywords, identify SEO opportunities, track growth, build reports, and optimize their data.
This kind of SEO analysis helps you maximize your search engine optimization efforts. Additionally, Moz Pro results come back with actionable fixes, boosting the efficiency of your strategies.
How to Get Started
To start using Moz Pro, you need to sign up for the free trial or reactivate your subscription. By doing so, you will be able to start using this SEO tracker tool and:
Get suggestions on related keywords
Analyze your competitors
Use a Chrome extension to look into other domains
Compare multiple keywords
Get on-site optimization suggestions and error alerts
Find links
Pricing
After the 30-day trial period, you can opt for the Standard plan for $99 a month, Medium for $149 monthly, or the Large plan for $249 a month.
Additional Resources
4. AHrefs
Apart from knowing how to optimize your store content, you need to monitor the referring pages, keywords, search traffic, backlinks, and more. More importantly, when starting an online store, knowing your competition is a must.
Ahrefs is one of the best search engine optimization tools for the job. It serves as an outstanding keyword planner and backlink research tool, enabling you to enter up to five locations and competitor websites for Ahrefs to track for you.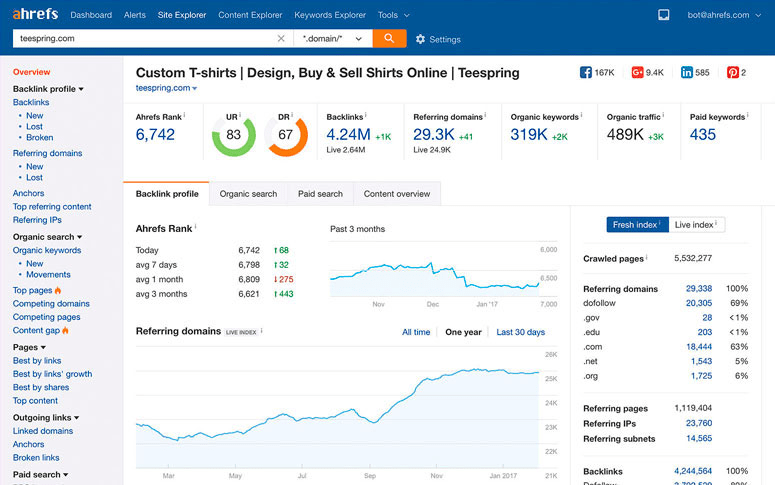 How to Get Started
First of all, you need to set up an account and log in. Then you'll be prompted to create a new project and add your domain. Apart from tracking your competitors, you'll get access to Ahrefs's dashboard, which will present:
Your website's ranking
Domain rating
Backlinks
Organic keywords
Organic traffic
Search volume
The website ranking progress
Pricing
Ahrefs is not one of the free search engine optimization tools. You can opt for a seven-day trial, which will cost you $7. The monthly pricing options start with the Lite plan, which costs $99/mo. The Standard plan is $179, the Advanced, $399, and the Agency plan is $999 a month.
Additional Resources
AHrefs
Ahrefs Guide: How To Use Ahrefs for SEO, Content & Link Building
Ahrefs: The Ultimate Guide
5. Buzz Stream
Backlinks are crucial for boosting your rankings on Google; however, managing a link building campaign is a daunting task.
BuzzStream helps you research people and identify the appropriate ones, come up with an effective message, and monitor who has accepted the link request. This tool streamlines the entire process and boosts the efficiency and value of the links you achieve.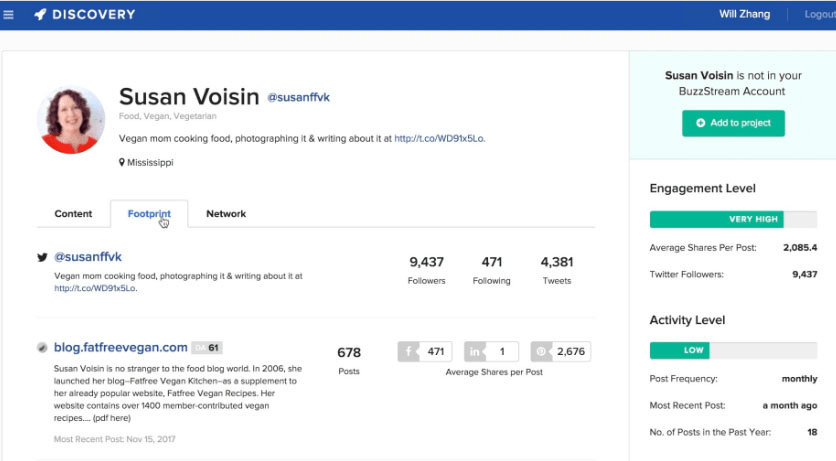 How to Get Started
To start using this amazing SEO tracker tool, you need to choose the right plan for you. Then you must decide whether you'll try the plan for free or go with the paid option. Set up an account and you'll get access to:
Automatic research of influencers
Email creation
Conversion tracking
Comprehensive reports
Link prospecting
Contact management
Buzzmarker, a link bookmarking tool
Pricing
BuzzStream offers affordable SEO services and four pricing plans. Their Starter costs $24, Group costs $99, Professional costs $299, and Custom costs $999 a month.
Additional Resources
Intro to Buzzstream: A Digital Marketing, SEO & PR Tool
Getting Started with BuzzStream
6. NightWatch
NightWatch is an advanced SEO rank tracker and analytics tool. It monitors the ranking, as well as site and visibility changes, and uncovers keyword opportunities. NightWatch also generates reports and helps you make the best decision for your website and business.
NightWatch is arguably the best SEO checker that uses an innovative filtering technique, performing a complex SEO test to provide you with all the data you need, such as search volume, evolution, and CPC, to get accurate information about your growth and potential in terms of SEO ranking.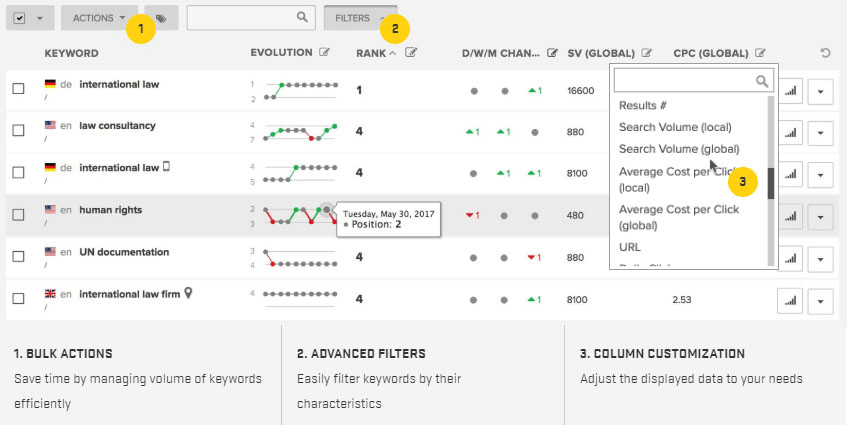 How to Get Started
First of all, you need to set up an account. Then, you can start off with the free trial period, after which you can choose a pricing plan. With NightWatch you can analyze the following data:
Keyword and website ranking data
Google Analytics data
Search Console data
AdWords advertising statistics
Competitors' rankings
Pricing
Although NightWatch isn't one of the free SEO tools, the pricing is fair. For instance, there's a 10-day free trial, while the pricing plans range from $19 to $699 per month.
Additional Resources
Nightwatch Pricing
End-to-End Test Automation Using Nightwatch
7. Screaming Frog
Screaming Frog is one of the top SEO tools for 2018. Flexible and powerful, this program crawls the website you specify and examines the URL for common SEO malware; thus, expediting the process, which if done manually, would take days.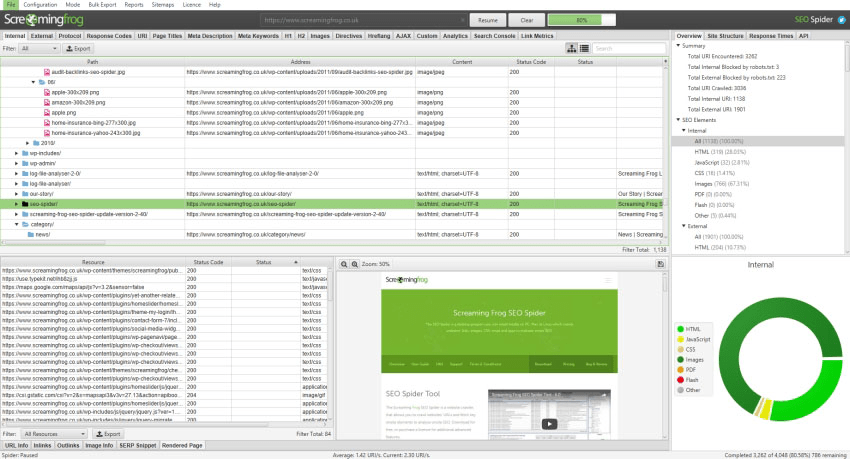 How to Get Started
Screaming Frog is easily downloaded by clicking the Download button suitable to your operating system. Optionally, you can choose the "buy a license" button once you've downloaded and tried the software. After the installation process, this free SEO tool will:
SEO analyze web page titles and metas
Find broken links
Generate sitemaps
Uncover duplicate content
Integrate with Google Analytics
Extract data with XPath
Review robots and directives
Pricing
There's a lite version that's completely free to download and use; however, this version is restricted to crawling up to 500 URLs in a single crawl. Also, the lite version doesn't give you full access to JavaScript rendering, crawls saving, configuration, Search Console, Google Analytics, and link-metrics integration. On the other hand, you can pay £149 per year and get a license that removes all of the above-mentioned limits.
Additional Resources
Official Screaming Frog User Guide
10 Features in the SEO Spider You Should Really Know
Screaming Frog Explained: Overview Tab Definitions
8. Linkody
Linkody offers the easiest way to track your link building campaigns, automating the entire process. It enables you to learn who is linking to your website and what keywords they're using. What's more, you can opt to disavow links you don't like, which is particularly useful if you think someone is linking to your website as spam.
In addition to the thorough link analysis and reports, Linkody offers the possibility to generate reports, which can be forwarded to clients. Also, you can use this tool to monitor the local shares of your website and connect to Google Analytics.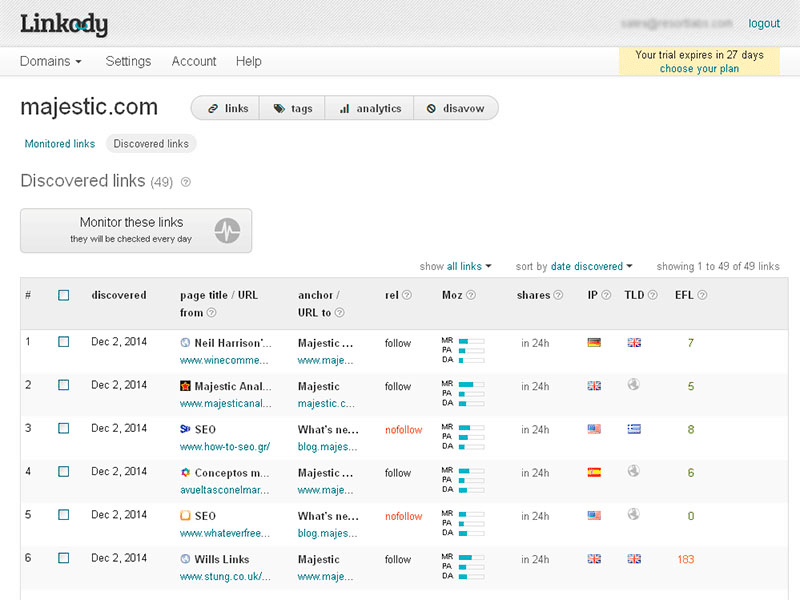 How to Get Started
You can register for a 30-day free trial by creating an account and adding your website to it. There's an option to add more than one website if you choose the Multiple Sites tab. You can also set a budget to your site in order to keep up with your paid links costs. Once you set your account up, you will be able to:
Analyze your website's backlinks
Disavow bad links that might affect your search engine optimization
Generate backlink reports for your clients
Connect to Google Analytics to gain access to more data
Monitor your site's social media shares
Pricing
After the free trial period, you can choose between the Webmaster plan, which starts at $13.90 per month; the Advanced plan, starting at $22.90; Pro plan, which starts at $46.90 per month; the Agency plan for $94.90 per month; and the Agency XL plan, which starts at $134.90 per month.
Additional Resources
Linkody Review – Inexpensive Backlink Checker
ReviewofLinkody
About Linkody on Capterra
9. Varvy SEO Tool
Varvy SEO is one of the best free SEO tools, which prepares a detailed report within a minute, diving into different aspects of the website's performance. The report checks for links, social mentions, technical SEO, page loading time, mobile-friendliness, and domain strength.
The Varvy SEO Tool indicates the severity of the issues found by employing red Xs, green checks, and yellow exclamation points. It also provides an explanation of why each setting is important.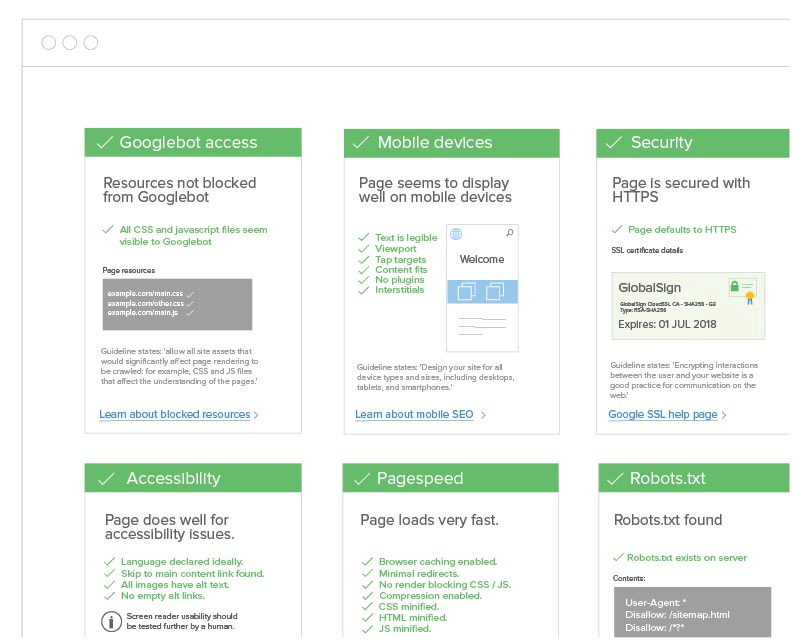 How to Get Started
Enter the website URL in the designated field, and Varvy SEO Tool will run multiple checks within seconds covering the following points:
Checking whether your website follows Google keyword optimization guidelines
Creating quick reports with clear information on how to fix each issue.
Checking for auto-generated pages
Checking for broken links
Pricing
Free
Additional Resources
Quick On-Page SEO Analysis with Varvy's Tool Suite —Tutorial Tuesday
Varvy SEO Tool: Beginner Friendly Way To Analyse Your Onsite and Onpage SEO
Varvy keyword explorer
10. SpyFu
As we already established, when you start an ecommerce store, you need to gain insight into your competitors' strategies in order to stay in the forefront. SpyFu does this job for you, as it "spies" on the SEO history of your competitors, providing you with competitive intelligence, which results in smarter strategies.
Arguably the best auditing tool, SpyFu excels in PPC research, offering new opportunities for campaigns, and it also gathers information about your competition's SEO strategies, indicating which of them have and haven't been successful.
How to Get Started
Choose the plan that fits your needs, create an account, and get access to:
Domain searches
Keyword suggestions
Backlinks searches
Organic keywords
Paid keywords
Data exports
Pricing
Although SpyFu is not a free keyword research tool, it offers affordable SEO services. You will get unlimited access to all SpyFu data regardless of the pricing plan you choose. The Basic plan starts at $33 per month, the Professional plan begins at $58, and the Team plan at $199 a month.
Additional Resources
Tutorial: Researching your competitor's marketing strategy
SpyFu CEO Mike Roberts on How to Spy on Your Competitors
SpyFu User Reviews & Pricing
11. Copywritely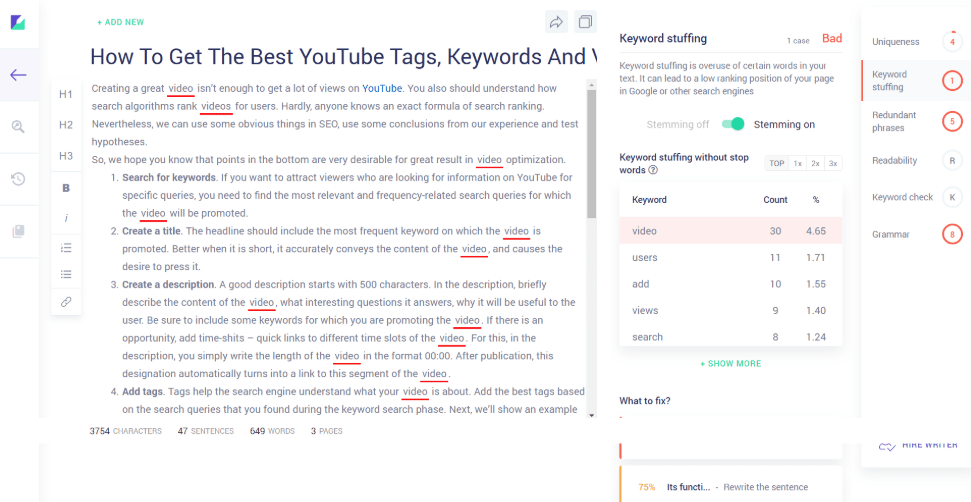 Copywritely is a very useful tool for site owners, writers, students, SEO and marketing experts, content managers, digital agencies who have to deal with text at their work daily — analyze keywords, find duplicate content, check punctuation and grammar mistakes, do readability checks, prepare specifications for copywriters.
Copywritely is proud of its SERP Analyzer that helps users compare the TOP competitors' content and based on this info create their own content.
With the help of Copywritely, you could make your text unique, suitable for users and search engines, and find and get rid of spam words.
How to Get Started
To start using Copywritely you just need to sign up and start the trial version where you get 5 free checks without any time limits. Furthermore, in the trial version users can choose from the entire set of features to get a deeper understanding of how the tool works and how they can benefit from using it.
Pricing
Copywritely is available on a subscription basis. Prices vary from $18/month to $67/month.
The subscription price depends on the number of checks and additional features needed by a company.
In addition, there is a "Startup" plan buying which users receive 200 checks/year and pay $45 only once.
Make the First Step
SEO statistics show that only 5.7% of all pages rank in the top 10 organic search results within the first year. This means you need to create a website with outstanding content and sleek performance that stands out amongst the competition.
When it comes to boosting your rankings, knowing the anatomy of the search engine results page is important, but you should definitely leverage the best SEO tools like the ones listed here to get moving in the right direction, thus ensuring more organic traffic and an increased conversion rate.
What are your fav SEO tools that help you grow your business?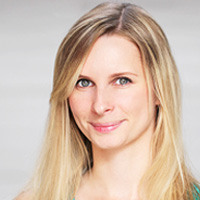 Helen Golubeva
Freelance SEO and Content Marketing Specialist
Helen is an SEO and Content Marketing Specialist. She has been creating and planning content for over 10 years, with 5+ years specializing in eCommerce.
Subscribe to Our Weekly Newsletter to Get
Expert-Backed

Tips Straight Into Your Inbox

Awesome! You won't be disappointed 😉