←
Back to Blog
SEO for Beginners, part 1: First Steps in Making Your Store Visible to Search Engines
This blog post was originally contributed by Kinga Liberadzka, a Digital Marketing Manager at Land-book.com, on behalf of Positionly.
The beauty of online shops, or online businesses in general, is that you are not limited to any particular area or region. You can introduce your products to millions of people across the world without your moving outside the computer screen.
Never has there been a greater chance to put your business in front of bigger audience and get your products discovered. However, the trick is that the online world is a very crowded place. It is full of great products and companies that offer high quality and very similar goods to yours at reasonable prices. You may have a pretty impressive competition out there – you know it's just getting bigger each day, don't you? Your potential clients are literally flooded with products available online at any time.
Starting an online e-commerce store is the easy part. With X-Cart you can settle your own shop in several minutes. Take some more time and you will have your own customized place where you can sell online.
Standing Outside the Crowd
Nowadays it is just not enough to put an online business live and wait for visitors and (hopefully) customers to come. Any shop owner should take care of the visibility of his business from the very start. I know that for most people the search engine optimization (SEO) term sounds technical, professional and rather out-of-reach.
Indeed SEO is a pretty analytical and complex subject, but it doesn't mean that you can't learn the basics and optimize your store on your own. Before you start, keep in mind four things:
SEO is a long term process, not a one time shot – you'll have to wait to see the results depending on how quickly you resolve the issue you are having.
The good news is that even little tweaks that can make a huge, huge difference.
It will help the allround health of your website keeping you a cut above the rest when used in the right way.
It will provide you with the information of how to deal with the constantly changing world of the internet to ensure you are getting it right every time.
Ready to Learn the SEO Basics?
Great! Let's get started.
Search engine optimization (SEO) is the practice of getting a website rank higher in search engine results pages (SERPs). When a user types a word or phrase into a search engine, a sophisticated algorithm returns a list of web pages. They are all ranked so that the most relevant results appear at the top of the first page of results.
The more attractive to search engine algorithms your page is, the higher it will rank in SERPs and the more visible it will be to your potential customers. It's worth playing this game, isn't it?
On-page vs Off-page SEO
There are many factors that search engines take into account to determine whether (and how much) your store is relevant for the search query. You can divide them into on-page and off page elements.
Off-page SEO
Off-page SEO techniques involve building links from other parts of the web to your site. In the past, e-commerce site managers would scatter links to their site all over forums, directories, and comments sections, as well as buy links on other sites. These link building techniques are generally penalized by search engines these days, which means that you need to take a different approach.
Current off-page SEO techniques focus on building relationships, not links. Reach out to your customer base through social media. If you create entertaining content and share it with your followers on Facebook and Twitter, the customers you are interacting with may share the content on their blogs or in other communities – this way links will be created naturally.
On-page SEO
The on-page factors are about the content on your website. They include:
site structure
keywords
page URL
alt-text of images
title tag
meta-descriptions
content
internal links
Digging Deeper Into On-page SEO
Site Structure
Structural elements of your site, such as the way the pages link to each other and affect SEO. Search engines "crawl" through a link structure to find and index pages. Your site needs to be structured so that all of the pages could be easily indexed by search engine crawlers.
A clear website structure is important not only in terms of SEO, but most of all – it is more friendly and readable to your visitors and potential clients.
Go to the Content menu in the X-Cart setup and decide which elements of structure your shop should contain.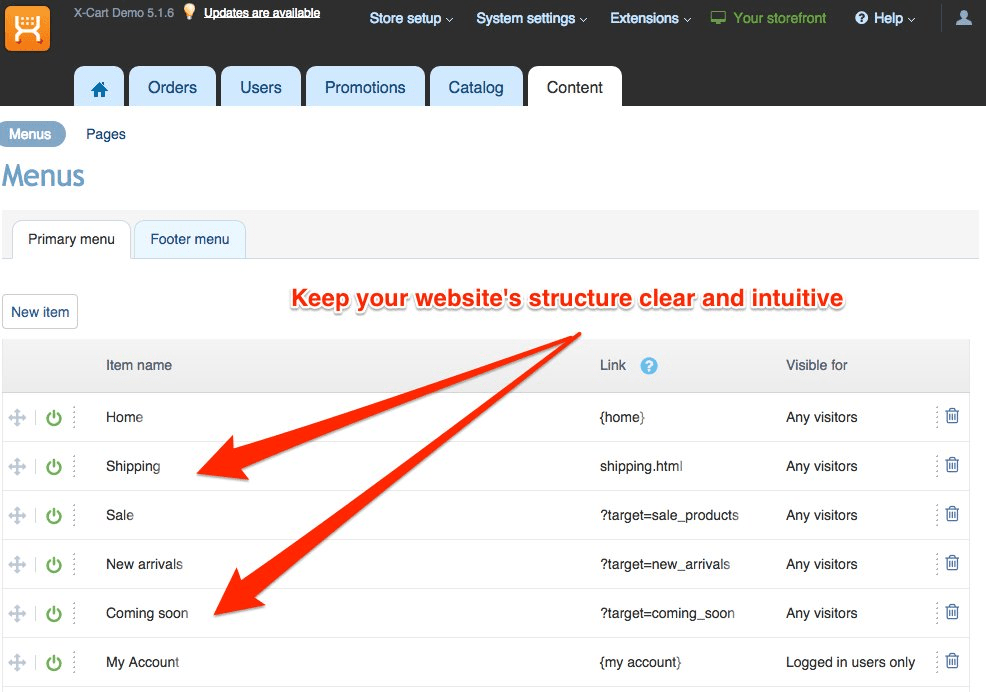 Keywords
Keywords are terms that people are likely to use when searching for e-commerce stores like yours. Each page of your site should focus on one or two keywords. You can use Google Keyword Planner, a free tool from Google, to help you decide which keywords to use.
You can also use Positionly to help you define what keywords are the most relevant for your e-commerce store. When you first sign up to Positionly (14 days free trial, no credit card needed!) and add your shop URL, we'll suggest what keywords you should start tracking.
If you're already a Positionly user, you are able to add several websites and track many different keywords.
Go to the upper section of your Dashboard, choose Websites and click Add a new website link (It's easy, view how).
Type your store's website address (take a look)
Then choose in which countries and what types of search engines you would like to track the position of your website (click me!).
That's it! You now have a list of relevant keywords that you can choose from (or just track all of them). A great thing is that you can later sort and group all of them.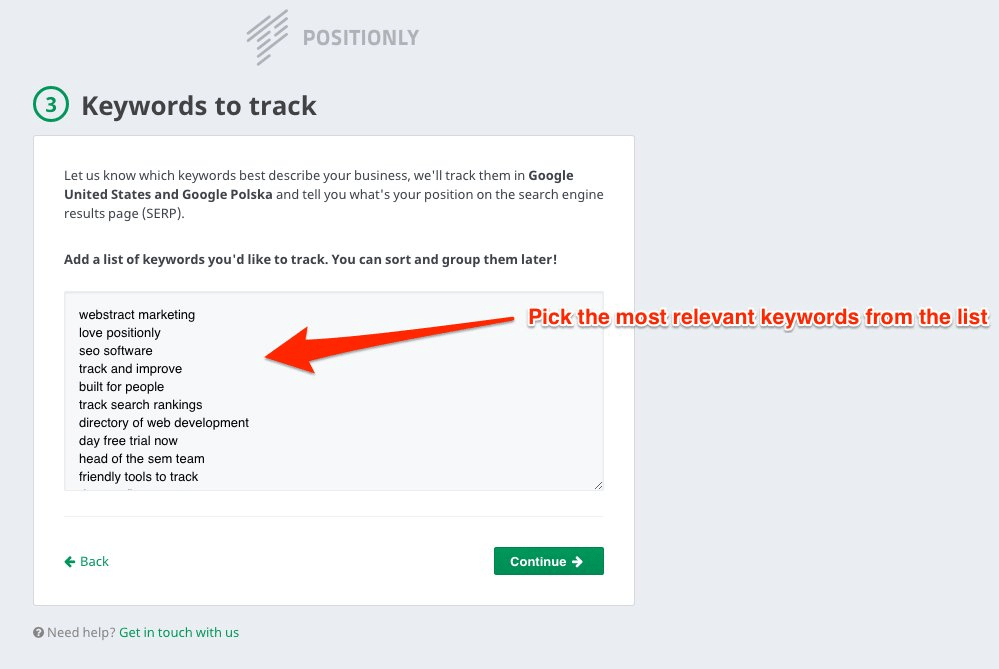 Once you choose your keywords, start using them right from the top of the page. Pick the main keyword in your title, then use it again naturally throughout the content. You can also include the keyword in image tags and meta descriptions to improve your on-page SEO.
Page URL
One easy way to improve SEO on your e-commerce site is to ensure that each URL is SEO-friendly, which means that it should include the main keyword that the page is targeting.
URL stands for uniform resource locator, it is a web address of a single web page. URLs are displayed in a web browser and on SERPs. There are two types of web addresses: static and dynamic.
A static URL looks like that:
https://demostore.x-cart.com/maui-moisture
A dynamic one can look like this:
https://demostore.x-cart.com/cart.php?target=product&product_id=37
While search engines can easily understand both of the URLs, for human beings dynamic URLs are completely illegible. A searcher can't define what can be found on a particular website. Not to mention that you miss the chance to put one of your relevant keywords on URL, if you choose a dynamic web address.
Thankfully, X-Cart can automatically generate a clear URL for you. Of course you can always edit an URL proposed by X-Cart.

In case you'd like to set an URL by yourself, it is good if you keep in mind a few good practices:
it's better to use hyphens (-) instead of underscores (_). When you use underscores to separate words in an URL name, Google will read it as one single word. For instance: shopping_cart_demo will be treated as shoppingcartdemo.
keep an URL address brief, descriptive and relevant – a visitor at a glance should be able to tell what the website is all about.
pick the most important keyword and use it in an URL address to optimize a web page.
Alt-text of images
Search engines don't read images, they read alt-text instead. You should use alt-text to help engines better understand the meaning of an image and what it represents. While describing an image, don't forget to use some of your focus keywords.
To set an alt-text within X-Cart just hover the mouse over the specific image, then click on a blue 'burger button' and move to the alt section and type your relevant keywords.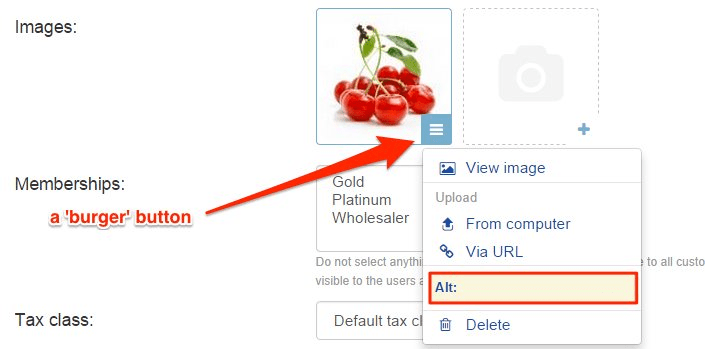 Title-tag and meta-description
Title-tag should define a site's content in a concise and clear way. You should keep it short, max 50-60 characters. Be sure to include at least two of your most important keywords along with your brand's name.
A title tag plays a significant part in SEO as it appears in the search engine result pages (SERPs), on external websites and directly in browsers.
Let's take X-Cart website as an example. This is how the title and the meta-tag presents on a result page:

To add a title-tag go to the Catalog, pick the Products section, choose a particular product and dive into its details to find the 'Product page title' field:

As you can see above a meta-description is a short paragraph which is displayed under a title tag on SERP.
Sometimes a short title is not enough to fully communicate what your e-commerce business is all about. Meta-description gives you the opportunity to introduce your brand before a searcher pay you a visit and actually see the products you offer.
The optimal length of a meta-description is between 150-160 characters. While creating a copy is good, you be as much creative as you can. A boring description can decrease a click through rate and bring you less visitors.
To add a meta-description stay on the Products section and scroll to find 'Meta keywords and description' fields:

Links
Internal links – links that point to other pages of your site – are an important part of on-page SEO. They help search engine algorithms to crawl through your site, indexing each page as they go. I've mentioned this already when talking about a website structure.
Content
Content on your store website if optimized well can make a huge difference when it comes to making your business more visible in search engines. The keywords are one of the most important factors when it comes to your content optimization. You should pick only the most relevant ones and use them throughout the whole website.
Place the main keywords on your front page in description and meta-tags and while adding products to your store: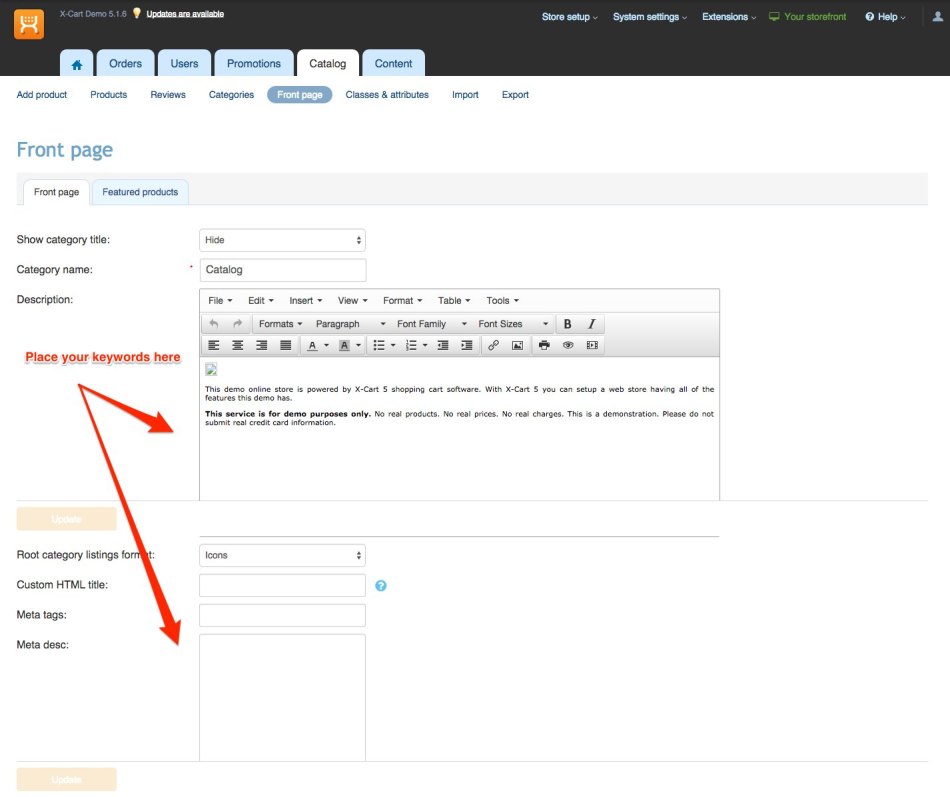 A search engine optimized content should look like the example below.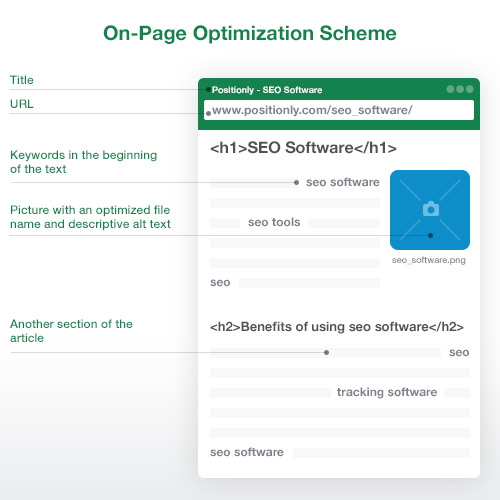 Last but not least
Those of you who are completely new to SEO may find these basics a bit overwhelming. I know that here is a lot of information to digest and a lot of tips to implement. It will take time before you'll understand all of the nuances of SEO and even more before you'll start feeling really comfortable in the SEO zone.
I can promise you one thing. Every single effort that you put in order to optimize your e-commerce store for search engines will pay you off. It's true that you'll have to wait for the results but the good news that they will be sustainable and long term.
I hope you're excited, because we are just getting started with the SEO tricks & tips. Also, if you have any questions about SEO, SEO tools or Positionly, don't hesitate to leave your comments below or drop me an email directly at kinga@positionly.com.
Chapters
1. First Steps in Making Your Store Visible to Search Engines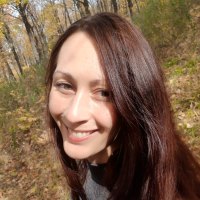 Maria Navolykina
SEO Content Specialist
Maria is an SEO Content Specialist at X-Cart. Once captured by digital and content marketing in her student days, she keeps living and breathing it ever since.
Subscribe to Our Weekly Newsletter to Get
Expert-Backed

Tips Straight Into Your Inbox

Awesome! You won't be disappointed 😉