Solutions For Fully Customizable Ecommerce Websites
Get full control over your ecommerce website.
Build ecommerce features that deliver custom experiences.
Your stunning, fully‑functional online store is just a few clicks away
Looking to scale your web store without being tied down? Our eCommerce website builder will give you full control over every element of your online store. From design and user experience to ecommerce hosting and marketing, our simple admin portal puts you in the driver's seat – even if you're not techie. Thanks to our eCommerce platform that's fully customizable, 100% open source, and loaded with all useful ecommerce solutions that every online merchant needs.
Design
Ecommerce Website Design Without Restraints
There's no need for a separate mobile commerce storefront — our brand‑new ecommerce website builder with Crisp White skin automatically adapts when opened on a phone or a tablet. It will make your online store look great on any device with no extra coding or design tweaks so you can build an online store in a fast, cost‑efficient way.
55 High‑Converting Ecommerce Templates
Browsing our theme store will show you 5 FREE color ideas for your store and 55 clean themes – stylish, responsive, fully customizable and well‑suited to all enterprise ecommerce types.
Mobile First Ecommerce Platform
Due to responsive mobile optimized website design our online shopping cart platform passes Google's "mobile friendliness" check without a hitch! Plus enhanced shopping experience translates into better SEO and conversion rates.
Intuitive Drag and Drop Interface
Easily edit your store's look & feel in Layout editor mode — change the position of the blocks in drag and drop fashion or choose a pre‑made layout type.
Fully Customizable Online Store Design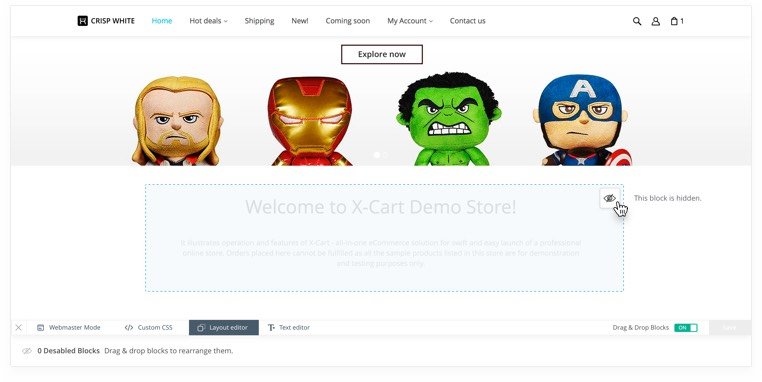 Quickly modify designer templates by clicking on the element while browsing the storefront in Webmaster mode, apply additional styling with Custom CSS option, customize JavaScript and build unique email notifications templates.
Looking to create a unique custom‑made design from the ground up? Help from certified experts is just a click away.
Design help from certified experts
X‑Cart web designers will easily make your online store friendly to mobile devices, create a unique custom‑made mobile commerce design that stands out, optimize it for all browsers & retina displays, materialize just about any idea you've got.
Select a web design plan for your needs.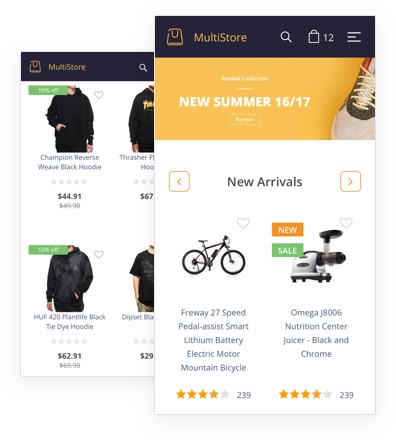 User Experience
An Online Store Builder With Unmatched User Experience
Compared to other online store builders, our user‑friendly interface boosts your conversion rates like no other. Because today's consumers are not completely satisfied with sites that just allow them to shop, we've improved the usability of your e‑commerce site to build a competitive advantage.
Real‑Time Smart Search
Let customers find your products through lightning‑fast cloudsearch that enables real‑time suggestions, spell‑checking, support for synonyms, promotions and statistics.
Google Mobile Friendly
Enhanced user experience translates into better SEO and conversions — visitors get the content they want, in a format they can read.
"Clunk-Free" WordPress Integration
We let you decide how and where to set up your blog. Subdomain? Subfolder? No problem! You can also display your products inside any existing WordPress site.
Ready for international sale
Show product prices, shipping costs and totals in the currency your buyers are used to. Translate the storefront and catalog to 40+ languages and, if needed, set right‑to‑left typing to make your online store closer to your audience from around the world. Everything is SEO friendly, so both your customers and search engines will love it.
Choose an X‑Cart Edition for your business.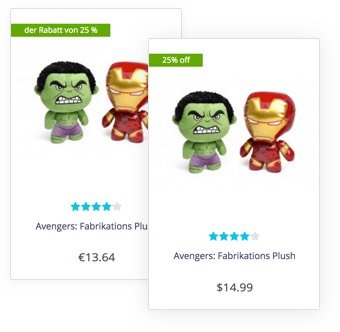 Hosting
Handcuff Free Ecommerce Hosting
Unlike other software platforms such as Magento eCommerce, you can run our ecommerce platform anywhere. You can run your ecommerce site on our servers or one of our partners.
Solid-State Drives (SSDs)
Compared to traditional HDDs, SSDs have lower latency, faster read/writes, and supports more "input output operations per second".
Exclusive Hosting Server
We provide one VPS server per client, hence no other account can go through and bypass your business data and customer information.
Lightning‑fast Speeds
We constantly allocate 2 CPUs to process your business operations, and the RAM you've paid for in your hosting plan will always be available, regardless of the physical machine's activities.
View our hosting plans.
Inventory Management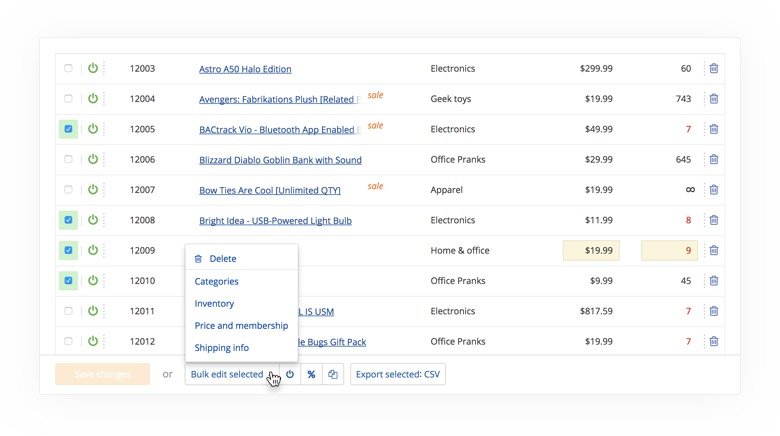 Simple, Intuitive Product Management
Save valuable time on paperwork, keeping track of the number of products and variants in stock. See bestsellers and low‑stock products on your dashboard to understand what your audience really loves.
Quick Inventory Updates
X‑Cart's Update Inventory module allows to update product quantity by SKU in bulk. Plus, you have the privilege to add in unlimited products!
Export/Import Inventory Data
Do you need to import/export information to CSV format? Our ecommerce shopping cart software adds an opportunity to export and import data in .xls (Excel 5), .xlsx (Excel 2007), .ods (OpenDocument) formats.
Bulk Product Editing
This feature will save you much time and energy dealing with a monotonous and time‑consuming process of making similar changes in multiple products.
Cost-Effective Packaging
Packing your products with X-Cart, you skip the middleman and reduce your packaging costs by up to 30%. You also save your precious time and money, as we offer overnight shipping of these supplies to almost all states of the US. And it is totally free.
Search Product Details by UPC and Name
Have product data and images added to catalog at one fell swoop, keeping it accurate and up‑to‑date. You don't need to painfully invent descriptions for dozens of your products, just rely on those that others have created for you. The feature integrates your store with external product libraries such as Itemmaster, Aerse, Outpan, and Amazon, which contain high quality product descriptions, images, and specifications from official sources.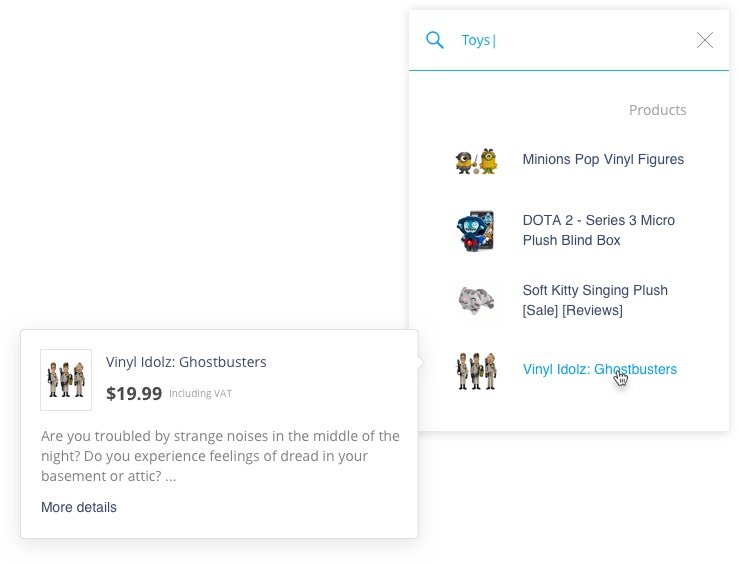 Marketing and SEO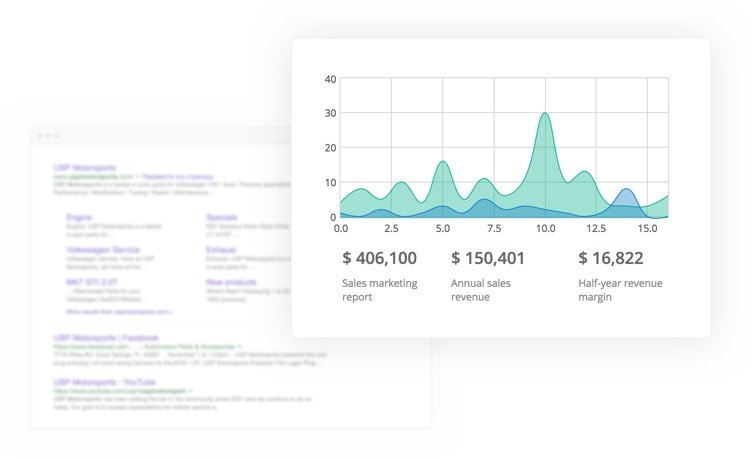 Drive Traffic That Leads To Loyal Customers
Loyalty program, abandoned cart reminder, exit offers and an advanced banner system will make every client a returning client. "Customers also bought" and "Recently viewed", cross‑sell and upsell, new arrivals and "Coming soon", featured products and bestsellers will push customers to buy.
Effective SEO Tools
X‑Cart gives you all the tools you need to get top ranks and high CTR in organic search: clean and canonical URLs, configurable page titles and more.
Auctions, coupons and discounts
Conduct classic auctions, offer discount coupons and volume discounts, set wholesale prices based on customer membership levels.
Powerful Email Marketing
Ramp up your newsletters with MailChimp and unlock the hidden potential of your transactional notifications with Mandrill. Our platform can also send out beautiful abandoned cart emails to remind your customers of their pending purchase.
Integrated analytics tools
X‑Cart has a number of options for tracking statistics, like Google Analytics and Yandex.Metrica, Mailchimp's eCommerce 360 feature and eCommerce Google Analytics, Diib analytics, Segment, CloudSearch, and other useful tools in the app store, which will help you to turn insights into actions and improve your customers' engagement by times.
Advanced in‑app marketing
Mobile devices are now an integral part of our daily lifestyle, with people spending nearly 90% of their mobile time in‑app. It means that mobile‑only deals, location‑specific deals, mobile loyalty program and timely push‑notification promos will definitely enrich your marketing arsenal.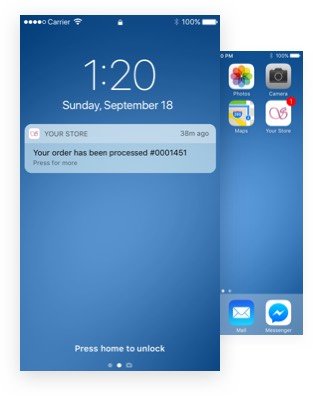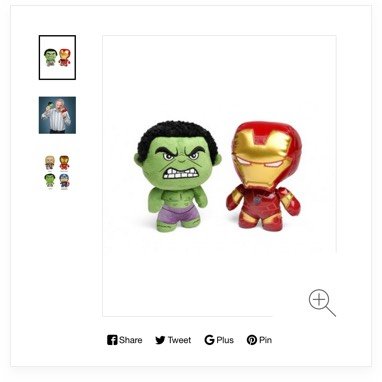 Social buttons
Put product ratings and reviews at your customers' fingertips. Like, Tweet, G+ and Pin buttons make it easy to share content and get acquainted with friends of your friends in social media.
Sell Everywhere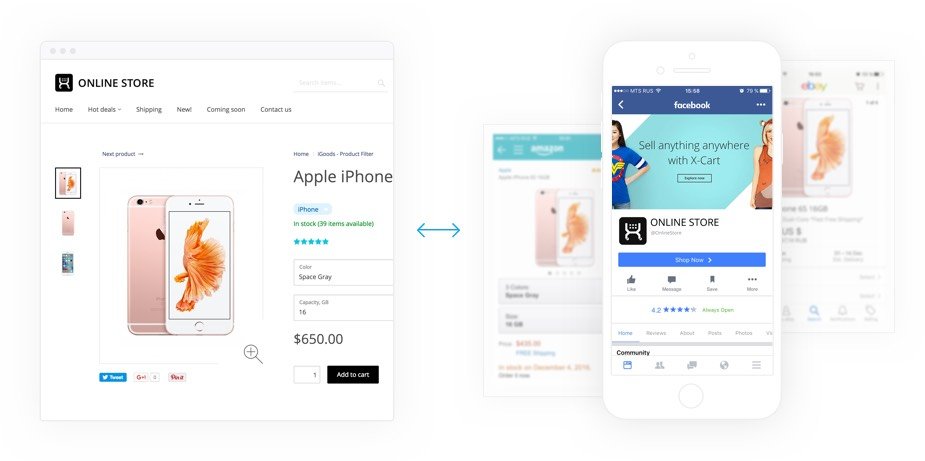 Sell Everywhere Your Customers Are
Make your online store closer to your audience from around the world. Show product prices, shipping costs and totals in the currency your buyers are used to when you start selling. Everything is SEO friendly, so both your customers and search engines will love it.
Explore new channels
Broaden your customer base and instantly boost online sales across multiple online marketplaces, like Facebook, Amazon, eBay and Google shopping trusted by millions of online shoppers.
Automated Taxes
Depending on your customer's location, X‑Cart will automatically handle applicable country and state taxes.
Interchangeable Languages
Translate the storefront and catalog to 40+ languages and, if needed, set right‑to‑left typing.
Multiple Storefronts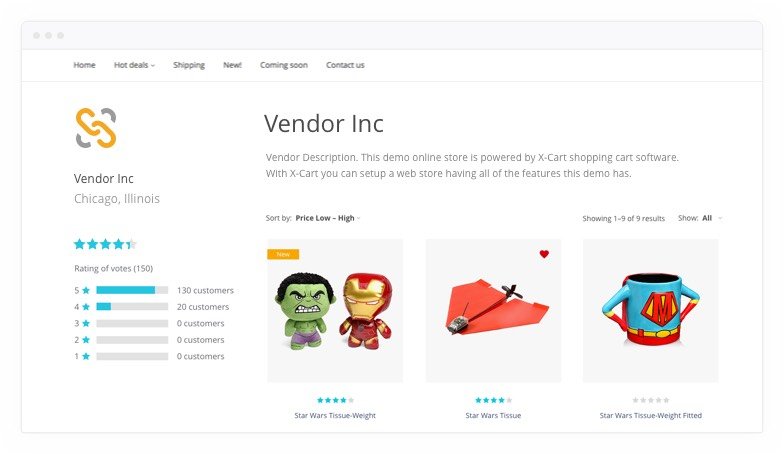 Two different modes are meant to draw the line between those who store their goods in a single warehouse and those who ship products from separate multi‑location warehouses. However, the process is absolutely hassle‑free for your customers — no matter how many vendors there are, the order is paid just once.
Single Vendor Storefront
Several independent product providers share a single "virtual mall" for selling their goods and services — with a single storefront, a single cart and a single checkout.
Separate Vendor Back‑End
Each provider manages their own products and orders independently of other providers via a personal password‑protected account.
Full Admin Control
Root Administrator account controls every aspect of the ecommerce store and moderates the accounts of individual providers and the goods they are selling online.
Powerful Shopping Experience
Advanced product search and filter (similar to Amazon and Google Shopping), "shop by vendor" feature, vendor info, photo and order messages make it easy to engage people browsing the website. And a single payment checkout makes the shopping experience as simple as microwaving a bag of popcorn.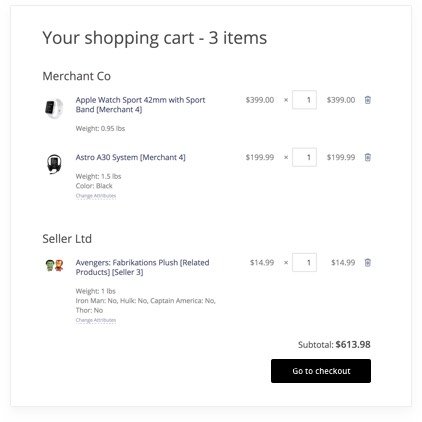 PayPal adaptive for automatic payments
Accept payments for an unlimited number of products from different suppliers within a single interface and automatically split the total amount into several parts. Admin gets the commission, the vendors — their payments.
Trusted / non‑trusted vendors
Why should your customers constantly guess what companies are good or bad, reliable or untrustworthy? Tag trusted and non‑trusted vendors to help your customers shop smarter.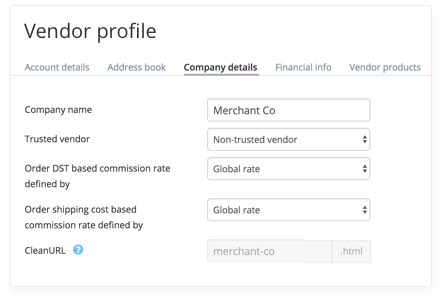 Payment Gateways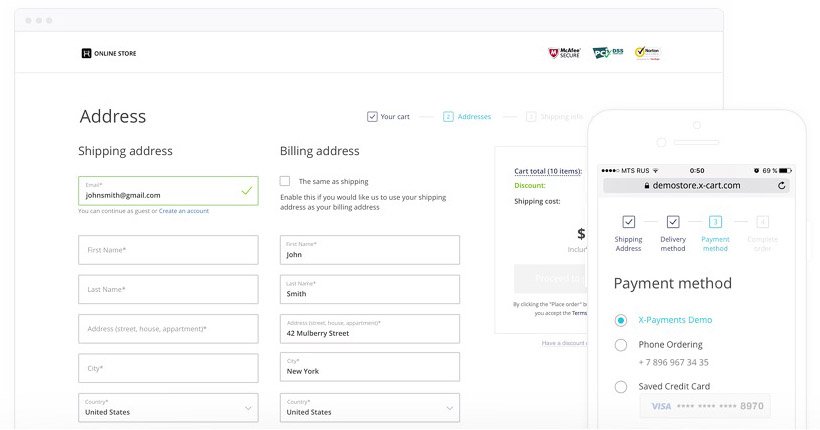 120 Payment Gateways And High Converting Checkouts
A significant number of international gateways, such as PayPal, Sage Pay and Authorize.net allow you to accept payments from all over the world in multiple currencies and languages.
One step and multistep checkouts
Splitting X‑Cart checkout into several steps, Multi‑Fast Lane Checkout makes the whole buying process easier and more user‑friendly.
"Pay with Amazon" and "PayPal Express Checkout"
Enable "Pay with Amazon" and "PayPal Express Checkout" buttons to make the checkout process even more speedy and reduce customer wait times.
Guest checkout
Allow orders to be placed without account registration, while easily tracking all "anonymous orders" assigned to the same email address.
Recurring payments & ability to save credit cards
Host the payment page right on your website and access more than 50 payment processors with PCI level 1 certified payment application X‑Payments. By supporting tokenization, it allows for recurring payments and subscriptions as well as PCI‑compliant "storage" of credit card details.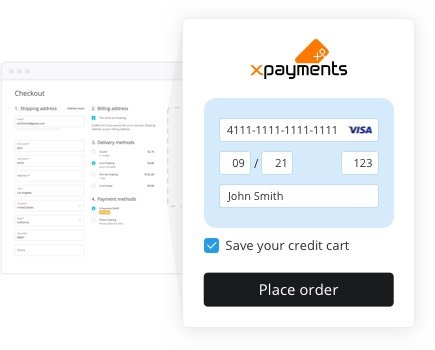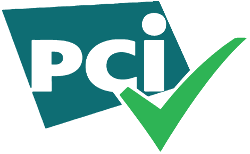 100% PCI‑DSS compatible payment processing
X‑Cart makes PCI compliance easy whether customers check out right from your storefront via a merchant‑hosted payment page or are redirected to an external payment gateway hosted checkout page. In any case, credit card data is in a secure location.

Fraud detection
Our ecommerce website builder's powerful anti‑fraud tools will secure you against online scam and keep your business safe, no matter what.

Transaction security
Financial transactions require profound security measures. HTTPS/SSL support for secured connections and safe checkout as well as cryptographically strong SHA 2 are here to encrypt your customers' sensitive data.
Secure Setup and Upgrades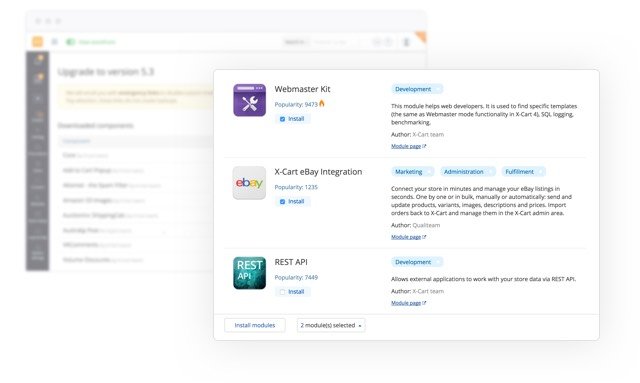 Simple, Secure, One Click Installation With Seamless Upgrades
Do you need more power over your ecommerce store? Upgrading your ecommerce shopping cart software is as easy as getting started. With just one‑click, you'll have secure, nicely designed website that will boost traffic and online credibility.
One‑click module installation
Install modules and design templates in a couple of clicks, just like in Google Play or App Store, and instantly enjoy your new ecommerce features!
Simple upgrade procedure
Flexible modular architecture allows you to tailor the eCommerce platform to your precise needs without affecting the core.
High‑level security
100% PCI‑DSS compliance for safe payment acceptance and processing for your customers' security
Yet More Security Features for your Store
HTTPS/SSL support for secured connections and safe checkout, cryptographically strong SHA 2 sensitive data encryption

XSS- and CSRF‑attack protection, protection against SQL‑injections meaning that each query to DB is secure and all the variables are being checked

Failed login attempts notifications

Database backup and restore feature

Two‑factor authentication that adds an extra layer of security to your store
Developer‑Friendly Technology








Open Source, Developer Friendly Ecommerce Platform
Equipped with the latest architecture in web technology, your backend portal supports MVC with hierarchical widgets. Front‑end, on the other hand, encompasses fast and dynamic client side widgets built with MVVM in mind. X‑Cart also provides several caching layers (data cache, widget cache, query cache) ensure outstanding performance.
Secure Developer Tools
REST API module works securely with the store data without direct access to the server.
WebmasterKit Development and Debugging Module
This visualizes the hierarchy of templates and shows different kinds of logs, such as script execution time, SQL queries and memory usage.
Developer Blog and Forum
Hold the latest news about X‑Cart and allow you to share your thoughts on a constantly updated and carefully monitored forum.
Read devs blog
Share thoughts on forum
Language, Database, Frameworks and Libraries
Open source, OOP, PHP 5.4.x+, PHP7 support

Database: MySQL, MariaDB, Percona Server for MySQL

Front‑end framework: Twig templating engine, Bootstrap 3.1 with LESS support

Javascript frameworks and libraries: jQuery 1.11, jQuery UI 1.10, Vue.js, underscore.js

Doctrine 2.5: with fixtures in YAML format
Developer docs and video tutorials
Everything you need to know to manage your X‑Cart 5 store is stored in our knowledge base (if you prefer to read) and video tutorials for using our ecommerce software (if you'd like to watch).
Browse X‑Cart knowledge base
Watch webinars and video tutorials