Transactional Email Marketing Tools to Boost Sales in a Snap


Today we are going to dwell upon the most highly-anticipated emails you may ever send — transactional emails.
Read on to learn why transactional emails are your best friends in the world of eCommerce and how they can be fine-tuned to help you sell online.
Table of contents:
I. What Is Transactional Email?
II. Types of Transactional Emails
III. Transactional Email Service Providers
IV. Where Transactional Emails Can Go Wrong
But first, let's have a look at some important email marketing stats that may knock your socks off:
According to EPSILON's study of Q1 2017 North America email trends, these transactional emails have off-the-charts user engagement metrics.
They draw 8x higher (69%) open rates and 164,6% higher click rates than any other promotional content you may send in the hope of increasing sales.
What's really curious is that welcome emails demonstrate the most staggering results — they generate 4x more opens and 5x more clicks than regular eCommerce email marketing campaigns.
There's another question. Why do notification emails boost so much interest? Because they are triggered by some action (or inaction!) of your customers themselves. So it's natural that they expect a reaction from you. An email, a call… any.
And you are not going to miss out on this tremendous opportunity to drive sales, are you?
I. What Is Transactional Email?
Transactional emails are system-triggered emails sent to an individual user by an eCommerce site based on that user's activity.
Unlike commercial emails, strategically sent to your user base in bulk, transactional emails are sent and triggered programmatically only to one user at a time.
Usually, these emails are sent through SMTP relay or API integration. Adding this functionality to your eCommerce site is rather easy and fast, but requires a developer to set up a system that will send coded email templates to specific types of recipients based on a particular action.
Mandrill's SMTP relay and API integration are the most popular ways of sending transactional notifications.
II. Types of Transactional Emails You May Already Send but Might Want to Improve
It's likely that some default trigger-based emails are already built into your eCommerce shopping cart software and dispatched to your users automatically:
a welcome email;
a message with an invoice (or a receipt email), issued to your customers after they throw items to your shopping cart;
a shipping notification sent to reassure a purchase is on its way to your customer's doorstep;
a password reset email;
a cart abandonment email;
an opt-in email when a user subscribes to your newsletter, daily specials, tips, guides, etc);
an order follow-up;
a customer feedback survey invitation;
service cancellation or product refund emails;
a scheduled reminder, notification, or an app error alert;
any other useful information you may already pouring into your users' inboxes.
It's also possible that your developer was stricken by inspiration and sneakily set these robot-like password resets, abandoned cart reminders, and other types of emails for you.
Here's the truth: default or developer-made notifications usually mean boring. Please, don't take it personally. Just get around to check it out.
If you discover that no marketer has ever toiled over your existing transactional emails, it's high time for you to get creative and rewrite them from the ground up:
add a powerful subject line;
create a beautiful email template;
include your brand logo to ensure recipients know which company is emailing them;
work hard on your copy, make your transactional messages friendly, well-organized, and personal;
your email should include a strong call-to-action;
carefully segment your email list to increase user engagement;
enjoy the process!
How to set up transactional emails for your eCommerce store
If you haven't set your transactional notifications yet, it's high time to do that. There are at least two options available:
Ask your developers to code transactional emails for you
They may use, say, Google's free SMTP server for sending up to 100 notification emails a day. Just do not let them do the copywriting for your emails. They are not marketers or copywriters, after all.
Use a third-party tool to set up transactional emails
You can use a designated transactional email service, like SendinBlue, Amazon SES, Mandrill, or any other email marketing tool available out there. To integrate this tool with your eCommerce store, you'll need to set up a ready-made add-on supported by your eCommerce shopping cart. You do not have to be tech-savvy to do it.
Honestly, the first option looks somewhat shady to me. Try and send too many emails a day (or sometimes even too many an hour, or a minute) and your email service provider, like for instance Gmail, Outlook, etc., may block your email account forever.
Yes, most email senders do take care of their users today and strictly scan emails to eliminate spam and phishing. And there are many other reasons that can cause your sent emails to end up lost and spammed.
Using transactional email marketing services is safer, as they can track down the history of each of the emails sent so that you can see in what box your email was delivered — the user's inbox or the spam box. The first one is more preferable, huh 😉
III. Best Transactional Email Service Providers
To proof my point of view I've done a small research and inspected the most popular transactional email services that dominate on the first few pages of Google.
Out of hundreds of eCommerce email marketing tools that exist, the following ones look the most reliable: Amazon Simple Service, Mandrill, SendinBlue, SendGrid, and Mailjet. Geared towards sending perfect transactional emails, they can guarantee that your carefully-written messages won't be left unnoticed in a spam folder.
1. Amazon Simple Email Service (SES)
Much had changed since the year 2006 when Amazon was launched. And besides selling books online, it now delights its customers with a myriad of different services, like S3 cloud storage, EC2 servers-in-the-cloud, and others.
Among these side projects is Amazon's "simple email service" — a transactional email service that is truly simple, as you pay only for the messages you send. And it doesn't mean that other options like automation, design tools, and landing pages are free here. No. They just do not exist.
DO. NOT. EXIST.
Most email services will offer at least analytics to track the real-time performance of your email marketing campaigns, but not Amazon SES. You'll have to code and design everything on your own — from &nbsp; to the last <p>.
Go with this email marketing tool if all you need is to get emails into users' inboxes, nothing more.
And here's the most pleasant thing about this perfect email marketing software, if you can call it this way — the price. You'll pay only $0.10 per thousand emails, which is exceptionally cost-effective even for freelancers and startups.
2. Mandrill transactional email tool
Mandrill is a drop-dead simple transactional email service from the makers of the preeminent Mailchimp.
Initially, a project to integrate Mailchimp with Amazon SES features, Mandrill was then launched as a separate addon, great-looking but quite expensive for small-budget companies.
And that was Mandrill's pricing policy that has driven away a сertain portion of their customers, even those who considered it to be a viable option for sending transactional emails.
Since March 2016, using this add-on requires having a paid monthly MailChimp account, which is lame.
Now about the functionality.
You can split-test your transactional emails, create specific rules for when to send these emails, receive inbound messages, and schedule email marketing campaigns to send at the optimal time.
Then there are extra features to make sure your emails will actually be delivered. All Mandrill accounts support personalized SPF & DKIM records and can send your emails from a private IP address or IP pool.
Mandrill has a great API that works with a variety of platforms and a fantastic interface that makes the software setup process really simple. So it's a walk in the park to get started on your own. If you meet any difficulties, you have Mandrill's documentation at hand that is also extraordinarily straightforward and helpful.
But the best feature of Mandrill (the same as in Mailchimp) is great customer support. Both provide customers with quick and reliable assistance, even if the problem you are stuck on seems unmanageable at first sight.
All the predefined email templates and templating structure are great and professional looking.
3. SendinBlue
SendinBlue is by all means one of the best email marketing tools for startups, who do not yet need any sophisticated marketing automation functionality, but still have to send triggered based notification emails to their customers about shipping, payment, password resets, you name it.
This email marketing tool will not only allow you to send transactional emails but also help you improve your potential deliverability and provide you with complete analytics.
It has the most of the reports you might need — a click-map, geo-tracking, Google Analytics integration and order tracking. Only direct social media tracking is missing here.
Sending classic newsletters is also available, but the choice of email templates is not that versatile (just over ten design elements to choose from) as in GetResponse or Aweber geared for sending email newsletters. And, unfortunately, this app doesn't have many benefits over such overhyped tools as Mandrill, that forces its users to sell a kidney to afford mailing their subscribers. Plus, it lacks such option as a/b testing.
What should be highlighted here is the price. You will be able to send up to 40,000 emails for under $8 per month. It's the cheapest solution, unlike email services like SendGrid which start off quite affordable but become quite expensive as you scale.
UPD: However, there are services that are a bit more cost-effective, than SendinBlue. SendPulse, for example, lets you send up to 12,000 transactional emails for free.
To top it all, this email marketing software is available in 6 languages (English, Spanish, Portuguese, German, Italian and French) and there's a unique option you might like — SMS. It will give you one more way to get in touch with your customers.
Another useful feature is that you can easily integrate and automate your favorite apps, like X-Cart, Salesforce, PayPal & more, with SendinBlue using Zapier.
4. SendGrid
SendGrid is widely regarded as the largest transactional email service.
They've got a lot of customers of all sorts — from small startups to high-volume senders. They send billions of emails each month for companies like Airbnb, Foursquare, and Uber.
Why do big companies choose SendGrid? That's easily explainable. It has a reputation of an email service with good deliverability rates, unmatched email analytics and flawless integration with API.
What is also good about this tool is its price. It's neither high nor low — you have to pay $9.95 for 40K emails per month.
There's more. Choosing SendGrid, you get two services inside a single box — a transactional email service and an email marketing software. In addition to sending standard transactional emails, SendGrid has all the bells and whistles every best eCommerce software should have to help you send marketing emails.
You are free to manage your contacts, build segments, schedule campaigns and run a/b tests.
Brand-new design and handy drag-and-drop email editor allows you to create email templates that match your brand.
And if you get stuck, no problem, there are lots of videos and guides to help you deal with the issue. And, of course, there is a 24/7 live support ready to assist day and night.
But. There is no such thing as a perfect email marketing tool. I found out a disconcerting number of negative reviews. Some of the SendGrid users complain about being banned for no reason. Others consider SendGrid's support not attentive enough to small businesses. And so on.
Anyway, I think, this email service is worth at least trying.
5. Mailjet
The same as SendGrid, Mailjet conveniently combines the best features of both — transactional email sending service and email marketing software.
This email service has two distinctively strong points. The first one is its timely, courteous, and helpful customer service. Even if you are subscribed to their free plan, you will get all your questions answered in a timely manner. Also, lots of documentation and videos are available to get started step by step.
The second one is the pricing policy that allows you to send a dime a thousand emails you wish. There's a forever free plan that will let you send 200 emails a day without spending a single penny. If you need to send, say, 1K emails a day, you'll pay $7,49 per month.
As for additional features, the simple and minimalistic user interface of Mailjet makes software easier to navigate, drag-and-drop functionality saves lots of time creating email campaigns, advanced contact information management enables to target marketing campaigns to the right audience.
Use this system if you're looking for a feature-rich and cost-effective transactional and email marketing platform.
IV. Where Can Transactional Emails Go Wrong?
You let your developers do the copywriting for your transactional emails
Never do that. No way. They may know what is Mandrill SMTP and they can scrutinize API docs to find out the way to set it up. But they are unlikely to be aware of the rules of copywriting. Carve it into your soul.
Your subscribers broke up with you (and you do not care a thing about it)
If a part of your subscribers are dissatisfied with the way you run your eCommerce business (long delivery times, an excessive amount of promotional content, etc.), you should handle it.
Your emails are too large, too small, or image-only
Transactional emails should contain useful information only — no more, no less. Otherwise, your email will justifiably be criticized as being 'tl;dr' or, to make it even worse, considered as spam. No one likes to be distracted for trifles.

You've come to be inconsistent
You need both — a good domain reputation and a good IP reputation to deliver your transactional emails effectively. Let's say, you've moved to a brand new IP address and started sending bulk emails to your email list. ISP won't like it because it does not associate your IP address with a good reputation yet. It cannot tell at once whether you are a good or spammy sender. Try to carefully manage the volume of emails sent from a new IP address, group your email contacts, and gradually increase the number of subscribers.
You totally ignore to deliverability
The good news is that transactional emails are delivered better than commercial ones. Anyway, you need to pay attention to the potential deliverability of all the emails you send. In this case, the ability of reporting issues makes transactional email software, such as Campaign Monitor or Mailchimp, worth using.
You are making too much noise
Trying to drive sales through recommended items of discounts, added at the bottom of a receipt email in a non-intrusive kind of way is a good practice, that's true. But sometimes marketers go too far in their efforts to optimize transactional emails. Be careful.
Your email is over-stuffed with red-flag words
I do not recommend using such words and phrases as free, make $, cures baldness, you are a winner. Beware of these words. They look like junk.
You bought an email list
Oh boy, have you? No comments.
***
In the next chapter, I'll tell you a little bit about abandoned cart emails. Do you have cart abandoners? Of course, you do. Let's count how much and see why they leave you.
Equipped with this powerful information, you can tailor your abandoned cart messages to your audience and hail these lost-in-the-middle-of-your-shopping-cart guys back.
Go on reading.
Subscribe to Our Weekly Newsletter to Get
Expert-Backed

Tips Straight Into Your Inbox

One email a week, we promise.

Awesome! You won't be disappointed 😉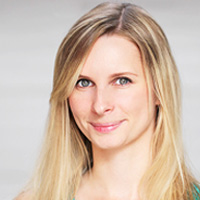 Helen Golubeva
Storyteller at X-Cart
Addicted to yoga, interested in philosophy, and totally mad about copywriting. She loves using the power of words to inspire people and help them grow their eCommerce businesses.