Amazing Order Confirmation Emails That Grow Sales


I do not have any access to your Google Analytics profile, and, of course, I'm not a mind reader, but I know it for sure that your order confirmation emails, as well as other transactional emails you may send to your subscribers, have mind-blowing open rates.
Why? These confirmation emails convey an important message about those jelly icebox cookies your customer has just paid for. And while you are reading this paragraph, he keeps doing this:
F5, F5, F5, F5, F5, F5…
Why don't you use this itchiness to generate additional revenue and boost conversion rates?
Convert First-Time Buyers To Loyal Customers
We have a few tested email tools to help you turn existing customers into standing ones. Create a free online store with X-Cart to get started.
It is proven, that customers who made a purchase once are inclined to come back and do it once again, spending 67% more money than those who are new to your eCommerce business.
Fine-tuned the right way, your order confirmations can be an excellent opportunity to promote a peanut butter to your jelly icebox cookies and encourage future purchases in your online store.
Picture this.
You silently subscribe to a service and just a second later you receive an amazing sign-up confirmation email, where you (yes, YOU!) are introduced to 34,680 happy subscribers sitting next to you.
They have even secured a spot for you. See the proof.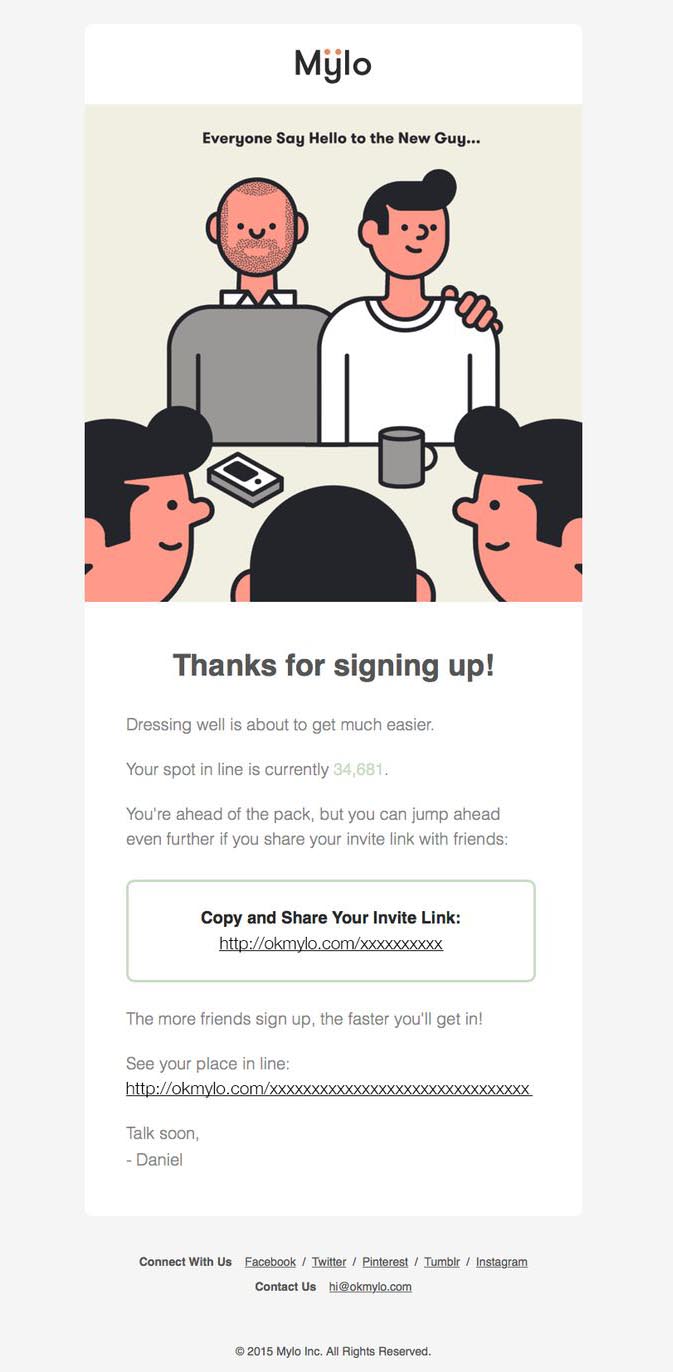 Delighted? Knocked off your feet? That's precisely what Mylo marketers had in mind when creating this wowsome transactional email.
Let's take a look at some great examples of order confirmation emails, which I'm sure will inspire you to take a closer look at your email marketing strategy. You'll learn a few useful tips that should help you improve customer experience and make your eCommerce business shine in the dark crowd of competitors.
1. SoleStruck gives clear instructions on the next steps
When you get your order confirmation email with all the staff that is usually added in it, your first question is:
'Well, now what?'
That's perfect if you include customer history, payment and shipping information, and other order details into your transaction email. But what is it all about if your user has got no idea about what's going to be next?
Ordering a pair of boots at SoleStruck eCommerce site, you won't have to put on a thinking cap about what the future holds for you. The guy behind this confirmation email takes the stress out of your user experience at the very first step.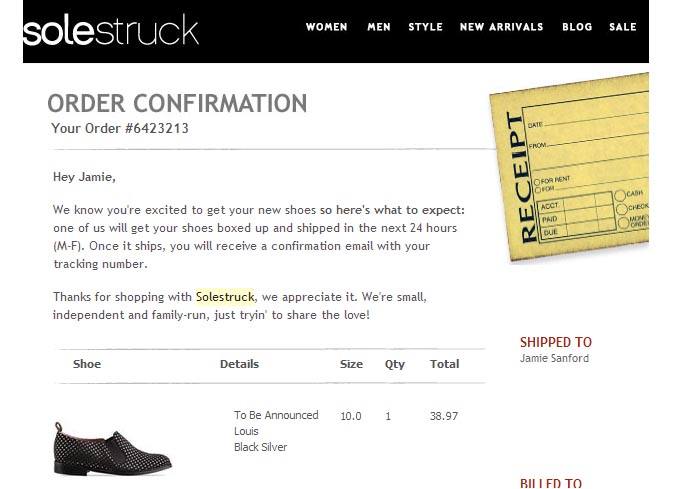 It's clear as day that the item will be packed and shipped within a day and then I'll be able to keep an eye on my parcel using the tracking number.
You know, online shopping is a real pleasure when you feel secured.
2. Crate&Barrel and BackCountry promote related products and even other brands
Your receipt email is a holy place for promotion.
Feel a bit cynical about my words? Let me swing you round.
People are rarely impressed by commercial emails, that's true. However, you can easily promote recommended products and even other related brands in your order confirmation emails.
The secret is your customer's state of mind. He feels excited. So don't be afraid to make the most out of his excitement that comes with online purchase.
But keep it in mind:
people are more inclined to accept you cross-sell or upsell offer within a short period of time right after the purchase;
they hate when you are making too much noise and being too obtrusive;
the products you upsell should be within the same price range as the already purchased products.
Have you ever heard of Crate&Barrel? This famous American chain of retail stores, specializing in furniture and home accessories, is never shy about adding personalized recommendations into their receipt notifications.

They do not even afraid to include images of other brands. Who knows, you may also be interested in furniture for your kids.
Now cast your look at these brave guys from Backcountry, an online eCommerce store that sells clothing and outdoor recreation gear. Their purchase confirmation email promotes… partners!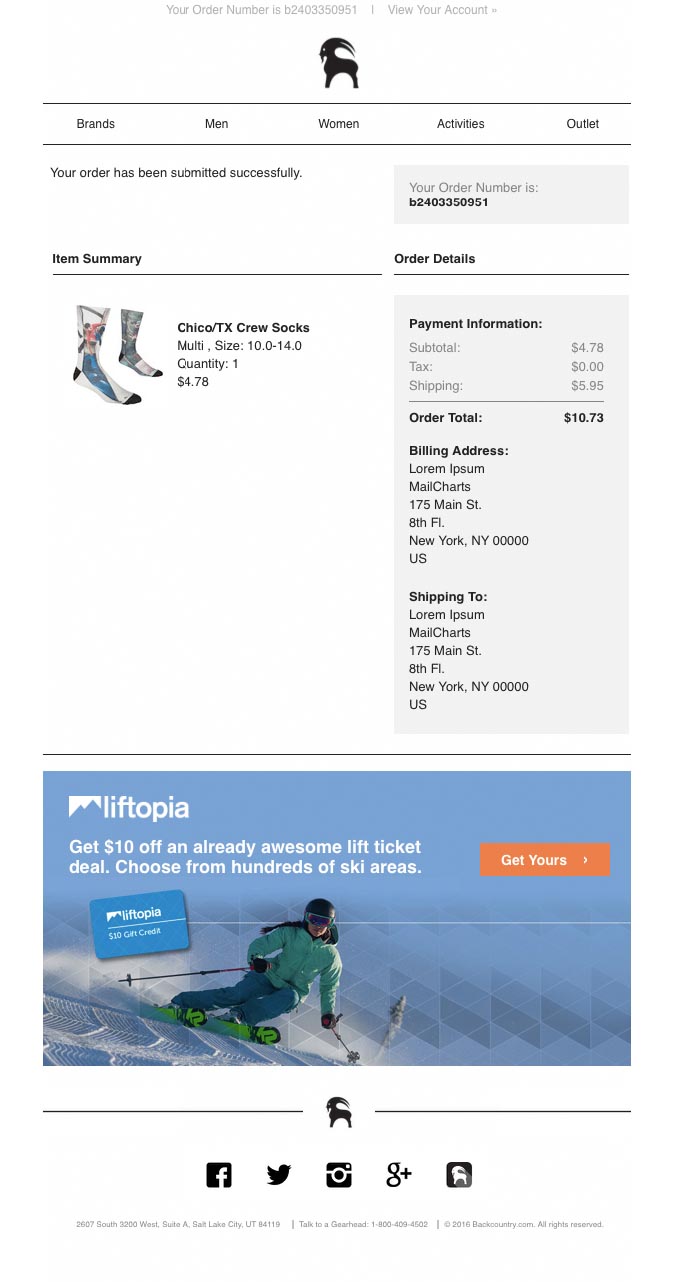 3. B&Q goes interactive
Marketing world is like a river — it's never static. Every day designers generate ideas, introduce new concepts and alter the existing ones, creating eye-popping transactional email templates.
Don't be afraid to try something unconventional in your order confirmation emails. Say, include an animated image or interactive elements. Creatively-different design and branding will help you grab your users' attention and push your transactional emails to the next level.
Have a look at this awesome example of an interactive email from B&Q below:
This is not an order confirmation email, but the idea of adding interactive animation looks quite appealing. Just imagine. Your subscribers will be able to add related products to cart without leaving their email app.
This unusual strategy of engaging customers is somewhat new and still not accepted by many of email clients. Only Apple mobile devices currently support this CSS functionality.
But who knows what our future has in store for us. Anyway, if you email is formatted the right way, your customers won't have to check spam folder to get it.
4. Chewy.com adds animated elements
Adding videos and animation into order confirmation emails is what some of the forward-thinking marketers do in an effort to deliver a fresh element to their users' inbox.
And that works as gifs are best at expressing emotions.
Have a look at this sweety monkey:
Everyone is familiar with that feeling when something goes wrong, right? ?
Plus, animated elements, like spices you put in your Korean-style curry rice, add a little motion in your transactional emails. That attracts user attention and improves customer experience.
There are three primary rules for engaging customers online with animated eye-catchers:
You know, too much of a good thing is good for nothing, so don't over-indulge this joker.
Each of the elements should be relevant. Keep it in mind that this is your order confirmation first off, not a piece of entertaining content.
Most email clients still do not support HTML and CSS technologies. Be prepared that your transactional email may be broken for some of your users and sent to spam. You need to be careful.
The bravest marketers use videos as a background for their transactional emails.
Though this is not a common trend, you can at least try to do this trick at least once. They say it should significantly improve your brand impression and the conversion rates of your email.
But I've never tried. IMHO, order confirmation emails are primarily about delivering value-added content.
Now turn your attentive eye towards Chewy, a Florida-based online retailer of pet food and other pet-related products.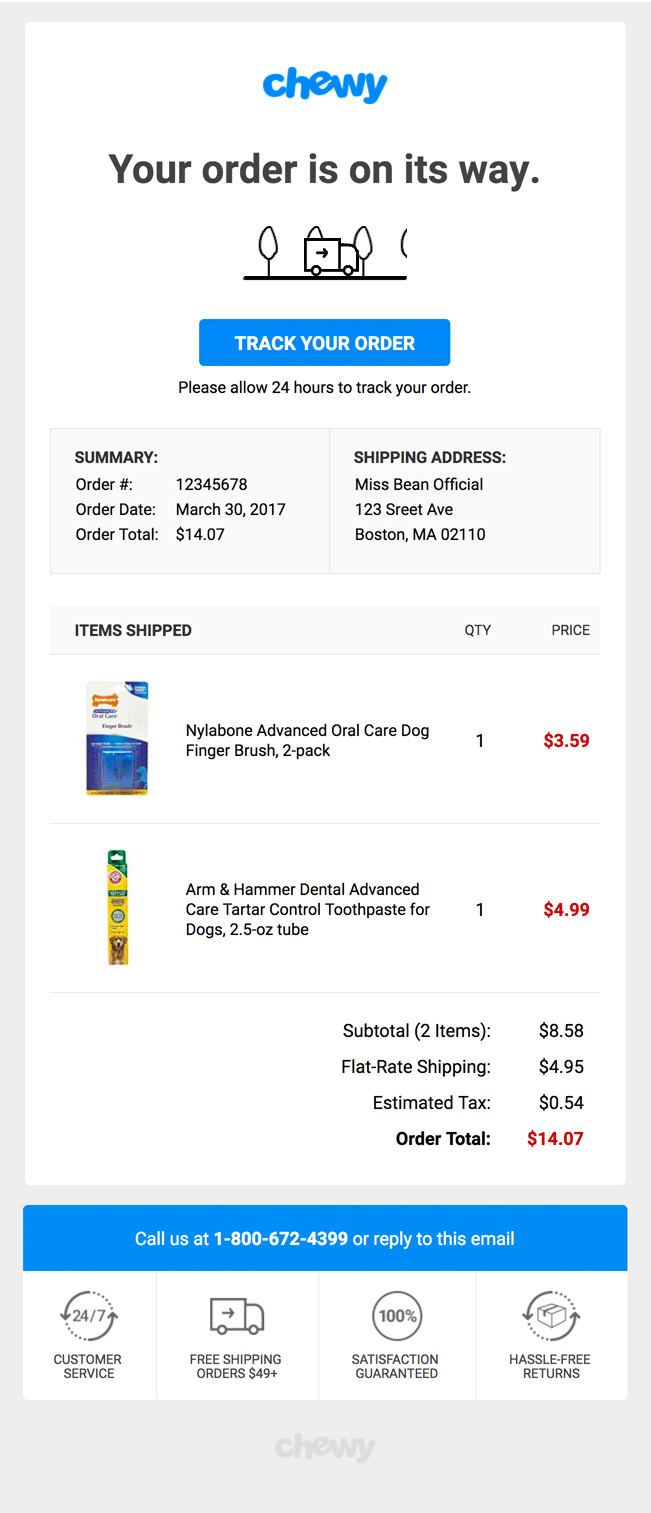 They keep the lid on animated elements, just showing a lorry transporting your order to your doorstep. The stuff but not the fluff.
5. CineTech generates UGC by asking users to show off their new home cinemas
User-generated content (UGC) is a perfect brand-builder. It transforms the most of your passionate customers into your brand advocates with just a wave of a magic wand.
How can you get UGC? That's a piece of cake.
You can encourage your customers to share their feedback on social media by adding a call to action in your order confirmation email. Remind them to include images of your products and a hashtag, so that you could find this post.
Blogging is becoming more and more popular these days. Every self-respecting celeb has his/her own blog. Usually, it's a free blog powered by WordPress. Then goes Medium, Squarespace and many more. Would you be happy if one of these bloggers creates a post about your brand? Of course, you would.
Btw, using this marketing strategy in your transaction emails is a way more efficient than simply coaxing your customers to join your social media pages.
CineTech's order confirmation email is a good example: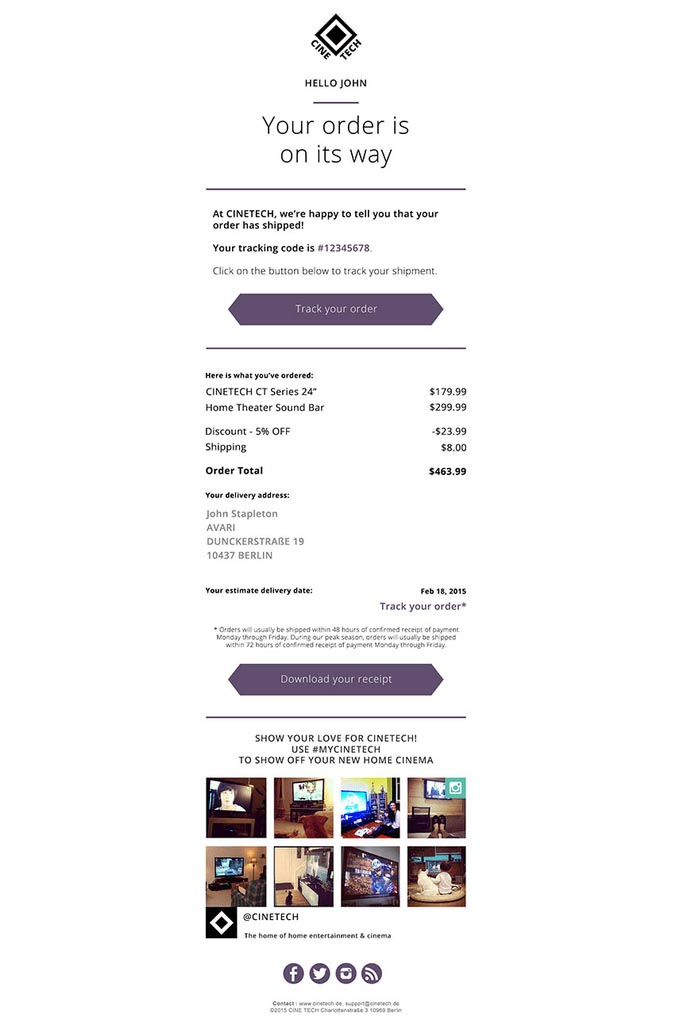 They ask their customers to show their love for CineTech by making a picture of their new home cinema.
6. Nordstrom designs emails with a mobile-first mindset
If you want your order confirmation emails to produce additional revenue, you should no longer ignore mobiles and tablets.
The latest statistics from Campaign Monitor shows that 41% of opens happen from mobile devices. That said, Apple iPhone is the most common device your customers use to read your transactional emails.
Does it sound surprising? Maybe, but not for me. It's been ages since Google started prioritizing 'mobile-friendly' eCommerce sites in search results.
So responsive design is no longer a luxury. It's a necessity. With customers spending more and more time on mobiles instead of a desktop, you need to direct your attention to mobile marketing.
The good news is that you do not have to spend extra time and energy for coding responsive order confirmation templates and mobile-ready landing pages that adapt to the various device sizes.
There are a wide variety of email builders who have already done that job for you. With their help, you can quickly optimize your transactional emails for mobile in just a few clicks.
Remember to check the way your order confirmation notifications look on mobile devices. Just place a test order and refresh your inbox.
Nordstrom, an American chain of luxury department stores headquartered in Seattle, is at the forefront of modern technology. See it for yourself.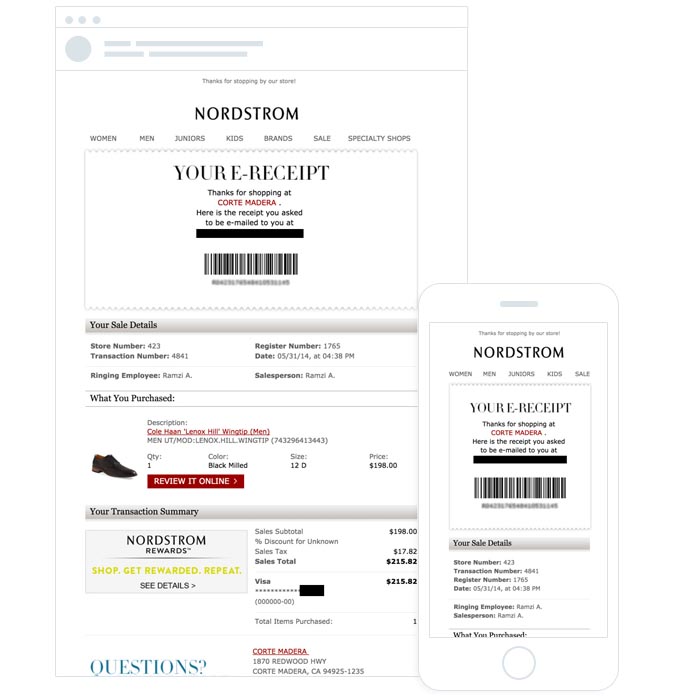 The order details are distinctly seen both on mobile and on desktop devices.
7. Parabo & Zulily offer order tracking options
Think of the details your customers will most likely care about after ordering products on your online store. If you are at a loss to answer, have a look at the screenshot below.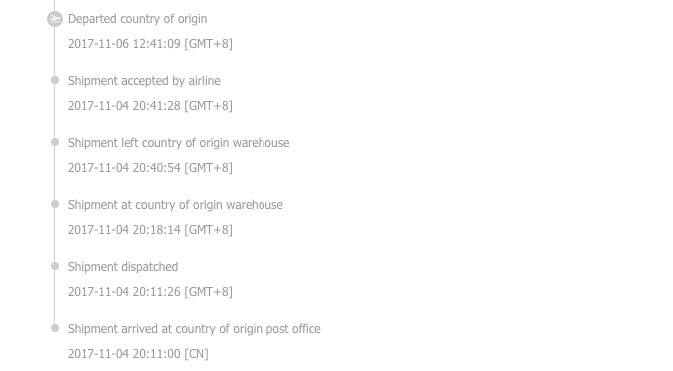 Bingo! Shipping information with a tracking link is what your subscribers expect to discover in your order confirmation email.
A tracking number is an example of a great value-added content that stimulates your customers to open your transaction email over and over again. Everyone is eager to learn where their parcel is, after all.
Parabo press gives a tracking link and proactively suggests that you can click (and then obsessively reclick!) on it to track your package as it moves steadily in your direction. Plus they show the exact date and time.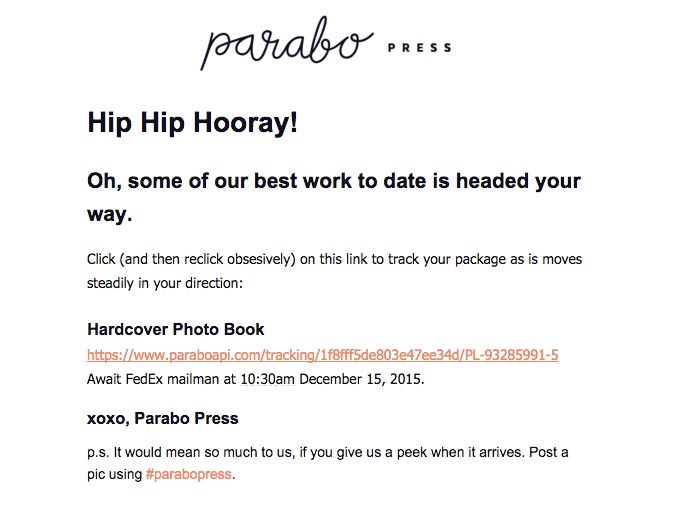 Btw, they miss no opportunity to get user-generated content as well, kindly asking their users to give them a peak when the item arrives.
Zulily order confirmation notification also provides users with shipping information and a tracking number. This way they reassure customers that their parcel is already on its way to their doorstep.

8. Toms gives the shoutout for being part of the movement
Footwear retailer Toms Shoes use transactional emails to pursue a more global goal.
Every purchase made through their eCommerce website helps provide shoes, sight, water, safe birth and bullying prevention services to people in need. Conveying this important message through transactional emails, TOMS makes you feel like you are a part of something really meaningful to the world.
Have a look at TOMS order confirmation notification.

They even included pictures of the people in need to incentivize that holy feeling of social importance, which improves customer experience and stimulates future purchases. No upsell, no extra call to action.
Just simple 'thank you' note for being the part of their noble work.
Just imagine. You enjoy shopping online and help people living in developing countries. Simultaneously.
Would you be proud of yourself? I would.
9. REI and Dollar Shave Club invite to become a member
A membership program is one of the best ways you can monetize the products and services you sell online on your eCommerce webstore.
Shoppers love being part of an exclusive group. They love it as anxiously as they love discounts.
The good news is that you can use your order confirmation emails to put this idea into practice. Plus, you can get additional revenue without very much extra work.
Have a look at the way Recreational Equipment, Inc., aka REI, invites shoppers to their club.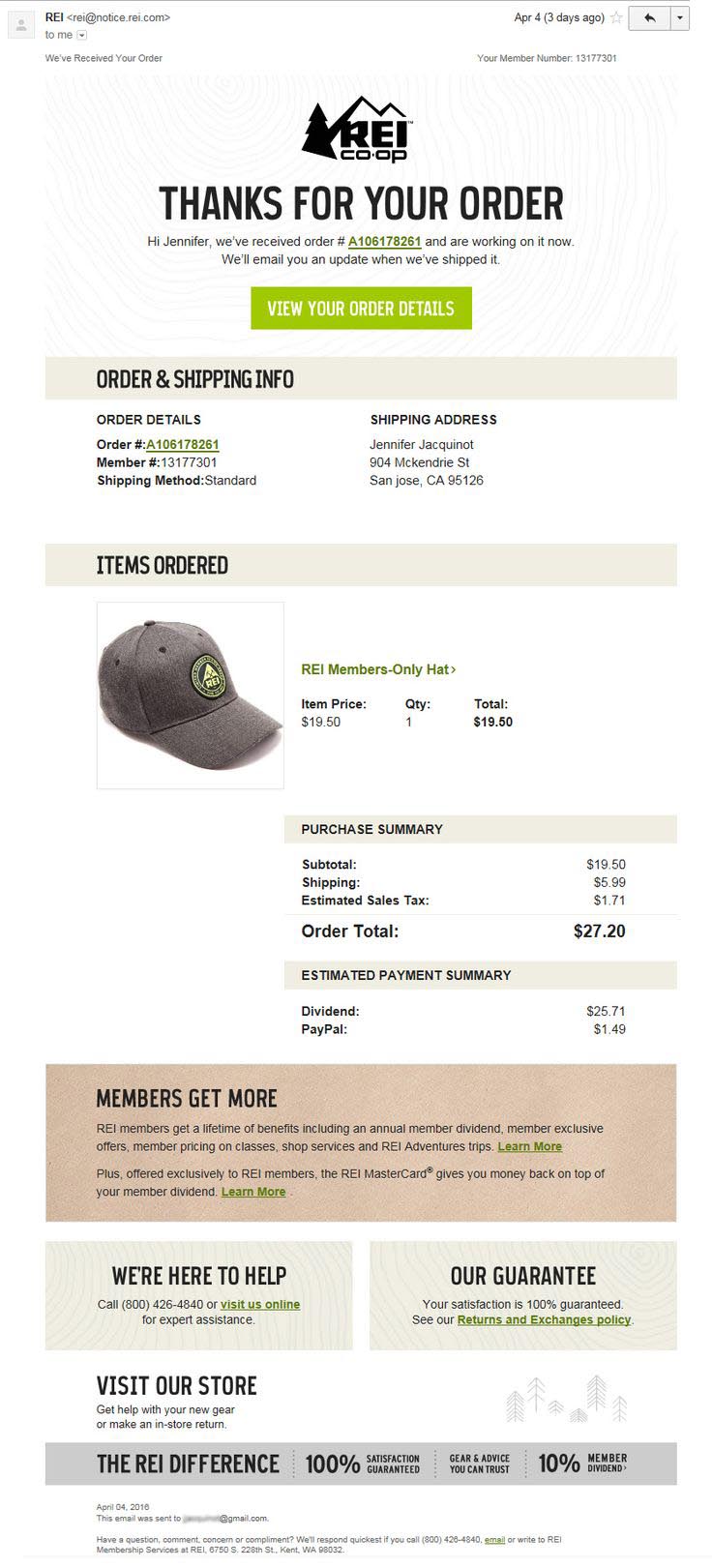 This American eCommerce company, selling sporting goods, camping gear and travel equipment, knows a thing or two about buyers' psychology of purchase decisions.
The guys from Dollar Shave Club also create the atmosphere of unity in their order confirmation notifications. They have even got club rules. See below.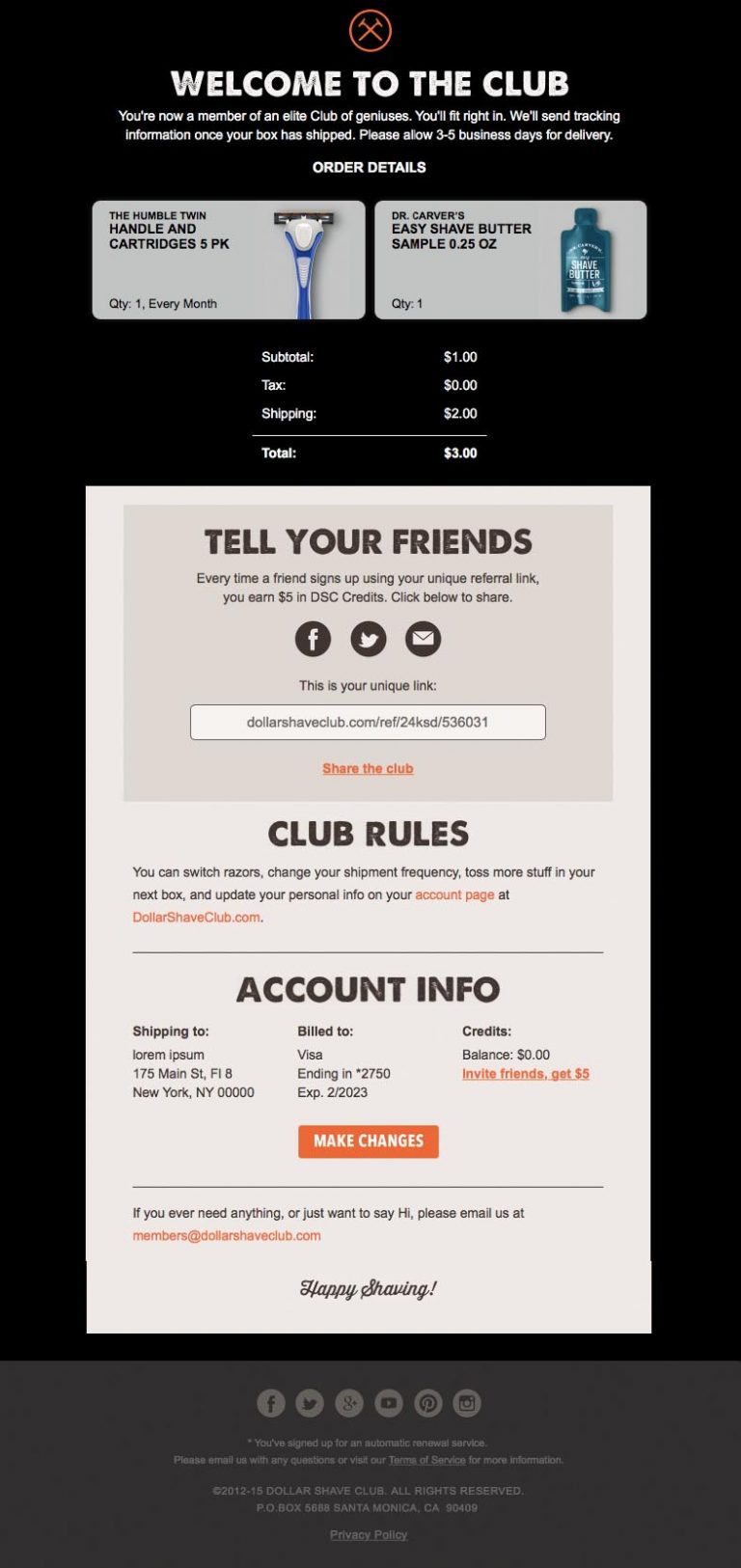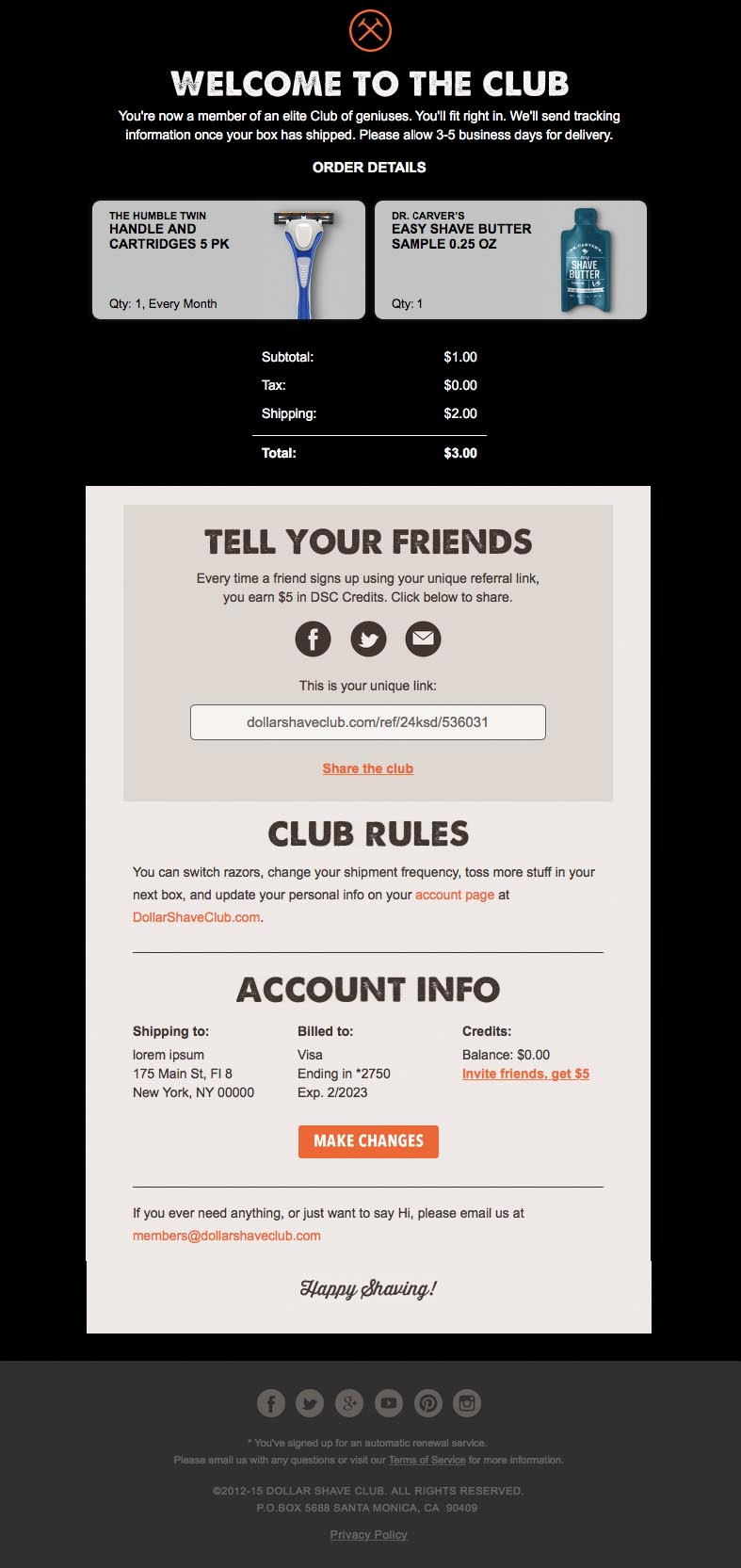 Here are just a couple of tips for adding this membership program into your transactional emails:
Focus on long-term benefits not only on instant gratifications. That should stimulate future purchases.
Think of the right reason for becoming the member. What might get your shopper interested and keep him inside the club for a long period?
Reassure customers that they are VIP by giving personalized recommendations.
Place this important message at the bottom of your transactional email, not at the top.
Do not forget about the subject line. It should reflect the contents.
10. Gilt offers free shipping for any order made within an hour
Show me the one who hates items being shipped for free. Do you know anyone? I don't.
However, to get free shipping you usually have to make a certain commitment. For example, free shipping can be given:
for purchases over, say, $355;
for sharing your feedback with your friends in social media;
for the next purchase by making any purchase with paid shipping;
for taking part in a loyalty or referral program;
… for being a good guy (yes, some eCommerce sites give free shipping as a gift).
Gilt, an online shopping and lifestyle eCommerce website, offers free shipping right after you make a purchase, letting you know about that in the order confirmation email.


The trick is that it is available only for a single hour. To make the shopping process more convenient for you, he includes images of recommended products to choose from at the lower part of the transactional email.
Oh.. Wait! Some of these items are discounted by 80%. Continue shopping online might be a perfect idea, indeed.
The tricks like that can bring additional revenue to your eCommerce pocket and stimulate future purchases.
11. Tradecy invites subscribers to take part in referral program
A referral program is an o-o-o-old marketing strategy. As old as Egyptian mummies. But old doesn't mean lame. It means that this time-tested and never-failing way of engaging customers is best for driving advocacy and growth.
To have your referral program work for you, you need to include it in your order confirmation email with a personalized message that incentivizes your customers to share their feedback with their friends.
You've seen it millions of times:
Send this link to your friend and get $10 for your next purchase
Invite three people and get the unlimited access to our extra features
You name it…
Here's a good example of a transactional email with a referral program from Tradesy, eCommerce marketplace where people can buy & sell designer bags, shoes & clothes.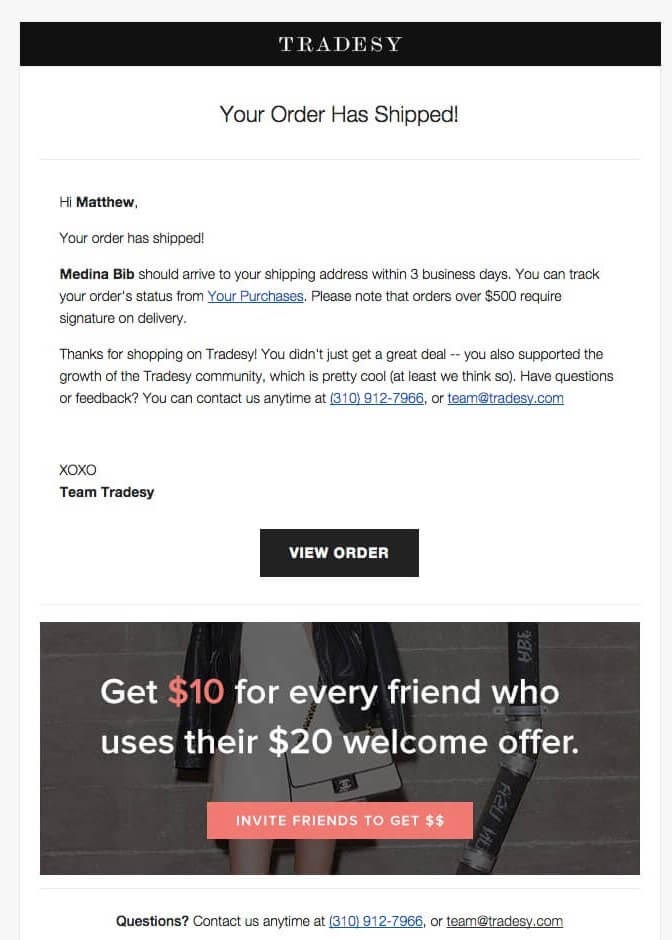 Apart from shipping information there you can see a big banner with a referral program offer. They offer $10 for their existing users for bringing a friend and $20 to new users. This way they collect user-generated content and stimulate future purchases.
12. Backcountry put a premium on customer support
Transactional email is not a child's play.
A quick tip: Refer to CHAPTER 4 to learn more about transactioal emails.
It conveys an important message about the purchase — billing and shipping information, order details and other personalized recommendations about the order. Best order confirmation emails have pretty much everything to reassure customers about the future of their item.
However, there are times when your shopper might need a real person to talk to.
That's why proactive marketers provide their subscribers with a direct link to their customer support service in their order confirmation notifications. That's what marketers from Backcountry do.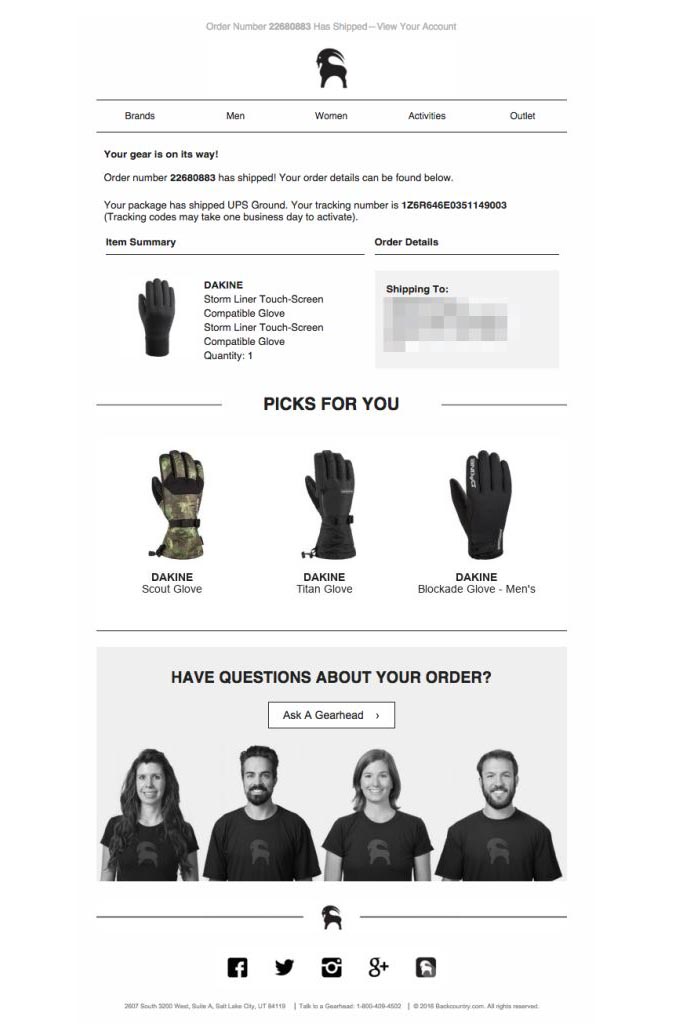 Not only they provide customers with a phone number (there's a tiny number at the very bottom of this transactional email) and a link to their customer care service, but they even show their smiling faces.
So, provide support to your clients right in your order confirmations. This will hardly drive more additional revenue to your eCommerce business, but it will definitely improve customer experience and help you reduce chargebacks.
13. Expressionery invites joining their Facebook page
You know that email marketing trumps social media in lead generation and overall conversion rates.
Plus, using your email lists is more workable in getting high ROI.
I've found some statistical evidence for you if you don't take my word:
Email marketing has an ROI of 3800%.
The average order value of an email is at least three times higher than that of social media.
Nevertheless, social media remains a meat-and-potatoes tool for engaging customers and provides you with a few convenient methods to keep you ahead of the curve. So you should not get rid of it. No way.
NB: This article will teach you to sell on Instagram.
I'll tell you more. Your order confirmation emails can be an incredible source of traffic to your social media groups, like Facebook community or Twitter news feed.
Expressionery eCommerce store, bringing fresh and sharable personalized stationery to their customers since 2005, knows a thing or two about using confirmation emails for broadening their social media community.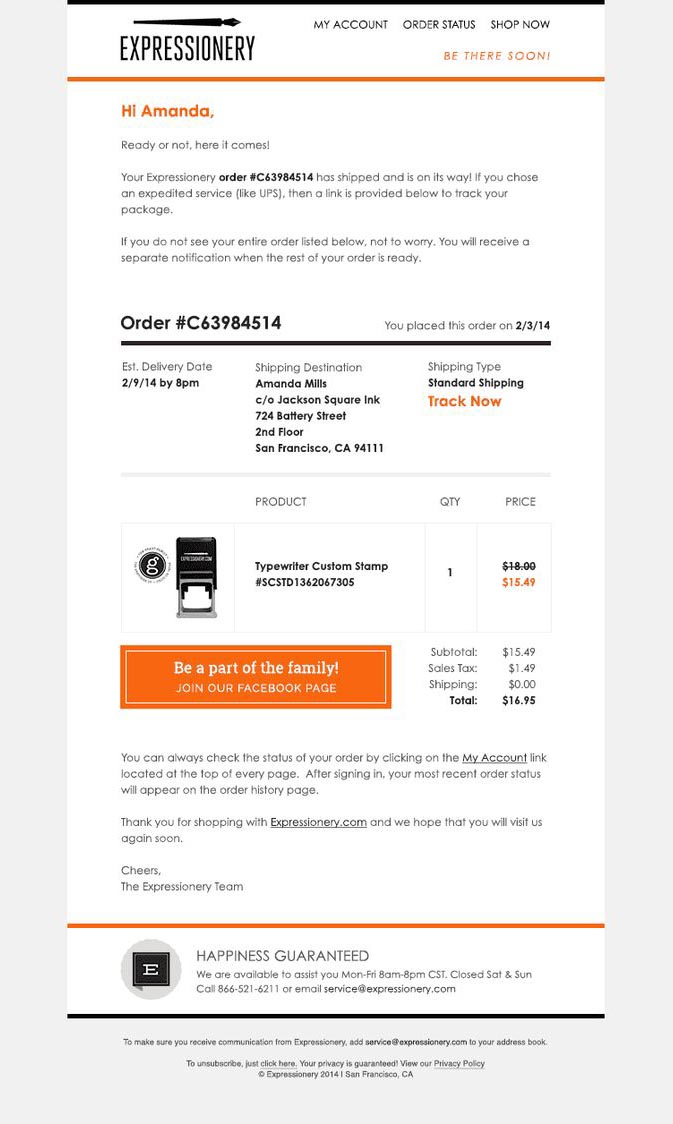 Looks like this tactic works — they've got 16,753 admirers and 15,312 followers on Facebook.
Try it, too.
A few more fruitful techniques from ahead-of-the-curve businesses
Moo offers to download the receipt (and many more)
The little MOO, a friendly robot that manages orders for Moo's customers, provides three possible ways to view customer history:
open your order confirmation email;
download the receipt from this email;
or log in to your account.

Warby Parker displays products in full size
Being presented in full-size, these home try-on glasses look like real, so that you could see the details online before you see them in real life.


Fat Brain Toys visualizes the box that is on its way
This order confirmation notification might seem too extravagant but, anyway, this is fun to see your box (yeah, box!) before it arrives at your door porch.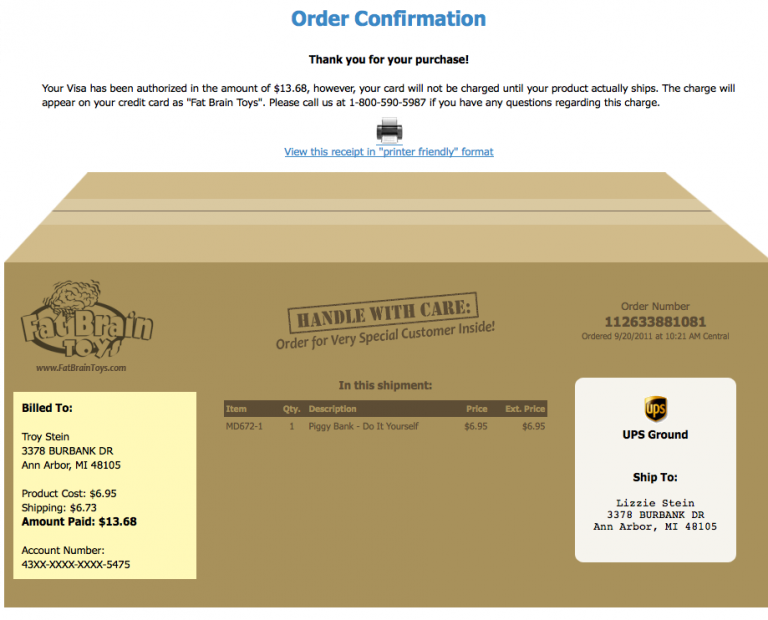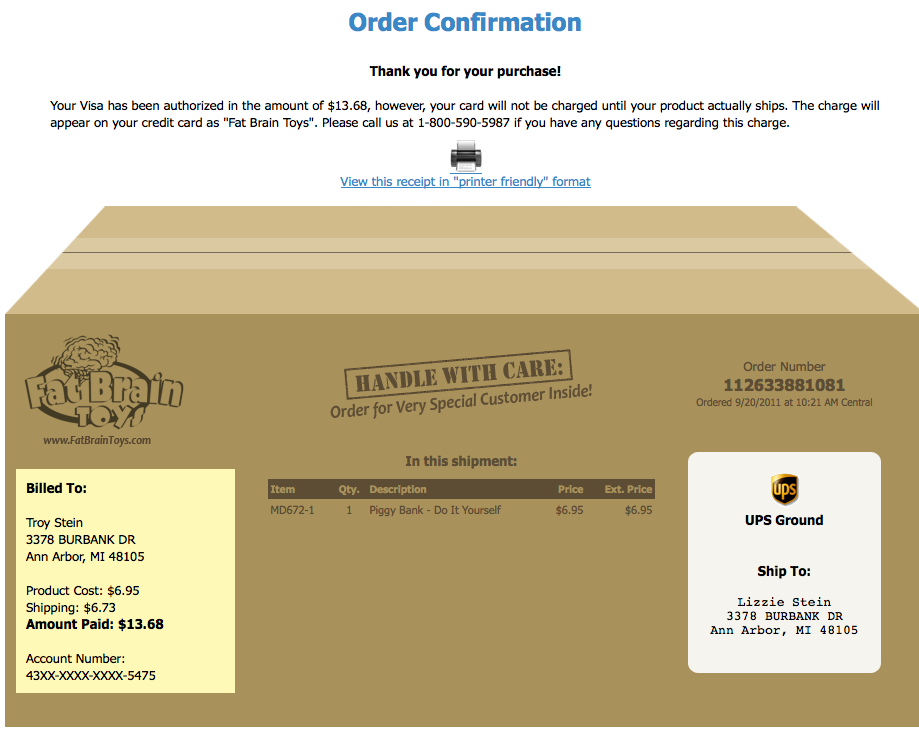 Udemy stimulates cross-platform usage of its services
Udemy online learning platform doesn't waste the chance to have you use their apps — Android or iOS. Well, why not?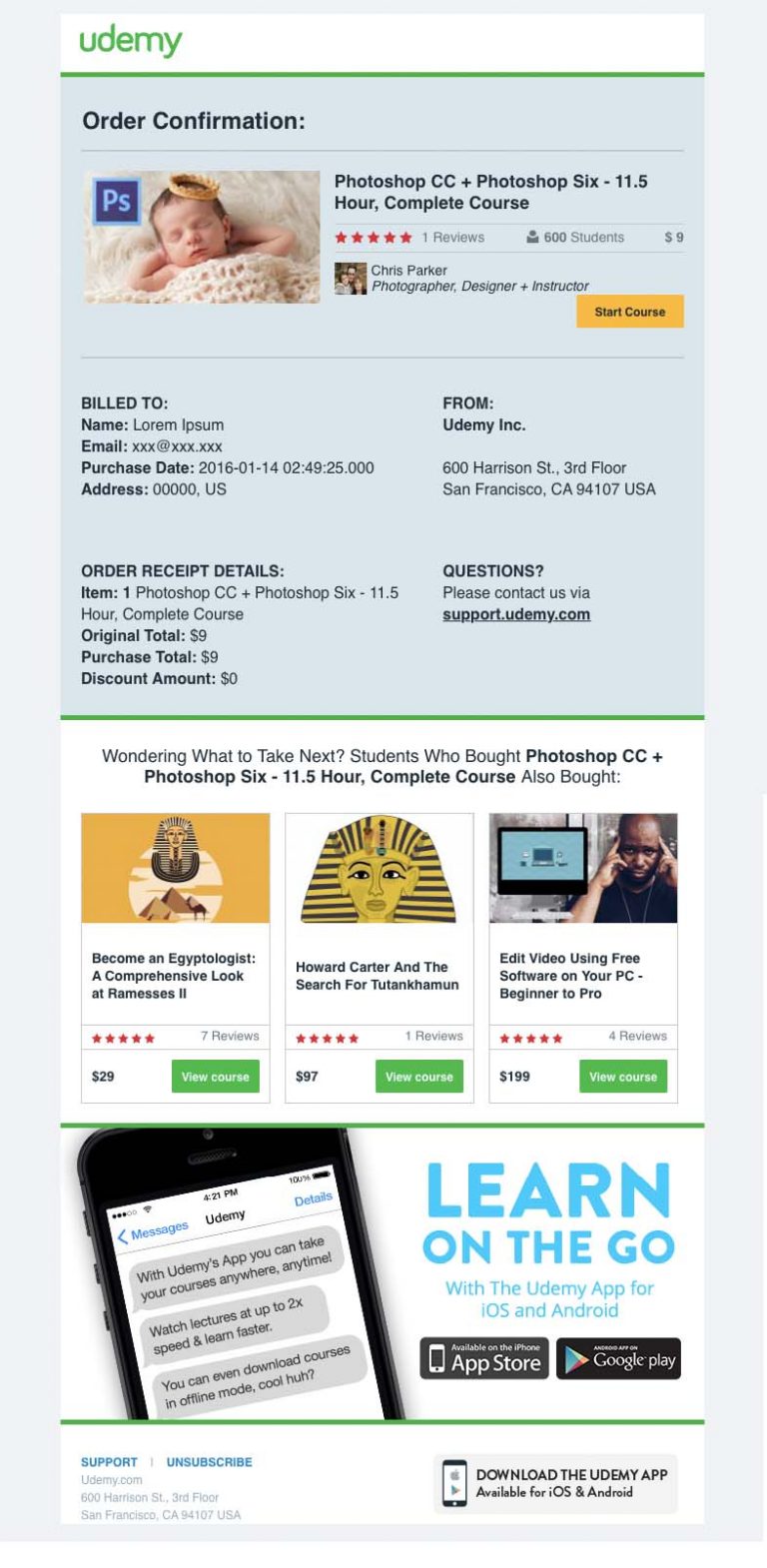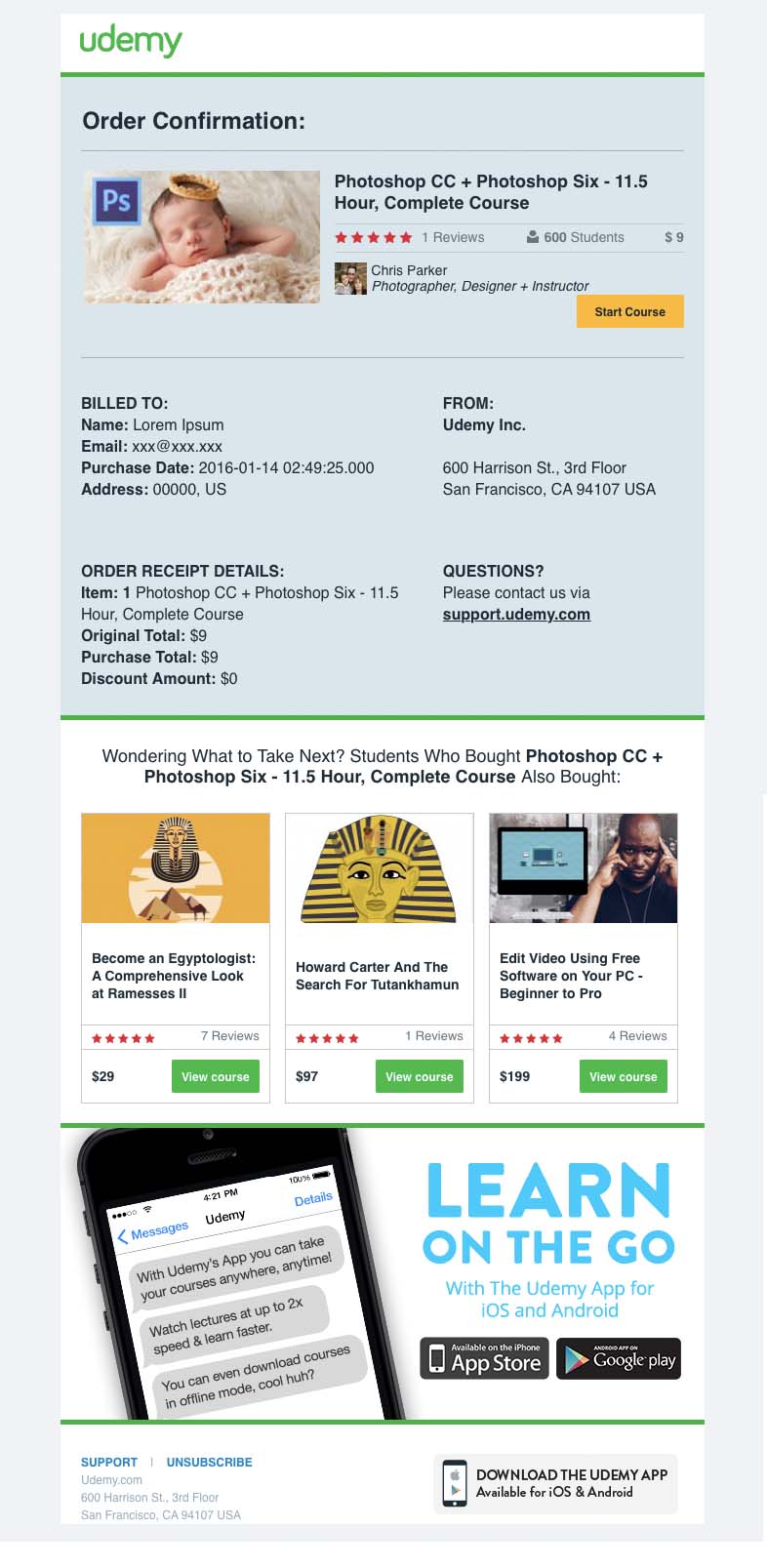 Here's the bottom line
Now that you read my last article down to the last full stop (woo-hoo, I'm so happy you did it!), you should understand that order confirmation emails are about creativity.
You can use every single tip I've listed above. Or you can boil your transactional email to just a simple "Thank You, Tom, for your order" note.
One way or another, this email receipt will be better appreciated by your customer than the generic (and offensively impersonal) "The order #1234 has been placed".
Of course, there's no rule against trying out something new.
Just make sure you do not overdo it.
Chapters
5. Order Confirmation Emails
Subscribe to Our Weekly Newsletter to Get
Expert-Backed

Tips Straight Into Your Inbox

One email a week, we promise.

Awesome! You won't be disappointed 😉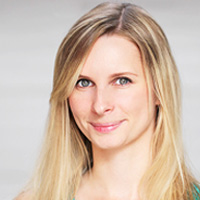 Helen Golubeva
Storyteller at X-Cart
Addicted to yoga, interested in philosophy, and totally mad about copywriting. She loves using the power of words to inspire people and help them grow their eCommerce businesses.