←
Back to Blog
Mobile Commerce 101: Advantages, Disadvantages, Stats [+Examples]
Bringing online stores to the mobile world in the form of apps has turned the concept of shopping in a completely new direction.
Buyers can easily browse through thousands of products, compare prices, share favorites with friends, and so much more — all straight from their mobiles.
Online merchants also feel quite at home with mobiles. They've got a massive list of tools, like coupons, discounts, paid loyalty programs, and rewards to attract mobile commerce sales.
Now here comes a question.
Is mobile commerce (or m-commerce) going to be the "next big thing" in the evolution of eCommerce? Or is it just an up-and-coming trend?
Let's take a look at the stats:
This makes me think that m-commerce isn't just a Sunday school picnic. There's some hidden power behind it.
This step-by-step guide is here to help you dig deeper into the concept of mobile commerce, understand its pros and cons, find out the types of mobile commerce, how it works in the real world, and if it has any future at all.
But before speculating on its advantages and disadvantages, let's first slice and dice the basics of m-commerce.
I. What is Mobile Commerce?
As per Investopedia, mobile commerce is:
The use of wireless handheld devices such as cellular phones and tablets to conduct commercial transactions online
To put it simply, mobile commerce is about enabling people to buy and sell products or services from anywhere in the world. All with the help of a mobile phone or a tablet that has access to the internet.
And that's pretty much all about mobile commerce that one needs to know.
However, there's more to consider:
The good news is that the best part of modern eCommerce shopping cart platforms offer responsive & mobile-ready templates out of the box.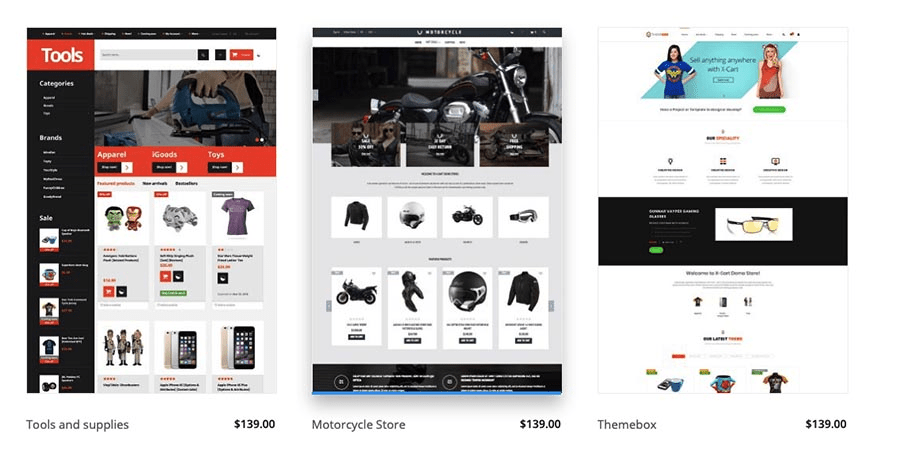 Thus, together with features for selling online, you get a sea of great e-commerce website templates to choose from. They work like magic on any device, and they are perfect for SEO.
II. Pros and Cons of Mobile Commerce
Advantages of Mobile Commerce
1. Great Customer Experience
Customer experience is the no. 1 thing for any e-commerce business. The better your shopping experience, the more income you generate.
Great customer experience is not only about finding products in a few simple clicks. It also about sharing purchases with friends and families as well as getting help from fellow buyers.
For example, Glovo mobile addon allows customers to rate their user experience and leave reviews. This makes it easier for new buyers to make their first order and choose what they are looking for.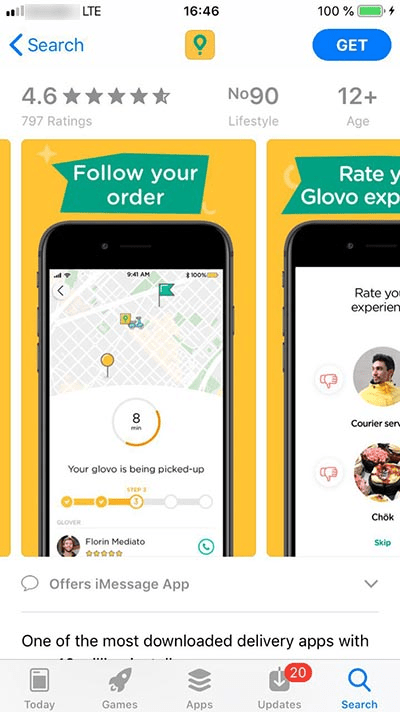 A smooth customer experience transforms into better conversion rates and higher revenue. The most important aspects of a mobile commerce app are simplicity and page speed.
Add exclusive features, easier payment options, and other useful things, and you will have customers coming in over and over again.
Tip: Learn how to develop and enhance the user experience design of your m-commerce addon with these best UX tutorials.
2. Insightful Analytics
To succeed, organizations need to collect and store as much information about their customers as they possibly can. Important customer information involves basic things like age, sex, and location.
Some of the most robust m-commerce apps have built-in user analytics features, too.
For example, the Nike Run Club mobile application offers you to dig into the details with records of every run. Not only does it save details on your average pace, duration, burnt calories, and average heart rate, but also shows the route of your morning run.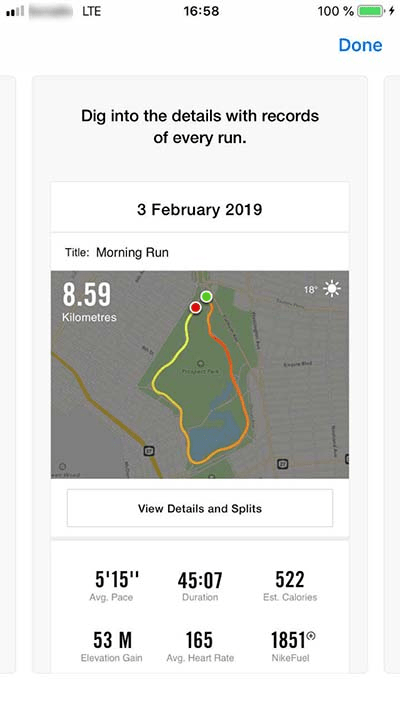 Gathering such information can help in a couple of ways.
You'll be able to better understand your customers preferences as well as find out what kind of products they are looking for.
3. Navigation
An m-commerce app can be loaded with the functionality to let customers navigate to the nearest physical store of a business.
It usually requires an active GPS connection that all smartphones come with. Hence, it can improve total store visits and offer better branding options.
For example, every earnest business owner that has both a physical store and an online shop should offer an omni-channel experience for its users.
Adidas does it right.
The only thing mobile users have to do to get perfect in-store experience is to switch on their geo-location settings.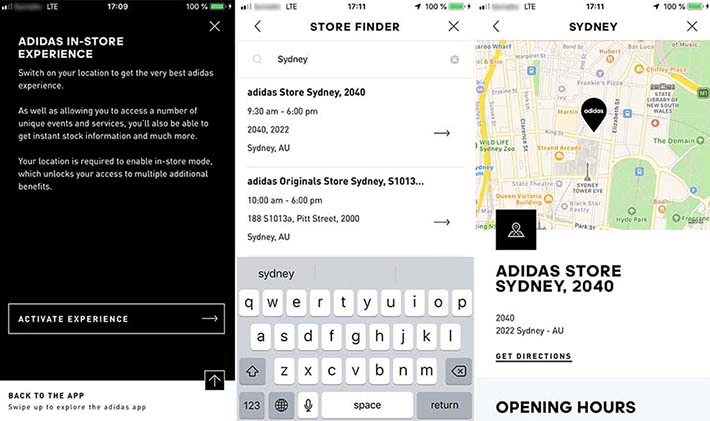 All the brick and mortar stores available in your area will be immediately displayed on the screen.
Choosing the most suitable one will redirect you to the map so that you could easily locate the store and grab your purchase.
4. Push Notifications
The beauty of push notifications is that they are received by customers, even without opening the app.
Push notifications are instant and unobtrusive, which makes them an excellent medium to keep a direct connection with customers.
Btw, the research from Localytics shows that Android push engagement, open, and conversion rates are slightly higher than those of iPhone users.
Have you got any idea why? I don't.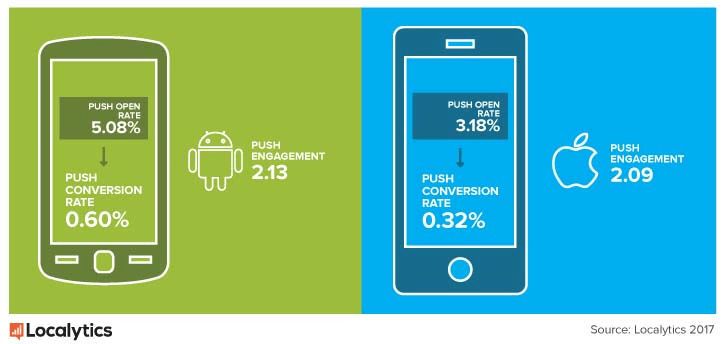 Push notifications serve as a personal communication channel between the client and the provider.
Anything ranging from ongoing offers and short-time discounts to new arrivals and exclusive promotional offers can be carried through push notifications.
5. Quicker Purchases
Compared to a mobile site, mobile apps can be as much as 1.5 times faster in terms of loading data and searching for products.
Aside from being quick, mobile apps help customers easily make repeat purchases, such as groceries and other regularly required supplies.
The Ordapad mobile application, for instance, allows you to keep track of orders and easily repeat them.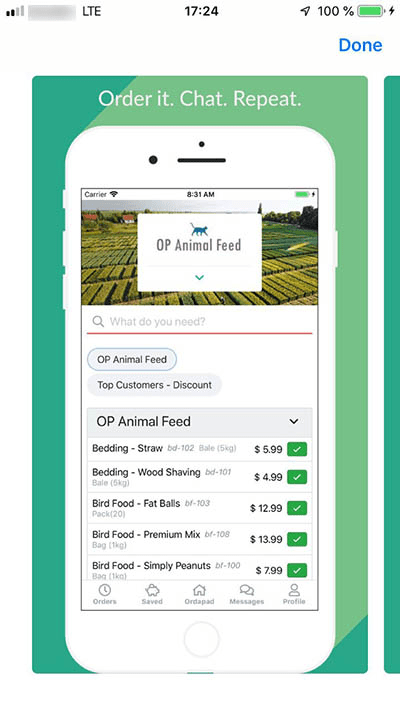 It's a smart way to save the time that you've never thought of.
6. Reduced Costs with Enhanced Productivity
M-commerce allows you to reach out to customers faster.
Hence, it helps to cut down marketing campaign costs significantly.
Yes, building a mobile app requires a good bit of investment in terms of development, maintenance, and support. But compared to brick and mortar stores, it costs less.
A mobile commerce app with social media integration helps mobile users to spread the word about the application if they like it.
The SHEIN mobile app, for example, makes it possible to share findings with your friends or social media subscribers.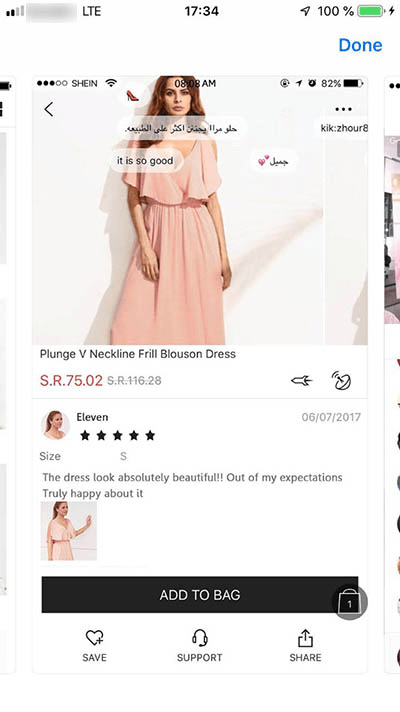 Moreover, placing ads in apps is another way to generate revenue, and running marketing campaigns with a mobile app is much easier.
7. Tailor-Made Content
Different customers have different individual preferences and shopping patterns.
With a mobile application, retailers can deliver personalized content to customers. However, there is a fine line between doing it right and overdoing it.
For example, you can set specific preferences based on collected customer data. Upon tracking user behavior, the mCommerce app will recommend items in real-time.
Here's how Stradivarius and Urban Outfitters make personalized offers.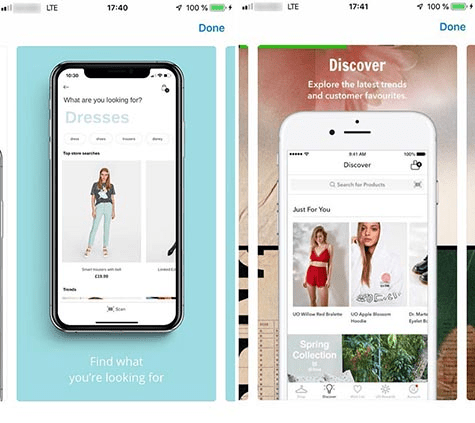 Showing products customers may like, these clothing brands boost customer loyalty. The deeper is the level of personalization, the better.
Disadvantages of M-commerce
Although there aren't any significant flaws of mCommerce for the customers, it has some downsides from a retailer's perspective:
1. Content Delivery Methods Are Different
Though mobile devices are as powerful as computers nowadays, their layout, screen size, and operating systems are totally different.
As such, mobile web sites need to be optimized first before the content can be delivered.
2. Intuitive User Interface Costs More
Websites are easy to navigate and follow the same navigation for almost all of them.
Mobile apps, however, have specific navigation functionality demanding some learning time.
Have a look at the YouTube mobile app, its interface is just amazing, but I'm sure it took quite a good bit of time for the developers and designers to make the navigation smooth.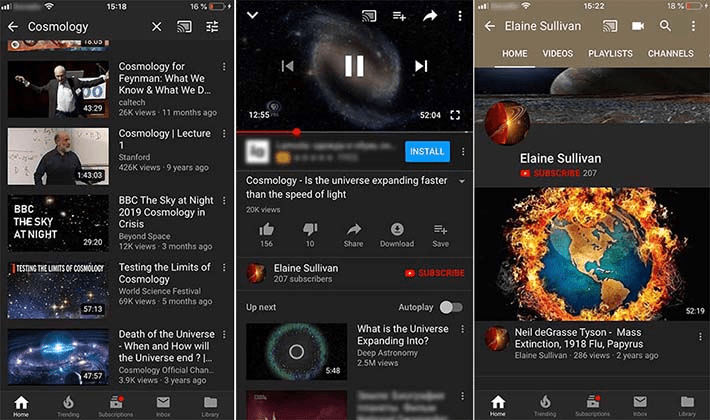 Preferring usability over everything else while designing an intuitive m-commerce app requires some money.
When the development stage is over, it does not mean you can leave it as it and forget about it. You'll have to maintain and update it from time to time.
3. Risky Investment
The most important consideration that any business needs to pay heed to is the investment risk.
Though the m-commerce market is relatively new, it develops at high speeds and still has a shifting nature. You never know what is in store for you in just a couple of years.
Be prepared to invest a good bit of coins to stand the competition.
4. Security
Even though smartphones are getting more and more secure over time, some people still hesitate to make purchases over a mobile device.
I've got no idea, why, though.
Compared to the standard PC Internet connection, mobile phone networks are more prone to malicious activities.
Check out the Security Checklist for Mobile Development to build your mobile app with security in mind.
5. Smaller Display Spaces
No matter how good the screen of a smartphone is, it still remains small as compared to the screen of a laptop or a computer.
Compare these two versions of the very same site — the first one is the way the site is displayed on desktop computers. The other one is mobile, which is evidently more convenient for mobile phone users.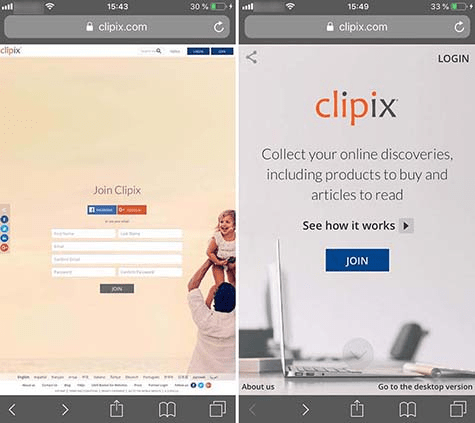 This poses a problem when customers are looking for products that need extensive visual research and checking.
Selling products with eye-catching images and graphic design for mobile devices require more effort than that for bigger screens and other media.
III. The Future of M-commerce
The number of people using mobile wallets has significantly increased as mCommerce grew. That's the reason why mobile optimization is becoming a standard across various markets and industries.
With more and more shift of business opportunities over mobile devices than computers and other media, it's safe to assume that the future of m-commerce is bright ahead.
You should accept this change, too, if you want to survive and thrive in the modern interconnected world.
And no matter how responsive your eCommerce store is, you will hardly do without a mobile app.

Even if you are starting up, a mobile application will be able to better fulfill the growing needs of your customers.
Here are the trends that will boost mobile commerce experience in the next couple of years:
Personal assistants
Integrated Payments
Live Chats
Predictive search
VR & AR
Voice search
1. Personal Digital Assistants
Now that just about everyone around carries smartphones in their pockets, we are entering the era of PDAs.
Yes, over again, more than two decades down the road.
That's a new wave in digital development. And it makes m-commerce even more significant for modern businesses.
Now, having a pocket computer means more than just taking notes and doing some calculations on the go. Digital assistants are just like tiny computers, as efficient as the regular ones.
2. Integrated Payments
With the appearance of electronic commerce, we can now offer a truly diverse range of mobile payment options to choose from.
Apple Pay and Google Pay, PayPal One Touch, PayPal Here aka POS, Visa Checkout, and Amazon Pay are among the most trendy ones.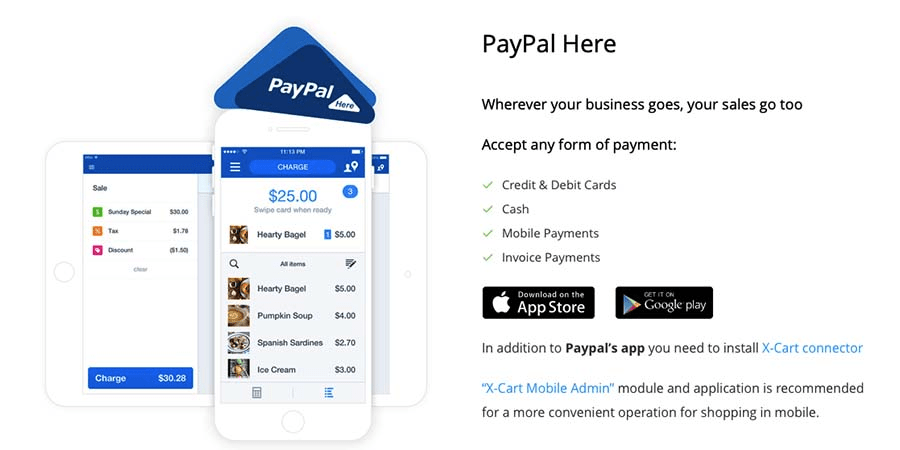 MasterCard's PayPass, Visa's payWave, Google Wallet, Intuit's GoPayment and Square are less-known but as clean as other services.
3. Live Chat
Online chatbots and messenger apps have become one of the well-liked mobile eСommerce trends nowadays.
These apps make it easier for online businesses to communicate with their customers using the tools their shoppers are already used to.
4. Predictive Search
According to Forrester research, 43% of visitors go immediately to a search box, and searchers are 2-3 times more likely to convert.
To delight your mobile visitors with robust eCommerce search and filtering experience your mobile website or application should be hooked up with a perfect search & filtering engine.
Here at X-Cart, this app is called CloudSearch, and it provides shoppers with mobile-friendly, relevant, and predictive search. And it costs from just $49/mo.

5. Support for VR and AR
Virtual and augmented reality, in my opinion, are still a bit underdeveloped, overpriced, and, as a result, slow to take off.
However, there are a couple of brave ones that actively use this novel technology to sell their goods and services online.
IKEA and Sephora crowd the top of the list. IKEA developed a kind virtual planner to help people furnish the room, and the SEPHORA Virtual Artist app helps customers get the best 3D live experience.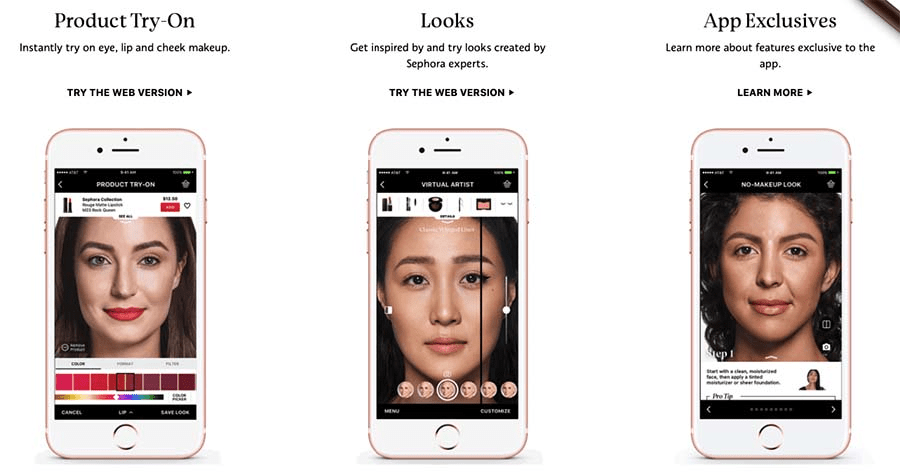 6. Voice Search
The appearance of Siri and 'OK Google' digital assistants increased the popularity of voice search in general.
And taking into account that 20% of mobile queries are voice searches, m-commerce companies should invest greatly in this new technology to meet the growing needs of modern consumers.
Below is a list of the most popular queries made through mobile devices: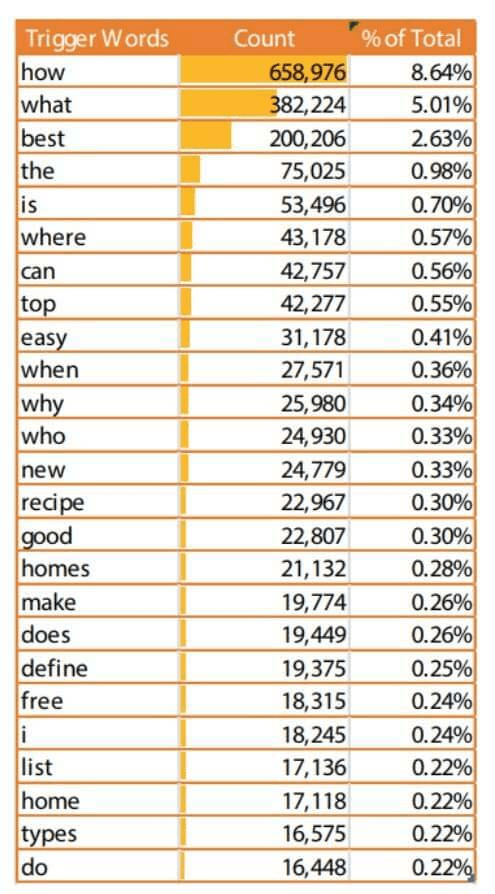 The most important thing that online shopping apps offer is convenience, which is likely to get better over time.
You can shop whenever you want, for whatever you want, and from wherever you want. Plus, any m-commerce endeavor can be further enhanced with mobile-commerce addons.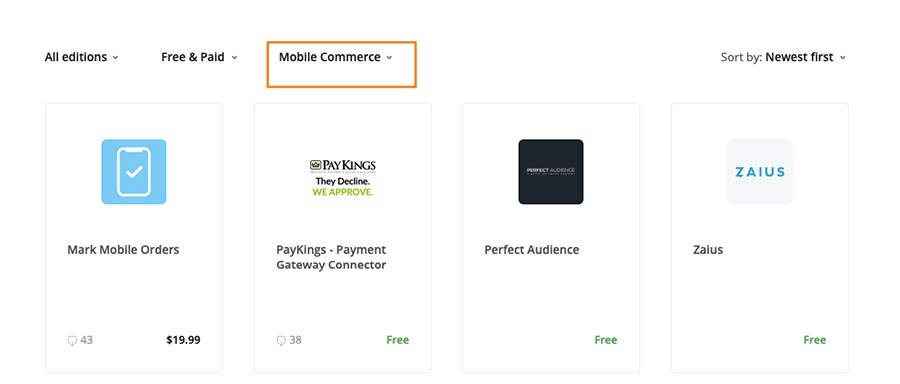 This new buyer-seller dynamic has given birth to something called customer empowerment and smart shopping.
Brands and retailers use the latter practice to provide relevant content to customers based on their shopping preferences.
IV. Must-Have Features of a Great Mobile Commerce App
Building an m-commerce app is not enough.
Every m-commerce application needs to be, at least, up-to-date with the present market offerings and user expectations.
It means easy to use, convenient, intuitive, and with a few exclusive features to stand out.
If you are not a techie, don't worry, you won't have to code it on your own. There are lots of companies out there that can craft a unique e-commerce store or a mobile commerce app for your business.
An example is X-Cart which allows you to make your own unique mobile-commerce app with less effort and less money. Want to know how? Check this.
Any shopping addon must have: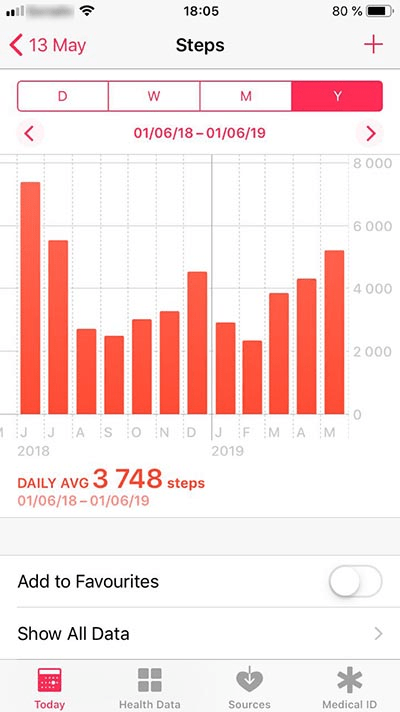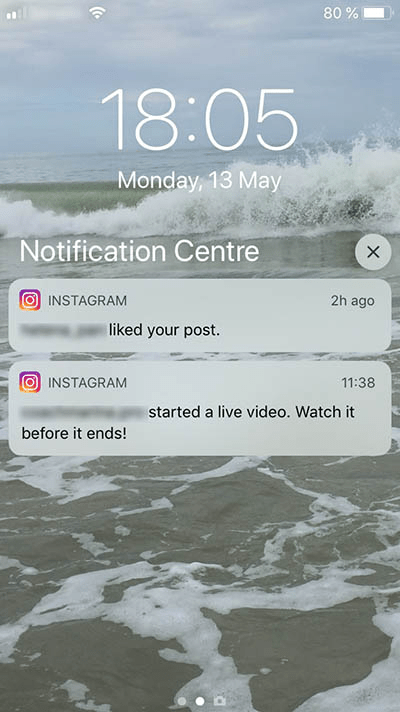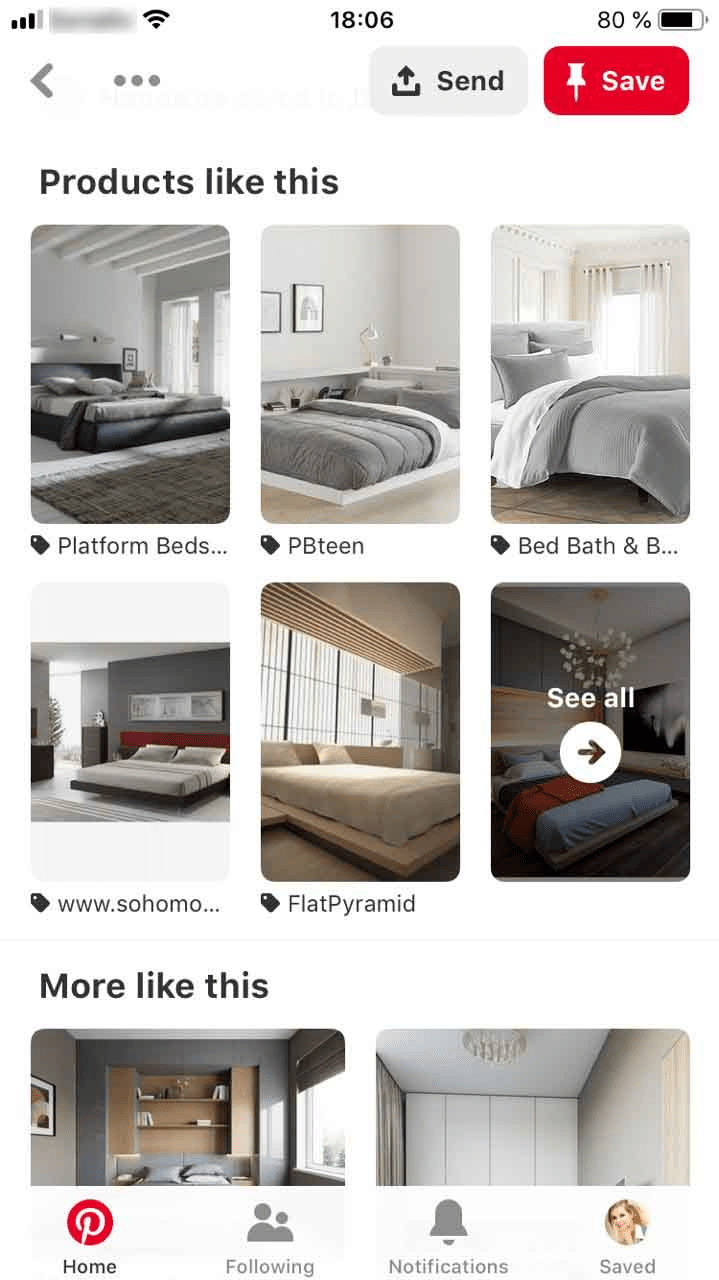 With Square, for instance, everyone can accept payments right on their mobile phones.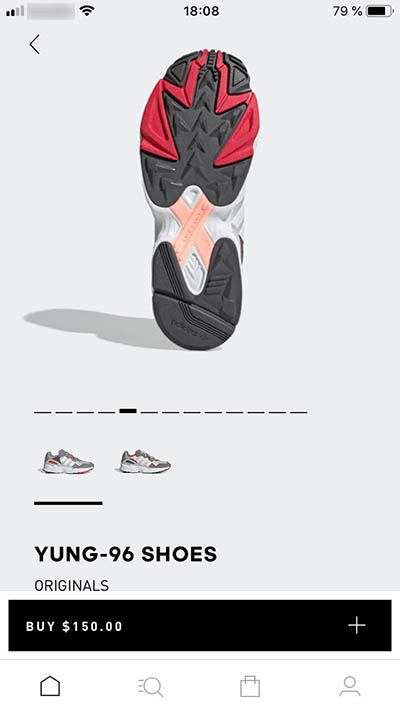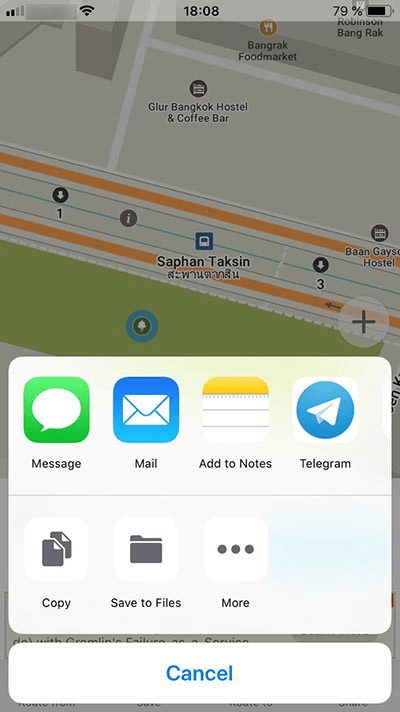 Additional Resources:
How to Build Your Own Mobile App – The Step-by-Step Guide from AppInstitute
V. Making the Business Better with mCommerce KPIs
Tracking merely the total number of visitors you get with your m-commerce application isn't enough.
If you want to boost customer engagement and increase total income, then you need to measure several metrics, dubbed as KPIs (Key Performance Indicators).
There are lots and lots of KPIs available for gauging the effectiveness of any m-commerce strategy. However, not every one of them is worth the effort.
As such, here are the most important m-commerce KPIs to monitor:
1. Average Order Value
This is one of the most actionable and accurate metrics that any eCommerce business should take seriously.
Typically, the average order value is tracked for a specific period of time and then compared with the conversion rate to evaluate and enhance sales performance.
Take a look at the picture below: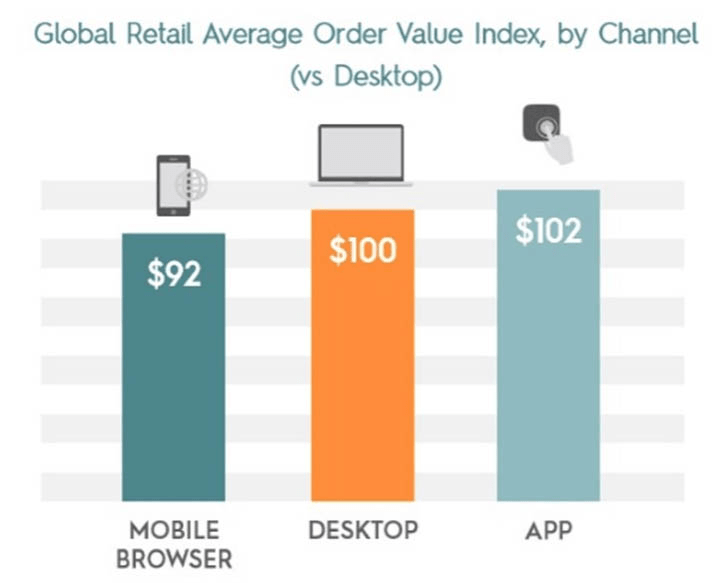 According to Buildfire, mobile apps have an average order value that's 10% higher than that of mobile websites.
It means that you'll definitely need to build a mobile application if you want to improve the number of your online mobile purchases and stimulate your customers to spend more.
2. Average Page Load Time
Another essential mobile commerce KPI is the average page load time. The mobile conversion rate depends greatly on this particular metric.
The average page load time for any mobile commerce app must be as little as possible. The more the user has to wait for a page to load, the more are the chances for them to switch to some other option.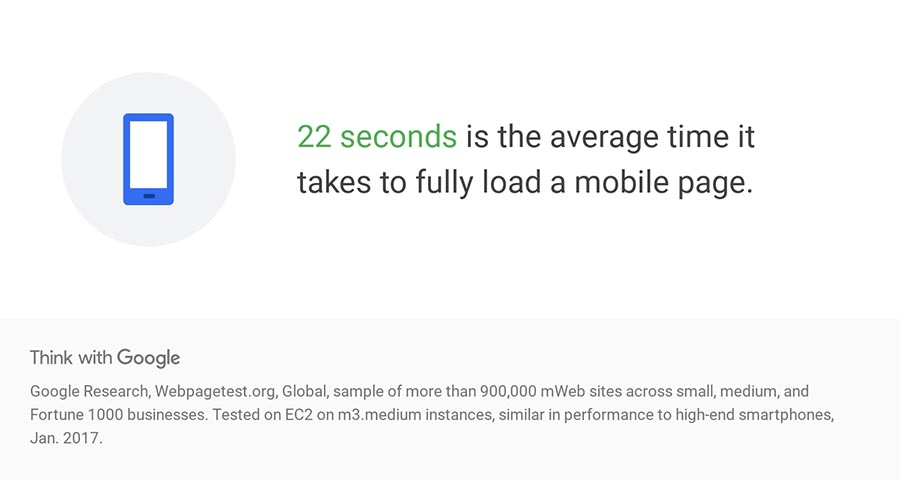 According to Think With Google research of more than 900K mobile websites across small, medium, and Fortune 1000 businesses, the average mobile page load time is 22 seconds.
However, according to mobile eCommerce statistics, 50% of mobile users are ready to wait for m-commerce portals to load in less than 2 seconds.
Can you just imagine that?
That's the reason why fast mobile commerce websites rank higher in search engines.
3. Mobile Add to Cart Rate
Gauging the mATCR or mobile add to cart rate lets you know the likelihood of customers adding products that they are viewing to the cart.
Moreover, the metric also helps to evaluate the performance of the 'add to cart' process.
4. Mobile Cart Conversion Rate
mCCR refers to the mobile cart conversion rate.
According to Criteo's 2016 State of Mobile Commerce Report, mobile apps have 3x higher conversion rates than mobile browser channels.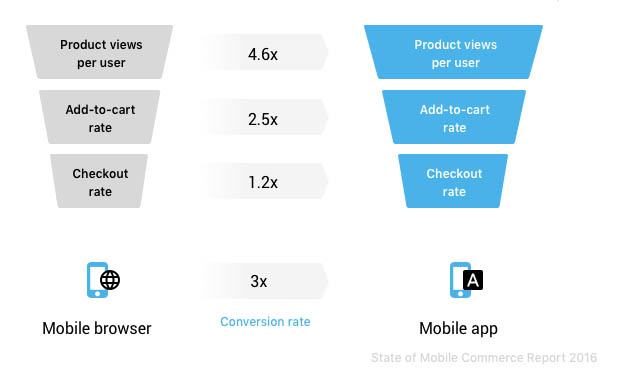 Monitoring mCCR helps boost marketing ROI. Poor mCCR means that you have to review your checkout process.
If it turns out to be too long, snipping the same will definitely help.
5. SMS Subscription Reporting
Many visitors prefer to opt-in for mobile alerts.
That means you should not ignore SMS subscribers of your mobile commerce application.
SMS subscription reporting KPI will help you evaluate your existing SMS database as well as grow one if need be.
6. Total Mobile Traffic
To improve your mobile commerce site you should know the total number of people visiting your website or app.
For this, we have the total mobile traffic KPI. Due to the surge in mobile traffic, it is the perfect time to ditch a mobile-friendly approach for mobile-first strategy.
I just tweeted Gary Illyes about this, and he confirmed that even though Google will index desktop content, desktop versions will be devalued in favor of the mobile version. So if your mobile version is smaller than desktop, that's a big problem. ?
Because the surge in mobile commerce traffic is increasing with each passing day, it is crucial to monitor your incoming traffic to devise better marketing decisions and strategies.
Bottom Line
The world of mobile technology is reaching new frontiers day by day.
At a time like this, one can expect mCommerce to simply expand in the future. Presently, over 10 bn mobile-connected devices are in use, and the number is likely to go up.
Not only the number of mobile shopping apps are growing but so does the profit, driving more and more players to join the game.
Luckily, customers are gaining the most profit out of the deal. They enjoy the convenience, ease, vast selection, and lots more.
A nice and intuitive mobile app is a must for any organization looking to sell their products online in 2019. Not only does it make life easier for customers but it also allows businesses to dig up new ways of marketing and raising sales.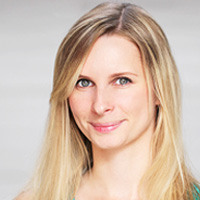 Helen Golubeva
Freelance SEO and Content Marketing Specialist
Helen is an SEO and Content Marketing Specialist. She has been creating and planning content for over 10 years, with 5+ years specializing in eCommerce.
Subscribe to Our Weekly Newsletter to Get
Expert-Backed

Tips Straight Into Your Inbox

Awesome! You won't be disappointed 😉