13 Email Marketing Tips for Creating First-Class Emails (With Steps & Examples)
How does an excellent email look like?
No. It's not the one that is beautifully designed. And not the one that has successfully reached your user's inbox.
The things like honed to perfection email template or potential deliverability also come as part of success. But a top-notch email is primarily about bringing value. Your user should literally WAIT for your email.
Done right, email notifications will not only keep your eCommerce store top-of-mind but also level up your user engagement, improve conversion rates, and drive sales.
I've put together these 19 email marketing tips (+ included clear, actionable steps to implement them) to help you make your emails shine.
Read, get inspired, and put these email marketing tips into action.
Tip 1. Use Upselling & Cross-Selling Techniques for Increasing Sales
Emails, be it an order confirmation or a shipping notification, is an excellent medium for driving sales. And that's not a wish-wash.
The whole 75% of Generation Z (born 1995-2012) and Millennials (born 1977-1994) have come to rely on their inboxes as a shelter for possible discounts. They keep scrolling through the list of emails just to find a juicy coupon with 20% off, a special offer, a gift card, or other useful information… And that's what I do as well. People love freebies!
The key rule is not to overdo it. Hyper-discounting for your customers is like over-optimization for Google — you will be punished one day. Selling online is not about cheating, after all.
To upsell — encourage your buyers to buy a better version of what has already been thrown into a shopping cart.
Example: Daniella is going to buy a washing machine for $135, you suggest a better one with a drying option.
To cross-sell — offer a customers related product of the same category.
Example: Martha is shopping for baby clothes, you show baby accessories and shoes.
Have a look at the ways you can use your transactional emails:
1. Discounts
Here's what you should keep in mind when scattering discounts all over your eCommerce world:
Make your deals time-sensitive. The less time your users have for thinking, the faster they are to bring a pile of gold for you.
Choose a single (a really awesome one!) call to action and add it to your transactional email. Do not confuse users with many options. A single CTA would be quite enough.
Send emails to segmented groups. They say it should skyrocket your user engagement. Off to the stars!
Offer free shipping to repeat customers, or give it as a gift for B-Day, or just for kicks. It will increase the total amount of sales, especially during the holiday season.
Give package deals. Buy ten socks, get one for free.
No magic wound is needed here. You add a discount and enjoy the process. Here's an example from the New Look, UK eCommerce online store: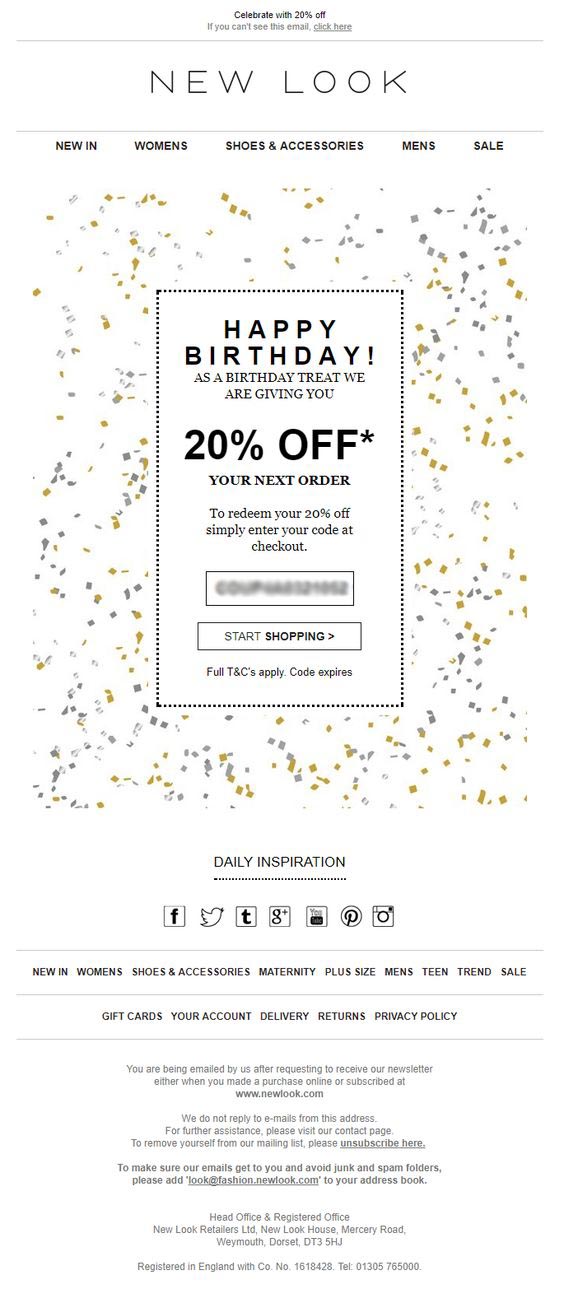 A/B tests show that birthday email notifications have a 481% higher transaction rate, 179% higher unique click rates and 342% higher revenue than commercial emails.
Why haven't you tried to set them up yet?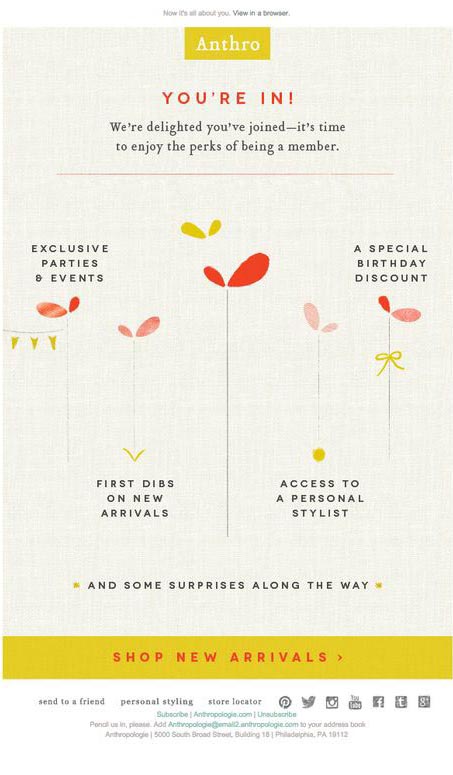 Another B-day discount comes from Anthropologie clothes store for 30-45-year-old women. This time in a welcome transactional email.
Isn't it nice of them to give so many perks just for just signing up for their newsletter?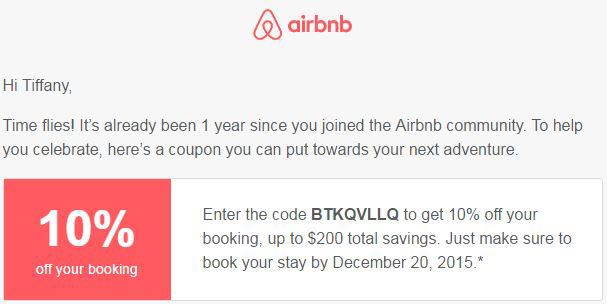 The guys from Airbnb give 10% off the next booking for those who stay with them for one year. I like this insensitive 😉
2. Recommended items
This type of email marketing is about last-minute purchases, which means you can sell complementary products just before or right after your customer reaches your holy checkout page.
So you've got at least two variants:
Offer complimentary items (e.g. Toys for your puppy along with pet food) your customer might like in your receipt email;
Or try to sell related products in your shipping notification email.
Stats show that 60% of customers who've committed to a sale are likely to make one more purchase. So don't be afraid to sell more to the same customer.
Marketers from Huckberry, an exclusive eCommerce store for men from San Francisco, masterly use this magic email marketing technique in their purchase receipt email. Matthew bought a Hasami porcelain mug cup. Why not offer him a hammock in case he makes up his mind to take this cup in the out-of-doors, hm?

Here are a few useful email marketing tips that will give you an idea of how you should add recommended products into your transactional email templates the right way:
Do not overload your customer's mind offering him too many variants to choose from. Five-six items are quite enough for a single email.
Create a unique message for every shopper. eCommerce marketing email sent to an individual should contain only relevant and useful information.
Don't push your offer! Learn how to gently built it at the bottom part of your email instead.
3. Gifts
Show me the one who hates presents. A mere trifle can instantly turn any old fagot into the happiest man in the world, especially now when winter holidays are on the way.
Let's make more people happy by offering them to buy gifts via order confirmation emails. Lots of modern eCommerce websites use this email marketing lifehack. And looks like it works, I've checked it.
The guys from oh-that-cutie BarkBox online store know how to sell things online. 'Give a 'Doggone' a great gift!' — that's what you see when you open their shipping notification. To tell you the truth, I'm not a dog owner and not even a dog lover. But this WOWsome marketing email makes me send this gift to my friend, happy to be a foster mother for Central Asian Shepherd.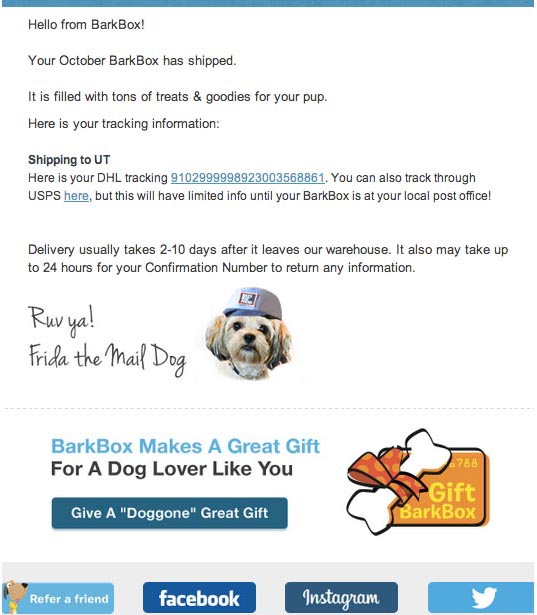 Harry's online store selling German-engineered blades takes it a step further and offers two blades for friends entirely for free.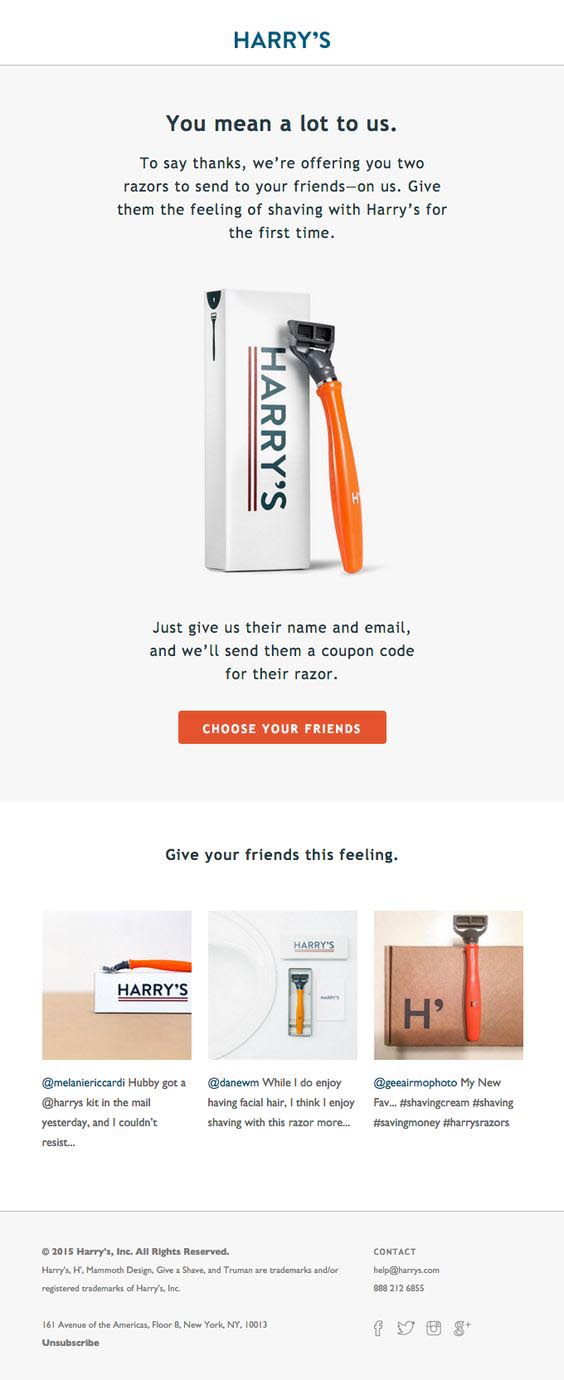 Below are a few email marketing tips for adding cool gifts inside your emails:
A holiday present can be a perfect motivation for sending a gift card to a friend. Hurry up to add your gift to your email template before your users' inboxes are stuffed with other holiday deals. Holidays are coming… Holidays are coming… 🙂
Add a relevant call to action. For instance: "Let your friend discover the benefits of shopping with…" or "Buy for her".
Offer gift subscriptions with various perks and benefits for those who spend, say, over $1K on your eCommerce site.

Place the essential things first. If it's a purchase receipt, let the receipt be first. Then, all your bells and whistles.
The above mentioned cross-selling and upselling email marketing techniques are mainly used for these four purposes:
Incentivize your target audience to come back to your store.
Increase sales and traffic. All these amazing super-duper 90% off deals catch more curious glances, clicked or opened more often, get your eCommerce website stuck in a traffic jam.
Free up the room. Some products can be in stock for eternity, finding no market. A sale is an excellent chance to make room for new items.
Ensure recipients they are loved. Is there a better way to show your sympathy than presenting someone a gift?
Tip 2. Do Not Underestimate Social Media
Where email marketing is a king, social media management is a queen. You probably heard that already. And that's true. These two eCommerce marketing mediums are like two peas in a pod that allow store owners to sell online.
Why do you need social media buttons? Below are a few email marketing tips:
They help grow the community faster. Every email delivered into your customer inbox is an opportunity to get a new subscriber on Facebook, Twitter, or Instagram.
They allow to stay connected with customers through a more private channel — their social profile, which is usually easily accessible through a mobile app in their pockets.
Starbucks marketers invite their customers to stay connected with the brand via social media.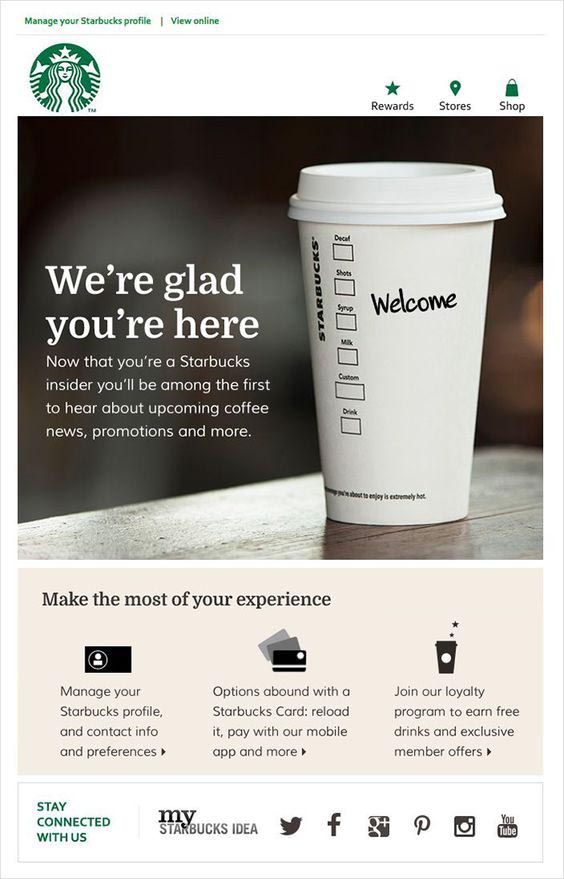 Warby Parker, masterfully selling eyeglasses and sunglasses online, wants more, more and more.

Here is a couple of email marketing tips that will show you how to use social media buttons in your emails:
Give back to your customers by offering them a discount for sharing some useful information about your eCommerce business with their friends on social media. They get a discount, you get feedback and sales.

For example: Refer our service to a friend — get $19 off for your next order.

Or: Once your friend makes a purchase, you get free shipping.
Ask subscribers to follow you and give the INSANE reason why;
Make your call to action clear to every single subscriber from your email list;
Ask users to share their experiences.
The guys from ASOS got more user-generated content just by sending emails to their customers and asking to shoot short videos about their experiences. Rather inventive, isn't it?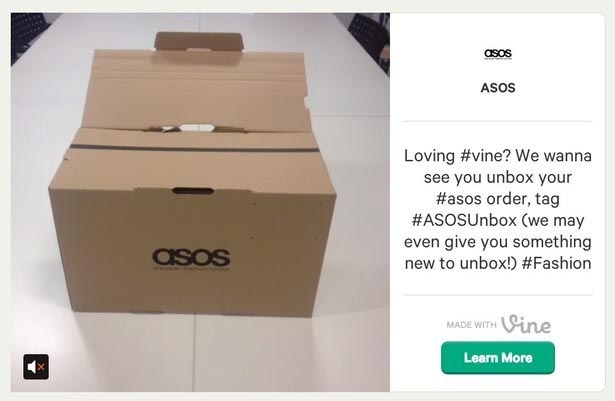 Btw, if you are interested in the way you can use social media for growing your eCommerce business, we've got the ultimate guide on how to market on Instagram. It's not even a guide. It's a whole study!
Tip 3. Stop Being a Bore, Make Your Customer Smile
Do you remember how we learnt to write classic business emails when we were students?
Dear Mr. Robins,
I'm writing this letter in a token of appreciation for your subscription. I'm obliged to inform you that our company invites you to have a look…
Ohh.. Stop it, stop it. It's wrong. TOTALLY WRONG! This dryasdust copy absolutely lacks any marketing salt.
If you want to sell online as effectively as in person, try not to churn out the same old stuff as you will inevitably get the same old results — poor click and open rates and no sales. Add an attention grabber, a WOW effect, make your transactional email hilarious. Why not?
Some email marketing tips to help you manage this:
The nontypical, interest-kindling subject line should make your trigger-based emails more openable.
Humor can also work well for improving your conversion rates. Try to be funny, but make sure your humorous language is relevant for your audience.
Insert gifs, memes and waggish pics. Everyone likes things like that. Just do not pitch it strong. The primary purpose of your eCommerce notifications is selling online, after all, not making customers laugh and then let them go away.
Send your email with a funny video inside. Videos are more convincing than just plain text.
Here's a wonderful example from Paul Mitchell, an eCommerce site selling hair care products and styling tools. Their cart abandonment email is sad and funny at the same time — have a look at this sad smile made out of the products they sell. And that 'sniffle, sniffle' thing will hardly leave you untouched.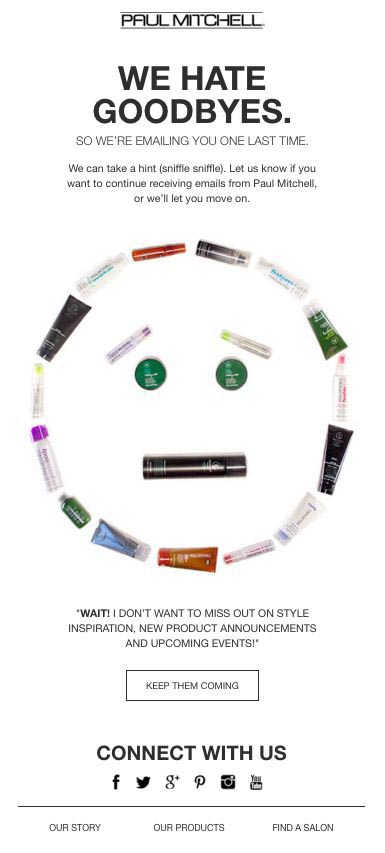 You know, it's hard to break up with someone who makes you laugh. Groupon tries hard to keep you smiling even if you choose to leave their email list. Play the video to see Derrick, the Groupon's employee whose daily duty is creating email marketing campaigns.
Are you still eager to unsubscribe when you see how cruel his colleagues are? Me — definitely not.
And here's the best email of all times. What message are you expecting to see in your user's inbox from a serious e-commerce-driven apparel company headquartered in New York City that designs and sells men's clothing?
Certainly not a giant male bird! Distracted? Confused? That was the plan. Now, go on, finish the job, man.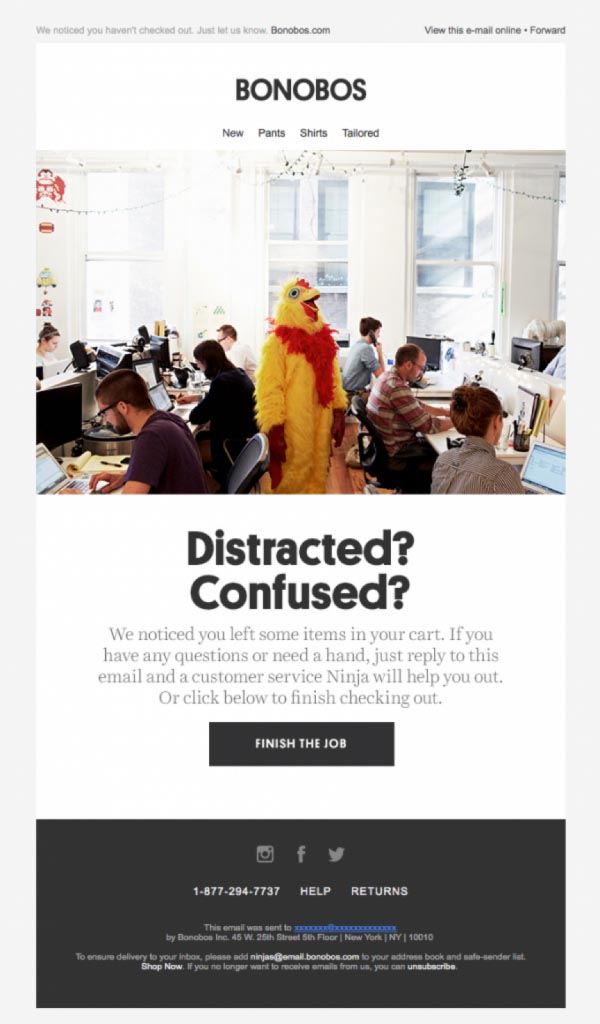 Tip 4. Bring Good News
People look forward to hearing good news. So don't disappoint them sending your next email, even if it is a shipping notification or a purchase receipt. Just think of the way your email can make the recipient smile.
Here's a couple of examples that should inspire you:
HEEEEYYYY, HOOOOOOOO!! Your little black dress is already on its way to your porch. Go out to check it out. It may be already there.
Exciting news about your purchase! We sped up delivery times which means you get your package twice as fast. Dance, John, dance.
Happy days, Charlie! Now we are sending products packed in safe boxes. Enjoy safe shipping!
Thanks so much for providing your user information. Today is your day!
These are the kinds of moments that build a brand reputation.
Here's what the UNCOVET online store sends to their users in a welcome email: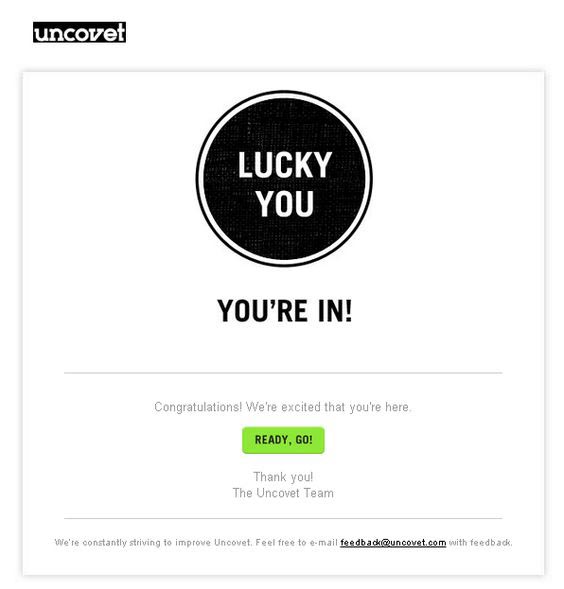 Casper, an eCommerce company that sells mattresses online, is also a bearer of good news. Here's how their shipping notification looks like: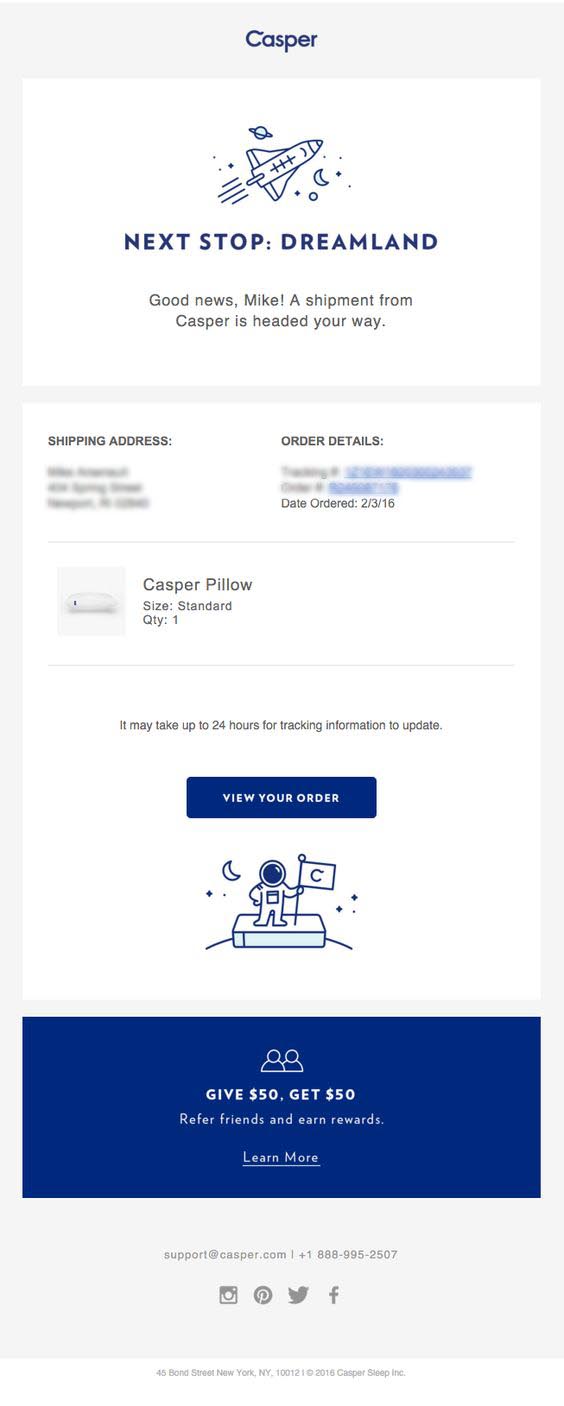 These types of emails increase your customers' loyalty as they feel you care about them.
Tip 5. Ask for Reviews
Let's think for a moment. What do your customers usually do before typing their credit card details on your eCommerce store? Right. They are digging Google for the reviews, as they can help them make the right decision.
And that's not for nothing.
According to the survey made by Dimensional Research, 90% of customers' buying decisions are influenced by online reviews.
Also, selling products online is more comfortable if you have reviews from real users. Customer feedback improves conversion rates by 10%.
Here's a product review from Mike Carner about Samsung. Not the best one that could ever be submitted.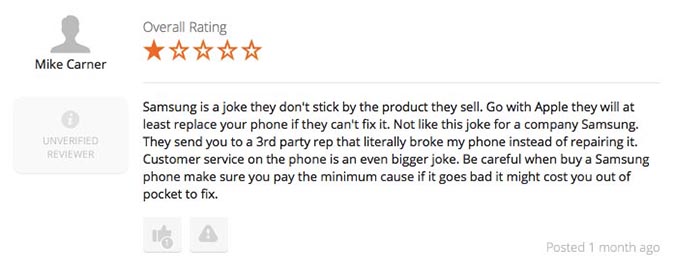 And that's a good review about Gabor Shoes store from an anonymous, but verified user.

What products are you more willing to purchase after seeing this info from two real users?
Here are a few email marketing insights on how to get reviews using, say, your order confirmation emails:
Ask for a review as soon as possible. When are your customers maximally happy? Yup. Right when a product picture from their user inbox turns into a real product. Do not play for time. Capitalize on your customer's experience.
Selling online is easier with the right wording. Spare a compliment, you will get a compliment back.
Offer a deal they cannot resist. E.g. Send an extra pair of socks for a review.
Create the sense of urgency. E.g. Send an extra pair of socks only if the customer feedback is submitted before December 31st.
Use the right structure of your questions to make your users feel good and think positively.
'So, how did you sleep?', — asks Casper.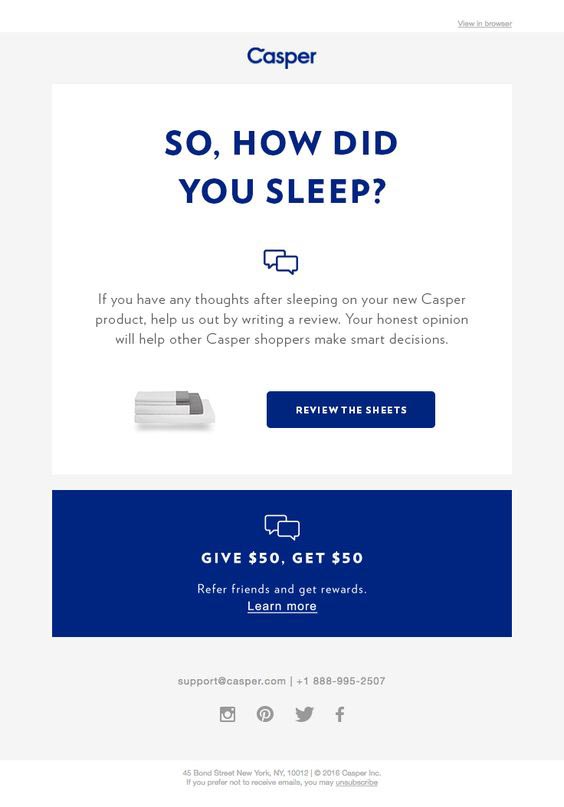 The guys from Kate Spade Saturday eCommerce business (closed now) used two techniques in one review transactional email — a sense of urgency and discounts.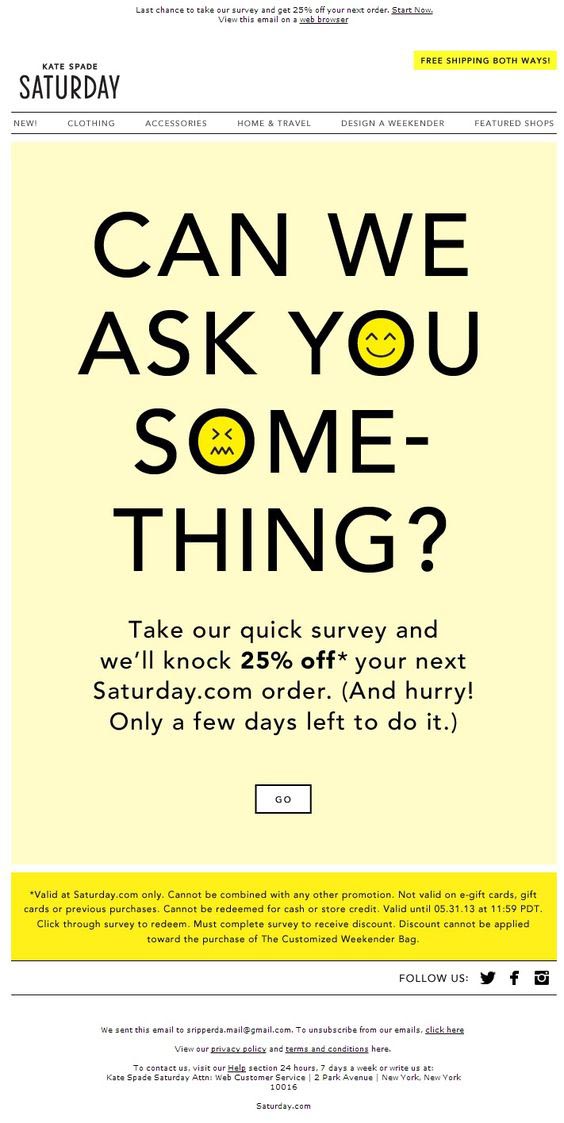 Let your transactional emails be your ever-living source of reviews that help you sell online, bring you insights on your purchasing flaw and pain points.
Tip 6. Remember to Be a Human Talking to a Human
Sign-up emails are useful for converting your blog subscribers into loyal fans or even repeat customers. You can use various options to do it. Don't be shy. Say 'Howdie' to your new blog subscriber and show who's hiding behind your eCommerce store. Disclosing your personality should help you establish trust and become closer to your subscribers.
If your customers subscribed to your blog updates, it means they are willing to read more of your content. Send them the links to your new blog posts as part of your content marketing strategy.
Forget about robotic, super official, and oh those awfully boring email notifications. You are not a machine. Your email may be automated, but it shouldn't sound soulless. Remember to be a human talking to a human. That's how you'll win customers over.
MOO, a famous London-based printing company, has done a great job inventing a friendly print robot, also called MOO. It is not a human, but it was taught to sound like a human. It works hard sending automated emails and managing orders for the MOO's customers. Nice, isn't it?

A few shrewd email marketing tips to help you sound more human-like:
Make your messages unique to specific types of customers.
Stop addressing everyone at once. Even if you are sending a bulk email, your email copy should look as if you are talking to a single person not a group of people.
Spruce up your transactional emails with emotions and personal touch.
Tell a little bit about yourself and the guys sitting around you.
Now, look up at this awesome email from The Hustle team. Have you ever received such a kick-ass welcome email?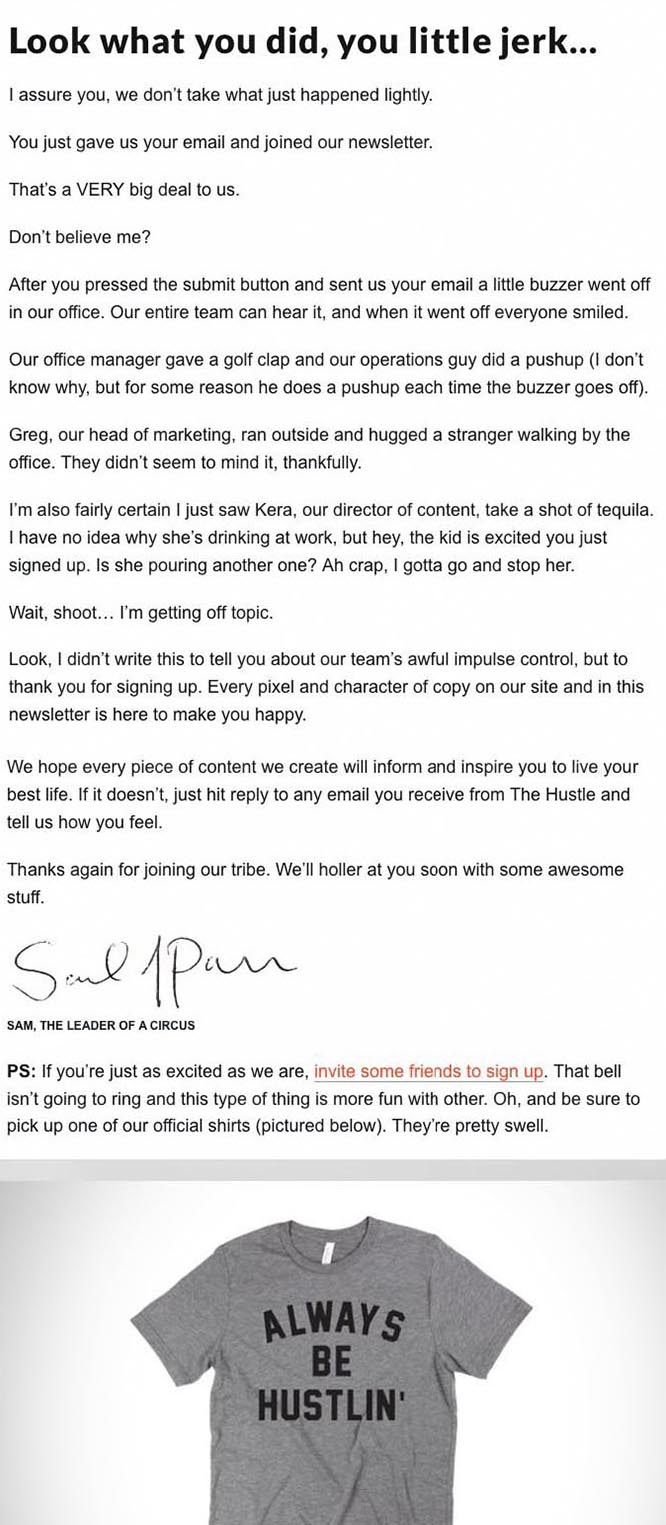 IMO, these guys are kings of copywriting.
Tip 7. Think Mobile-First
Сonversion rates of your email marketing campaigns do not entirely depend on the effective email marketing strategy. The email clients your customers use to open your emails also make sense.
Just imagine. More than 50 percent of your customers will be reading your emails on mobile devices, usually on the go. So make sure that all your transactional and commercial emails are fully optimized to be opened and clicked from smartphones.
These are minimum requirements you should follow to ensure recipients read your email:
Make your subject lines short. This will boost your open rates.
Use clear and easy-to-read fonts — light grey colors are hard to distinguish on a mobile screen especially when the sun is shining.
Make your content easily scrollable.
Split your copy into paragraphs and use short sentences — it's the easiest way to make your customer read even a long article.
Add a clear call to action button.
Here's an example of a good mobile-ready receipt email from ASOS. A clear short subject line, a reasonable amount of useful information, and a purchase receipt, of course. Everything is ready for mobile.

Oh, my eyes! One more example (a bad one this time) — an order confirmation email from J.Crew eCommerce store, totally unoptimized for mobile.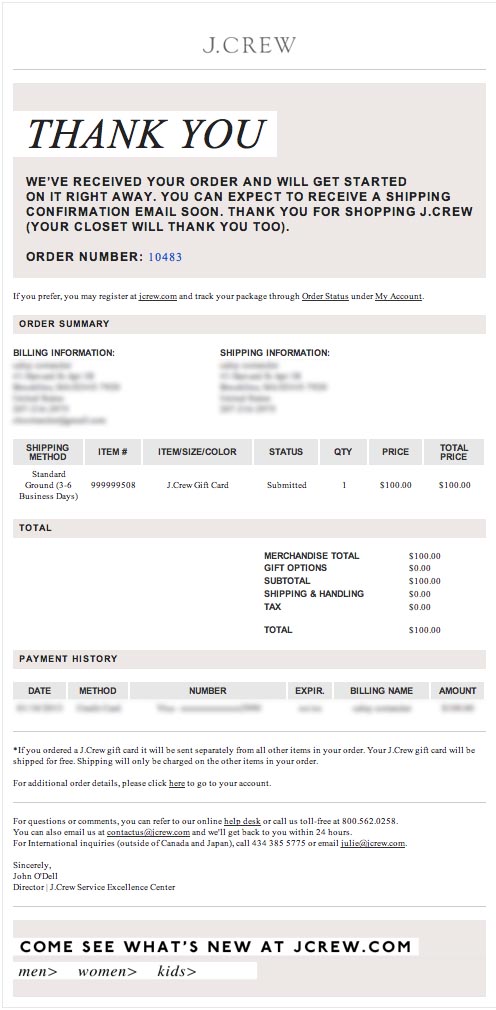 Think mobile-first every step of the way.
Tip 8. Make Email Sequences
Hey, man! While you were learning to tweak your trigger-based types of emails the right way, you've lost something significant. Sending isolated 'hello' and 'don't go' emails is not trendy anymore.
The new trend of today is an email sequence — a highly-effective but still under-utilized email marketing tactics that help you move your customers along the whole sales process.
You can create email sequences to any transaction sent through your eCommerce store. But only two types are the most popular:
welcome series when a customer subscribes to your newsletter email;
abandoned cart series when a customer cannot make his way through your sales funnel;
Done right these two transactional email series should double your conversion rates and drive more sales.
Here's an excellent example from Pardot — the first out of five welcome emails, inviting users to their family and offering some necessary information to help them jump-start with the eCommerce software.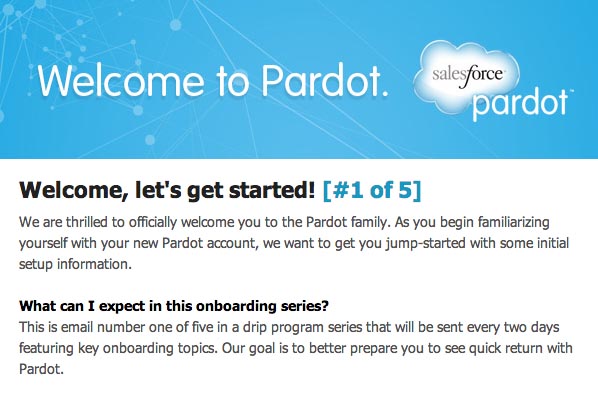 Tip 9. Choose the Right Call to Action
Every step we make has its purpose. And that's pretty much the same about sending emails — all of them have a clear goal and answer customers' specific needs. And it's vital to make sure their backbone is not altered.
Do not pull your 'email marketing cart' in different directions simultaneously, trying to kill several birds with one stone. This will just increase the total amount of negative customer feedback, spam reports, and teach your customers to masterfull skim through your emails.
What you should do instead:
Find one goal. Only one. You may want to advertise your promotional content, attract users' attention to your social media communities, or drive sales through cross-sell.
Make sure that there's a logical reason behind what you are asking your recipients to do.
Bring real value to your customers. That's what they are here for.
The email confirmation email from Republic, eCommerce site giving everyone access to early-stage startup investing, doesn't look too stuffed with CTAs buttons. However, I've counted five, and that's a lot. Besides asking their users to verify their account, they offer him to discover, become an investor, support companies and even LEARN MORE. Too much for one letter, do you agree?.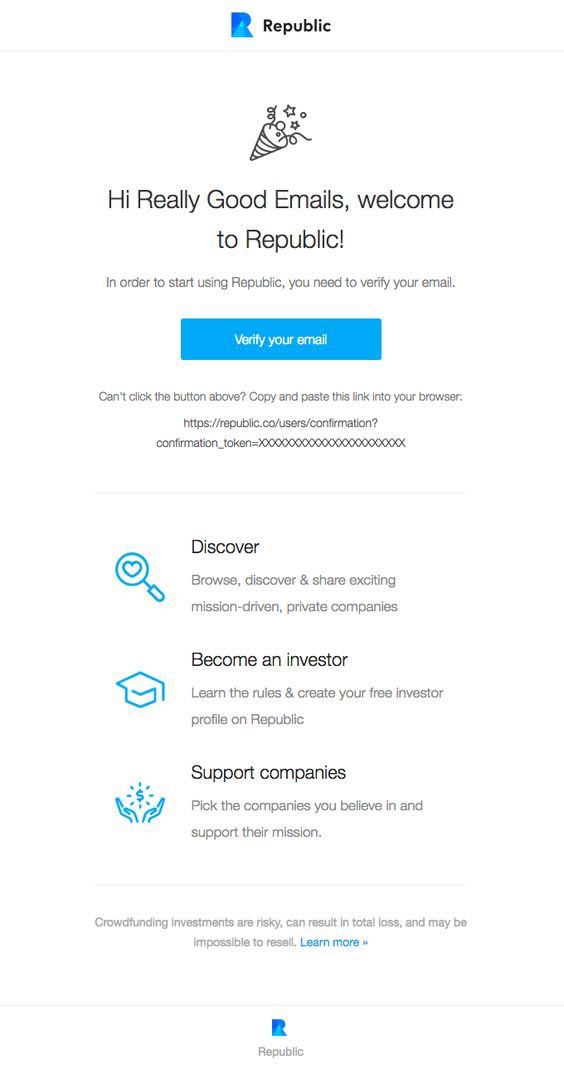 Tip 10. Personalize
Transactional email services were taught to learn user data by heart, distinguish one customer from another judging by the IP address customer uses to log in, segment users by their activity and lots of other things.
Living in the era of such high-level email marketing services, it's rude to treat your customer as one of the crowd.
Personalize! There are lots of ways to do it:
Referring to your user data can is the easiest way to make your email personalized. Address him by name; he'll be pleased.
See what he prefers to purchase in your eCommerce store. Use this user data as a powerful upselling and lead-generation tool.
Send a customer success email for your subscriber's B-day, or half-b-day, why not? American Apparel clothing manufacturer regularly sends these types of transactional notifications to their users and looks like they work.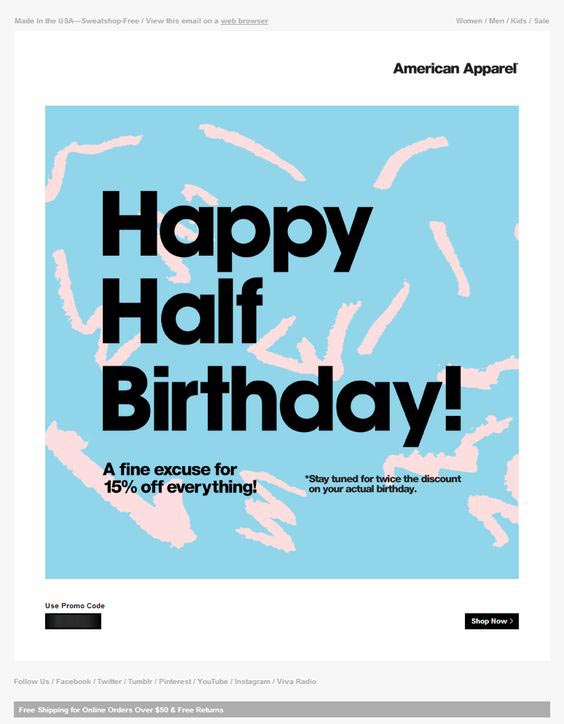 Mod Cloth eCommerce store does pretty much the same. Look below: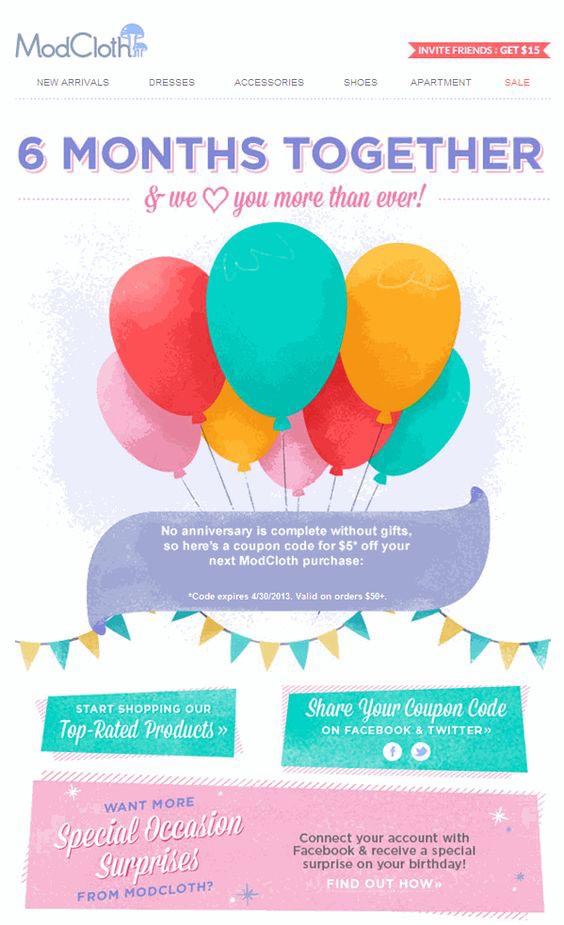 Make sure your recipients know they can reply to your email.
FireBox, an online retailer based in London, moves beyond the limits and displays the delivery address on the map. Isn't it the highest level of personalisation to see your house (or your office) in a transactional email? Yes, it is.

Tip 11. Keep Showing Up
When a customer doesn't hear from you for more than 60 days, he may consider your email a SPAM as he forgets who you are. That's it. Keep sending emails once in awhile.
Tip 12. Be Specific
You've got only a few second to grab your customer's attention. 3, 2, 1. If your first paragraph is not catchy enough, you failed. Your transactional email is instantly closed, or deleted from your user inbox, or even marked as spam.
So think carefully and read every line of your text twice before sending emails over to your customer base.
The following email marketing tips will help you escape common mistakes online retailers often make when creating email marketing campaigns:
Do not include too many words in your transactional emails. Five sentences are usually more than enough. I know there are times when it's impossible to keep an email to a few sentences. Then, split your copy into readable paragraphs and make the lines shorter. Keep it in mind — every word counts.
Do not waste your customer's time. Keep your message to the point. Say what you were planning to in the first paragraph. People do not have any single minute they would gladly want to waste.
Add a P.S. to add some important details you want to emphasize.
Use the '1 thing' rule and focus on a single call to action at a time.
Choose a purpose for your email. Is it going to be an upselling or an educative email?
Write as you speak. But remember you are not 13 anymore. Express your emotions through the power of words, not through em☺gy 😉 😎 =)
Have a look at the welcome email from Matt Bilotti, product manager from Drift.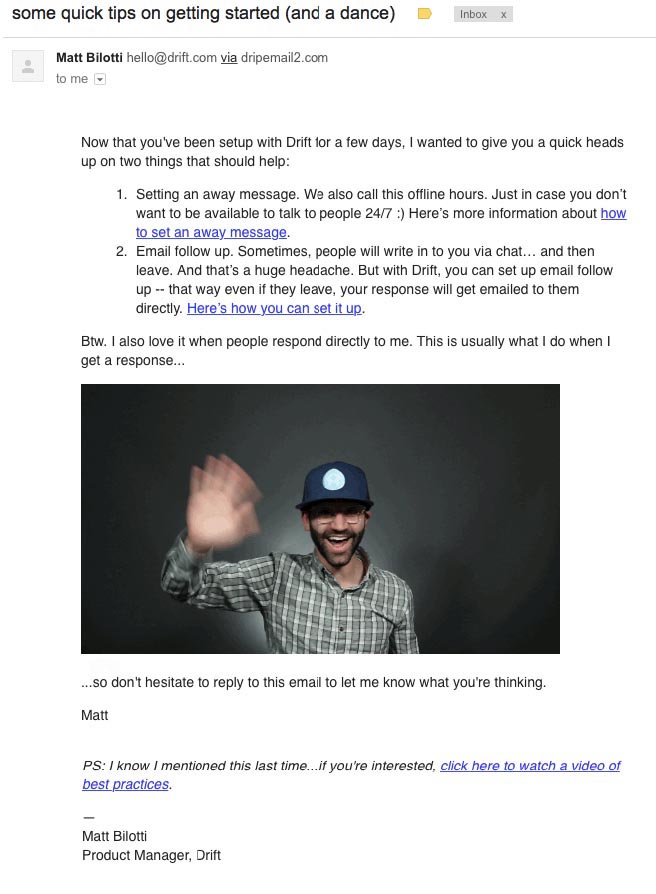 Can we say that this transactional email is concise? Yes. We can. And there's a P.S. at the bottom of the letter with a clear call to action, a non-intrusive one. And a conversational manner of writing. Plus, only useful information is listed here.
Tip 13. Tell a Story
People love stories. When we hear stories, our brain acts as if we are living them. What if we talk to our customers about something really enjoyable?
Look deeper into your user data, analyze his purchasing preferences and use them wisely to increase user engagement with your eCommerce store or social media community.
A story helps your customer understand the pain your product solves and boosts the desire to purchase your item.
I like getting emails (not transactional ones, though) from Neville Medhora, the creator oа Kopywriting Kourse. He loves looooooong emails. But I read every single line as he uses this storytelling lifehack. Moreover, he keeps in mind all the rules we already discussed — personalization, emotional language, short lines. And his LONG story is concise! Unbelievable, right?
Below are a couple of email marketing tips for getting your transactional email sound like a story:
Write as if you are talking to a real person sitting next to you.
If you are toiling over your welcome email, tell what inspired you to set up your eCommerce business, that's always interesting
Include a short video to introduce your mission and ensure recipients you are a real person. You can use welcome drip series to set the scene.
Add photos of your team or of the place where your customers can find support.
NB: Here are 19 email marketing tips for creating killer photos for your eCommerce site.
Subscribe to Our Weekly Newsletter to Get
Expert-Backed

Tips Straight Into Your Inbox

One email a week, we promise.

Awesome! You won't be disappointed 😉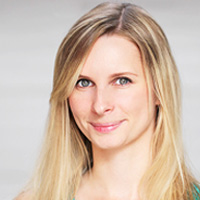 Helen Golubeva
Storyteller at X-Cart
Addicted to yoga, interested in philosophy, and totally mad about copywriting. She loves using the power of words to inspire people and help them grow their eCommerce businesses.