←
Back to Blog
13 Email Marketing Tips for Creating First-Class Emails (With Steps & Examples)
What makes an excellent email?
It's not a beautiful design and it's not high deliverability rates — a top-notch email is all about bringing value. Although perfect email templates certainly help user engagement, your users should WAIT for your next message. Done right, email notifications will not only keep your eCommerce store top-of-mind but also improve conversion rates and drive sales.
The things like honed to perfection email template or potential deliverability also come as part of success. But a top-notch email is primarily about bringing value. Your user should literally WAIT for your email.
I've put together these 13 email marketing tips (with clear, actionable steps to implement them) to help you make your emails shine.
Read ahead, get inspired, and put these email marketing tips into action.
1. Use Upselling & Cross-Selling Techniques to Increase Sales
2. Do Not Underestimate Social Media
3. Stop Being a Bore, Make Your Customer Smile
4. Bring Good News
5. Ask for Reviews
6. Remember to Be a Human Talking to a Human
7. Think Mobile-First
8. Create Email Sequences
9. Choose the Right Call to Action
10. Personalize
11. Keep Showing Up
12. Be Specific
13. Tell a Story
Tip 1. Use Upselling & Cross-Selling Techniques to Increase Sales
Whether it's an order confirmation or a shipping notification, a transactional email is an invaluable medium for driving sales.
According to Virtual Incentives, 70% of online users rely on their inboxes as a shelter for possible discounts. They keep scrolling through the list of emails just to find a juicy coupon, a special offer, a gift card, whatever… People love freebies.
While applying discounts to your products seems like an easy endeavor, it's important not to overdo it. Aggressive discounting, just like over-optimization, may sooner or later lead to an unexpected loss of revenue. On the other hand, insufficient discounts may drive your customers away to your cheaper competitors.
Before we go any further, let's take time to understand the two fundamental strategies for maximizing customer retention and value.
Upselling — encouraging your buyers to buy a better version of what they already bought.
Example: Daniella is planning to buy a washing machine. The retailer offers a better one with a tumble drying function.
Post checkout upsell addon for X-Cart shows a product recommendation pop-up after the purchase is complete.
Price: $99
Cross-selling — offering your customers related products in the same category.
Example: Martha is shopping for baby clothes. The retailer suggests that she also buy baby accessories.
Related products addon for X-Cart will let you recommend related products from other categories.
Price: Free
Why You Should Be Using Cross-Selling and Upselling Techniques in Your Email Marketing :
Incentivize your target audience to come back to your store.
Increase sales and traffic. Emails offering discounts receive more clicks and bring more traffic to your eCommerce website.
Free up room in your inventory. Some products can be in stock for eternity, finding no market. A sale could be a great chance to make room for some new items.
Share love with your customers. A gift is a great way to show that you're thinking, and you care about your shoppers.
Below you'll find a few email marketing tips that should help you implement upselling and cross-selling strategies correctly.
1. Discounts 
There are many things that you should take into account in your next discounting campaigns, such as the total user journey and buyer's intent. Below are a few best practices that will help you incentivize customers with discounts:
Make your deals time-sensitive. The less time your users have to speculate over your offer, the more sales you'll drive.
Choose a single call to action for your transactional email. Try not to confuse users with many options.
Send emails to segmented groups. Using email segmentation will skyrocket your user engagement and boost sales by as much as 760%.
Offer free shipping to returning customers as a gift. It will increase the total amount of sales, especially during the holiday season.
Consider offering package deals. Buy ten pairs of socks, get a sock for free! (Just kidding.)
Volume discounts addon for X-Cart will allow you to create percent and fixed-fee volume discounts.
Price: Free
Here's an amazing example from the New Look, an online clothing store from the UK.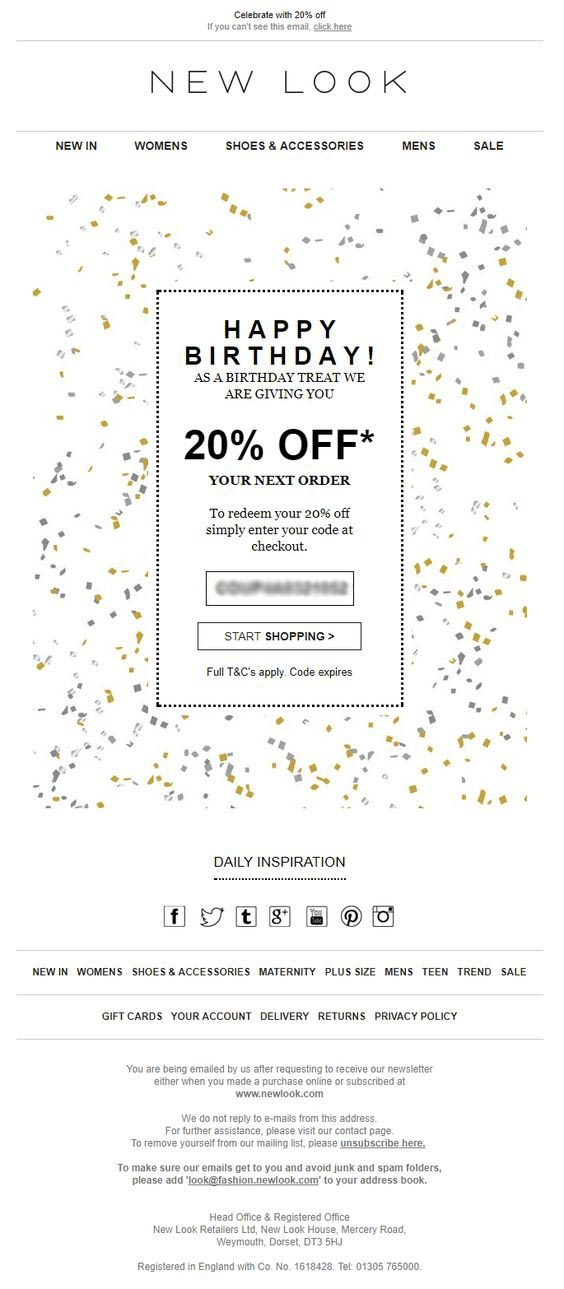 According to Experian, birthday email notifications have a 481% higher transaction rate, 179% higher unique click rates, and 342% higher revenue than promotional emails.
Below you can see a welcome email from Anthropologie women's clothing store. Among the perks they offer for their members are exclusive parties, access to personal stylists, and.. (drumroll, please) a special birthday discount.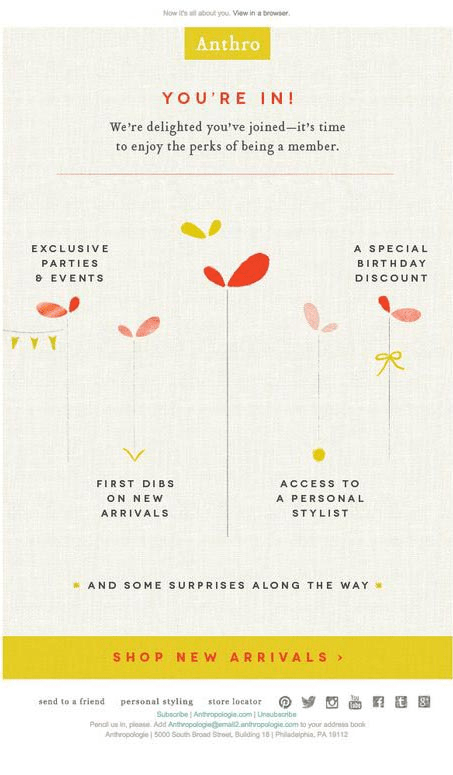 Isn't that nice of them to offer so many perks for just signing up for an email newsletter? It sure is.
Now take a look at Airbnb's transactional email below: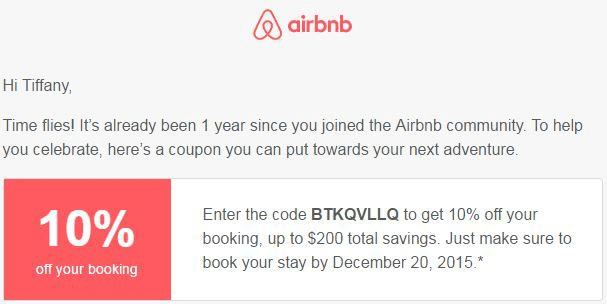 These dudes give 10% off the next booking for those who stay with them for a year.
2. Recommended Items
Encourage impulse buys and unplanned purchases using recommended items. This email marketing strategy sells complementary products just before or right after your customer reaches the holy checkout page.
There are at least two options to choose from:
Offer complimentary items (e.g., toys for your puppy along with pet food) your customer might like;
Offer related products in the same category.
Here at X-Cart, we have two awesome addons to help you stimulate purchases using discounts:
Special Offers: Spend X Get Y will allow you to create special offers where customers are required to spend a certain sum to get an additional discount.
Price: $99
According to Apttus, 60% of customers who've committed to a sale are likely to make one more purchase. So don't be afraid to sell more to the same customer.
Copywriters from Huckberry masterly use this effective email marketing technique to upsell trending gear in their purchase receipt email.
In addition to Hasami's porcelain 13 oz cup, they recommend buying a striped hammock, a rambler jacket, and a dive watch. You know, just in case Matthew decides to go on a backpacking scuba adventure with his new mug.

Here are a few useful email marketing tips on how you should add related product recommendations inside your transactional email templates:
Don't offer too many options to choose from. Five to six items are quite enough for a single email.
Create a unique message for every shopper. Your transactional email should contain relevant information only. Mailchimp's merge tags will do nicely for this.
Don't push your offer. Instead, gently remind your customers about the options they have without being too obtrusive.
3. Gifts
Make your customers happier by offering them an opportunity to buy gifts for their friends.
According to the research by the University of Paderborn and the University of Rostock, gift buying builds brand relationships and stimulates future purchases.
(opens in new tab)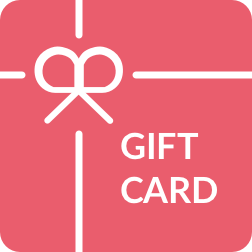 Gift certificates addon for X-Cart gives your customers an opportunity to purchase gift cards for their friends.
Price: $75
Gift wrapping addon for X-Cart will let you offer a gift-wrap option to those who want to send the ordered products as a gift.
Price: Free
The dog-centered subscription service BarkBox takes advantage of this marketing strategy and encourages customers to buy BarkBox as a gift.
I'm not a dog owner and not even a dog lover, but this awesome marketing email has gotten me to send a 'Doggone' great gift to a friend who owns a Central Asian Shepherd puppy.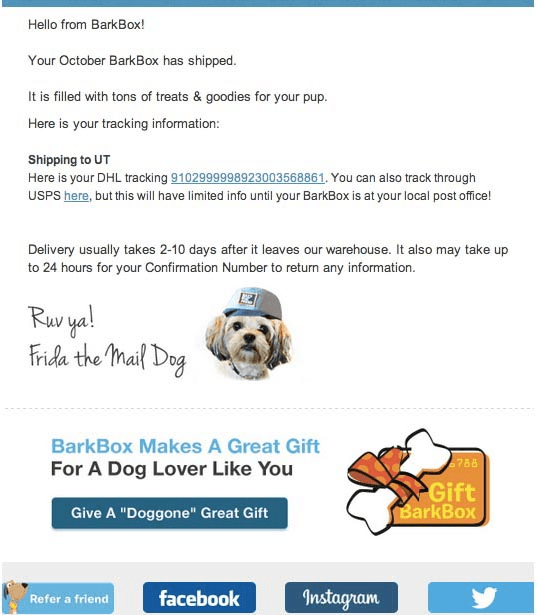 Harry's German razor blade manufacturer takes it a step further and offers their customers two razors absolutely free so that they could send them to their friends. A nice customer acquisition strategy, isn't it?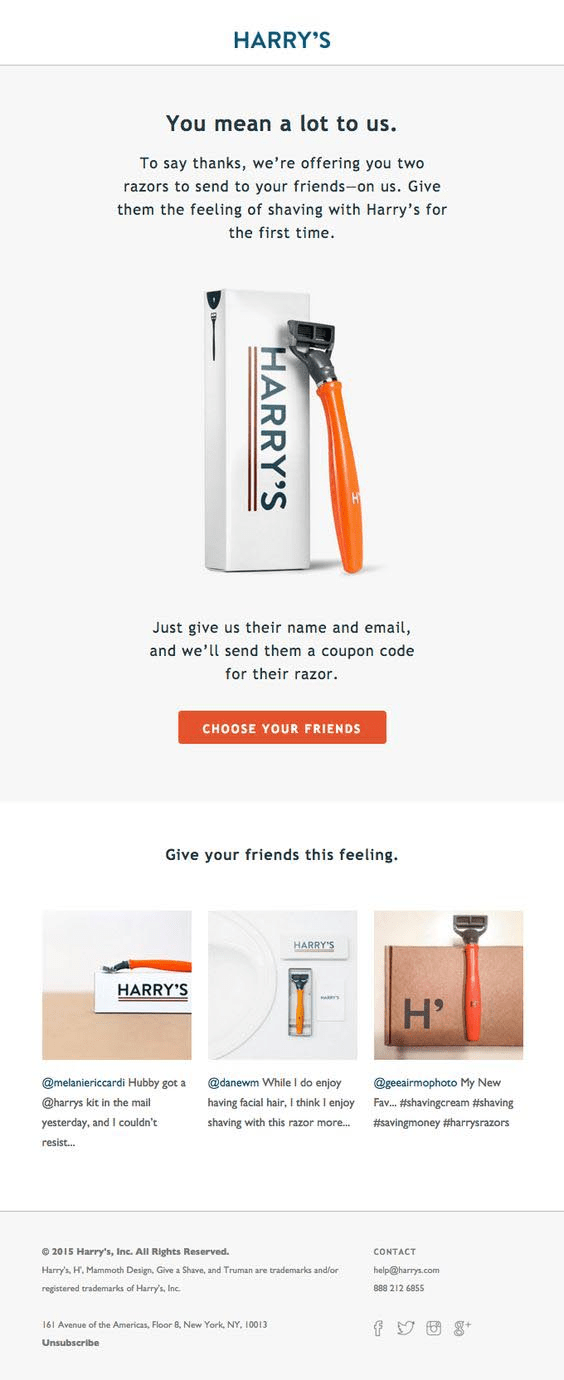 Below are a few email marketing tips for adding cool gift offerings inside your emails:
Holiday shopping season is a perfect time to send a gift card to a friend. Add your gift offerings far in advance before your users' inboxes are stuffed with other holiday deals.
Add a relevant call to action. You should clearly understand your target audience and their preferences to do it right.
Place the essential things first. If it's a purchase receipt, let the receipt go first. Then, all the bells and whistles.
Below you can see a cozy email from CrashPlan, offering their customers two free months of their subscription for referring their service to a friend.
Tip 2. Do Not Underestimate Social Media
If email marketing is the king, then social media is her queen. These two are peas in a pod, both allowing store owners to effectively sell online.
Go social addon for X-Cart will add the most popular social share widgets on your product pages.
Price: Free
Below are a few email marketing tips on WHY you should add social media buttons in your transactional emails:
Grow your social media community faster. Every email delivered into your customer inbox is an opportunity to get a new subscriber on Facebook, Twitter, or Instagram.
Stay connected with customers through a more private channel — their social profile, which is usually easily accessible through a mobile app in their pockets.
Have a look at Starbucks' welcome email. Starbucks invites its customers to stay connected with the brand via social media.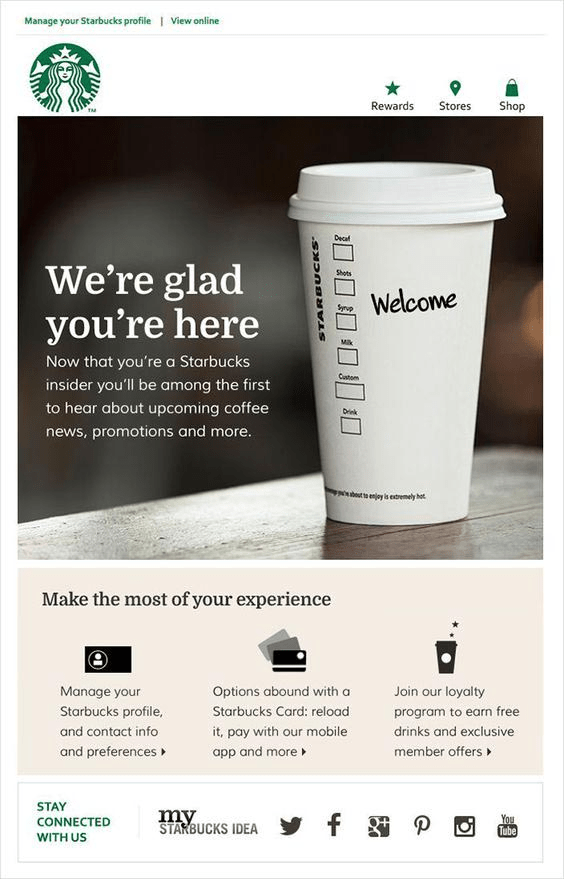 Warby Parker's welcome email is full of fun. There's a joyful gif of people dancing the happy dance (yeah, that dance, you know the one), a quick note about their social mission, a couple of treats, and gigantic social media buttons.

Below you'll discover a couple of email marketing tips that will show you HOW you should use social media buttons in your emails:
Give back to your customers by offering them a discount for sharing their feedback with their friends on social media. You get some valuable information about your business and your shoppers get a discount. It's a win-win.

Examples:
"Refer our service to a friend — get $19 off for your next order."
"Once your friend makes a purchase, you get free shipping."
Ask subscribers to follow you on social media and explain why they should;
Make your call to action clear to every single subscriber from your email list;
Ask users to share product pictures with their friends. The more UGC you have, the better.
The guys from ASOS encourage more user-generated content (UGC) by asking their customers to share short videos about their experiences on social media. Amazingly simple, huh?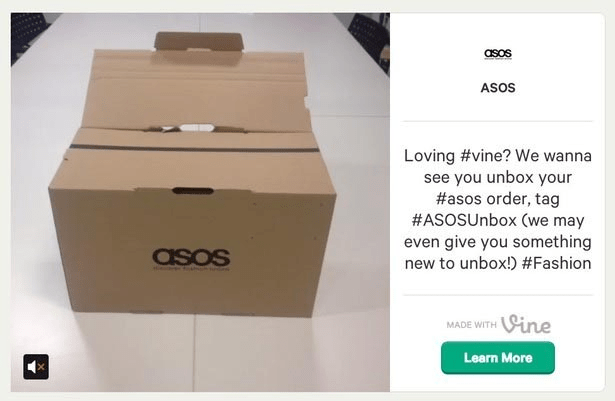 By the way, if you are looking for ways to use social media for growing your eCommerce business, we have an ultimate guide on social media marketing. It talks through all sorts of things — from social media listening & SEO to planing a social media calendar & strategy.
Tip 3. Stop Being a Bore, Make Your Customer Smile
Remember all those boring business emails we were taught to write when we were students?
Dear Mr. Robins,
I'm writing this letter in a token of appreciation for your subscription. I'm obliged to inform you that our company invites you to have a look…
Ohh… Stop it. Stop it! This is not how an effective email should look like. This tired old copy lacks any marketing pizazz.
If you want to sell as effectively online as in person, try not to churn out the same old stuff as you will inevitably get the same old results — poor click and open rates and no sales. Add an attention grabber, throw in a WOW technical effect, make your transactional email hilarious, whatever.
Here are a few email marketing tips to make the most out of your email marketing efforts:
An unusual subject line will make your trigger-based emails more openable;
Using humor will improve conversion rates. Just make sure your language is relevant to your audience.
Insert gifs, memes, and silly pics (just don't pitch it too strong!) The primary purpose of your eCommerce notifications is delivering great customer service, not making customers laugh just for fun.
Add a video message inside your email. A video of your message, rather than a plain text version, is more likely to make your leads trust you.
Below is a wonderful example from Paul Mitchell, an online retailer of hair care products and styling tools. This cart abandonment email is sad and funny at the same time.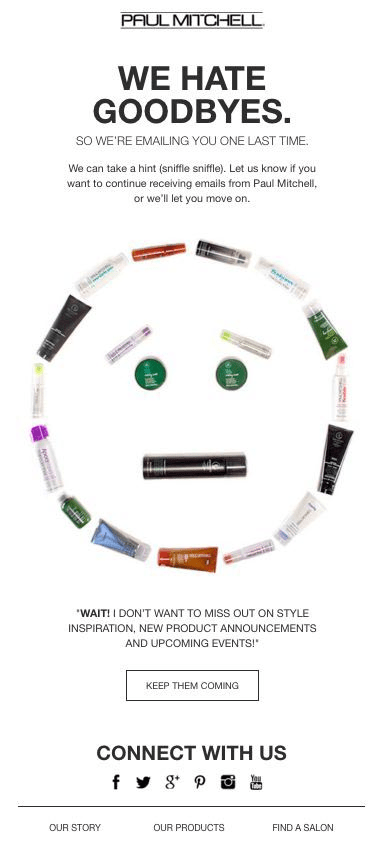 It's hard to break up with someone who makes you laugh.
Below you'll discover an abandoned cart email from BONOBOS, an apparel company headquartered in New York City. Confused to see a giant male bird inside it? That was the plan. Now, go on, proceed to checkout and finish the job.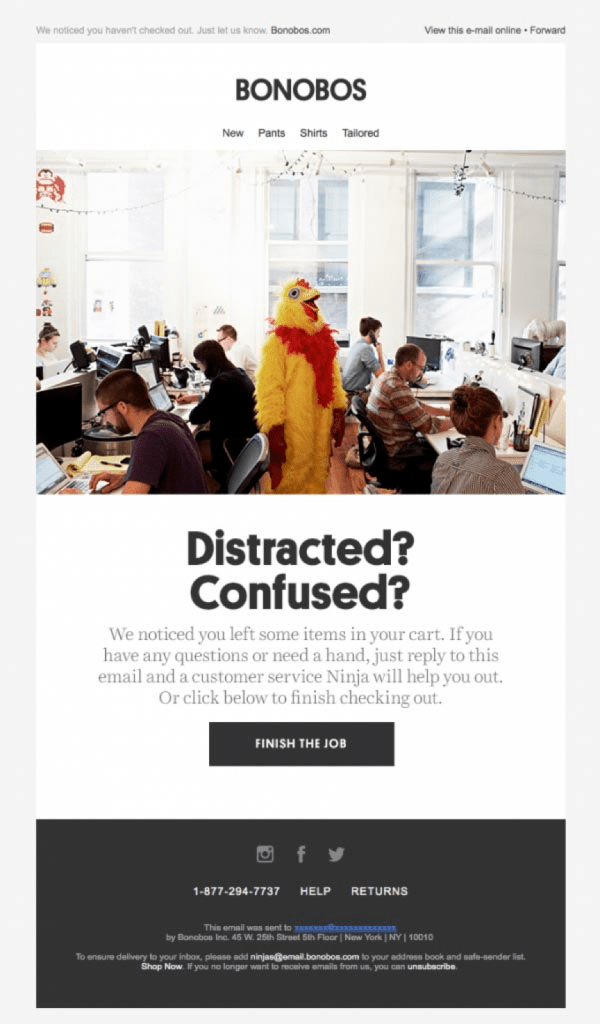 Tip 4. Bring Good News 
People look forward to hearing good news, so try not to disappoint them with your next email, even if it's a shipping notification or a purchase receipt. Just think of the way your email can make the recipient smile. Positive emails increase brand loyalty and establish an emotional connection between you and your customer.
Below are a couple of examples to inspire you:
Examples:
"HEEEEYYYY, HOOOOOOOO!! Your little black dress is already on its way to your porch. Go check it out. It may already be there."
"Exciting news about your purchase! We sped up delivery times, which means you get your package twice as fast. Dance, John, dance.'
"Happy days, Charlie! Now we are sending products packed in safe boxes. Enjoy safe shipping!'
Below you can see a welcome email from UNCOVET — their marketers know that good news helps establish a positive brand reputation.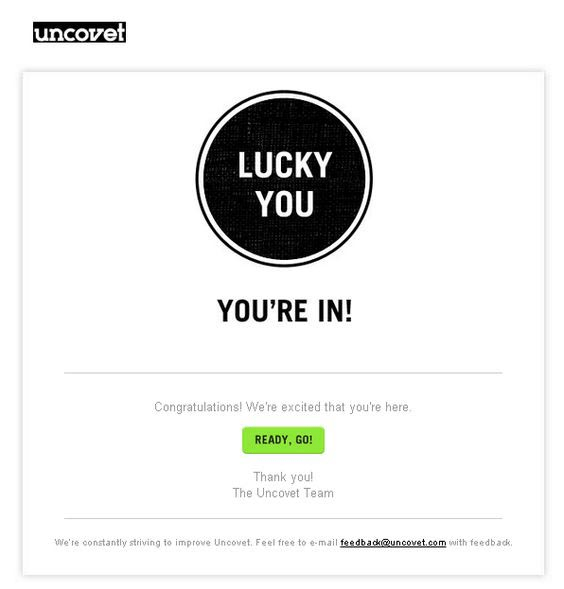 Casper, an eCommerce company that sells mattresses online, is also a bearer of good news. Here's how their shipping notification looks: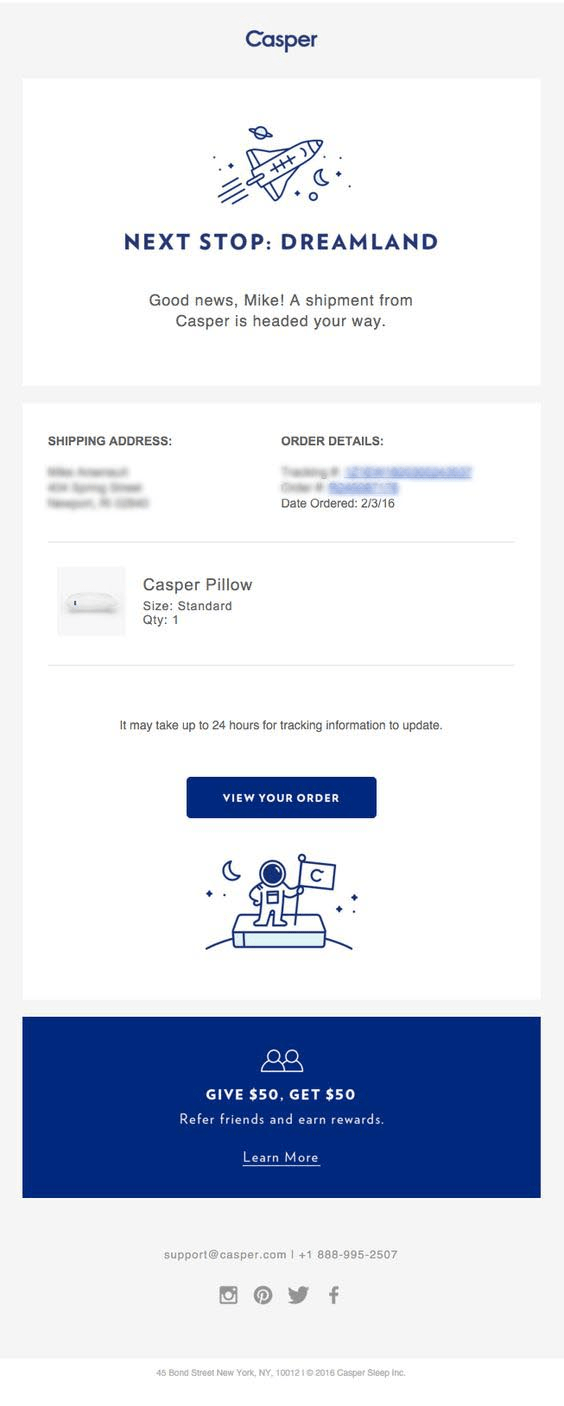 Tip 5. Ask for Reviews
What do 97% of your customers do before they proceed to checkout? They read online reviews as they help make an informed decision. Here are a few more stats that prove the importance of reviews for your eCommerce business:
Here are a few email marketing insights on how to get reviews using your transactional emails:
Ask for a review as soon as possible. Find out when your customers are maximally happy. This might be right after they receive their purchase. Don't lose the opportunity to capitalize on your customer's experience.
Selling online is easier when you treat people right. Compliment your customers and you'll get compliments back.
Offer a deal your customers' cannot resist. You can even send an extra pair of socks for a review. Why not?
Create urgency. Send the extra pair of socks only if the customer submits their feedback before September 31st.
Use the right questions to make your users feel good about your products.
'SO, HOW DID YOU SLEEP?' — asks Casper.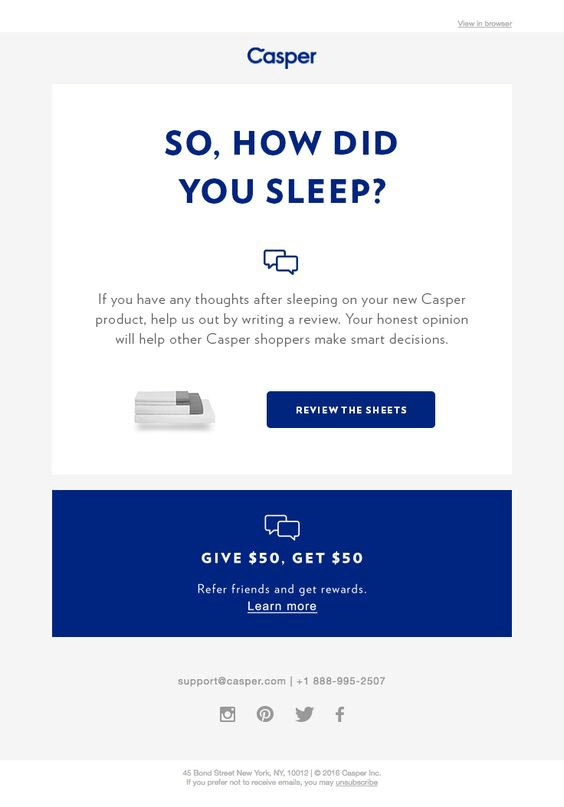 The marketers from Kate Spade Saturday use two techniques at once — they create a sense of urgency and provide discounts for taking a quick survey.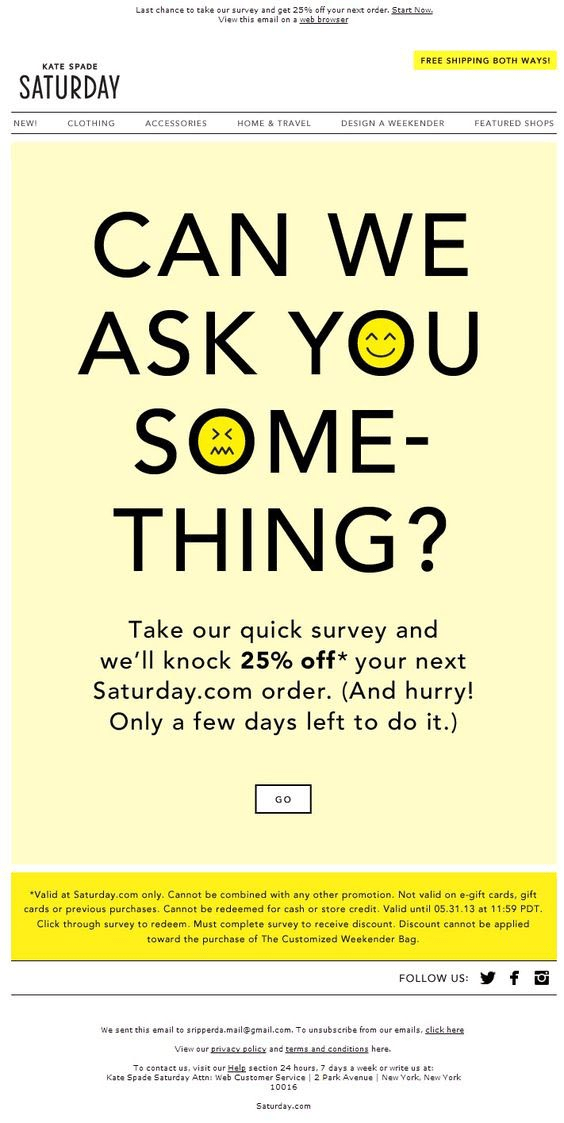 Tip 6. Remember to Be a Human Talking to a Human
Welcome emails can help you convert blog subscribers into loyal fans or even repeat customers. Don't be shy, say 'Howdie!' and show who's hiding behind your email. Disclosing your personality establishes trust and endears you to your subscribers.
If your customers subscribe to your blog updates, it means they are willing to read more of your content. Send them the links to your new blog posts as part of your content marketing strategy.
Forget about robotic and super official email notifications — you are not a machine. Your emails may be automated, but not soulless. Remember to be a human talking to a human. That's the only way to win customers' hearts.
MOO, a famous London-based printing company, has done a great job introducing a friendly print robot, a.k.a. MOO. It is not a human, but it has been taught to sound like a human. It works hard, sending automated emails and managing orders for the MOO's customers. Cute, isn't he?

Below you'll find a few smart email marketing tips to help you sound more like a human:
Segment your audience and make your emails unique to each of your customers.
Stop addressing a whole group of people. Even if you are sending a bulk email, your email copy should look as if you are talking to a single person, not a group of people.
Spruce up your transactional emails with emotions and add a personal touch.
Tell a little bit about yourself and your trusty team.
Take a look at this awesome email from The Hustle. In my opinion, these guys are kings of copywriting.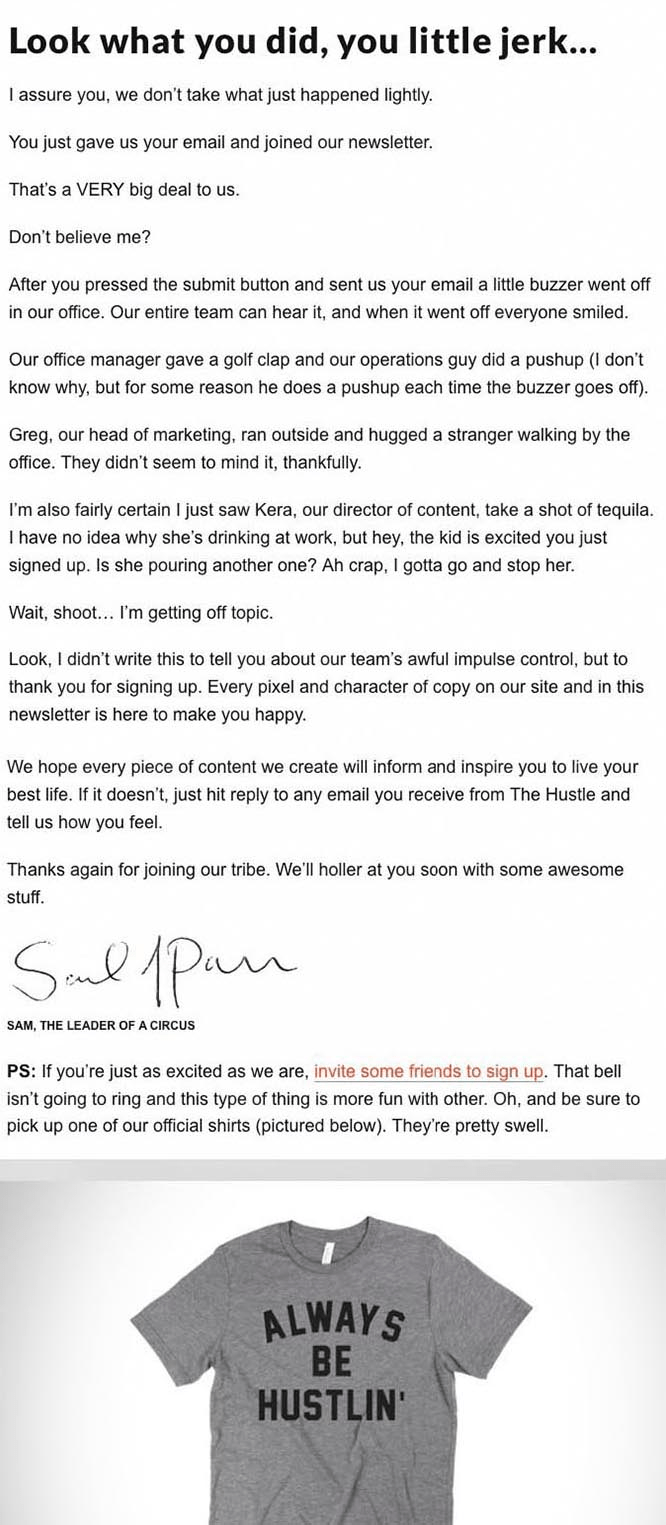 Tip 7. Think Mobile-First
Сonversion rates of your email marketing campaigns do not entirely depend on the effective email marketing strategy. The email clients and gadgets your customers use to open your emails are sometimes even more important.
Since 55 percent of emails are opened on smartphones, it's important that all your transactional and commercial emails should be fully optimized for mobile devices.
These are minimum requirements you should follow to ensure recipients read your email:
Make your subject lines short. A concise subject line will boost your open rates.
Use clear and easy-to-read fonts. Light grey colors are hard to distinguish on a mobile screen, especially when the sun's rays reflect off your cell phone screen.
Make sure your content is easy to scroll.
Split your copy into paragraphs and use short sentences. It's the easiest way to make your customer read even a long article.
Add a clear call to action.
Below you'll find a great example of a mobile-ready receipt email from ASOS. A short subject line, a reasonable amount of useful information, and a purchase receipt. Everything is ready for mobile.

And here's another example of an order confirmation email from J.Crew, that is absolutely not optimized for mobile.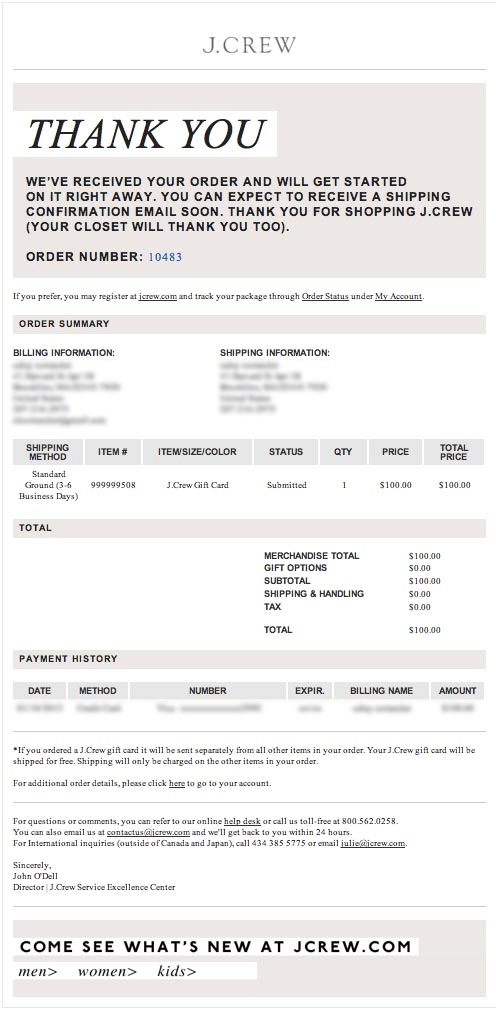 Think mobile-first every step of the way.
Below you can see email tools that will help you optimize your transactional email for mobile the right way:
Sailthru app for X-Cart will take control over your emails and let you send them to different segments.
Price: Free
Blueshift app for X-Cart will let you trigger mobile push notifications, send mobile-ready emails, and SMS.
Price: Free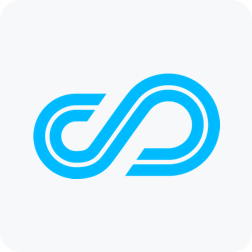 Selligent app for X-Cart will allow you to send triggered messages across the web, mobile, and offline.
Price: Free
Tip 8. Create Email Sequences
Sending emails one by one is not trendy anymore. The new trend of today is an email sequence — a highly-effective but still under-utilized email marketing tactics that help you move your customers along the whole sales process.
Mailchimp is a great tool that sends beautiful email sequences to your customers.
Price: Free
You can send as many email sequences as you like. However, the most popular types of email sequences are as follows:
Welcome series sent when a customer subscribes to your newsletter email;
Abandoned cart series sent when customers cannot make their way through your sales funnel.
Done right, these transactional email series should double your conversion rates and drive more sales.
Here's an excellent example from Pardot — the first out of five welcome emails, meant to get customers jump-started with some initial setup information.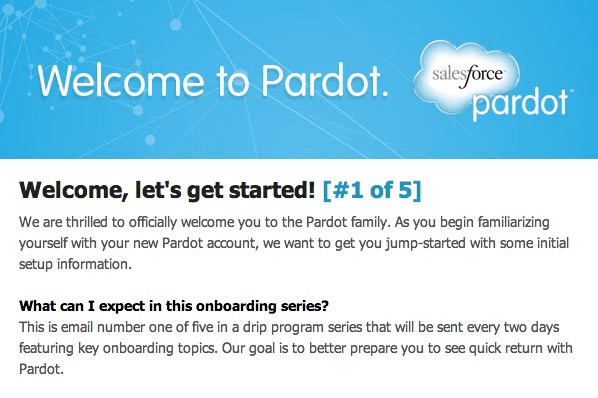 Tip 9. Choose the Right Call to Action
All of the emails you send should have a clear goal and answer customers' specific needs.
Don't try to kill several birds with one stone. This will only boost the number of negative customer reviews, increase spam reports, and teach your customers to skim through your emails.
Sales advisor addon for X-Cart will help you upsell your products using the right call to action.
Price: $99
Here are a few email marketing tips on how to craft the perfect email call-to-action:
Define the goal of your email marketing campaign. You may want to advertise your promotional content, attract attention to your social media communities, or drive sales through cross-selling. Focus on one goal at a time.
Make sure that there's some logic behind your call to action.
Bring real value to your customers. That's what they are here for.
Below you can see an order confirmation email from Republic with as many as five CTA buttons. Not only do they ask their users to verify their account, but they also offer them to discover private companies, become an investor, support, and even learn more. Too much for a single email, isn't it?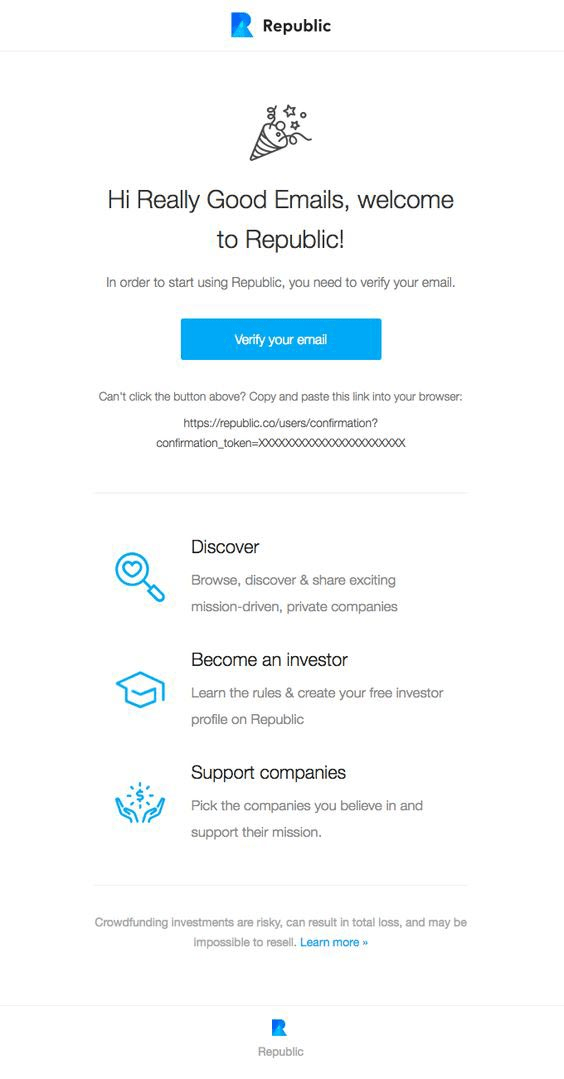 Tip 10. Personalize
With such high-level email marketing services as Campaign Monitor or Mailchimp, treating your customer as one of the crowd is no good. These tools are clever enough to distinguish one customer from another judging by IP address, segment users by their activity, and a lot more.
Monetate app for X-Cart will provide each of your customers with a personalized experience on your site.
Price: Free
There are many ways to personalize your emails:
Using merge fields to address each of your customers by name will make your emails more personalized.
Analyze purchasing behavior and use the data as a powerful upselling and lead-generation tool.
Make sure your recipients know they have an option to reply to your email.
Send automated birthday emails, just like American Apparel.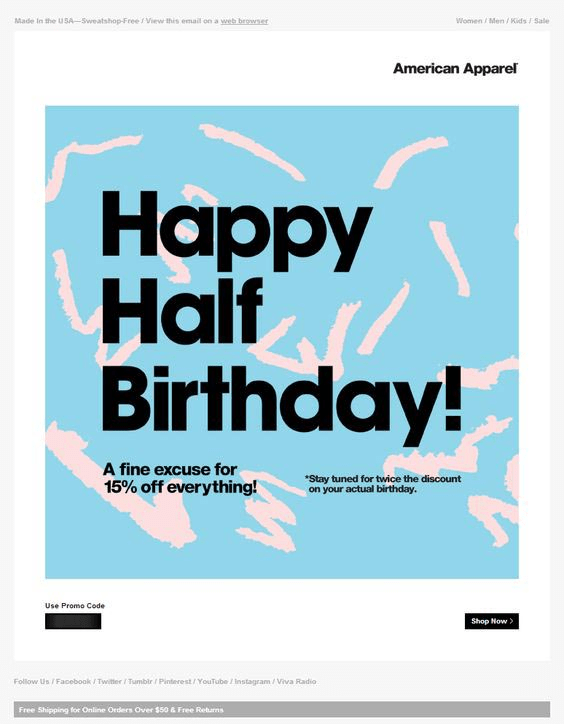 ModCloth also uses this email marketing strategy. See their birthday email below: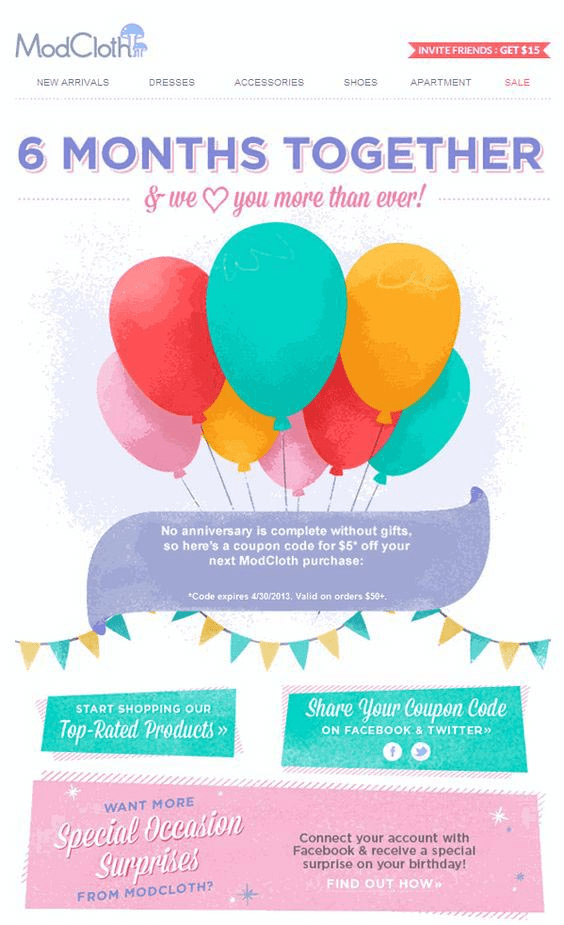 FireBox, a London-based online retailer of unusual gifts, pushes the envelope and displays the customer's delivery address on the map, for the highest level of personalization.

Tip 11. Keep Showing Up
When customers don't hear from you for more than 60 days, they may send your email to SPAM. Even if your customers do not reply to your emails, keep sending emails once in a while. They may still be reading them silently.
Tip 12. Be Specific
You have only a few seconds to grab your customers' attention. If the first paragraph of your email is not catchy enough, your transactional email is instantly closed, or deleted, or even marked as spam.
Read every line of your email twice before hitting the 'Send' button.
The following email marketing tips will help you avoid certain mistakes online retailers often make when creating email marketing campaigns:
Don't make your transactional emails too wordy. Five sentences is more than enough. And if you can't keep your email to a few sentences, then split your copy into readable paragraphs and make the lines shorter. Keep it in mind — every word counts.
Do not waste your customer's time. Keep your message to the point. Say what you were planning to in the very first paragraph.
Use a P.S. to emphasize important information.
Use the 'less is more' rule and focus on a single call to action at a time.
Define the end goal of your email campaign. Are you going to upsell or educate your customers? Or both?
Write as you would speak, but remember, you are not 13 anymore. Express your emotions through the power of words, not through em☺ji 😉😎 =)
Have a look at the welcome email from Matt Bilotti, Drift's product manager.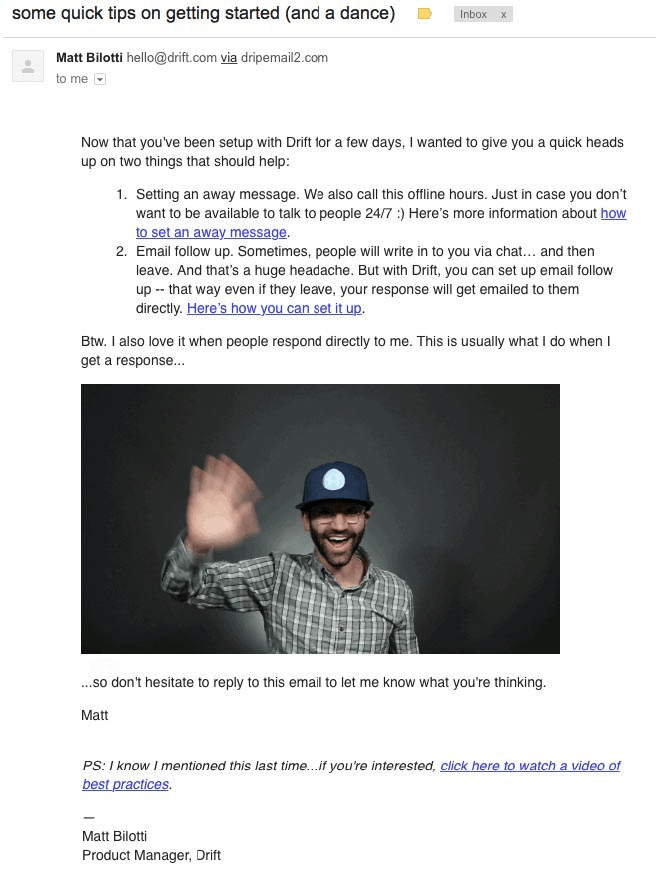 This email is rather concise, and there's a P.S. with a clear non-intrusive call to action link at the very bottom. And what an amazing conversational style!
Tip 13. Tell a Story
People love stories. When we hear stories, our brain acts as if we are living them. What if we talk to our customers about something really enjoyable?
Look deeper into your user data, analyze purchasing preferences, and use them wisely to increase user engagement with your eCommerce website or social media community.
Here's the way Neville Medhora, the creator of the Kopywriting Kourse, boosts the desire to purchase his services by explaining how they can solve customers' problems.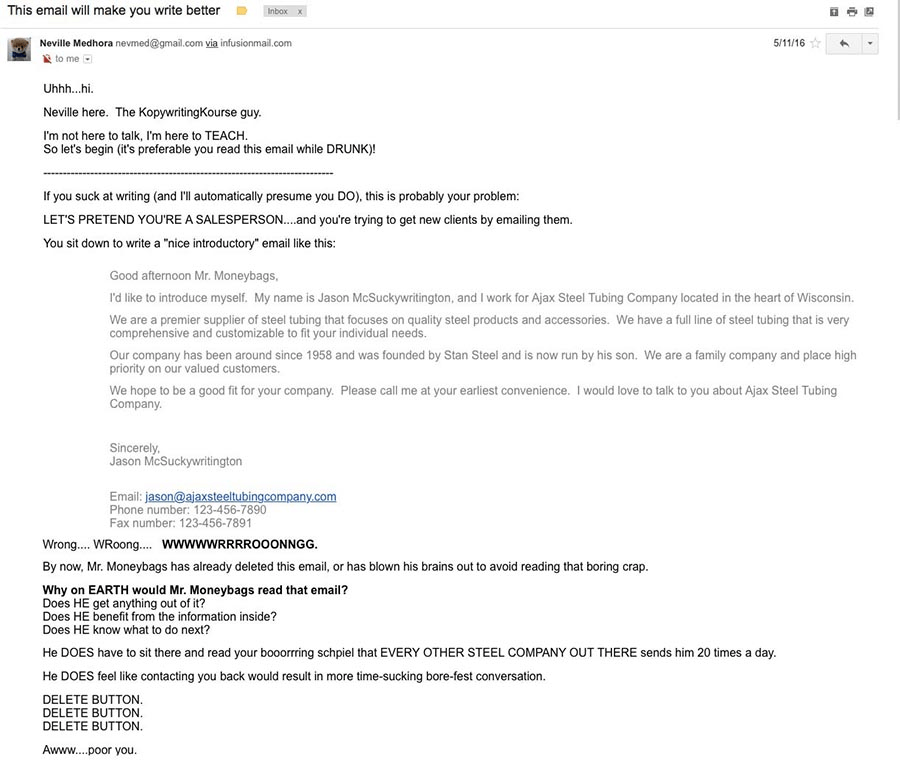 As we can see, Neville loves looooooong emails. Nevertheless, I read every single line of his emails as he understands the science of storytelling. Plus, he successfully implements all the other email marketing tips we discussed earlier, such as personalization, emotional language, short lines, etc. That's how he makes this LONG story short.
Below you'll discover a couple of email marketing tips that will get your transactional email to sound like a story:
Write as if you are talking to a real person sitting next to you;
Tell what inspired you to set up your eCommerce business, that's something that may get your customers interested;
Include a short video to introduce your mission and ensure recipients you are a real person. You can use a welcome drip series to set the scene.
Add photos of your team or other places where your customers can find support.
Over To You
This is a robust list of email marketing tips and strategies that you can use for your eCommerce business. Implemented right, they can significantly increase your conversion rates and convert one-time buyers into loyal customers.
Do you know any other techniques that you think should be mentioned? Feel free to share them in the comments below.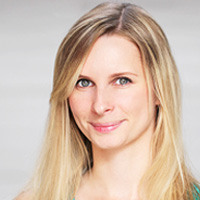 Helen Golubeva
Freelance SEO and Content Marketing Specialist
Helen is an SEO and Content Marketing Specialist. She has been creating and planning content for over 10 years, with 5+ years specializing in eCommerce.
Subscribe to Our Weekly Newsletter to Get
Expert-Backed

Tips Straight Into Your Inbox

Awesome! You won't be disappointed 😉