9 Tested Strategies to Improve Your Abandoned Cart Emails [+ 16 Examples]

Every day online retailers lose their money. Tons of money. Why? Just because more than two-thirds of their website users fail to complete their checkout process. For merchants, this equates to nearly $18 billion worth of potential sales lost annually.
But not all is lost. Although you cannot entirely eliminate the problem of cart abandonment, there's still a chance that abandoned cart emails will woo your customers back to your eCommerce store and make them more loyal to your brand.
I've put together ten hottest abandoned cart recovery techniques that should help you boost your conversion rates and finally move those abandoned carts through the checkout process.
Recover Lost Sales with Abandoned Cart Emails
We have a few tested email tools to help you generate additional revenue.
Create a free account with X-Cart to get started.
And if you still think you are the only Robinson Crusoe on an 'abandoned cart' island, you are wrong. Below you'll also see the best abandoned cart email examples from top revenue eCommerce businesses. These great examples are here to demonstrate you the way these remarketing tactics are used for combatting shopping cart abandonment.
Dive in and start creating effective emails right now!
I. Why Website Users May Abandon Their Carts
Why did your shopper abandon his cart?
The sad truth is that you will never know it exactly. However, there are at least eight common factors that can rack the checkout process.
Have a look at this wonderful infographics from Business Insider to see why so many U.S. shoppers cannot force their way through checkout. Then, I'll show you the exact ways to tweak your abandoned cart email templates to escape this 'abandonment karma':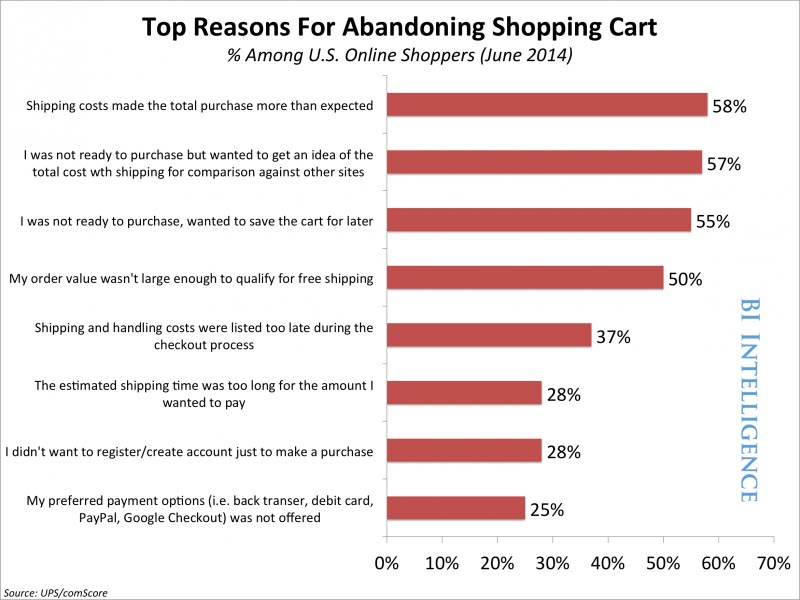 1. The total cost of your product was TOO HIGH
Unfortunately, a high price is one of the most common reasons for cart abandonment. So if you are seriously planning to recover the customers who have been scared away by the final price, consider changing your shopping strategy.
The simplest way to do it is to give your customers a discount. This should level up your average conversions. We'll talk about it a bit later.
2. User wasn't ready to purchase
It's curious that one part of your website users treats your cart as a wishlist to save the items for the future, as they simply are not ready to buy at the moment.
The other part does some comparison-shopping, leaving online retailers at sea.
Everyone wants the best deal.
3. There was no free shipping
Unexpected costs, like hidden shipping expenses, can also be the reason why the cart abandonment rate of your eCommerce store is so high.
Price doubled during checkout process drives your shoppers away from your online store and brings about annoyance and irritation instead.
Do not hide your shipping costs! Or get rid of them.
4. You force your users to sign up to make a purchase
28% of cart abandoners do not complete their purchase if there is no guest checkout option.
Laziness? No desire to disclose personal data?
I'm not sure. But that's the fact.
5. User didn't like payment options you offer
You let 25% of your potential sales slip through your fingers if you offer shoppers a limited number of payment options.
Just because you are familiar with a particular payment processor doesn't mean your customers are.
6. User had doubts about security
Doubt.
That's what makes more than 50% of online shoppers discontinue their purchases when shopping online.
Obsolete-looking checkout page with missing images and broken links looks suspicious, isn't it?
Yes, it is. Your website user will agree with me. And no remarketing life hacks will save you from abandonment problem until you fix these nasty bugs.
7. Your checkout process is pretty much complicated
The complicated registration process increases purchase time and literally kills your conversion rates bringing them to the minimum.
8. No one is eager to spend 30 min filling in their mother's maiden name and home phone number to buy a single pencil shopping online.
Are you asking for too much info on checkout? STOP IT.
8. No internet connection, internal server and other errors
Broken pages, connection problems, and other errors your website users might encounter make this cart abandonment issue even worse.
9. Aliens kidnapped your user and sent him to an abandoned cart planet
Just joking ?
But no matter what (or who, in case it was truly an alien!) forced your website users to abandon their shopping carts, you have a very limited window to craft a perfect abandoned cart recovery strategy.
So start today! Let me show you how.
II. How to Calculate Shopping Cart Abandonment Rate (+ Formula)
To find the most appropriate method for combating shopping cart abandonment, you need to figure out how many shoppers leave your eCommerce store before buying. Use one of the following tools to get additional data:
1. Set up a conversion funnel in Google Analytics
It is the easiest way of gathering meaningful data about your customers' behavior. Moreover, it's free.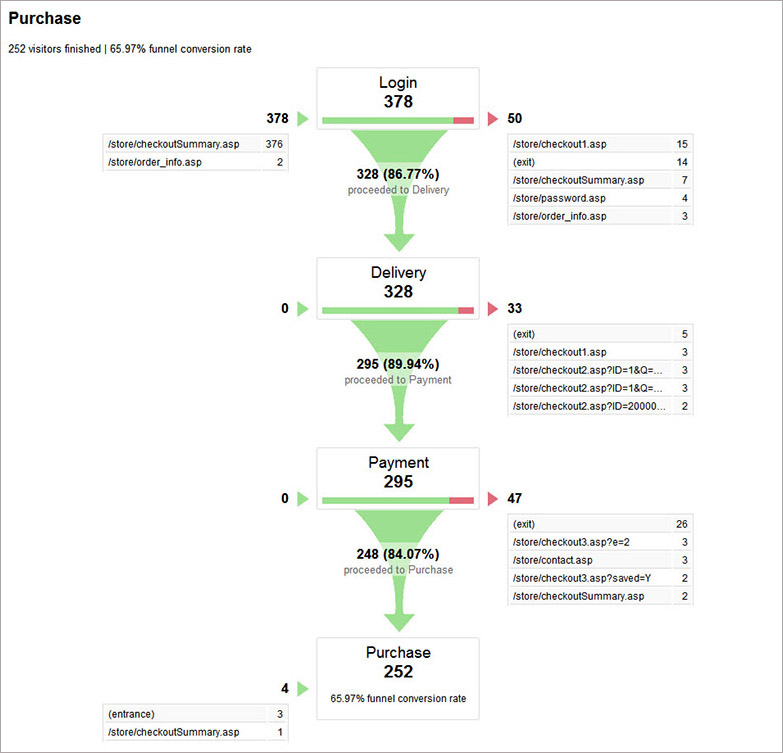 2. Add a Google Analytics event
This is a more sophisticated tool to gather information about shopping cart abandonment. It will allow you to track all 'Add to cart' events.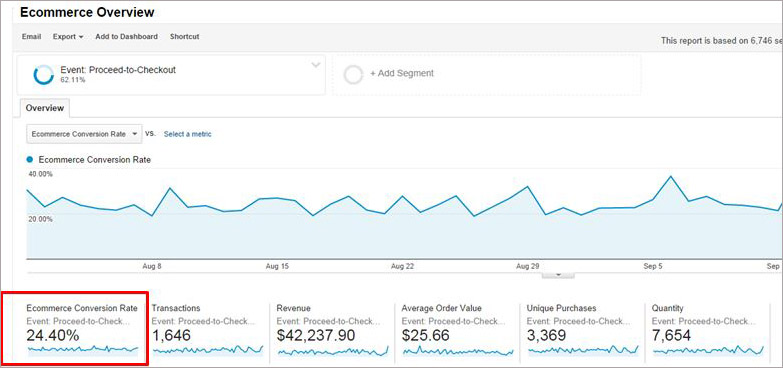 3. Try other reporting tools
For example, MixPanel or RJMetrics.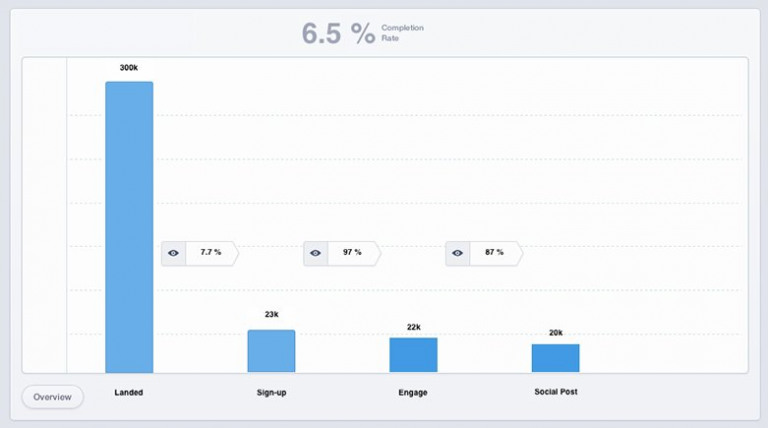 Once you collect the user data for at least a month, calculate your current cart abandonment rate.
Formula to help you count cart abandonment in you online store
(A -B) / A
A — the number of customers reaching your checkout page.
B — the number of people opening your 'Thank you' page.
If it is hovering around 68%, while this seems like a lot, you're on a level with most other online retailers. If it's less, then congratulations! You are doing better than average.
In any case, there is always room for improvement. Let's see what you can do to make more potential sales.
III. How to Improve Shopping Cart Abandonment Rates
The very first thing you can do to improve your shopping cart abandonment and conversion rates is to start sending abandoned cart email reminders.
In X-Cart, there are a few apps tailored specifically for that purpose. They will automatically email registered and "guest" customers to remind them of items pending in their shopping carts. Some modules have such advanced options as including customer discounts and special offers into your abandoned cart emails.
This kind of order reminders will motivate your customers to finalize the checkout process and, thus, boost your average conversions.
It's important to note that the process of setting abandoned cart emails is essentially risk-free as you will never lose a sale.
Once the abandoned shopping cart recovery tool is installed, there comes time to configure your abandoned cart plugin settings:
First, сhoose the time period between the fact of abandonment and the order reminder email. Usually, it is no more than 24 hours.
Second, decide whether you are going to create a sale-rescuing abandoned cart email sequence or send campaigns one by one. If you go for the first option, you might need to set the frequency and the number of basket-abandonment emails you want to send to your website users.
Keep it in mind, that effective email should have a clear call-to-action, a catchy subject line, and powerful copy. You can also use a loyalty program or a customer discount as an incentive to stay and finish the order.
Let's go into more details now.
1. Subject line
If your cart abandonment email subject line is still an afterthought that you add just before you send hit, you are making a big mistake.
This might seem like a small thing, but what are your abandoned cart recovery emails worth if they are not opened?
Neither your shopping strategy nor perfectly-designed abandoned cart email templates mean absolutely nothing if your subject line is lame. Take it as a rule.
Even David Ogilvy (who never saw an email but knew a few things about headlines) said that and he was right:
On the average, five times as many people read the headline as read the body copy. When you have written your headline, you have spent 80 cents out of your dollar.
So, take the subject of your abandoned cart email subject lines very seriously. Here are a few tips to help you make your abandoned cart email subject lines shine and attract more potential sales:
Branding. Make sure your customers can seamlessly identify your brand before they see what's inside your awesome abandoned cart email.
Breona at CoSchedule, Robin at BombBomb
Create a sense of urgency. This trick will make your cart recovery email campaigns opened faster.
Only 311 bonuses left!
Right Now: 20% off Procter & Gamble
Your cart expires soon! Get your wines before they're gone.
Make it clear that your email is about. Your cart abandoner should understand the two things: what he left and what you offer.
Something in your cart has a promotion, order now to get it by Christmas
Personalize. You know what your shopper has forgotten in your eCommerce cart, don't you? Use the product information in your abandoned cart email subject line. That's even better if you know your shopper's name.
Helen, forgetting something? Come back for your ALDO shoes
Surprize. Odd or unusual subject lines are cool attention grabbers.
Whoo.. Let me transport you to abandoned cart jungles!
Put some emotions into your abandoned cart email subj.
Ohhh.. Your cart is feeling so lonely. Go hug it
Btw, A/B testing is a great way to optimize your abandoned cart email subject lines. Switch on your fantasy and put down a few great examples that you think might work. Then see which one gives you higher open and conversion rates.
2. Design an eye-popping abandoned cart email template
We all know about the importance of design. It raises the visibility of the products you sell and drives conversion rates even better than a powerful copy. Yes, people are visual.
Your abandoned cart email templates should be no exception.
A beautifully-designed abandoned cart email re-engage potential customers and squeeze them through the checkout process.
So don't be afraid to jazz your remarketing emails up with images. Compelling visuals will also make your abandoned cart emails 'alive' and remind your cart abandoners about the products they have forgotten in your eCommerce shopping cart.
Have a look at this cute and funny abandoned cart email example from Bark & Co., a New York-based provider of pet products. What do you see at first sight? I see a pic. A really nice pic of a dog, chewing on a box.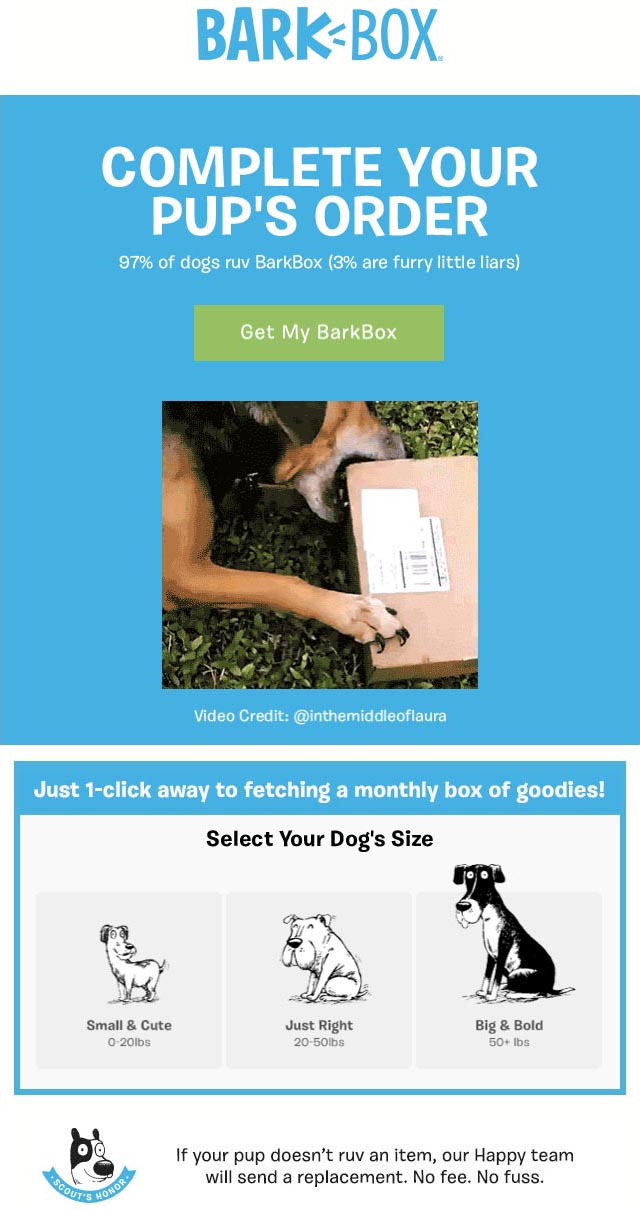 This abandoned cart email template is perfectly optimized to meet the needs of each customer. I'd like to focus your attention on three points here:
The picture in the very center of this abandoned cart email provides a glimpse of what this BarkBox is going to be like. Plus, there is a clear call to action.
There is a kind of a loyalty program — their happy team promises to send a replacement with no fees or fuss.
They deliver a great customer service by offering their shoppers a personalized option for dogs of all breeds and sizes, be it small & cute, just right or big & bold.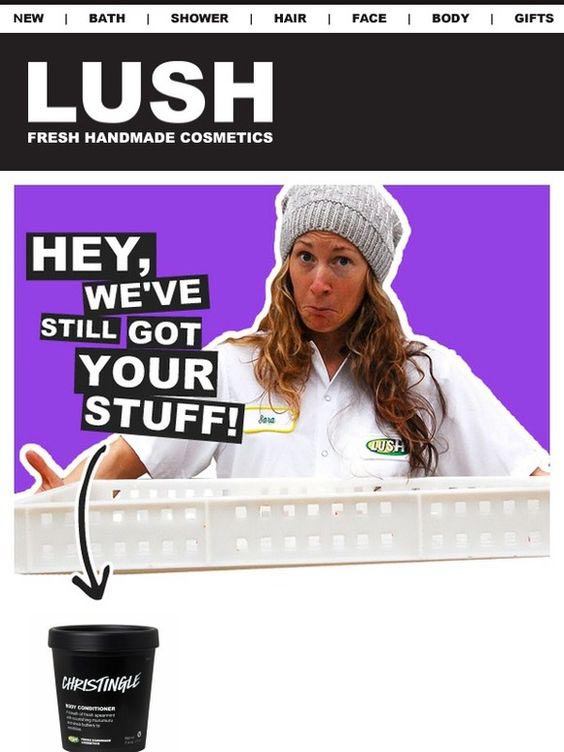 You can get even more imaginative and include a goofy image in your abandoned cart email template. Sara from LUSH fresh handmade cosmetics looks sincerely surprised to see your abandoned item. Go grab it while it's still available.
Ralph Lauren designer clothing eCommerce store also sends beautifully designed cart recovery emails. A posh car, two purebred dogs and lots of leather bags.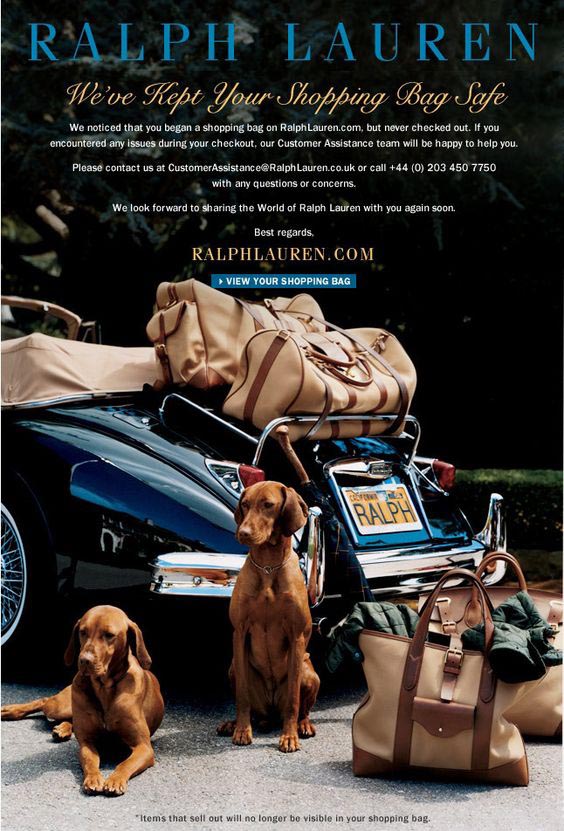 Here is what Kevin Moore, our standing customer from Japan who has been selling online with X-Cart for many years already, thinks about abandoned cart emails.
He added thumbnails to his abandoned cart emails and that worked.
For the month of November, we recovered 12 orders worth about US $1000. That's pretty nice if you multiply it by 12 months. So mark me down as a convert to this mod! I see 14 abandoned carts which were not recovered, so this is nearly half. I'm not completely sure this is correct, the statistics only show recovered carts and not a percentage. I believe the upgrade with the thumbnail was a significant improvement; more carts were recovered since it's inception. This is a mod that takes some tweaking to get it set right. One abandoned cart email is really all you need.
That's a little bit something about the way effective abandoned cart emails should look like.
3. Remind your users of what they've left behind
Believe it or not, but your website users might have already forgotten about the abandoned items they left in your cart. So it will be really wise if you remind them about these products.
Enhance your abandoned cart emails with powerful copy and add product information with detailed images.
This will make your abandonment emails more personalized (we'll also talk about it a bit later) and remind shoppers of what they are potentially missing out on.
How to create abandoned cart emails the right way
Focus the attention of your website users on the items they abandoned and
Add a back-to-cart link or button.
Do not distract users with unnecessary elements inside your email.
Deleting social buttons may also be a good idea.
Here's a great example of an abandoned cart email from PUMA. This friendly reminder is pretty simple — short but meaningful copy, two nice-looking pictures of running shoes (exactly the ones user was browsing) and a quick reminder about free shipping.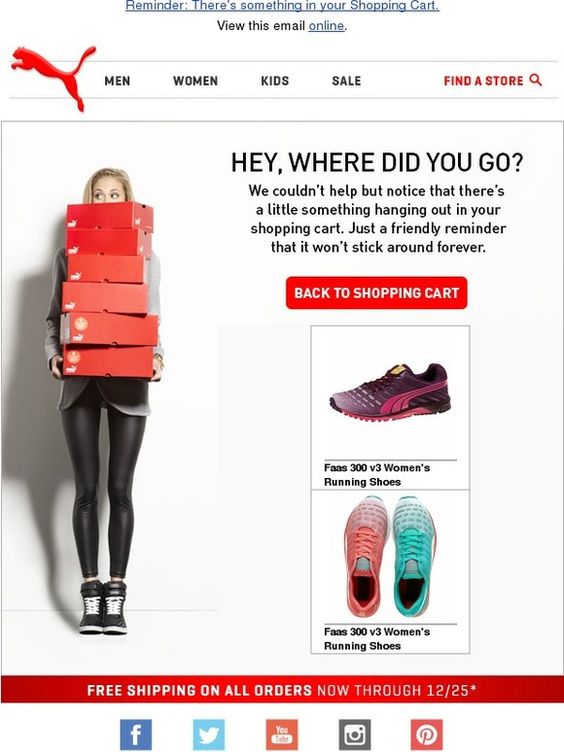 ASOS has optimized the abandoned order reminders in such a way as to make them as specific as possible. No social buttons. No popular items for cross-selling purposes. Only a curly-haired mulatto girl wearing your botanical-textured T-shirt dress, free shipping notice and some additional data about returns.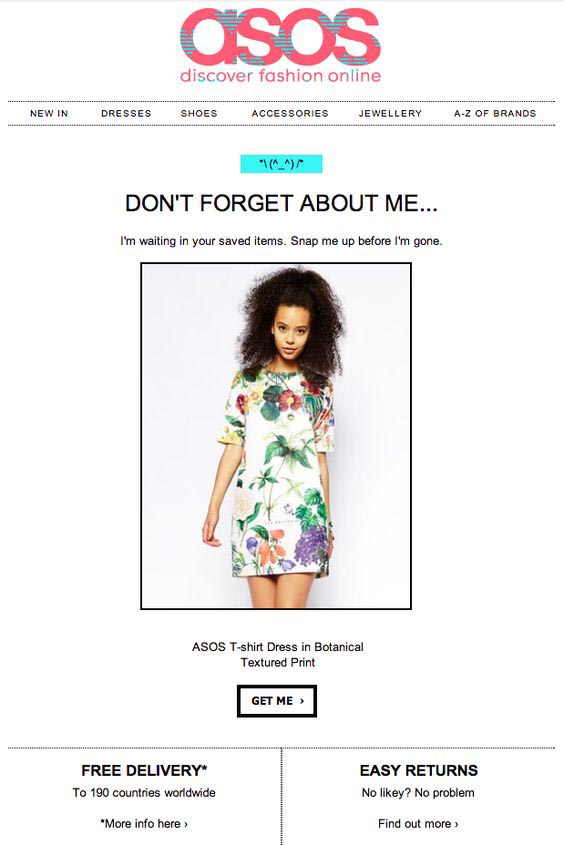 4. Offer shoppers an incentive
We all love freebies — gifts, bonuses, loyalty programs, free shipping and other things marketers use to please the guys from their marketing list in order to improve conversion rates.
Why not use these email marketing techniques in your abandoned cart emails?
Cost is one of the common reasons for cart abandonment, so consider offering your customer a discount coupon, if he was scared away by the final price, or just ship their items for free. This should make your shopper more loyal to your brand and improve your potential sales.
A word of caution: including a discount code in every cart abandonment email is always a little risky. Here are a few thoughts about that:
Offering deep discounts to your website users, you run the risk of attracting a large segment of price-sensitive shoppers.
Tossing the same discount to everyone who abandons his shopping cart can 'coach' your customers to leave items in their carts and silently wait until you come with a coupon.
Offering free shipping or free returns as part of your abandoned cart strategy can hurt your overall sales numbers.
Including a 10% discount is usually enough to recover the most of your abandoned carts. Be smart about discounts.
How I was Tricked into Purchase with an Abandoned Cart Email
A few days ago I got an idea to revamp my wardrobe without spending too much money, so I found a neat Korean eCommerce store and threw a couple of dresses in my shopping cart.
A few days later I was quite surprised to see an abandoned cart email in my inbox offering a 10% discount on the purchase.
But that was not what surprised me most. They also offered free shipping if I added a few more things to my cart. So did I. What an effective technique their marketers use to boost their potential sales!
Here's an abandoned cart email example sent by Need Supply Co., a modern boutique selling stylish men's & women's clothing, shoes, and home accessories online.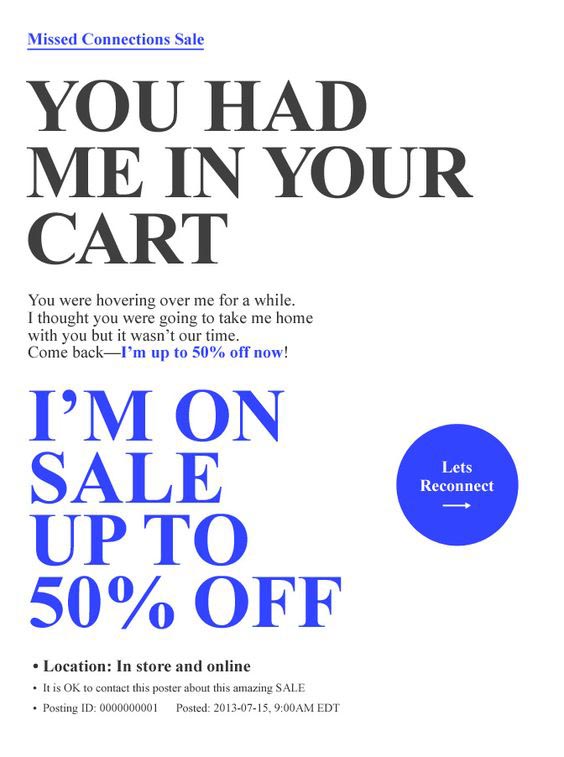 But though there is a discount, this abandoned cart email is not perfect:
It is not personalized, as your shopper does not see what items are discounted and what is the exact discount. "UP TO 50%" means that your customers discount may be only 5%.
The email is not associated with the brand. Where is the logo? Who on earth is talking to me?
The abandoned cart email template is rather dull. Only text. No images.
And I do not recommend sending such a massive 50% discount to all your shoppers.
But regardless of all this indigested stuff, I should admit that this remarketing email is quite effective. It has a definite "Let's reconnect" call to action, carefully thought-out and persuasive copy, and a 50% seducing offer.
Would you click that bright blue button? I would.
5. Create powerful copy for your abandoned cart email
Though your abandoned cart emails can be image-only (yikes.. I do not recommend it), you will not possibly get away without a powerful copy that inspires you and resonates with your customers' souls.
Yes, it may take time and dedication to write a killing text for your next cart recovery email, but the potential extra sale is worth the potential extra work.
Here are a few impressive examples of remarketing emails from Chubbies Shorts, Ray-Ban, Dollar Shave Club and Lovesac.
Clothing online retailer Chubbies, selling online the most radical shorts ever known to humankind, definitely knows a thing or two about writing powerful copy. It's Nov. 27th today, and they are running a Cyber Monday sale, and even the word 'cyber' is written as 'thighber' that reminds you of thigh shorts.
Their abandoned cart emails are in no way different — they are as creative as everything else you see on their eCommerce website. They invite cart abandoners to be transported back to their internet shopping carts, free of charge. And the "teleport to your cart" button is really hard to resist!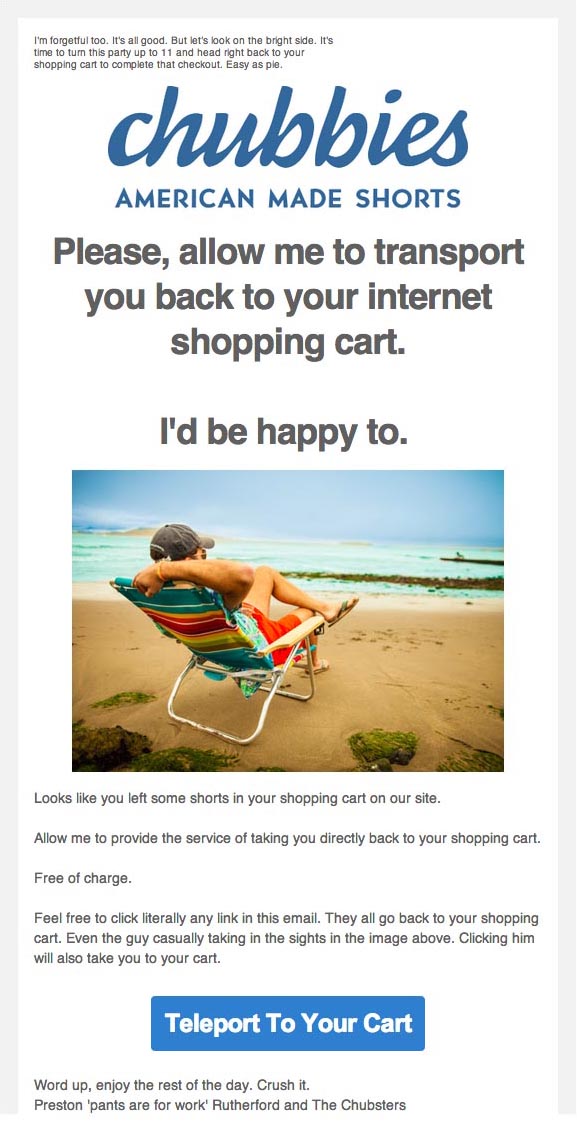 Now cast your look at the email below. Do you see this teddy tough bear with a mike wearing sunglasses? They suggest that you should whack him in the nose and get back to your cart. Exciting perspective, right? This is one of the best cart abandonment emails I've ever seen.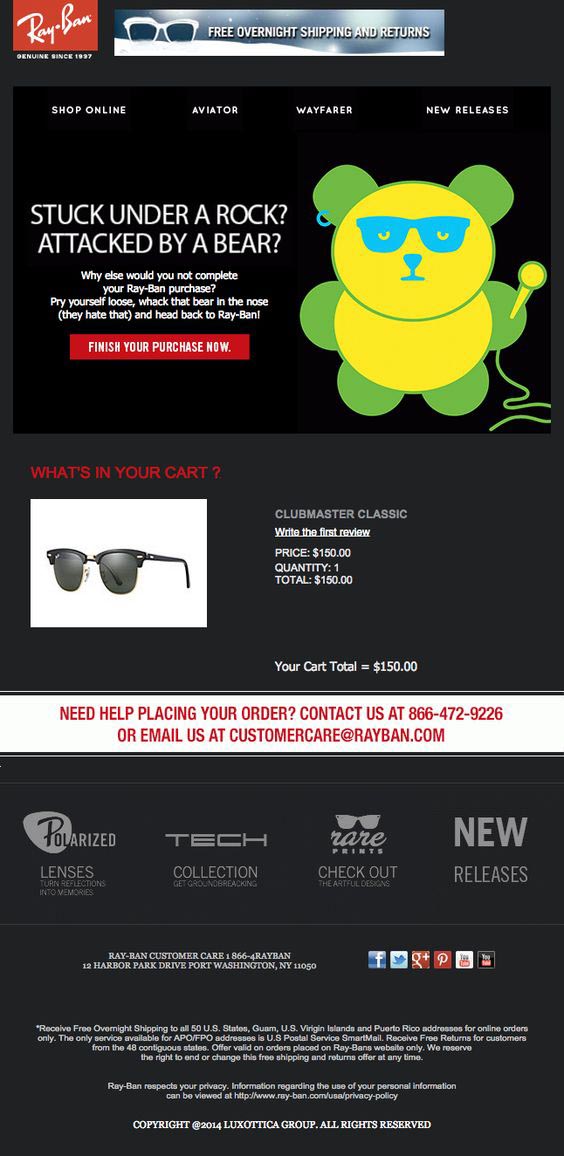 Here's one more bear (a kind one this time) from Dollar Shave Club. When anyone abandons his cart, this is bumming pretty hard.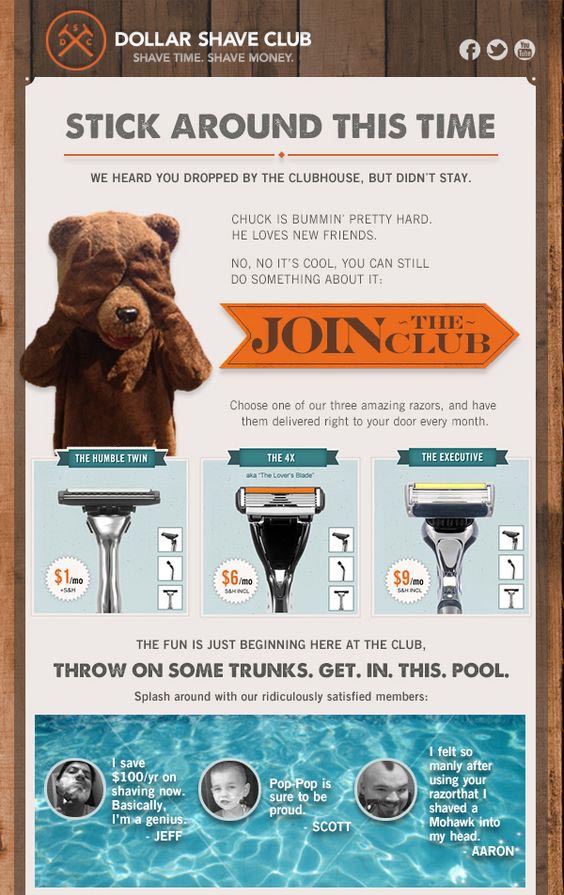 So, what we see here:
A clear call to action;
An attention-grabbing image;
A list of popular items;
Reviews from real customers as a social proof;
And an authoritative copy, of course.
Great job, guys!
The last abandoned cart email example offers shoppers to give their shopping cart some love before it expires. Who doesn't love dogs? An effective email is also about triggering emotions.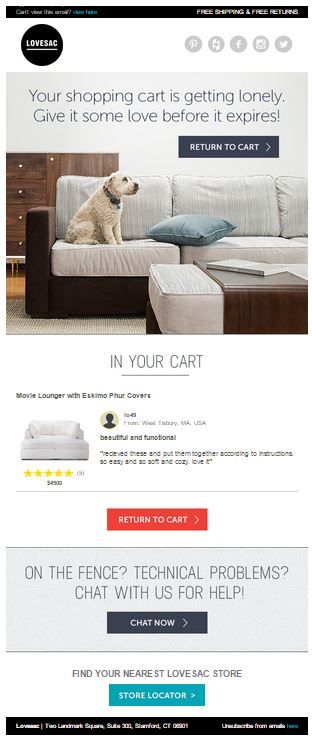 6. Call to action
If your purpose is to create the best abandoned cart email for your eCommerce site, no element in it should ever distract your potential customer from his abandoned purchase.
Ideally, a truly effective email should contain the following:
a clear and bold call-to-action, taking your website user directly to the abandoned cart;
an image of an abandoned item;
I'd also highlight a toll-free number or an email address so that your shopper could easily get in touch with you regarding cart difficulties or product questions. But that's not necessary.
Your button should say something like that: "Push this button right now! Do not overthink it."
Here are a couple of tips that should help you create a WOWsome call-to-action that boosts conversion rates of your eCommerce website:
The color of your CTA button must always stand out from the background it appears on;
The text on your button should make people click it more;
Simple, readable fonts are essential;
The size and the placement of your CTA button should be well-proportioned to the rest of the content.
Below you'll see an abandoned cart email example from Europcar, a car renting service. The yellow "Book now" CTA button is shown twice and is distinctly seen at first sight.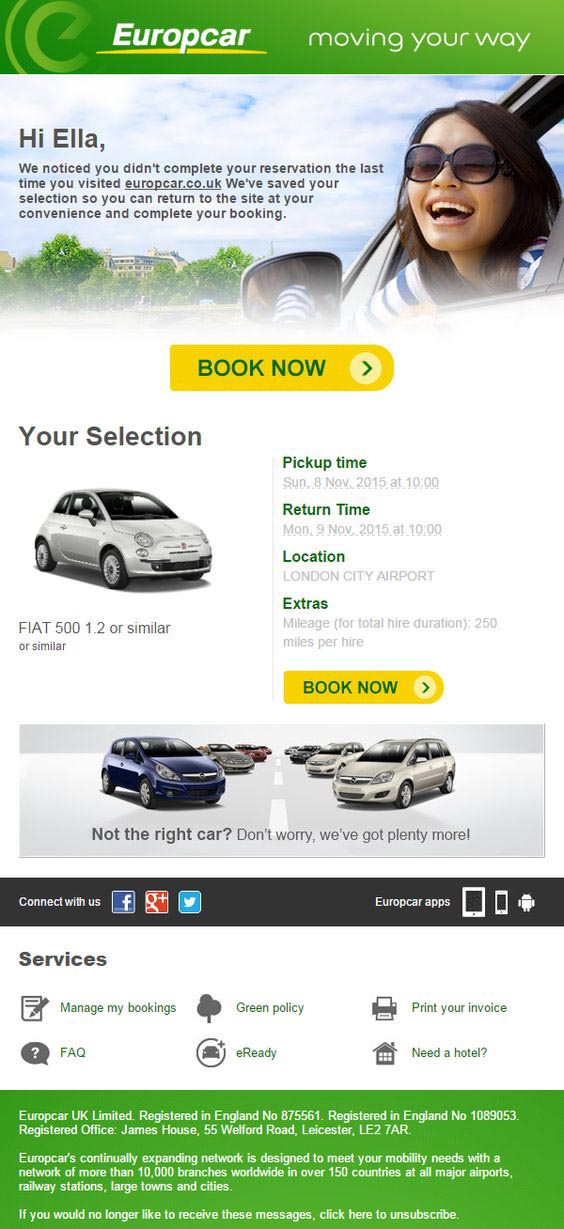 However, I wouldn't call this remarketing email the best one, as there are too many distractors in it:
social buttons;
apps;
other services;
a banner offering you to choose another variant;
some inconspicuous additional data at the bottom;
I would consider removing some of the content away from this abandoned cart recovery email.
7. Include reviews
Where do you go first thing when you need to buy a new bread-slicer?
Of course, you Google the reviews. And 61% of online users do the same. They read online reviews before making a purchase decision.
You know the word of mouth is much more effective than any kind of promotional email.
Here's why:
Reviews provide third-party insights into the experience your item offers. That's especially crucial for those shopping online, as they do not have a chance to touch your item.
Your shoppers get the unbiased information they can rely on. We all know that online retailers tend to whitewash their products' quality. Online shoppers do not usually do that.
A review is simple guidance. It's much easier to sum up the wisdom of the general population then learn by trial and error.
So if you feel your website users are still in doubt about pulling their wallets out, then a gentle nudge with a review, added into your abandoned cart emails, will do the trick. Customer reviews will encourage your website users to make that freaking purchase.
Let's see the way Casper, a New York-based eCommerce company that sells mattresses online, implements reviews to abandoned cart recovery emails.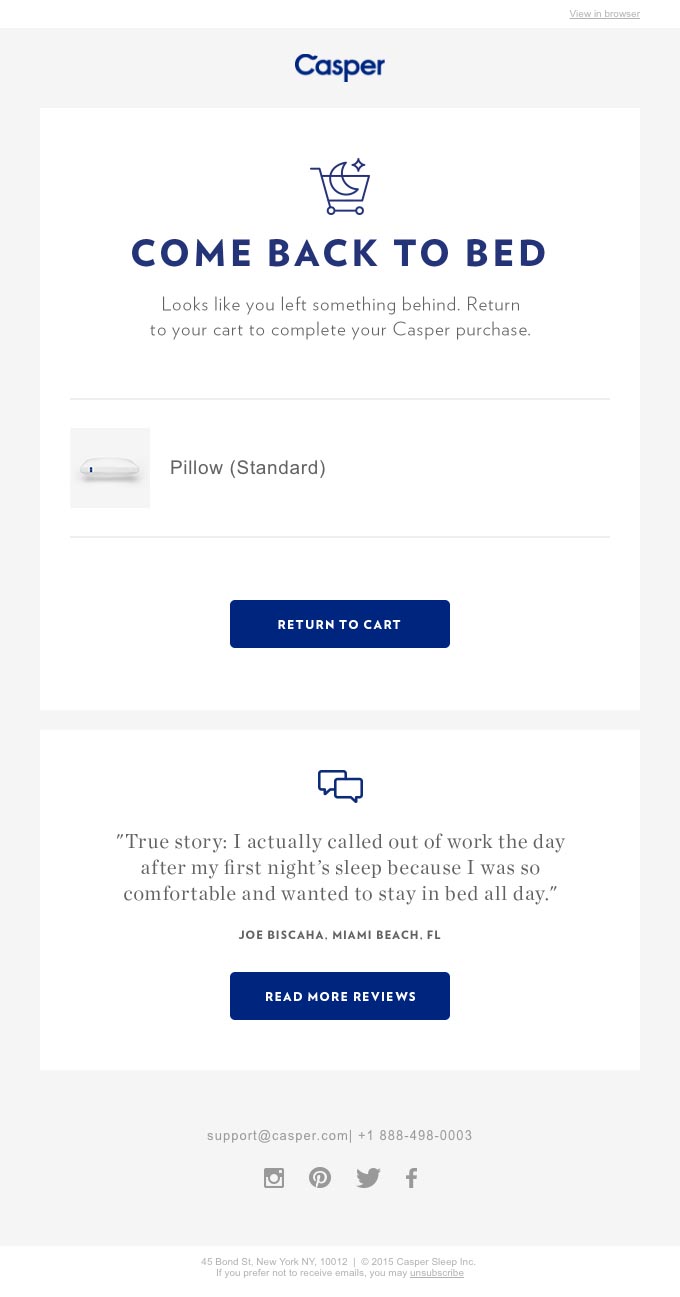 The real Casper's client, Joe Biscaha from Miami Beach, sharing his experience about staying in bed all day long.
And you know what? Casper calls him back to bed ? Well, not exactly him. But anyway. Who doesn't want to come back to bed, after all?
The only thing that distracts me is a call-to-action. Actually, there are two of them. And that's no good as two CTAs with two different messages may significantly reduce conversion rates.
8. Personalize
All your transactional notifications, including receipt and abandoned cart emails, are already personal to some extent, as they are triggered by your customers' actions.
However, you can personalize your abandoned cart recovery emails one step further.
Trick #1: One of the easiest personalization strategies you can implement is calling the recipient by name as Mailto does.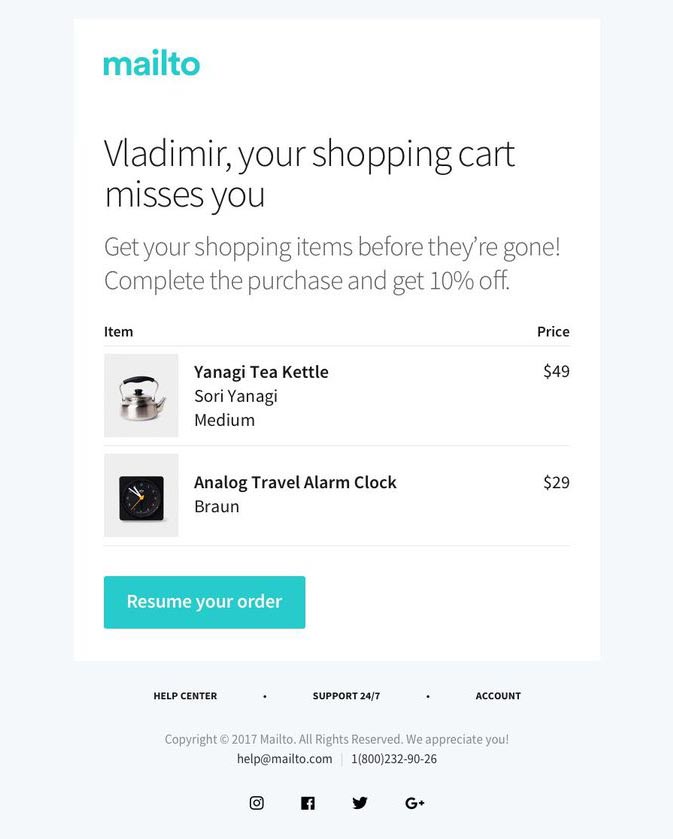 But they've gone beyond just including a name in your email.
Trick #2: Adding product information with images can also work. Pictures remind people of the items they've left in the cart.
Trick #3: Personalisation is also about the way you write your copy. Abandoned cart emails that look as if a friend is talking to you are also quite useful.
Ugmonk's copywriters created a clean and plain cart recovery email, with no images and logos. And they were right.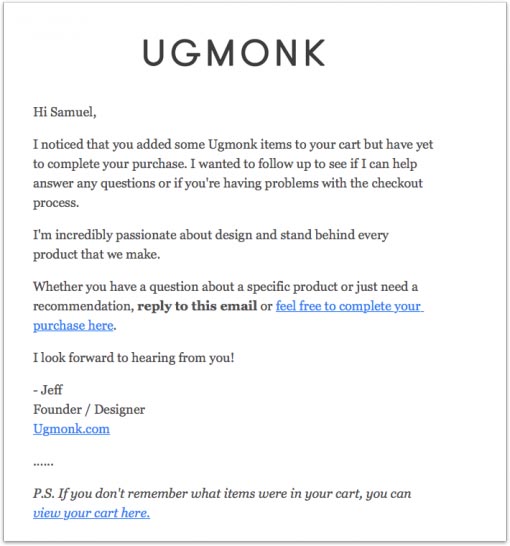 Trick #4: Add a product name to your abandoned cart email subject line. Show your customer you know what he is looking for and you care.
Use these shopping tactics to make your remarketing emails as personalized as possible and soon you'll see — your website users won't be able to live without the things you sell online.
9. Mind the timing
Timing means a lot.
By saying that I mean that if you are going to convert your cart abandoners into loyal customers, you should take the timing of your abandoned cart reminders seriously.
Ideally, you need to send your notification within 24 hours of cart abandonment. The earlier, the better. Surprised?
Have a look at this infographic from SaleCycle. It explains everything:

As you see, the conversion rate of cart abandonment emails sent 24 hours later is twice as low as the emails sent within 20 min after the fact of abandonment. Stunning, right?
This happens because your products are still fresh in your customers' minds. Later on, your email will only irritate your abandoned shopper.
You may also like another strategy — setting up cart abandonment email sequences. They can be constructed this way:
Step 1. You send your first email just after your customer abandons his cart. It's just a friendly reminder about the products he has forgotten to grab. 72% of customers who buy from abandoned cart emails convert in the first 24 hours.
Step 2. That 28% who didn't react to the first email can be poked once again, say, a day later. Don't push hard on them. Just let them think again about the items they liked. Btw, why not offer a time-limited discount, or free shipping this time?
Step 3. You can even try to bring your customers back to your abandoned shopping cart in two or three weeks. It won't be as effective as your first email, but it may be the right time for a more extensive discount promotion. You can increase your offer from 10% to 30%, but do not over-discount your products. This may ruin your shopping strategy forever.
Here's the testimonial from the Kevin Moore, the founder of O-Cha.com eCommerce site selling different delicious sorts of tea:
Note that we only send out ONE email a few hours after the cart has been abandoned — it's all you need. I have noticed that if they don't bite for that first email, it's highly unlikely they will go for it after a second email.
Pick an idea, test it, cut it off
Now, when all is set, slow down for a moment to figure out which order reminder works best for you.
You should keep it in mind that what is right for guys buying X-Men comics from online booksellers would not necessarily be appropriate for those engaged in real estate investments.
How well did this abandoned cart email convert abandoned items into real orders? Rather well? That's great. But even if you've managed to increase your revenue and started getting additional sales, don't stop at that.
You should have both feet on the ground and understand that setting up 'come-back-to-my-shopping-cart' reminders is not the holy grail and certainly not the only thing you can do to optimize your conversion rates, especially when you are focused on increasing your revenue levels.
Then you might have to think of other practical shopping strategies:
Option 1. Try to improve your store's checkout process by making your payment form more user-friendly;
Option 2. Optimize your landing page to make it more attractive to website users.
Option 3. Impress your customers with your fantastic copywriting skills. Anywhere, be it your abandoned cart email or a tweet.
Minor changes bring about inconspicuous results. Minor changes, combined together, deliver real benefits. You know, a 105% increase in revenue is superb, but 270% is a way better.
Final thoughts
Start today and implement the techniques and tools you've learned about in this article. If you do it right, you can get a lot more shoppers to complete your checkout process.
Still not sure? Have a look three more real-life cases of fighting shopping cart abandonment using abandoned cart best practices:
We knew abandoned carts were always a problem for all eCommerce websites, and customers would even register, go to checkout but still change their mind and not complete the purchase.
This could be for many reasons – the price, just changed their mind on the item, delivery time or problems, they do not have enough money in their bank, etc. To encourage these customers to come back and shop, an automatic abandoned cart email is sent with a discount code.
So, on our store if a customer enters their personal details but does not complete the checkout process, then 2 days later they would be emailed with an offer to come back to the website and purchase the products using a discount code. Many customers have loved being contacted and given a chance to buy again at a reduced price.
If anyone has any doubts whether this cart recovery strategy is effective or not, let me give you our abandoned cart statistics for the last three months in US Dollars:
November: $980 December: $740 January (so far!): $1,150
So in the last three months, so far we've recouped US $2,870. I am amazed that there is that significant amount of abandoned carts, I had no idea! Granted, this is our peak season but I imagine after one year this will really be a significant amount of money to the bottom line.
I have had a cart abandonment module installed over the last several months and have recovered 4 orders totaling around $6,000.00. So the module has paid for itself. I have implemented the sending out of emails automatically feature.
Now, stop playing for time. Start today and optimize your abandoned cart emails.
When you wrap up tweaking your remarketing notifications, I'll show you the way you can optimize your order confirmation emails. If you are eager to learn it right now, go ahead, proceed to the next chapter.
Chapters
Subscribe to Our Weekly Newsletter to Get
Expert-Backed

Tips Straight Into Your Inbox

One email a week, we promise.

Awesome! You won't be disappointed 😉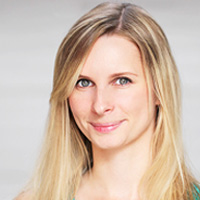 Helen Golubeva
Storyteller at X-Cart
Addicted to yoga, interested in philosophy, and totally mad about copywriting. She loves using the power of words to inspire people and help them grow their eCommerce businesses.