Online Payment Methods for a Fast and Secure Checkout Process
As the digital era advances, it's becoming increasingly essential for an eCommerce business to provide an exemplary customer experience. Moreso, brands need to provide an efficient, secure, and positive checkout process on their websites.
With so many different ways to pay online (or in-store for that matter), simply accepting credit cards is unlikely to cut it. It's a great starting point if your brand or store is new, but shoppers are now looking for more. We're here to help you offer the fastest and reliable checkout options. Start with these three online payment solutions that we recommend for all eCommerce stores.
X-Cart Enterprise goes with these payment options. Schedule a free demo with one of our representatives and see for yourself.
With all the available alternatives, PayPal remains one the most trusted payment processors in the world. It continues to grow and offer new experiences.
PayPal Checkout, or PayPal Commerce Platform is a newer payment system rolled out by PayPal for eCommerce partners, and it is set up to be your only payment system. Along with taking payments online, you have a single dashboard to manage payments, payouts, advanced reporting, and more.
Accept payments.
Choose preferred eCommerce payment options in your store or marketplace. Accept payments nearly anywhere and receive funds quickly.
The updated PayPal Checkout supports popular payment methods including credit and debit cards, multiple local payment methods, andPayPal, with more than 320 million active user accounts worldwide. All this without any monthly fees.
Offer your customers a seamless, mobile-optimized checkout that speeds sales: Customers can pay directly from product pages with fewer clicks.
Offer PayPal Credit, which can help your customers buy more at your store. While you get paid upfront, your customers can pay overtime.
Minimize risks.
Being the world's most famous expert in payment processing, PayPal takes the burden of PCI compliance and fraud prevention off your shoulders, so you can rest easy knowing your online store is secured.
PayPal also has your back when it comes to chargebacks, money laundering, disputes, and fraudulent transactions.
All this and more is available along with the streamlined, intuitive interface of the PayPal Commerce Platform and the world-class customer service in 17 languages around the world.
Apple Pay® is a digital wallet that has become widely available both online and offline and is compatible with Apple® devices like iPhone®, Apple Watch®, iPad®, and Mac®.
For your customers, the main benefit of having Apple Pay as a payment option is the ability to checkout easily without having to enter credit card details and billing information every time. Another advantage is the ability to use Apple Card, specifically because of a daily 2% cashback.
For eCommerce business owners, Apple Pay advantages are no less prominent.
Apple Pay is compatible with Apple device. This means that you can offer it to both your mobile users and to anyone browsing on desktop.
The ability to accept mobile payments increases your conversion rates. You can expect to eliminate friction from customers having to type their credit card number, being redirected to the payment gateway website or having to enter the billing address.
Many customers prefer Apple Pay for its efficiency and security. They are right! Learn all about Apple Pay security and privacy.
You'll have a competitive advantage! Apple Pay provides the best experience for your customers driving faster checkouts, reducing cart abandonment, and generating higher purchase frequency.
Apple, Apple Pay, Apple Watch, Face ID, iPad, iPhone, Mac, and Touch ID are trademarks of Apple Inc., registered in the U.S. and other countries.
Amazon Pay, or Amazon Payments, is a service that allows you to use the various payment methods that can be associated with your Amazon account to pay for goods and services on Amazon itself, on third-party websites, in mobile apps, and even using Alexa. To make a payment, you can use any payment method on file in your Amazon account.
This method of payment is highly secure, fast, and efficient.
Its main benefit for an online merchant, especially if you use the omni-channel method, is that you can use one hub for collecting payments in both your Amazon store and your online store. And certainly you can expect higher conversion rates due to a shorter checkout time compared to regular credit card payments.
For your shoppers, the advantages of checking out with Amazon Pay: Less friction from typing the information manually, security and protection by the Amazon A-to-Z Guarantee, no additional conversion, membership or transaction fees, and the ease of use. Besides, Amazon's name is well-known around the world – and highly trusted!
Stripe is one of the biggest payment companies in the world with a diverse functionality. Stripe takes a technology-first approach to the challenges of getting paid for every type and size of business.
The four most important features of Stripe are:
Payments – A complete toolkit for accepting payments online from local and international customers in over 185 markets.
Radar – A modern solution to detect and block fraud using machine learning. Built in automatically for every Stripe account.
Instant Payouts – Immediate access to your funds to smooth your cash flow or cover unexpected expenses.
Terminal – Unify your online and offline sales and simplify your reporting and reconciliation with one payment solution.
It all comes with a centralized dashboard where you can track your metrics in real time, a 24/7 email, chat, and phone support, and over 600 partner apps and integrations to streamline your processes.
With Stripe, you can accept credit and debit cards in 135+ currencies; use Stripe Connect; offer digital wallet payment methods, such as Apple Pay®, Google Pay, Alipay, WeChat Pay, Amex Express Checkout, Microsoft Pay, Visa Checkout, and Masterpass by Mastercard. Accept local payment methods, like AliPay, iDEAL, WeChat Pay, Bancontact, EPS, Giropay, P24, SEPA Direct Debit, SOFORT, OXXO, and more.
It offers first-class fraud protection powered by machine learning evolving algorithms to block high-risk payments, and it is PCI Level 1 certified, which ensures that you offer your clients a safe and secure shopping environment.
With Stripe, you only get charged when you earn money. You don't have to pay for failed transactions, American Express, international or stored cards.
Remember: It's for Your Customers
Now, with all the online payment options available, it is important to remember that the main purpose of optimizing checkout is for your customers' convenience.
Before adding different payment methods, conduct some research to get to know your customers, and how they like to shop. After all, the most efficient online payment methods for a small business and a large B2B company might be very different.
Do your target customers prefer digital wallets like Apple Pay? Or are they more used to online payment methods like PayPal? Or is it wise for you to accept ACH payments, because your customers are small businesses themselves?
Choose whichever works best for your business. The X-Cart team is here to help and support you, from launch to expansion.
Subscribe to Our Weekly Newsletter to Get
Expert-Backed

Tips Straight Into Your Inbox

One email a week, we promise.

Awesome! You won't be disappointed 😉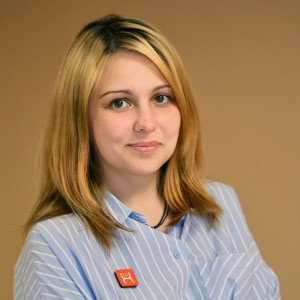 Anastasia Zhavoronkova
Marketing Coordinator at Seller Labs and X-Cart
Anastasia has over 8 years of experience in the eCommerce industry. Having been a Customer Care agent in the past, she knows exactly what eCommerce merchants' needs are, and uses her knowledge in Marketing to bring value to the community by sharing her thoughts on relevant topics.