←
Back to Blog
4 Online Payment Options You Need on Your eCommerce Site
As the owner of an online store, you've got lots of payment options. But it's 2021! You need a payment option that your customers recognize and want to use. It's got to be fast, safe, and most of all, mobile-optimized.
Simply accepting credit cards doesn't cut it anymore. Luckily, we've detailed our top three online payment solutions. Don't waste time on old school wire transfers and paper checks — here are the payment providers so your online store needs to stay up to date.
Number I
PayPal Checkout
Even with all the available alternatives, PayPal remains one the most trusted payment processors in the world. PayPal Checkout, or PayPal Commerce Platform, is a newer payment option specific to eCommerce vendors.
Why Use PayPal as Your Payment Option?
With more than 320 million users, PayPal offers your customers a seamless checkout that they know and love. Customers can pay directly from product pages – even on mobile. This means fewer clicks, without any monthly fees for the business or the shopper.
It accepts a variety of payments
With PayPal, you can accept payments nearly anywhere and receive funds as quickly as the next business day. The interface simply shows the user the transaction amount and allows the customer to enter their own details.
If the customer isn't comfortable providing you with their routing number and account details, they don't have to! They've got the option to pay via credit card or PayPal balance. And as a leader in global payments, PayPal also supports multiple local methods.
It minimizes security risks with ease
PayPal takes the burden of PCI compliance and fraud prevention off your shoulders. Rest easy knowing your online store is secured from fraudulent transactions, chargebacks, money laundering, or disputes.
Best of all, you have a single dashboard to manage payments, payouts, advanced reporting, and more. The intuitive interface and world-class customer service make this gateway the easiest option for safe and easy payments. All you need is an email address!
Number II
Google Pay
Google Pay™️ is a digital wallet service that is available for devices that run on Android. It supports NFC (near-field communication), also known as contactless payments, for phones, tablets, and even watches.
Why Use Google Pay as a Your Payment Method?  
Sellers who add Google Pay to their website see an instant increase in conversions. This boost in sales is especially visible internationally, due to the widespread use of Google devices. Best of all, Google Pay doesn't charge you or your customers any transaction fees.
It's simple and safe.  
Normally, you can start accepting payments with Google Pay in less than a week. For X-Cart users, the procedure is even simpler!
Google doesn't compromise ease of use for security. An advanced mechanism is used to cypher the card data and pass only a unique token. Your customers data is safe and is only used for transactions.
Additionally, Google Pay offers loyalty programs to your clients AND allows you to offer your own loyalty program, gift certificates, and coupons through. Finally, payments made via Google Pay are less likely to be declined by the payment processor due to the advanced technology behind the app.
See our interview with the Senior Developer at X-Payments on the benefits of Google Pay for your business: Google Pay App: Now Available in X-Cart to Instantly Bring in More Sales
Number III
Apple Pay
Apple Pay® is a digital wallet that is compatible with most Apple® devices. For your customers, the main benefit of Apple Pay is the ability to checkout easily. Once a user enters their account number and billing details, they never have to enter it again.
Why Use Apple Pay in Your eCommerce Store? 
Apple Pay provides the best experience for your customers by driving faster checkouts, reducing cart abandonment, and generating higher purchase frequency. Best of all, it is mobile- friendly.
It's mobile-first 
Because Apple Pay excels at mobile payments, it is great for conversions, but also mobile SEO. You can expect to be more visible on Google, while keeping shoppers' payment details safe.
In fact, many customers prefer Apple Pay for its efficiency and security. Learn all about Apple Pay security and privacy.
Number IV
Stripe
Stripe is one of the biggest payment companies in the world with a diverse functionality. Stripe takes a technology-first approach to the challenges of getting paid for every type and size of business.
The four most important features of Stripe are:
Payments – A complete toolkit for accepting payments online from local and international customers in over 185 markets.
Radar – A modern solution to detect and block fraud using machine learning.
Instant Payouts – Immediate access to your funds to smooth your cash flow or cover unexpected expenses.
Terminal – Unify your online and offline sales and simplify your reporting and reconciliation with one payment solution.
Why Does Your Business Need Stripe? 
With Stripe, you can accept credit and debit cards in 135+ currencies in addition to digital wallet payment methods, such as Apple Pay®, Google Pay, Alipay, and WeChat Pay. Plus, Stripe accepts local payment methods, like AliPay, iDEAL, WeChat Pay, and more.
It provides first-class fraud prevention 
No payment provider is as secure as Stripe. They uses machine learning to block high-risk payments and other potential fraud. It is PCI Level 1 certified, and offers your clients a safe and secure shopping environment. Manage all your data in a centralized dashboard with 24/7 support, and over 600 partner apps.
Bonus: With Stripe, you only get charged when you earn money. You don't have to pay for failed transactions, American Express, or stored cards.
Runner Up
Apple Pay
Amazon Pay, or Amazon Payments, allows you to use your Amazon account to pay for goods and services on third-party websites, or even using Alexa. This payment option is highly secure, fast, and efficient.
If you are an omni-channel seller, you've got to use Amazon Pay as a the centralized payment hub for your online store. And you can expect higher conversion rates from Amazon customers due to a shorter checkout time.
Meanwhile, your shoppers get less friction, an experience they recognize, and no membership or transaction fees. Besides, Amazon's name is well-known around the world – and highly trusted!
Remember: It's for Your Customers
Now, with all the online payment options available, it is important to remember that the main purpose of optimizing checkout is for your customers' convenience.
Before adding different payment methods, conduct some research to get to know your customers, and how they like to shop. After all, the most efficient online payment methods for a small business and a large B2B company might be very different.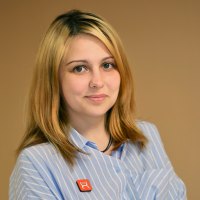 Anastasia Zhavoronkova
Lead Marketing Coordinator at Seller Labs and X-Cart
Anastasia has over 8 years of experience in the eCommerce industry. Having been a Customer Care agent in the past, she knows exactly what eCommerce merchants' needs are, and uses her knowledge in Marketing to bring value to the community by sharing her thoughts on relevant topics.
Subscribe to Our Weekly Newsletter to Get
Expert-Backed

Tips Straight Into Your Inbox

Awesome! You won't be disappointed 😉