←
Back to Blog
How Much Does Website Development Cost in 2020?
This blog post was originally contributed by Gary Stevens, a blogger at Hosting Canada.
Website development costs are some of the largest investments that new eCommerce retailers face.
But how much, exactly, does website development cost in 2020?
Well, unfortunately, naming an exact figure is difficult. The cost of a new (or improved) website will depend on the scale of your site. It will also depend on the approach you take, and specifically how much the design and implementation of your site you are willing to do yourself.
The short answer, though, is this: probably not as much as you think.
Today, there are plenty of do-it-yourself tools that will allow you to create a website for eCommerce on your own. This will help you to avoid the often high rates that third-party developers charge for their services. It will also give you much more control over your site, and allow you to scale your operation as your business grows.
At the broadest level, you should also keep in mind that website development is not a product, but a service. If your web designer or eCommerce platform is not able to keep up with the rate of growth of your business, your website development costs will increase due to the necessity to change providers.
In this guide, we'll look at three key issues that all contribute to the cost of website development in 2020:
the cost of a website for a small company;
the cost of implementing a quality eCommerce system;
and the cost of security and hosting.
Let's get started.
I. Website Development Costs for Small Business Websites in 2021
The cost of developing a website for a small business depends on a huge range of factors:
the type of website,
the chosen web host,
special hosting services,
compliance requirements,
initial search engine optimization
other costs.
For this reason, it's difficult to give an exact answer to the question, beyond saying that a website will cost between thousands of dollars, and nothing.
The most critical factor when it comes to calculating the cost of your website is how much of the design and branding work you outsource. Some sources suggest that a complete website design, including a new logo and complete back-end solution, will cost up to $6,750.
However, even this might be an under-estimate. Some web designers and developers provide clients with a list of website development pricing plans, but many others prefer to sit down with their prospects and figure out exactly what they need before quoting prices. If you search online, you will come across some web design price lists and even website cost calculators, but when you look closely at the disclaimers, you will see warnings explaining that there are few hard-and-fast answers for the question "how much does a website cost?"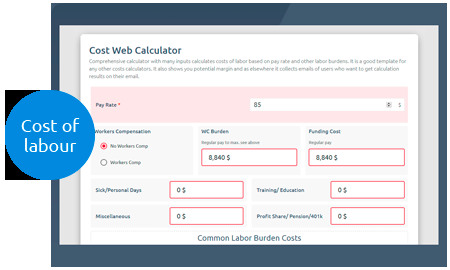 This is not surprising when you consider how many elements go into a typical eCommerce website.
If you are starting a new company, you might be asking your developer to:
source stock images,
provide copywriters,
code social media applets,
and many others.
This list expands further if your website is primarily designed as an eCommerce platform.
For eCommerce website development, you will need elements such as:
a shopping cart,
payment processing,
discount coupons,
formatted sitemaps compliant with search engine optimization,
software integration,
and more.
If you are looking to reduce you website development costs, your first step should therefore be to think carefully about what you need to outsource, and what you don't.
Having a graphic designer develop a logo and brand identity is likely to be a good investment, for instance, because this requires specialized skills that you are unlikely to possess. On the other hand, there are plenty of off-the-shelf systems that will allow you to quickly implement a professional and secure eCommerce system.
For instance, you do not need to be an extremely tech-savvy individual to figure out the drag-and-drop interface of a WordPress website builder. Using WordPress will allow you to get your website started without having to hire a website designer or a web developer, which means that your costs could be minimal.
And when it comes to eCommerce systems, you can take advantage of X-Cart eCommerce solution. Schedule a call with our solution advisors to get a clear picture of how the eCommerce software can meet your business needs.
The X-Cart solution offers many eCommerce features with no transaction fees and will grow with you by providing multiple currency handling, product reviews, recurring payments, and detailed transaction histories.
Create Your Online Store with X-Cart
Schedule a quick 15-minute call with one of our solution advisors to find out more about this eCommerce solution and the way it can be customized to your very business needs.
Request a Free Demo
II. Website Development Costs For eCommerce Websites
Many inexperienced eCommerce brands think that integrating an eCommerce system into their website is merely a case of adding an online shop to an existing website. In reality, in order to develop an effective eCommerce website, all the elements of your business – from your branding to your check-out system – need to be integrated into a seamless whole.
There are plenty of examples of companies who have not done this, and who have paid the price.
In a Forbes article published in mid-August 2019, eCommerce industry analyst Jason Goldberg talked about brands such as Revolver and RealReal, which both offer luxury fashion products. He explained that these brands have found it difficult to generate profits because they are expanding too aggressively: in other words, their desire to lure customers away from Amazon has driven them to burn through a lot of cash. As such, though both are expanding and generating revenue, profits remain elusive.
On the other end of the eCommerce spectrum, however, you find brands such as Olivia Palermo and KrisShop, which also deal in luxury lifestyle goods, and which are doing quite well.
These two eCommerce startups have something in common:
They both spent a couple of years working on their website development strategy and developing their eCommerce communities.
For both brands, building a website was secondary to the strategic execution of a solid business plan, and this has helped them become profitable at a time when more aggressive brands such as Revolver and RealReal are dealing with high burn rates.
The varied fortunes of these brands points to a deeper truth: that eCommerce websites should start small, but also have the potential to scale-up as business grows.
That's why X-Cart offers such a powerful tool for building eCommerce websites. The best part? You can add features and functionality to your website as you go, never giving up customization or control over your digital brand. Contact our solution engineers to discuss the details. Our team is here to ensure you select the right product for your business, and coach you as you grow.
To keep eCommerce website development costs as low as possible, you can also try your hand at our do-it-yourself package, which is one of the many benefits of X-Cart.
This eCommerce website builder offers you three main options:
Ready-made templates.
Let the X-Cart team help you create your own design template.
Create an online store from scratch.
Many of our clients find the web design price list template to be reasonable and flexible, especially when paired with all of the X-Cart customization options. Others choose to take a completely custom approach and work directly with a graphic designer to build a unique digital storefront before sending it to our team to be built as website pages.
Unlike other builders that only let users customize storefront appearance but not the workflow, X-Cart allows you to customize all elements of your storefronts, including the user experience and customer journeys. You also have the choice to host your own store, or work with our team to manage hosting for you.
III. Issues to Consider When Developing A Website
Beyond the base cost of developing a website and integrating an eCommerce system into it, there are several further issues to consider.
The most important of these are the security of your site, and the cost of hosting it. Both of these issues should be factored in when you come to calculate your website development costs.
Security
When you realize that the average small business website is probed by hackers 44 times daily, it becomes clear that you need cybersecurity tools to function.
Whether you decide to go with an "expensive" VPN service at the nosebleed price of five bucks per month or settle for one of the many free VPN options, the point remains that this type of software — including a firewall and general security suite — are all examples of software that needs to be in place before the site goes live and should be counted as development costs. Keep in mind that cost.
This becomes even more apparent when you consider the place of your website within your broader business environment. The rise of Software as a Service (SaaS) means that today more than half of all companies got at least 80 percent of their software from a third-party provider rather than buying it outright. Using these services can dramatically reduce costs for eCommerce retailers, but they can also increase risk.
That's because the average eCommerce company now has many separate systems:
the back-end for their website, social media profiles,
e-mail marketing software,
other software tools which are all linked together.
This means that if one system is hacked, an attacker can easily move between systems using unsecured internal communications channels, and compromise a high proportion of the data that a company holds.
The security of your website is a critical link in this chain. Your website is the most publicly available part of your business infrastructure, and so needs to be the most secure. That's why we designed X-Cart to have advanced security features as part of its base design.
Hosting and Compliance
Another important factor to consider when calculating your website development costs is the expense of hosting your website.
This is particularly true when it comes to creating an eCommerce website, when hosting cannot be ignored. Operating an online store requires certain settings and configurations that not all hosting providers offer.
For example, Payment Card Industry Data Security Standards (PCI DSS) compliance is a must for online retailers, but not all web hosting companies include PCI as part of their Service Level Agreements (SLA). Speaking of SLA, it is important that you check the data retention policies and uptime commitment of any potential hosting provider, because this will determine how the data you collect is stored, and how often shoppers are able to access your site.
Speed, security, compliance, and high availability are mandatory in the eCommerce hosting world. While the costs of creating an online store can be as low as zero, the same cannot be said about hosting, a business process that you simply cannot ignore.
When you choose X-Cart as an eCommerce platform, your best option is to let X-Cart data centers host your sites. eCommerce hosting is more complex than the standard hosting offerings intended for websites that mostly publish digital content. There are business aspects such as SSL certificates, payment processing, database management, and identity theft protections that must be implemented in each store you operate.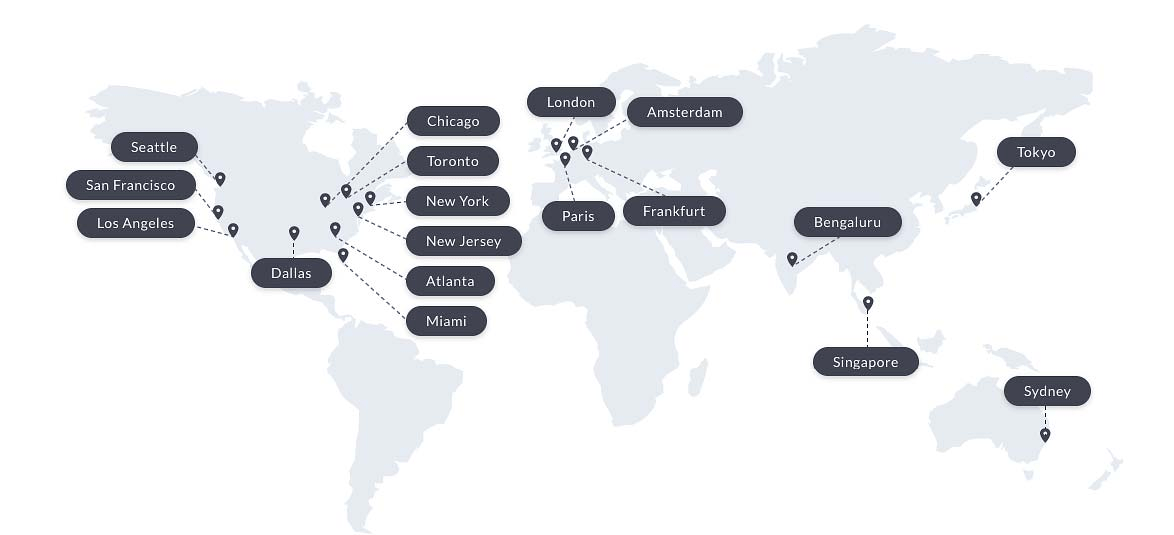 X-Cart managed hosting is designed to work with X-Cart stores; monthly plans start at just $29.95 for 25GB storage. With this starter eCommerce hosting plan, your store will run on a fast and secure server that will also handle your email and data backup requirements.
SSL certificates, antivirus scanning, and spam filters are included with all X-Cart hosting plans, and the same goes for customer support.
IV. Get Started With An eCommerce Website Today
Now that you know that creating an eCommerce store may cost you anywhere from zero to thousands of dollars, your next step will be to review your business planning and begin the design process in earnest.
Keep in mind that design comes before development, and it is very important that you get some ideas in this regard. The X-Cart template gallery is a good place to take your first steps. They have free and paid templates with online demos that you can take for a test drive, just remember to browse from a smartphone or tablet to get a feel for the responsive design.
You can use a spreadsheet, project management tool or even pencil and paper to start adding up the costs.
Let's say you are working on a dropshipping deal with a gourmet coffee provider from Costa Rica; in this case, the elegant X-Cart Coffee Shop template will cost $139 with one year of free upgrades.
Alternatively, you may need a template for auto parts that is slightly cheaper at $99, but you might want to add elements such as banners and fly-out categories.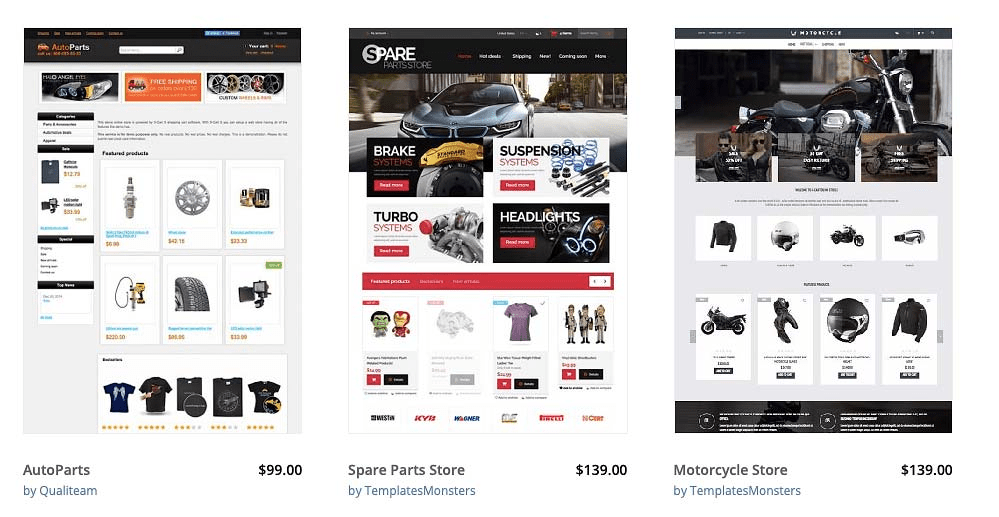 The quote might be further adjusted after talking to X-Cart designers in case you plan on adding some personal touches, special workflows, or a specific business logic.
The Bottom Line
As we've emphasized, the cost of website development in 2020 is extremely difficult to calculate. Some of the tasks associated with developing an eCommerce website, such as graphic design, can be outsourced. Others, such as setting up a scaleable eCommerce store, can be done yourself. Taking this responsibility will significantly reduce the cost of website development, and therefore dramatically reduce the bottom-line cost of your new site.
In this context, the value of X-Cart is that our system offers a complete, integrated solution to website design and development. Using X-Cart will allow you to quickly and easily design a website from scratch, with help available when you need it. It will also allow you to integrate an eCommerce system into your site for free, and protect you from the possibility of cyberattacks. Then, as your business grows and your profits start to roll in, X-Cart will be there with options to grow alongside you.
So here's the bottom line: when it comes to calculating your website development costs, start small. Build a basic website and eCommerce platform yourself, and find out what works. Then, and only then, do you need to start thinking about scaling up your operation.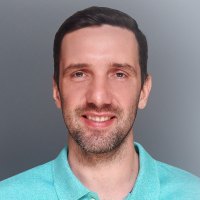 Alex Dyachkov
Enterprise Account Executive
Alex joined X-Cart in 2005 and since then spearheaded Support and Hosting departments, focused on customer needs as a Director of Customer Success and now helps our clients to grow and prosper as Enterprise Account Executive. He truly believes that if we don't take care of our customers, someone else will.
Subscribe to Our Weekly Newsletter to Get
Expert-Backed

Tips Straight Into Your Inbox

Awesome! You won't be disappointed 😉