←
Back to Blog
Opening an Auto Parts Online Store: 5 Keys to Success for Your Automotive eCommerce Website
For a brick-and-mortar automotive business, transforming to an online sales channel takes time and calls for a winning eCommerce business plan. And the integral part of this plan is creating a web store that would appeal to your target audiences and ensure a smooth sales process for you and your customer.
This article will explain how to create and tailor an automotive eCommerce website to your vision. Know the leading automotive industry challenges and how to tackle them and unlock the tech solutions you need to gain traction in the fast-paced aftermarket sector.
Planning to Start an Auto Parts Business Online?
Let us help you become a part of the thriving automotive aftermarket industry
Contact Our Expert
I have all the confidence in the world that we can continue to grow if we stay with X-Cart because it really helps us sell online.
1. Should I Sell on Amazon, eBay, or My Own eCommerce Website?
This is a dilemma that many brands and retailers face. Since Amazon and eBay are often the first places consumers search for products, it's easier to get in front of shoppers by selling through one of these marketplaces. On top of that, Amazon and eBay have the technology to support enormous web traffic and the established infrastructure to help you with order fulfillment.
However, selling auto parts on popular marketplaces has its disadvantages. Having your eCommerce business located on another company's platform gives you much less control over the internal processes. Should Amazon decide to ban your product listings or update seller policies, you will have little say in this matter.
Furthermore, every sale you make on Amazon converts the shopper to an Amazon customer, not yours. With very few buyer-seller communication options, you lose the ability to retarget buyers or sell to them again later – often the most profitable aspect of online business, given the high initial customer acquisition cost.
Summing up: Having your own auto parts eCommerce store gives you more room for creativity in marketing and brand building. It also promises more opportunities to scale your business however you see fit. Additionally, having a website gives you the necessary credibility to be regarded as a legitimate business if you also choose to sell on marketplaces.
Challenges of Starting an Auto Parts Online Store
Building an eCommerce website carries challenges often unique to a specific industry. If you want to run a successful and competitive auto parts retail business, start your online store with the following things in mind:
1. Automotive eCommerce Sites Are Data-Heavy
Given the diversity of auto parts on the market, your product catalog will have thousands of SKUS, product descriptions, and images. Storing, updating, and managing this sheer amount of data requires robust automation tools to streamline your website's internal processes, from catalog management to order processing to product delivery.
Another thing that deserves your attention is website performance. High-SKU catalogs with multiple product pages can slow down page loads, impacting the user experience and hitting your position in Google SERPs.
Did you know? According to the recent Google announcement, page experience would be one of the main ranking factors for the search engine. This puts additional pressure on eCommerce websites to raise the bar or suffer the consequences.
What you'll need to resolve the challenges:
eCommerce software that can handle a limitless number of SKUs;
integrations with standardized automotive data networks, such as SEMA, ASAP, or AutoSync;
robust import/export functionality;
powerful web hosting
2. Auto Parts Buyers Prioritize Shopping Experience
According to Hedges Company, 38% of auto parts shoppers visit a website only once before making a purchase. And they will leave it for a competitor's online store if they don't find the required part quickly and easily. That said, you have one chance to make an excellent first impression when people land on the storefront, visit product pages, or search for car parts.
What you'll need to provide the ultimate buyer experience:
categorized parts catalog with transparent pricing
clear website navigation
guaranteed fitment accuracy (YMM search and VIN lookup)
A seamless shopping experience is crucial for conversions. If a customer is jarred or worries that they've stumbled onto the wrong page, the trust will be broken, and they will likely leave your website.
Top 5 Keys to Success for Your Auto Parts eCommerce Website
1. Right Products to Sell
When deciding which car parts categories to sell online, keep your profit margin in mind. For example, shipping costs can make selling batteries or engine components difficult. Accessories and chemicals, on the other hand, such as oils, additives, wax, and other vehicle consumables, are always in great demand and much easier to deliver.
The thorough market research also helps to determine competitive auto parts niches. For example, car parts accessories see a drop in sales when the economy declines. That's because, as consumers feel the pinch, they begin to eliminate purchases that are not essential. However, components crucial to the vehicle's operation are often recession-proof.
Pro tip: Explore the competition to see which items are already heavily marketed online, and compare this against demand in the market. You will need to know the new auto parts sales statistics. For example, a quick search on amazon.com for windshield wiper blades has over 5,000 results, whereas a search for spark plugs reveals over 20,000 results.
Another way to conduct research into the viability of products at a cost acceptable to your business model is to run test advertisements. For example, by setting aside a budget of several hundred dollars and running identical Facebook ads for different components, measuring the click-through and conversion rates can indicate consumer interest and the rough cost of acquiring new customers.
Summing up: By exploring automotive eCommerce trends, you can choose a profitable niche where you already have the expertise or personal interest. Car parts buyers have more trust in those merchants who show their in-depth knowledge in a particular area.
2. Automotive-Centric eCommerce Website Builder
To be among the auto parts winners, you should choose an industry-specific shopping cart solution that can adapt to your business demands, pivot to new initiatives, and expand alongside your sales. In other words, you'll need an eCommerce platform that combines out-of-the-box functionality with high-level customization capabilities and is specifically developed for auto parts retail businesses.
Here's a quick overview of the main features and tools that an automotive-centric website builder can provide:
faceted search and filtering options (including Year/Make/Model search and VIN lookup);
integrations with SEMA, ASAP, and AutoSync data networks;
limitless SKUs;
enhanced import/export tools;
customer-friendly website design;
mobile-first automotive themes;
integrations and partnerships with key eCommerce and automotive players.
You are on the right page if you are looking for a trusted automotive eCommerce solution. X-Cart covers industry-specific features and integrations to help you build and tailor an auto parts eCommerce website to your vision. Our platform has an adjustable API-driven architecture, allowing you to design a custom, buyer-centric storefront. And if you are alien to coding, our professional in-house developer team will get everything done for you.
Need a Top-Notch Automotive eCommerce Website?
3. Compelling Automotive Website Design
In the world of eCommerce, the appearance of your storefront and the convenience of browsing your website can make or break your sales. Before using their credit cards, consumers want to know firsthand that your business is trustworthy. And that comes down to your automotive parts website design.
Generally, automotive eCommerce solutions offer a wide range of themes and templates for auto parts. You can choose one of the themes or venture to design your own custom storefront.
Home Page
Most of your customers will land on the front page on their first visit. Having large, high-quality graphics unique to your online business is essential. Ensure a distinctive brand continuity between the website and any other assets you have, like a logo, storefront, or packaging. This means that colors, fonts, and writing tones should be similar.
Category Navigation and Product Search
Once the customer begins to explore your auto parts store, the navigation and search elements become essential. A top menu bar that is clear and easy to follow will allow customers to find what they need.
Furthermore, customers will only add items to their online shopping carts if they are 100% sure the part is an exact fit for their vehicle. With YMM filtering and VIN lookup added to your storefront and product pages, shoppers will find the required parts quickly and hassle-free.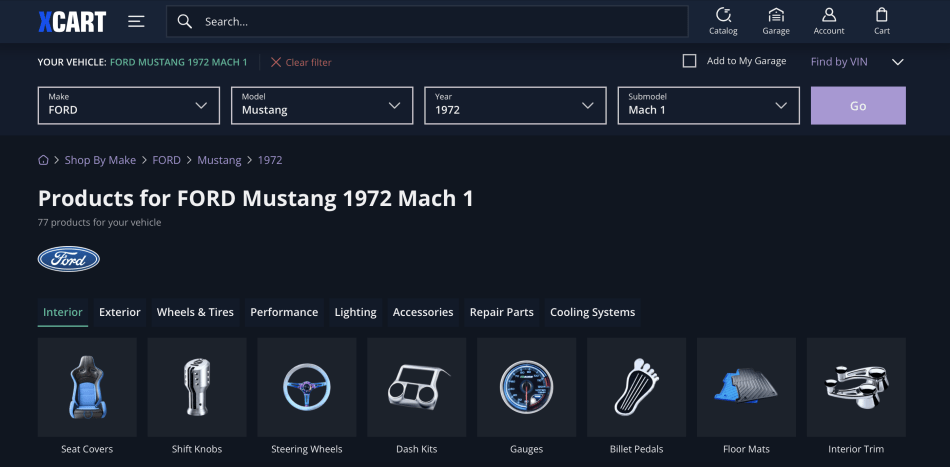 Images and Product Visualization Tools
Since eCommerce consumers cannot touch or feel your products, they can only rely on photography. High-quality images from different angles give customers confidence and let them explore the item.
A product visualizer is another must-have tool for auto parts online retailers searching for a quick and easy way to demonstrate the product. The AutoSync visualizer tool, for example, delivers factory-accurate colors and assures that the tires, wheels, and accessories match the specific vehicle model. All this lowers the risk of returns and increases customer satisfaction.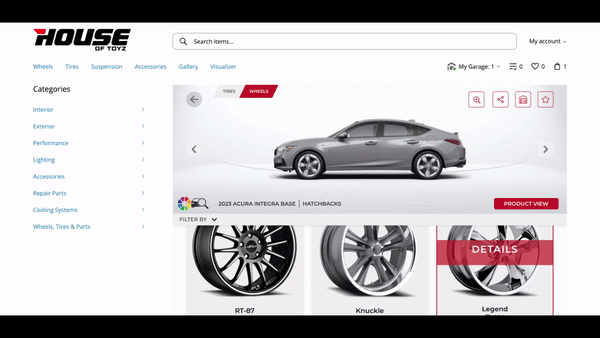 4. Streamlined Shipping Process
Since Amazon has set the eCommerce standard with shipping, ensure you are getting orders out the door quickly to stay competitive. Heavy or oversized items may be expensive to ship, so you should decide if you can subsidize this cost in your automotive eCommerce business model or pass it on to the customer. Doing so will reduce your conversions but help preserve your margins.
Don't forget about returns. Many businesses offer free return shipping to their customers. If you choose this route, you will want to calculate your average return rate and the average return shipping to add that to your product price to average out the expense.
Consider all these factors while looking for a reliable and affordable carrier. You may also require assistance managing shipments, printing labels, handling returns, and addressing reviews. This is where you may need an integration with the shipping software solution.
Alternatively, you can venture into dropshipping car parts if you have limited space or budget to stock the products or want to avoid handling shipping routines. In this case, you will also need a reliable partner. When choosing an auto parts distributor for dropshipping, it's essential to prioritize such factors as the quality of the products, delivery times, company's reputation, and its returns policy.
5. Efficient Marketing Strategy
Whether your automotive eCommerce website sells automotive parts directly to consumers or other businesses, you must communicate your unique values through marketing.
For many small businesses, the first step is digital advertising and social media. Facebook and Google dominate the online ad world and are very effective platforms with small or medium budgets. You can do this yourself if you are adept, or you can hire a professional or freelance advertising manager to help you set up and measure the results of these campaigns.
If you're managing your content for automotive SEO, you should also check to see if you have enough product information to convert your consumers to purchasers.
Final Thoughts
Starting an online store from scratch can be daunting, but it is now essential for auto parts retailers to stay competitive in the online-driven retail world. By tapping into eCommerce with the right technologies in your corner, you can make this process much easier and reap even greater benefits.
Furthermore, implementing efficient systems such as automated inventory management or synced order fulfillment will help streamline operations and save time on mundane tasks so that you can focus on what matters most – growth and profitability. Contact us to get a 360-degree view of X-Cart tools and features. We've already helped hundreds of businesses to thrive online. So, don't hesitate to reach out and tell us about your project.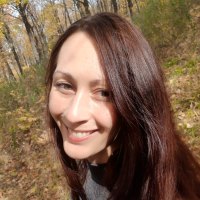 Maria Navolykina
SEO Content Specialist
Maria is an SEO Content Specialist at X-Cart. Once captured by digital and content marketing in her student days, she keeps living and breathing it ever since.
Subscribe to Our Weekly Newsletter to Get
Expert-Backed

Tips Straight Into Your Inbox

Awesome! You won't be disappointed 😉